Backlinks is quite a huge part of SEO and it should form part of your SEO strategy to gain backlinks to your blog.
What are backlinks anyway?
Briefly said, backlinks are links from external sites back to your blog. For instance, if Forbes has a link on its article that goes back to one of your posts, that's a backlink.
Having said that, backlinks are not equal at all.
We have to first distinguish between "dofollow" and "nofollow" backlinks.
If a backlink is nofollow, it tells Google not to follow the link to your blog.
This means that the link juice won't pass from the external site to your blog, making it useless from a SEO perspective.
Hence, we have to ensure that we're getting "dofollow" links instead.
Next, not all "dofollow" links are equal in weight.
For example, a backlink from Forbes is so much more valuable than a backlink from a new website with a low domain authority.
These days, Google look into quality backlinks rather than quantity of backlinks. Therefore, we shouldn't spam our site everywhere just to gain backlinks.
In fact, you may be penalized for gaining backlinks the unnatural way, especially if you're using the black-hat way.
I hope you've gotten a better understanding of what backlinks are, at least briefly. Let's move on to the topic at hand.
Using Steemit to gain backlinks?
Back to the topic at hand.
I've been writing on Steemit for the past couple of times, so you should have an idea of what it is by now.
If you haven't read it, do check out these articles:
Why I'm Not Blogging Often These Days
How To Gain Followers On Steemit
To summarize, Steemit is like a combination of social media and blogging. It works in a way where you can see what everyone's writing, but we write stuff in the "blogging" form, rather than status updates.
The best part of it is that we can earn Steem and Steem Dollars, which are cryptocurrencies. Not sure what a cryptocurrency is? Think of Bitcoin.
Why do we use Steemit for backlinks?
First of all, Steemit started last year, and in one year, its domain authority has increased a lot.
Do a simple search of Steemit on Moz and you'll see it has a domain authority of 67 and a page authority of 69. That's really high considering how new the website is.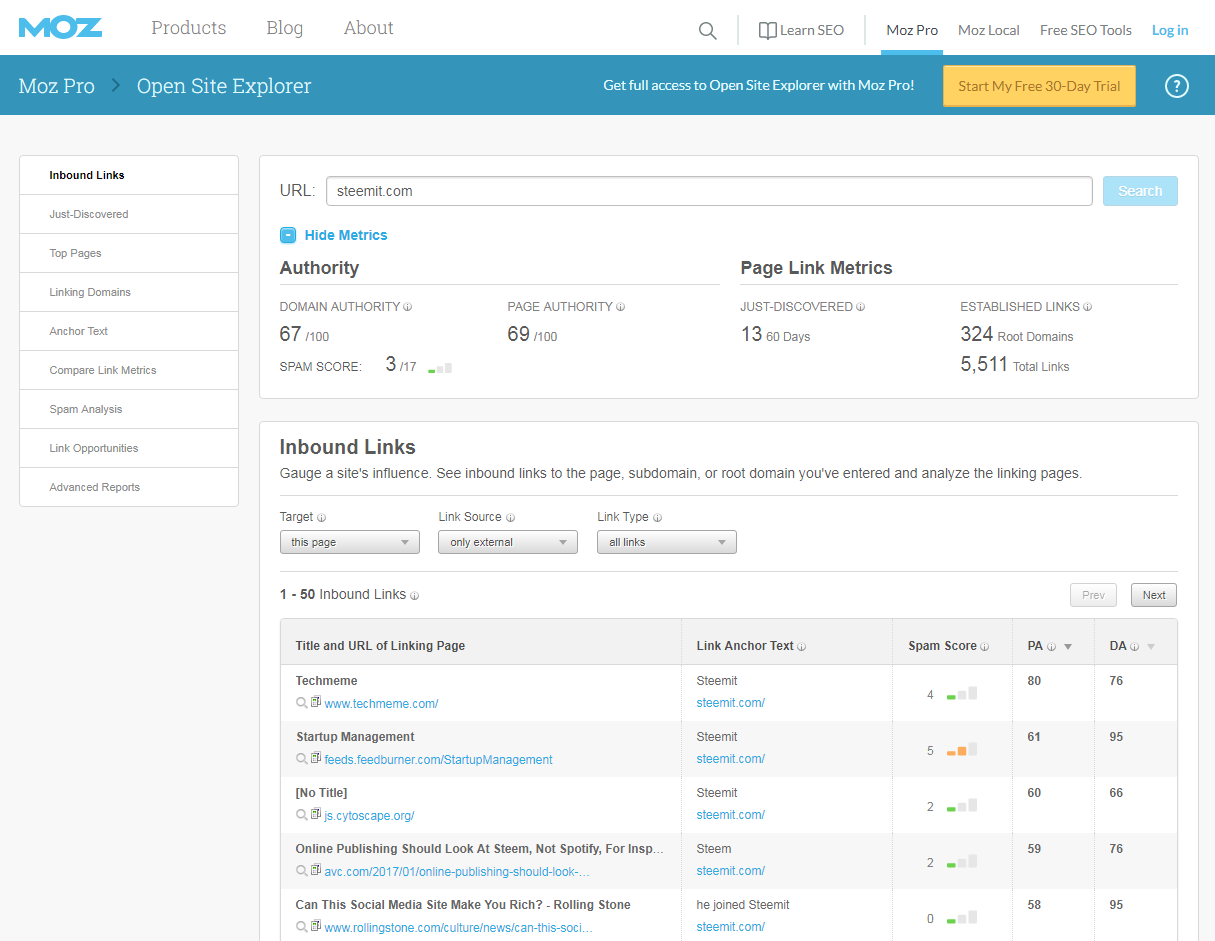 We want quality backlinks. In other words, we want backlinks from websites with a high domain authority, like Reddit, Forbes, The Huffington Post, Mashable and so on.
It's hard to get backlinks from most of these sites. Luckily for us, Steemit has a rather high domain authority (albeit lower than the rest mentioned).
The best part of it is that anyone can use Steemit and get backlinks from it.
Here's a post I wrote that uses this strategy to gain backlinks to my other site (ComeAndBuyThese).
Do check it out and you'll see how I use it to bring backlinks to my blog.
What's the catch?
Your post payout must hit a certain threshold before the links become "dofollow". I heard from someone that the threshold is around $9 or $10.
This means that if you earn less than the threshold, all of the links in your post is automatically "nofollow".
This is a smart way by Steemit to filter out spammy content from quality content. Great content has a higher chance of getting enough upvotes to hit the payout of $9 or $10.
Hence, it's crucial to write quality content if you're on Steemit.
By the way, I've only started to use Steemit to gain backlinks to my blog so I'm not certain if it's working yet. I honestly hope it does work.
Follow me on Steemit
If you do decide to use Steemit to gain backlinks or to earn some cryptocurrency, do remember to follow me:
I do believe that Steemit may be the next big thing as a social media platform. Do join when it's still relatively small (haven't reached a million users)!
This doesn't mean you should stop blogging and expect to make a living from Steemit. It doesn't work that way.
Never put all of your eggs in one basket. Excel in both your WordPress blog and also on Steemit. Good luck!
Thanks again for reading guys. Remember to subscribe to this blog for exclusive updates!