Fireplaces are part and parcel of most landed properties in the US but not everyone wants a wood-burning fireplace.
These days, you can have electric fireplaces that are cheaper and more convenient, and yet offer some realistic looking flames.
While an electric fireplace is not a perfect replacement for a wood-burning fireplace, you can get some rather realistic ones.
Here are some of the most realistic electric fireplaces you can buy. They are narrowed down to the top five options to make things easier.
Image
Title
Price
Prime
Buy
MagikFlame Most Realistic Electric Fireplaces - Artemis White Electric Fireplace with Mantel Package - Large 52″w x 43″h x 15"d - Includes 4,600 BTU Log Set Heater LED, Crackling Log Sounds, App

Prime

Buy Now
LOKATSE HOME 23" Electric Fireplace Insert Freestanding & Recessed Heater Log, Realistic Flame Remote Control, Over-Heating Protection, 700/1000/1400W, 23 inch, Black

Prime

Eligible

Buy Now
Regal Flame 23" Flat Ventless Heater Electric Fireplace Insert, Black Frame - 3 Color Changing Settings

Prime

Buy Now
MagikFlame Most Realistic Electric Fireplaces - Neo Cherry Wood Electric Fireplace with Wood Mantel Package - Large 55"w x 48"t x 18"d - Includes 4600 BTU Infrared Heater LED, Crackling Sounds, App

Prime

Buy Now
Antarctic Star 50 Inch Electric Fireplace in-Wall Recessed and Wall Mounted, 750/1500 Fireplace Heater and Linear Fireplace with Multicolor Flame, Control by Touch Panel & Remote (Black).

Prime

Buy Now
Product prices and availability are accurate as of the date/time indicated and are subject to change. Any price and availability information displayed on [relevant Amazon Site(s), as applicable] at the time of purchase will apply to the purchase of this product.
Prices pulled from the Amazon Product Advertising API on:
Most Realistic Electric Fireplaces
Below are some of the more realistic fireplaces powered by electricity.
1. MagikFlame Artemis White Electric Fireplace
MagikFlame has made a name for themselves when it comes to more realistic electric fireplaces.
They use their very own HoloFlame tech that uses videos of actual fire-burning, which is why it looks more realistic.
Most of these manufacturers use some sort of a mechanical effect in creating the flame effect, which is why theirs look more fake.
Why get the MagikPlace fireplace?
More realistic flame effect created by using video of actual fire. They use a TV monitor in doing so. It's more immersive in that sense.
Equipped with sound. You'll get the sound of log crackling from actual fires. You can also add sounds of rain, nature or even ocean waves.
Works with the iPhone. You don't need to use a remote control to change the features. Just download the app on your iPhone and control the fireplace directly.
Comes with high quality white mantel to supplement the electric fireplace.
Cons
Monitor used for the flame effect looks cheap.
Assembly not as easy as expected.
Very expensive as it comes with mantel.
2. Lokatse Home Electric Fireplace
Lokatse's design is a lot smaller and neater than most of the fireplaces featured here. If you're thinking of a modern look, then this one looks suitable.
You have a choice between 36 inches, 42 inches or 48 inches.
Why get the Lokatse fireplace?
The flame effect is pretty realistic thanks to the usage of high intensity LED lights. There are flames of different brightness and intensity. It also works even without the heat.
Comes with replacement or refund within 30 days if there are defects.
Heating of up to 400 sqft in area.
Cons
Lacks the crackling sound of wood.
Not a recessed fireplace.
3. Regal Flame Electric Fireplace
Another realistic fireplace worth considering is this one by Regal Flame.
It also utilizes LED technology to create flames that look pretty authentic. You can even change the colors of the flame or even the intensity.
This fireplace also has a 3-level heat settings that is useful depending on how cold it is outside.
Why buy the Regal Flame?
Uses LED tech to create authentic-looking flames.
Has a timer to allow you to switch off the fireplace after a certain time.
Refund is possible for some cases.
A few different heat settings for different occasions.
Cons
Complaints of product not looking like the images.
4. MagikFlame Cherry Wood Electric Fireplace
Another MagikFlame fireplace to be considered is this version with Neo Cherry Wood mantel.
The HoloFlame technology used and other features are the same or similar to the one mentioned above.
Pros of the MagikFlame fireplace
HoloFlame tech used a real video of flames which is why it's super realistic. The monitor used is tilted at an angle to create the effect.
Sound effect. One of its better selling points is the sound effect. There can be sounds of crackling wood, rain or even waves.
iPhone compatible. You can use your iPhone as the remote control using their app.
It's made in the US, as opposed to most products made in China these days.
Cons
Very expensive as it comes with mantel.
Monitor used to display video of flames look cheap.
5. Antarctic Star Fireplace
Last on this list is an electric fireplace by the brand of Antarctic Star. It comes in various sizes – 36, 42, 50 or 60 inches.
Some even claim that it has one of the most realistic looking flames. This fireplace is also pretty modern looking and if modern is what you're looking for, you can give this a try.
Why buy the Antarctic Star fireplace?
Realistic flame effects created by LED lights. It even has 12 different colors to choose from, ranging from red to pink.
Amount of heat can be adjusted.
Ability to recess the fireplace.
Comes with both a controller and touch-screen functions on the fireplace.
Con
Some may have experienced a few of the flames not working after a few weeks.
What to consider when buying an electric fireplace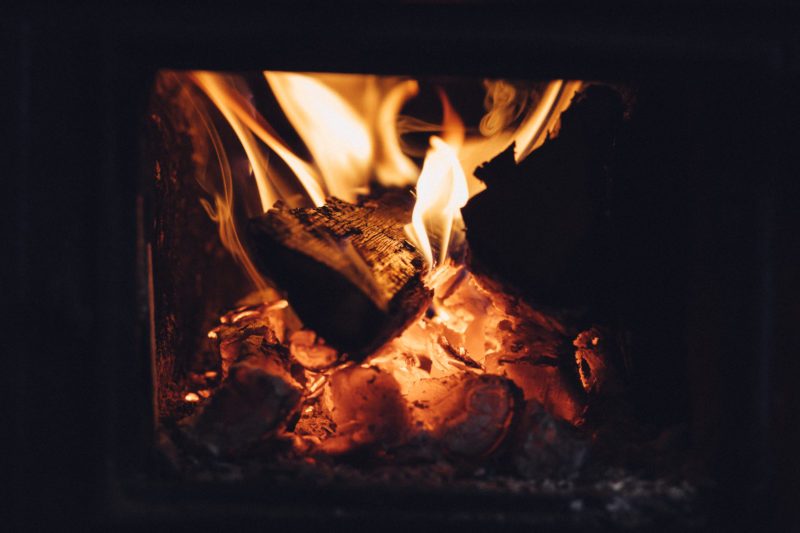 There are some considerations to be made before buying an electric fireplace. Here are some things to think about prior to making a purchase.
Whether the flames are realistic
Most of the modern electric fireplaces utilize LED lights in creating the flame effects. They also feature different colors to suit your whims and fancies. However, they may not be that realistic. There are some like MagikFlame who use actual videos of flames to create a more realistic effect.
Whether the heat generated is sufficient
When buying a fireplace, you would usually expect it to be functional. Some of these electric fireplaces are not hot enough. You may want to choose one that can generate enough heat.
Price of the fireplace
Price is obviously a huge factor when choosing a fireplace. You should also consider whether it's just a fireplace insert or whether it includes the mantel. The mantel is obviously the more expensive part and can cost thousands.
Does it come with a refund policy
It's much better if the fireplace comes with a refund or replacement policy just in case of any defects appearing after a few weeks.
Can the fireplace be recessed into the wall
In terms of aesthetics, a fireplace that can be recessed into the wall looks much neater. Unfortunately, not all has the function. You need to check thoroughly before making a purchase.
Conclusion
Choosing an electric fireplace or any other type is not an easy task. Thorough checking has to be done prior to purchase as it's quite an expensive investment.
Hopefully this list would have helped you make a good decision when it comes to more realistic looking fireplaces.
---
Related articles:
Top 5 Best Electric Fireplaces You Can Buy Today