How do you get from Tokyo to Hakone? Or more specifically, how do you go from Shinjuku to Hakone?
Based on my own experience, here's how I went from Tokyo to Hakone on a day trip.
What's in Hakone?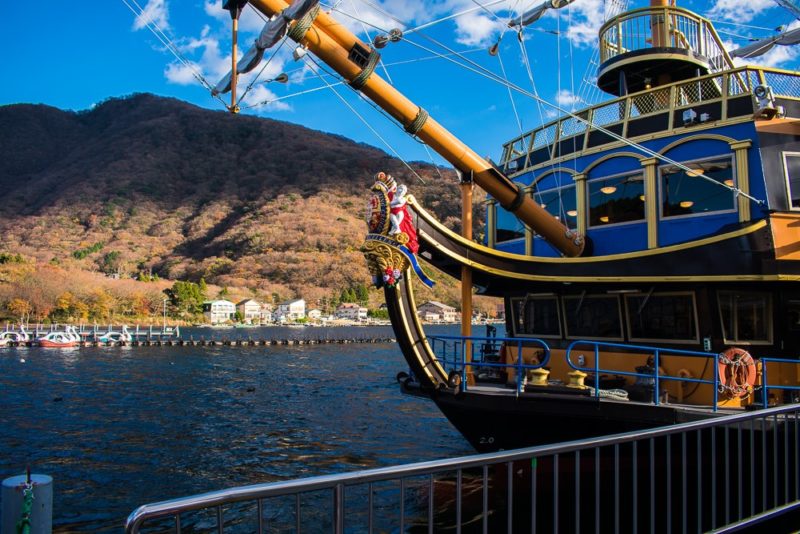 Before that, briefly what's in Hakone? If you're tired of the hustle and bustle in Tokyo city, Hakone is a great getaway spot even for locals.
It's also an awesome place to view Mount Fuji from afar. Many tourists actually go to Hakone for an overnight stay at the ryokan.
Ryokan at Hakone normally comes with a private onsen (Japanese hot spring) in the room.
Apart from that, you can actually visit Hakone on a day trip like what I did.
1. Use the Romance Car from Tokyo to Hakone
No, the Romance Car isn't actually romantic. It's just an express train that goes from Shinjuku station direct to Hakone with minimal stops.
In addition to the Romance Car, you should also buy the Hakone Free Pass. The free pass isn't free, it's just convenient.
The pass comes with all of the rides that are required to take you around Hakone on a round course.
The free pass includes a train ride to Gora, cable car from Gora to Sounzan, ropeway from Sounzan to Togendai, cruise ship from Togendai to Moto-Hakone and a bus ride from Moto-Hakone to Hakone-Yumoto.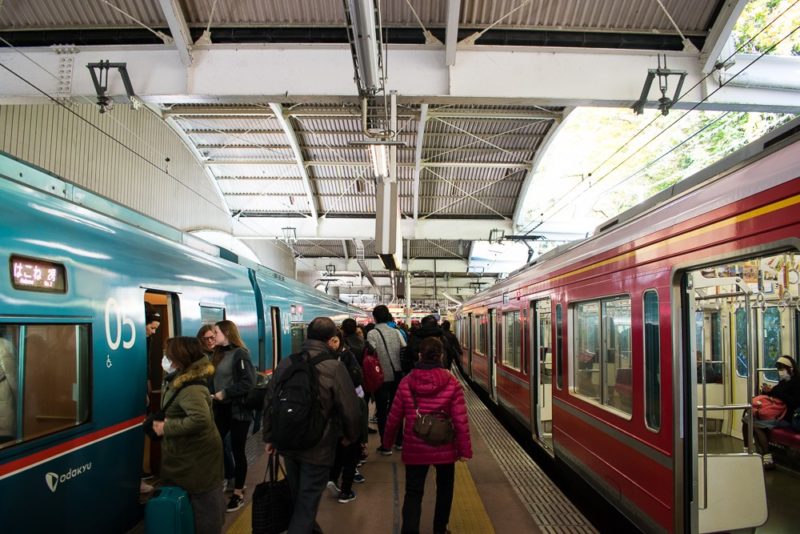 Without the free pass, you are required to buy a ticket at every stop which is highly inconvenient considering the crowd.
You can purchase the Romance Car tickets and the Hakone free pass at the same place.
How to purchase the Romance Car ticket
Go to Shinjuku station at look for the Odakyu line.
When you've reached the Odakyu line of the station, look for a tourist center. You may notice a queue.
You can purchase both the Romance Car tickets and the free pass together at the center.
2. Use the regular subway from Tokyo to Hakone
If you're not interested in using the Romance Car, you can just the regular subway system in Tokyo.
You can go to Hakone from Shinjuku Station as well. One of the differences is that you'll take a longer time to reach Hakone.
On a regular train, you'll have to stop many times on many stations and even have to make one transfer along the way.
One more difference is perhaps there are no fixed seats. If you use the Romance Car, your seats are designated and you don't have to rush to get seats.
You can also take the Japan Railways (JR) line which is actually a Shinkansen. This means it's really expensive unless you plan to travel a lot to other cities in Japan.
Whether you take the subway or the Shinkansen, you still have to stop at Odawara if I'm not mistaken, and transfer to Hakone.
3. Take the Odakyu highway bus from Tokyo to Hakone
Another alternative is to take the Odakyu highway bus from Shinjuku to Gotemba or Hakone.
You should buy the tickets in advance to be safe as each set is numbered. You won't want to be stuck without a seat.
You can buy the tickets in advance at the Odakyu HALC (Shinjuku Station). Based on some online reviews I read, taking the bus may not the best option.
As I've personally tried the Romance Car, it may be the most tourist-friendly way.
Best way from Tokyo to Hakone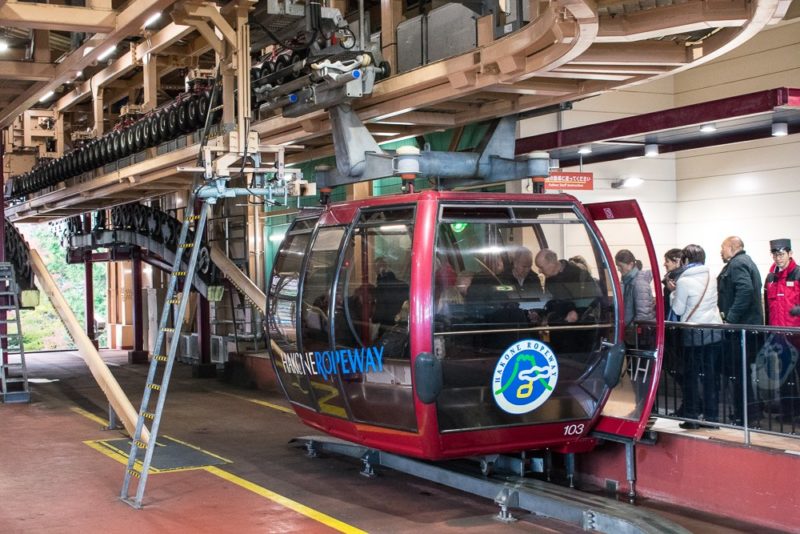 Personally, I would go for the Romance Car because it's simply convenient. Seats are all designated and you won't have to worry about not getting seats at the subway.
If you're going on a day trip, adding a free pass to the list makes it much easier as well. Almost all of the rides are covered under the Hakone free pass.
---
Related articles:
Shinjuku Gyoen – One Of The Best Parks In Tokyo
Meiji Shrine: Popular Attraction In Tokyo
Godzilla Head @ Hotel Gracery Shinjuku (Tokyo)
6 Things To Do In Harajuku (Takeshita Street)