Tsukiji market is a very popular tourist attraction in Tokyo, Japan. Many tourists from around the globe flock to this market just to witness the tuna auction, or to have some awesome sashimi.
As for myself, I couldn't wake up so early just to witness the auction and there are limited places anyway. I went to Tsukiji market mainly to try the sashimi and to see how fresh they are.
I was there at about 10 am or so and there were already quite a number of people there. Some were buying souvenirs and others were queuing up to enter the restaurants.
How to get into Tsukiji Fish Market
If you took the subway, you will end up at Tsukijishio station. Just follow the signs saying Tsukiji fish market and you'll reach in no time.
You should notice other tourists also looking for directions to the market. You won't get lost if you just follow the signs.
Once you're out of the station you should see the main road and big buildings. Turn left and you'll see the Tsukiji fish market on your left hand side. You should see this building in the image below.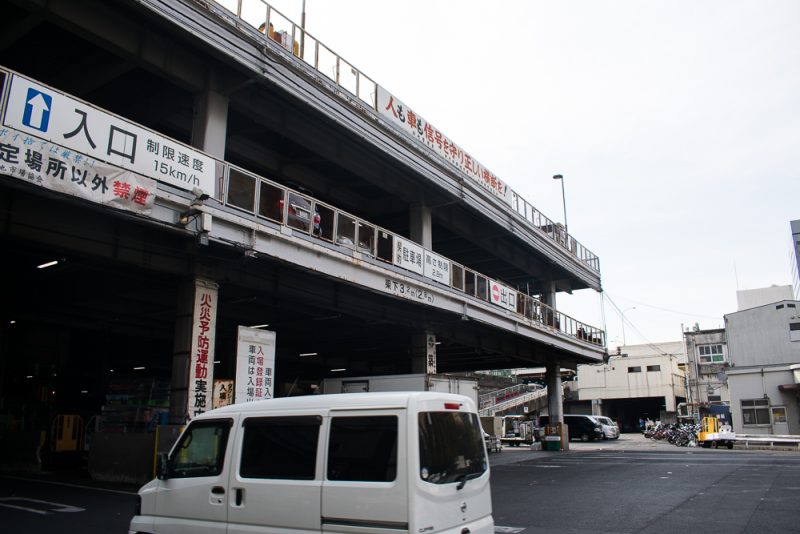 Just walk into this building and you should be fine.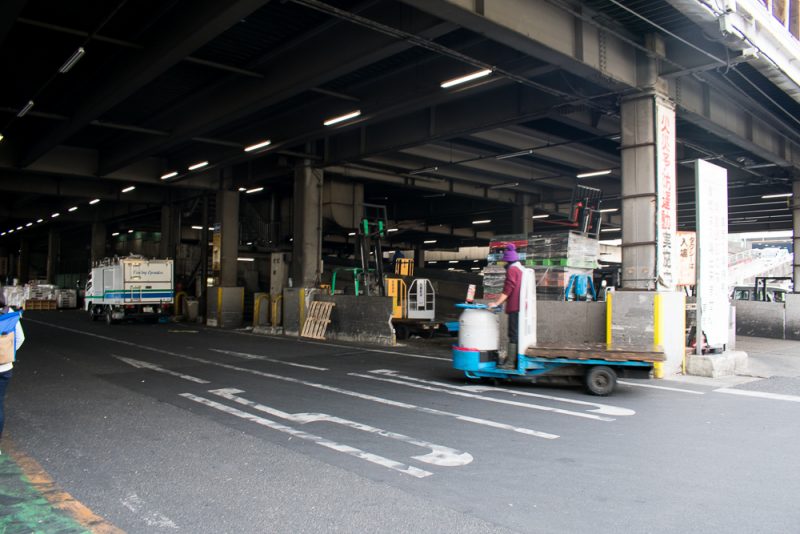 The entrance to the Tsukiji fish market isn't that obvious. You'll see a lot of workers but the shops that you're planning to go to may not be visible yet.
Also, be extra careful here. There'll be lots of vehicles moving around transporting goods, so watch where you're going.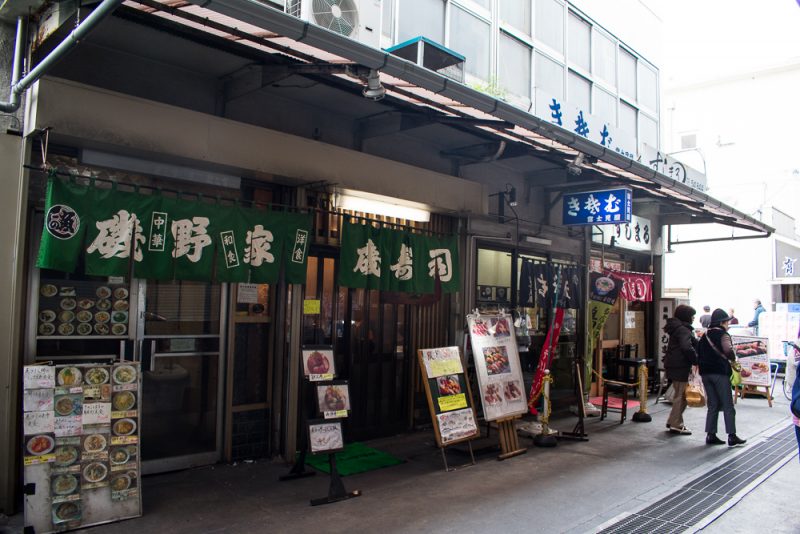 Some restaurants are visible after a short walk into the area. You know you're in the right area then.
What to do at Tsukiji fish market
There are probably three main things to do.
Buy stuff (souvenirs, food products, fresh fish, fruits, etc.)
Watch the tuna auction (you have to be super early for this one, like before 5 am)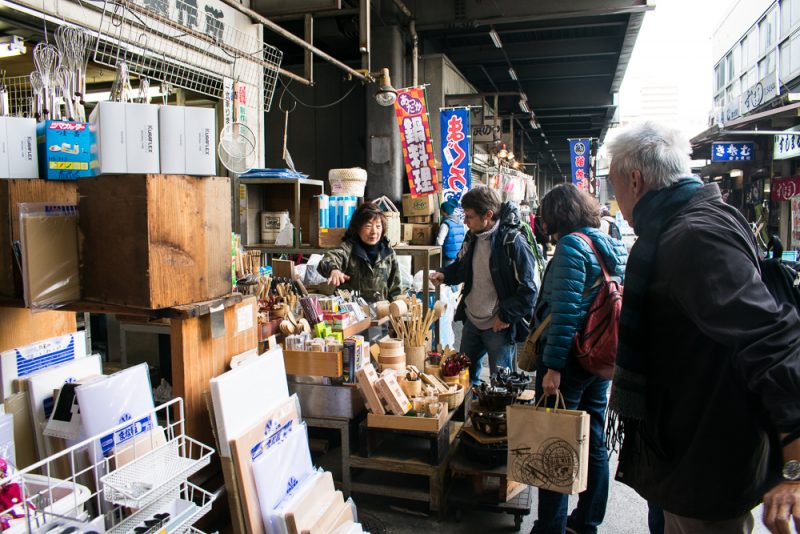 They were selling lots of souvenirs, especially chopsticks and other kitchen utensils.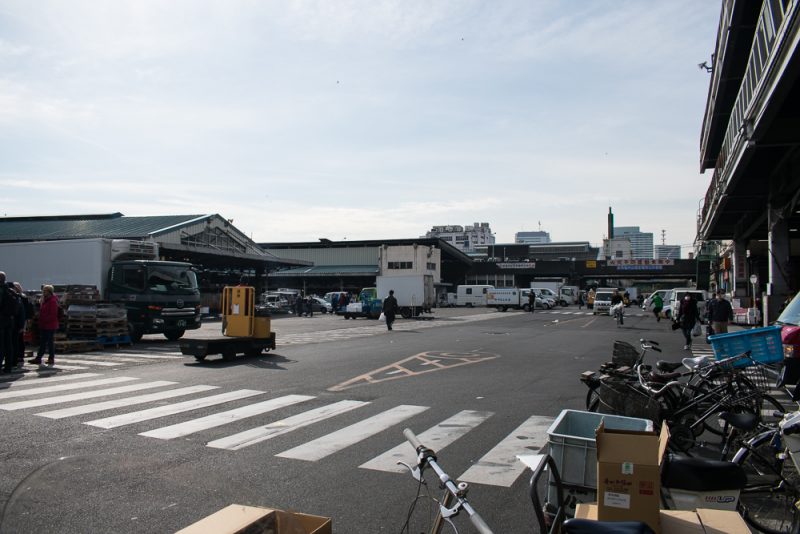 If you want to go to the wet market, you'll have to cross the road. We didn't want to, so we just stayed at this side.
By the way, they'll provide a map to the area so you can see for yourself.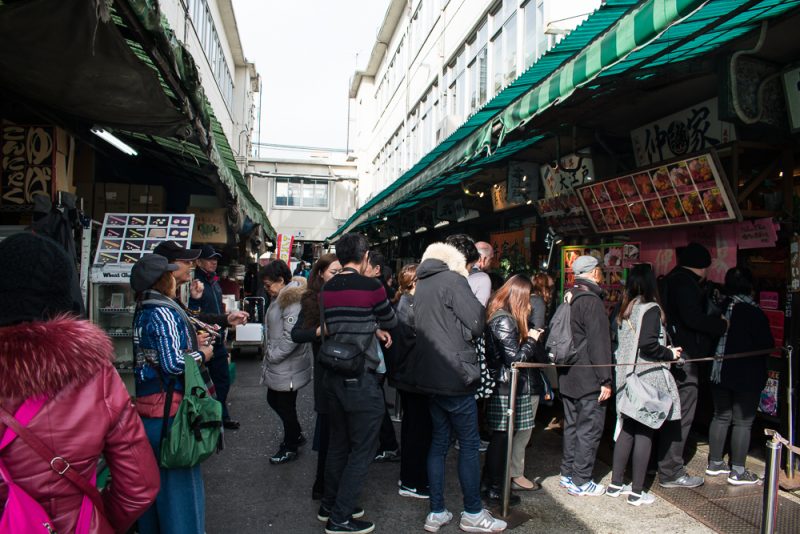 Already a queue in the morning. Probably one of the more popular sashimi restaurants here.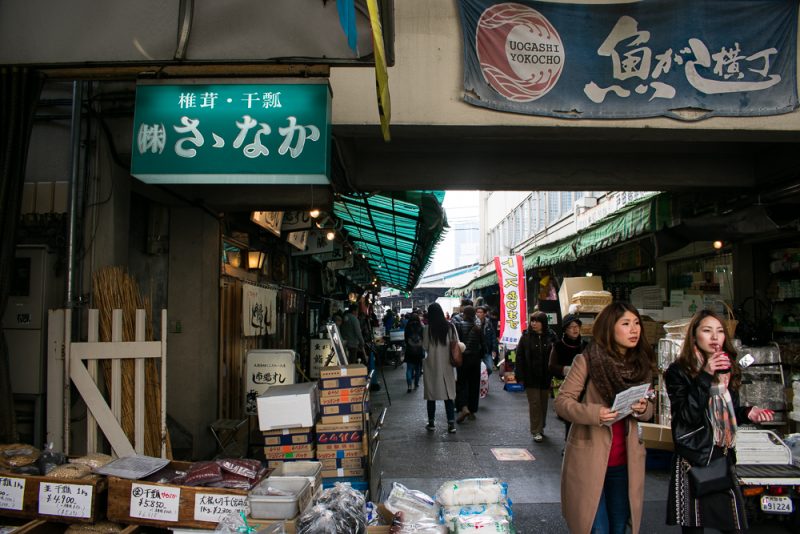 They also sell a lot of these Japanese food plastic models. A lot of restaurants (maybe most of them) actually have these on display.
They may have bought it here. You can buy it as a souvenir even if you don't run your own Japanese restaurant. Very cute stuff!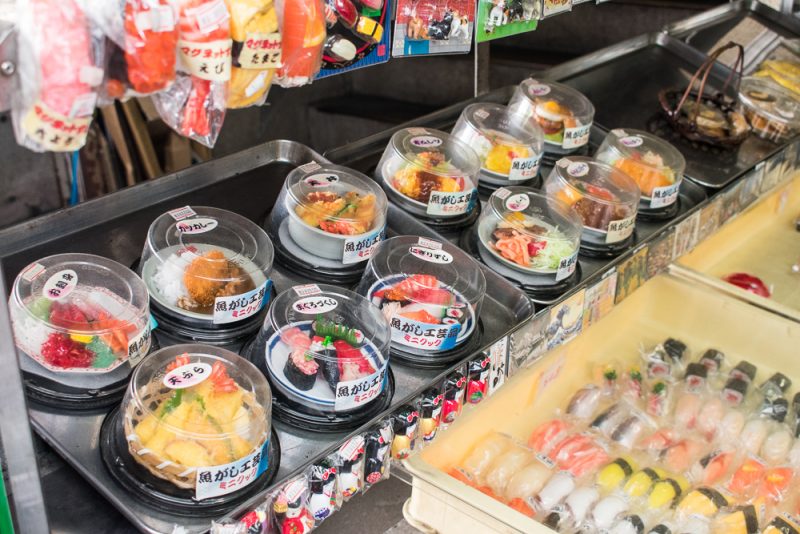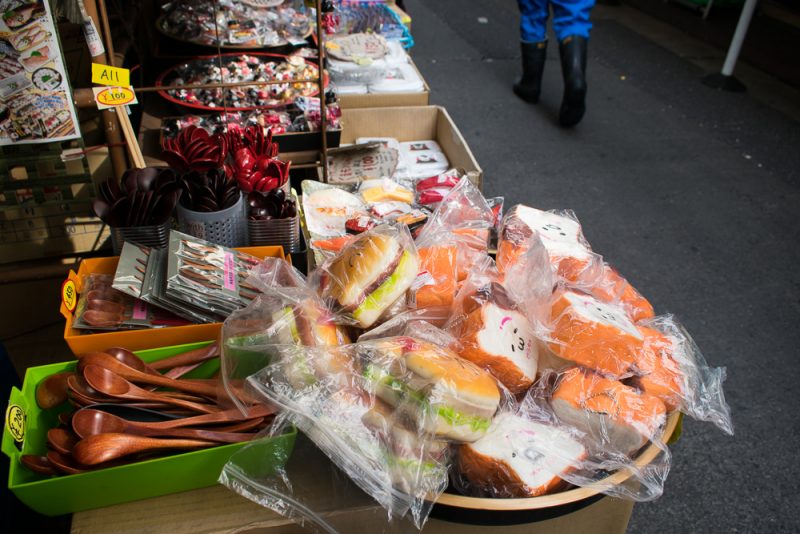 You can get some kitchen aprons here as well.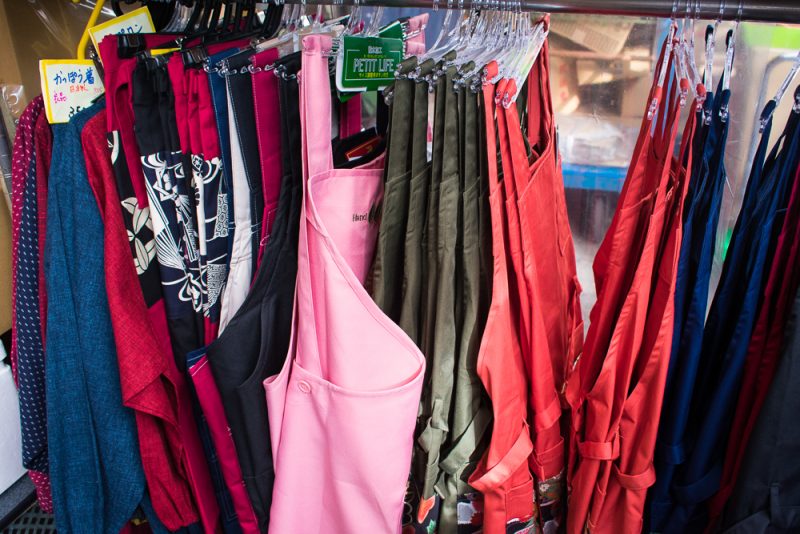 Some Japanese plates and bowls are for sale as well.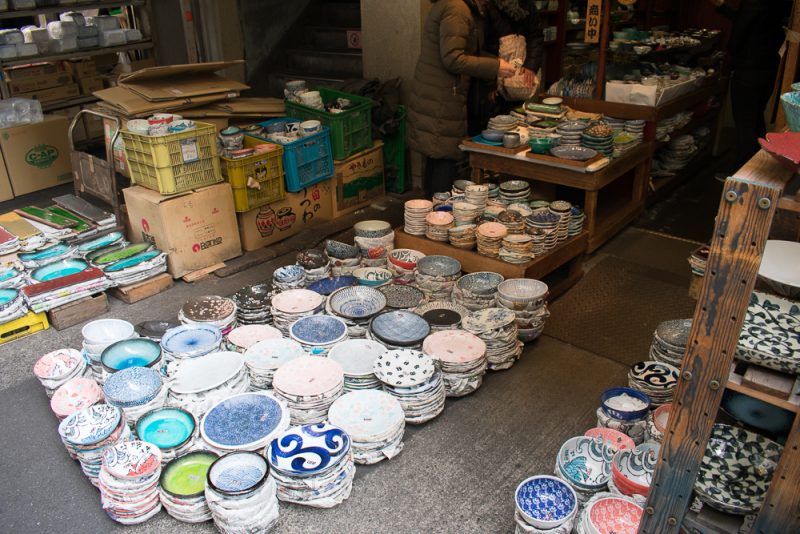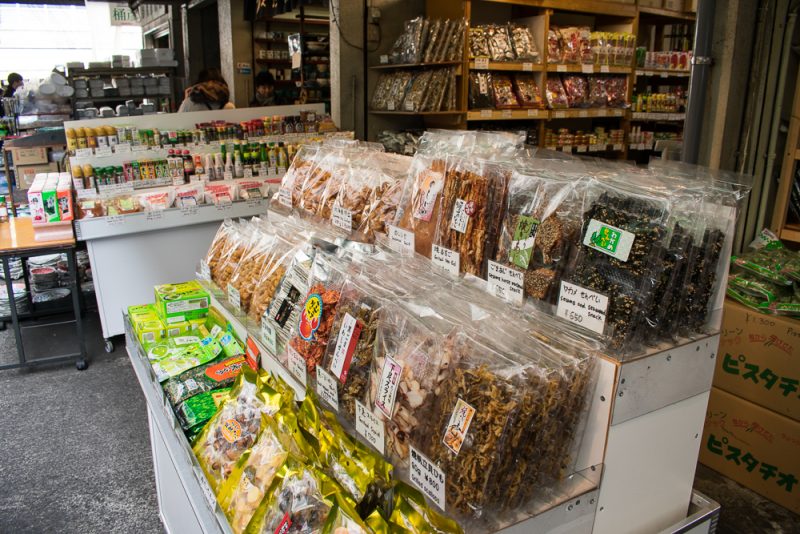 They do have souvenir shops here, but personally I think it's better to get souvenirs at 100 yen shops, Don Quijote or even in Asakusa.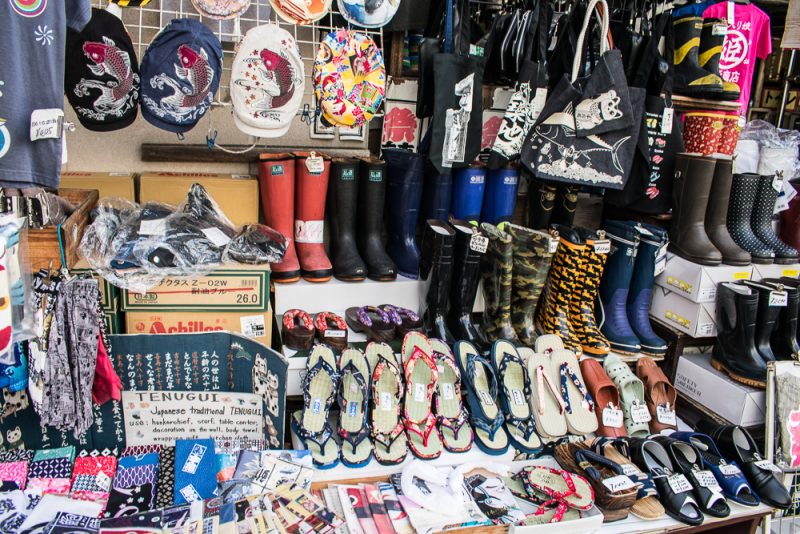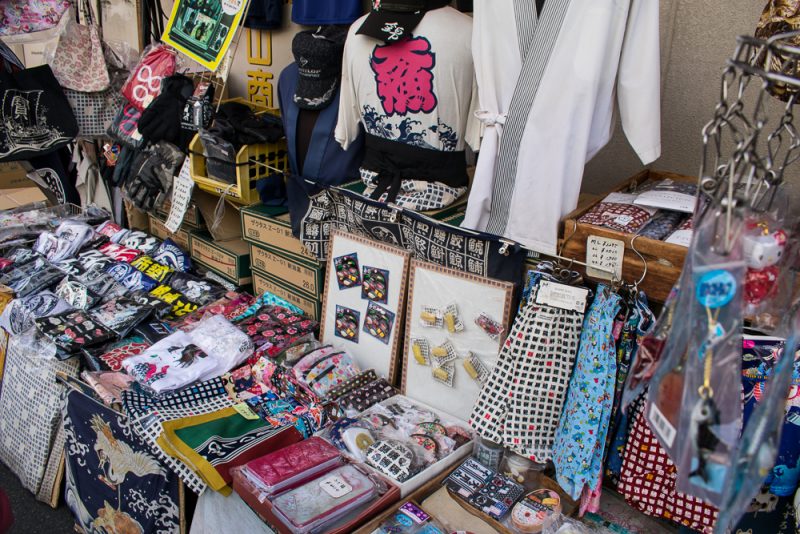 Very beautiful chopsticks on display.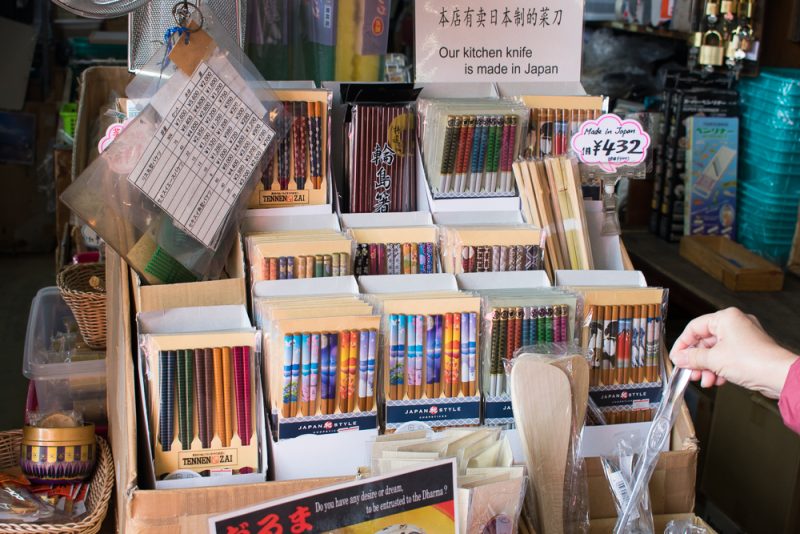 After walking for quite awhile, we decided to try out one of the sashimi restaurants.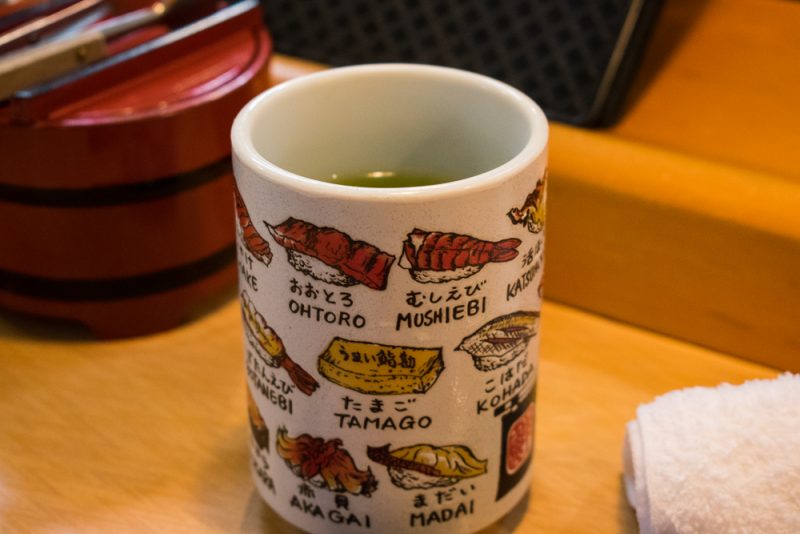 Very cute Japanese cup with names of sushi. It's actually for sale I think.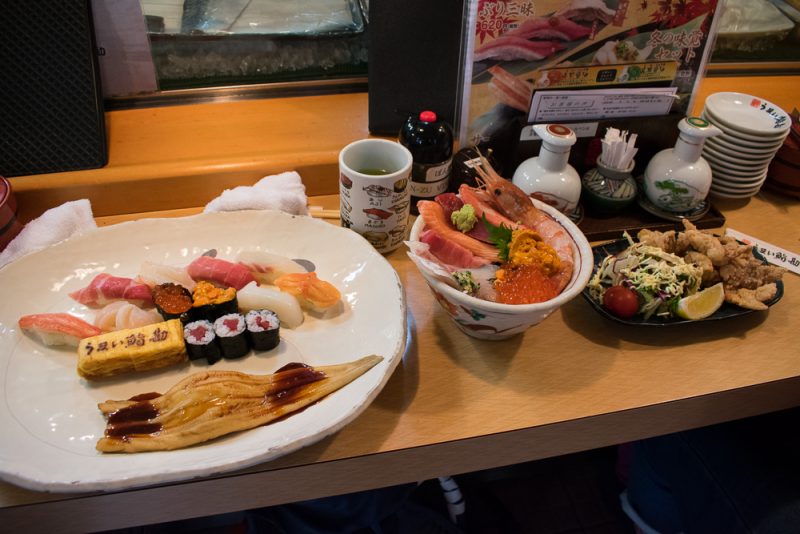 We ordered the set with unagi and nigiri, chirashi (rice bowl with sashimi) and some deep fried cuttlefish.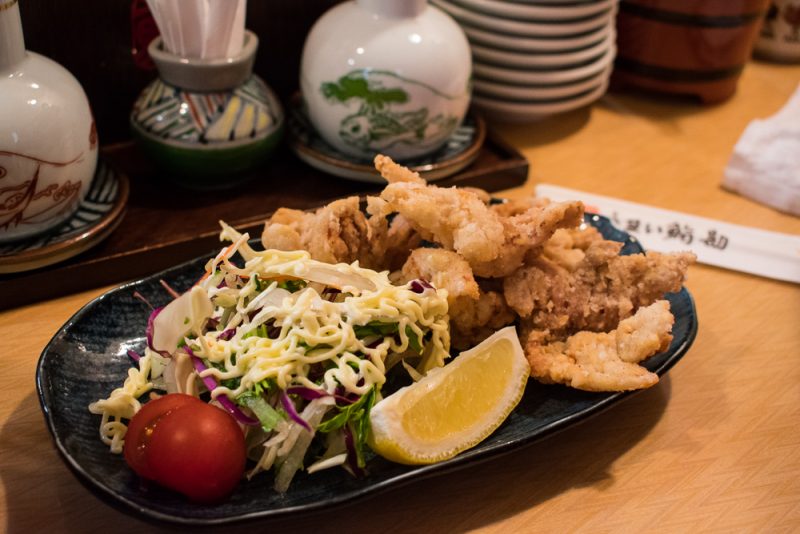 The deep fried cuttlefish was really crispy and awesome. You have to order one of these if you don't like raw food.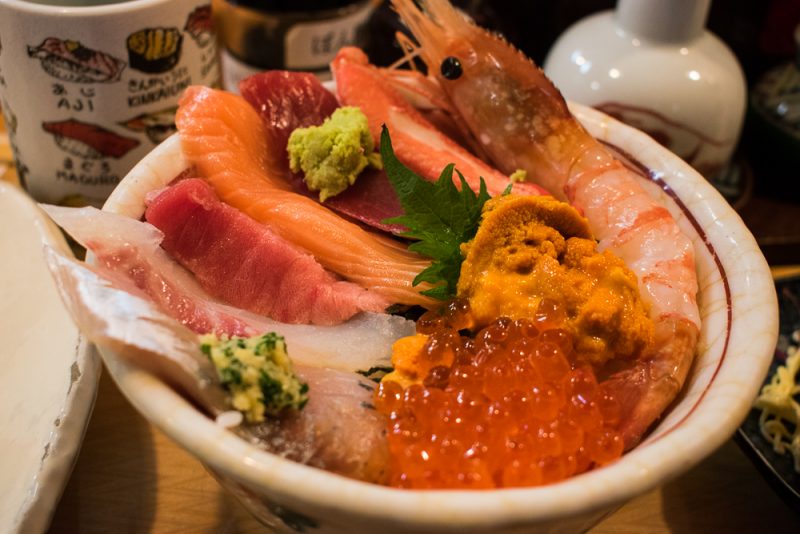 The chirashi came with fatty tuna, tuna, prawn, sea urchin, fish roe and a few other types of sashimi.
Personally I couldn't eat the sea urchin and the fish roes as the taste was a bit strong for me. It's a "love it or hate it" kind of dish.
The fatty tuna was undoubtedly the best thing on the rice bowl.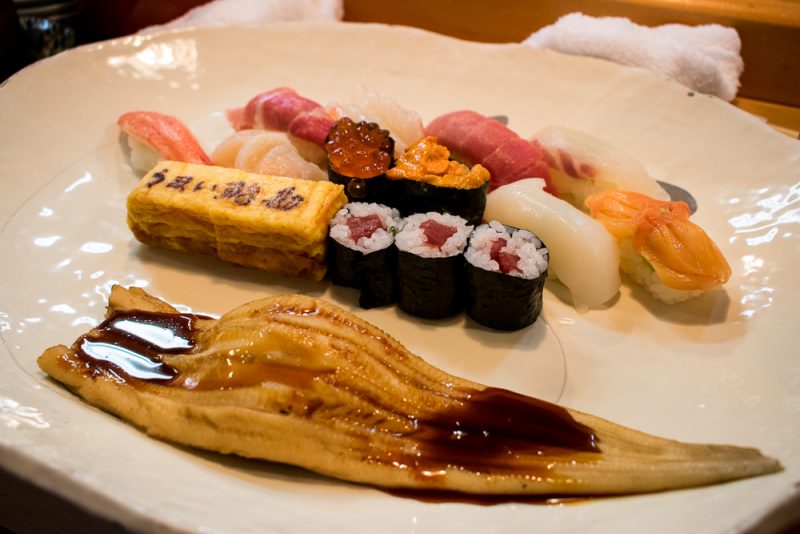 The unagi was probably steamed and the rest of the dishes were similar compared to the chirashi.
The ingredients were probably the same, but this was served as nigiri instead (sashimi on rice).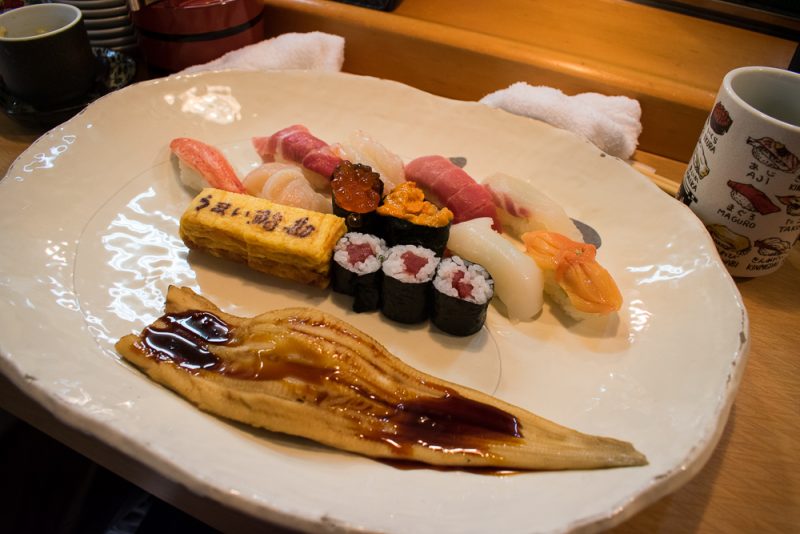 Many people ordered the same dish as it was the "featured" dish.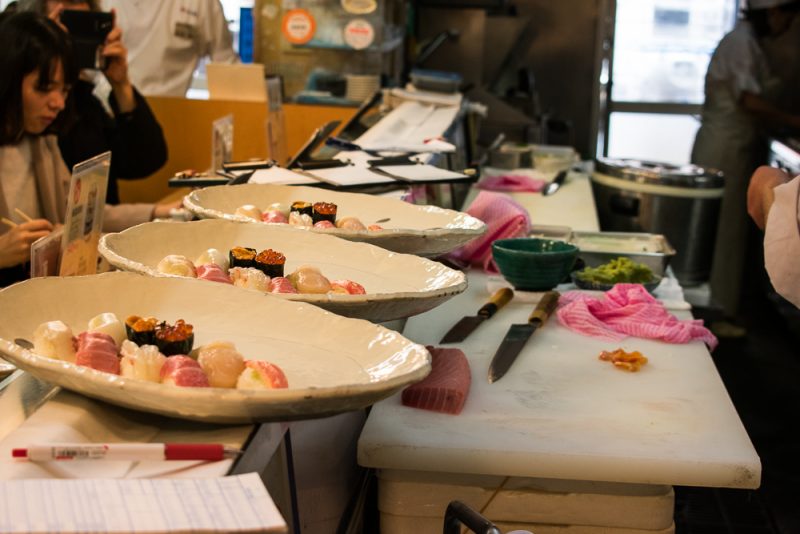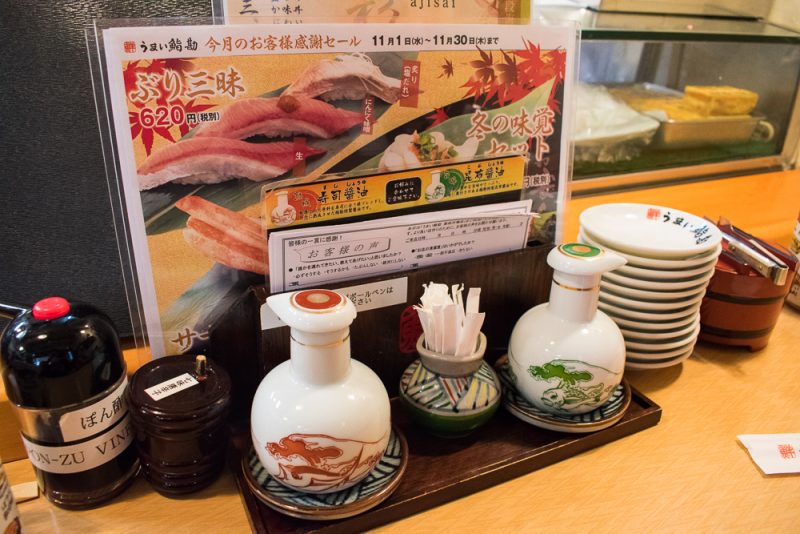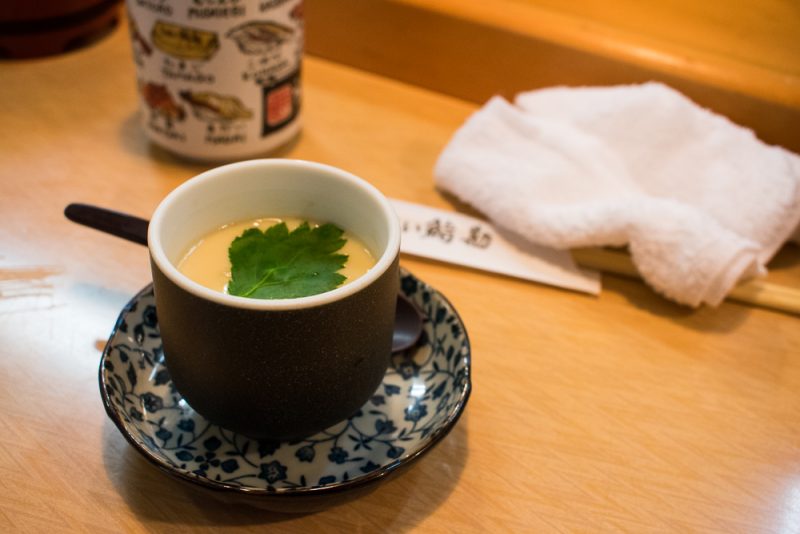 A nice cup of chawanmushi is served as part of the set.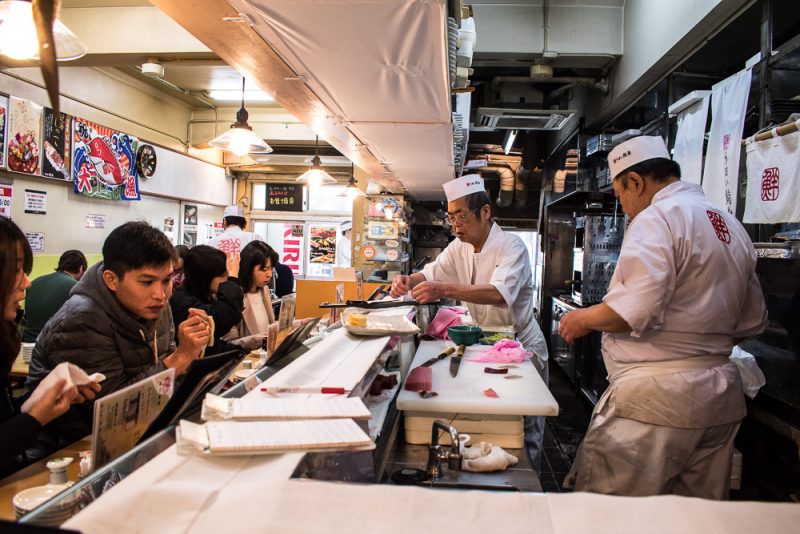 The chefs preparing the meals. This guy has been seen in many blogs as he's probably worked here for quite awhile.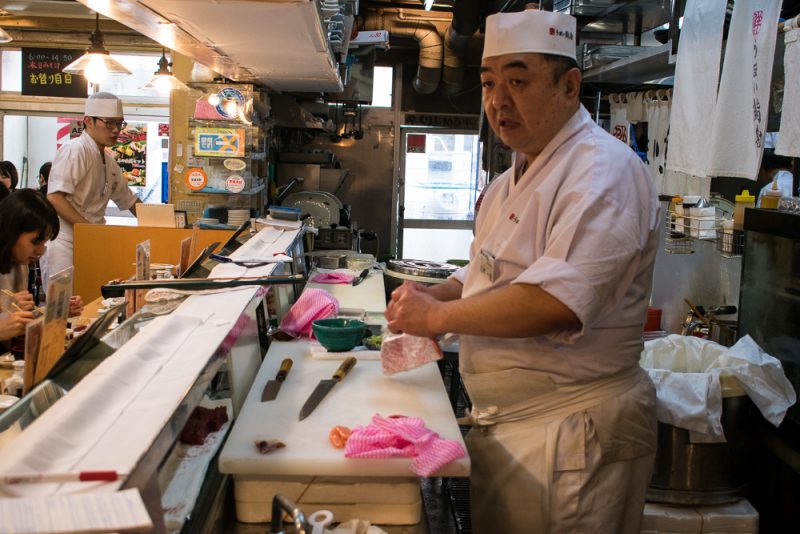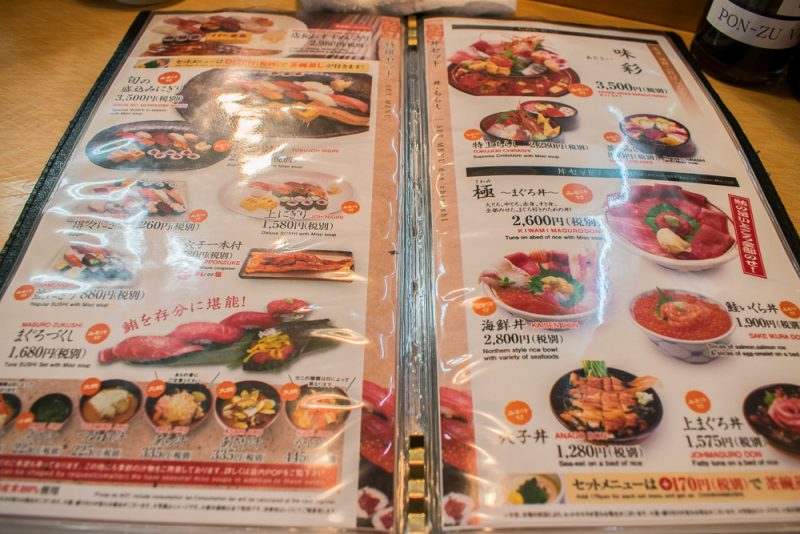 The trip to Tsukiji fish market was a fruitful one and the sashimi was of course as fresh as could be.
If you're visiting Tokyo, you may want to visit this place at least once before it gets relocated later this year.
---
Related articles:
Tokyu Stay Hotel Review – Awesome Location In Shinjuku
Hakone Free Pass – Do You Need One?
4 Things To Do At Tokyo Tower In 2020