Hey guys, I was in Tokyo the last two weeks and I took a day trip to Hakone in the midst of my 9-day Tokyo trip. I would love to share my experiences with you and also tips on what to look out for during the Hakone day trip.
I went there during autumn but it was closer to the end of it, so some leaves were already falling by then.
To clarify, the Hakone round course or round trip is basically a route that allows you to experience many of the attractions in Hakone in a loop. You can either go clockwise or counter-clockwise and it MAY bring a big difference. For e.g. we went the counter-clockwise route which is the usual popular one and it was crowded.
We had to queue a lot and spent most of our day queuing. It may have been because we went on a Friday, and Thursday was a public holiday.
Many Japanese families were there on a trip as well and they probably took leave from work for a long weekend.
The map below was extracted from the official website of Odakyu Japan.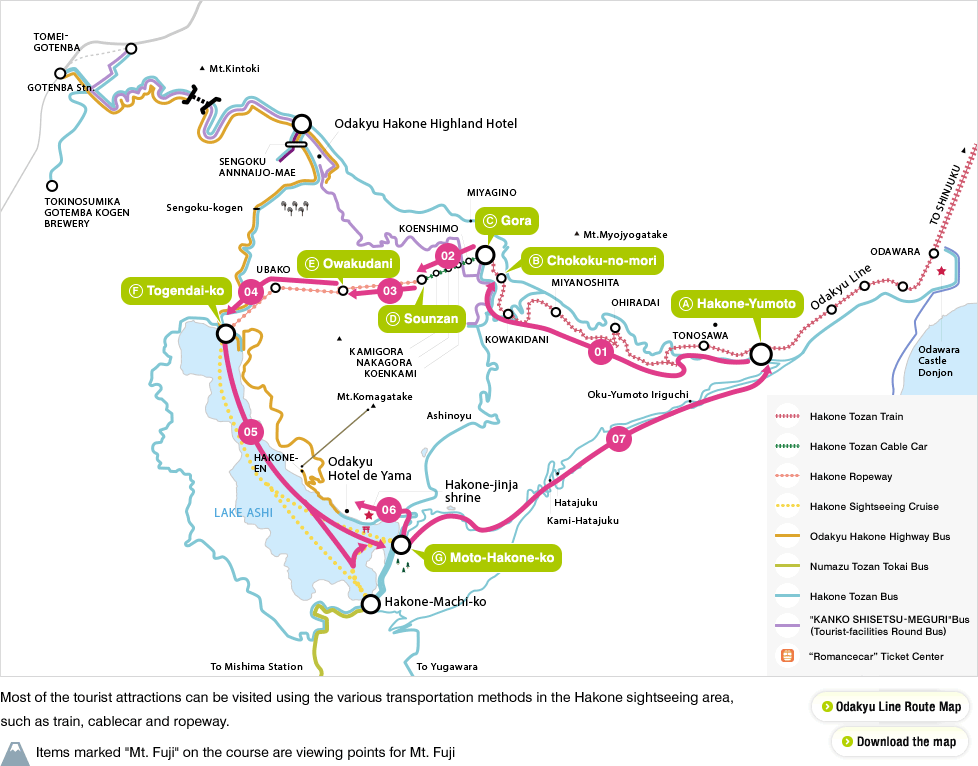 As you can see, the route looks confusing and this is already the dialed down version of the map. Like in the map, counter-clockwise means following from (A) to (G) and clockwise is the other way round. Either way works, but it was super crowded when we used the counter-clockwise way.
To make this article easier to understand, we will divide it into different sections. Do remember that this is a day trip. If you plan to stay overnight, you can probably stay near Togendai as you can view Lake Ashi from there.
What to do before going to Hakone
Take a train to Hakone-Yumoto
Take a different train from Hakone-Yumoto to Gora
Take the cable car from Gora to Sounzan
Take the ropeway from Sounzan to Togendai (small stop at Owakudani)
Take the cruise from Togendai to Moto-Hakone or Hakone-Machi
Take a bus back from Moto-Hakone or Hakone-Machi to Hakone-Yumoto
Let's begin the round trip!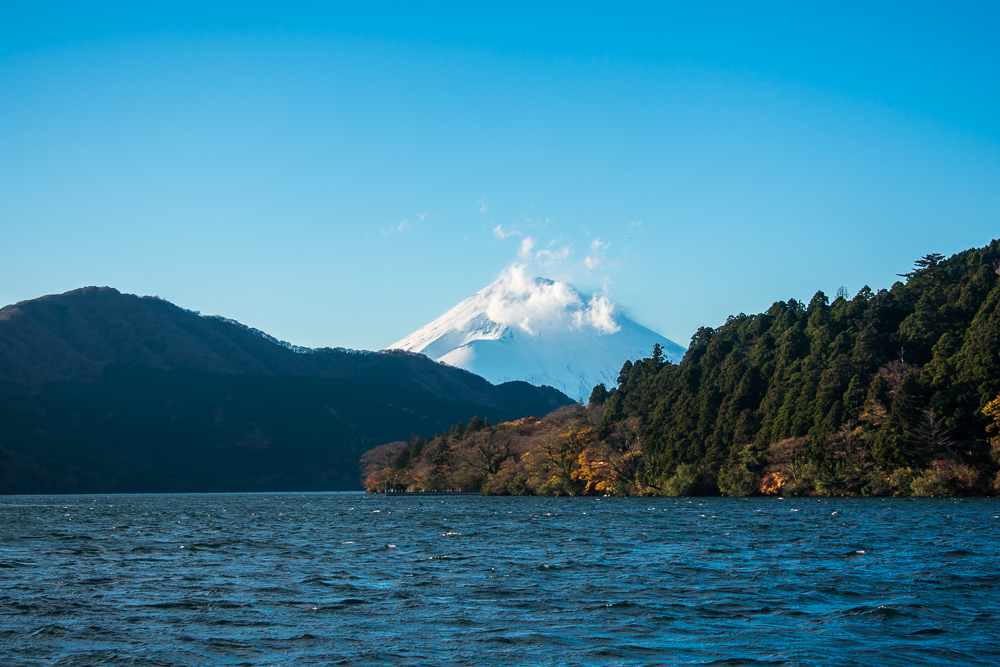 1. What to do before going to Hakone
Before going to Hakone, it's normally recommended to buy the Free Pass. The Free Pass is not free (despite the name) and it costs around 5,140 yen. The Free Pass comes with the following things:
Train from Hakone-Yumoto to Gora
Cable Car from Gora to Sounzan
Ropeway from Sounzan to Togendai
A short cruise from Togendai (Lake Ashi) to Hakone-Machi or Moto-Hakone
A bus trip back from Hakone-Machi / Moto-Hakone back to Hakone-Yumoto to allow you to take a train back to Tokyo
One thing not included is the Romance Car. The Romance Car is actually a train, so don't get confused with the name. Don't ask me why it's called Romance Car because I don't know! Maybe it sounds sweet? Basically you sit the Romance Car to go from Shinjuku Station to Hakone-Yumoto.
Is it compulsory to take the Romance Car? Apparently not. If you don't use the Romance Car, you'll have to use the normal subway where it stops at every station. The Romance Car bypasses some of the stations and more importantly each seat is reserved. This means you don't have to rush just to get a good seat as all are bought in advance. They also sell food on the train and toilets are available at certain "cars".
The downside is, the Romance Car is more expensive and we paid around 1,800 yen for two-ways. It's considered as an upgrade. For tourists, perhaps it's easier to just get the Free Pass with the Romance Car upgrade (if you don't mind paying). If you don't have the Free Pass, you are required to make payment at every attraction separately and it's a hassle.
If you're interested in the Free Pass and the Romance Car, you have to buy the tickets at the Shinjuku Station near Odakyu Line. As Shinjuku Station is super huge, you'll notice lots of different Lines, so head towards the Odakyu Line. You'll find a Tourist Center selling the Free Pass at the Odakyu Line area. Choose the right time and please do not be late! Everything is punctual in Japan. If you're late, you will definitely miss it.
2. Take a train from Shinjuku Station (Odakyu Line) to Hakone-Yumoto
On the day of departure, just head towards Odakyu Line inside Shinjuku Station. If you're lost, just ask a staff nearby the ticket gate and he / she will definitely help you.
They will also tell you which ticket to put inside the ticket gate. Just follow their instructions.
Once you're past the ticket gate, find for your Car number. Your ticket will have a car number and seat number like "Car 3, Seat 13A".
Wait at the right area for your respective Car.
Once you're boarded, just relax in the Romance Car and you should reach the destination in one hour plus.
If Mount Fuji is visible on the way, the train will slow down and you can take a look at it. Here's a photo I took of Mount Fuji from the Romance Car: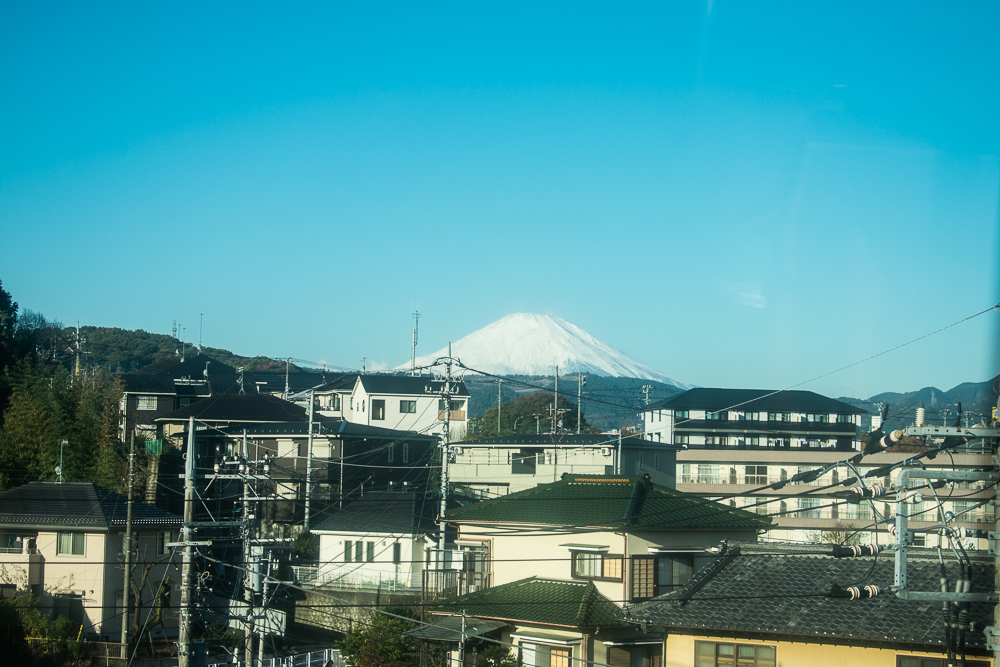 Unfortunately it isn't that clear as I'm taking through a window. Then again, it looks majestic!
3. Take a different train from Hakone-Yumoto to Gora
This is where you have to decide if you want to explore the attractions in Hakone clockwise or counter-clockwise. If you follow my article, the round course will be counter-clockwise BUT I do recommend going clockwise if it's crowded.
Upon reaching Hakone-Yumoto, this is what you'll see. The train on the left is the Romance Car and the red one is actually the regular subway.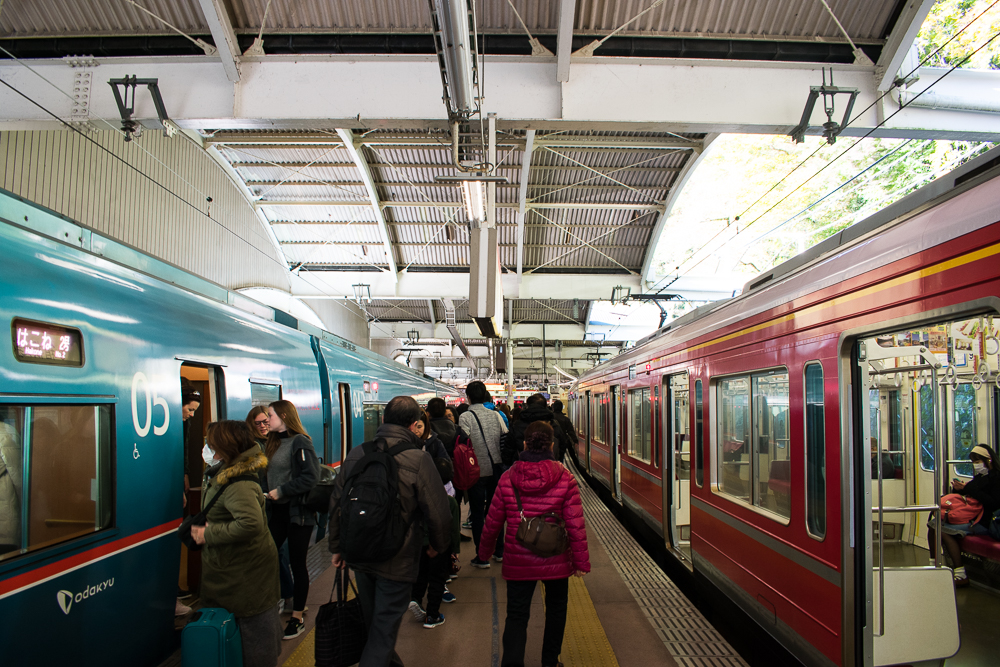 You'll be greeted by the Welcome to Hakone sign board.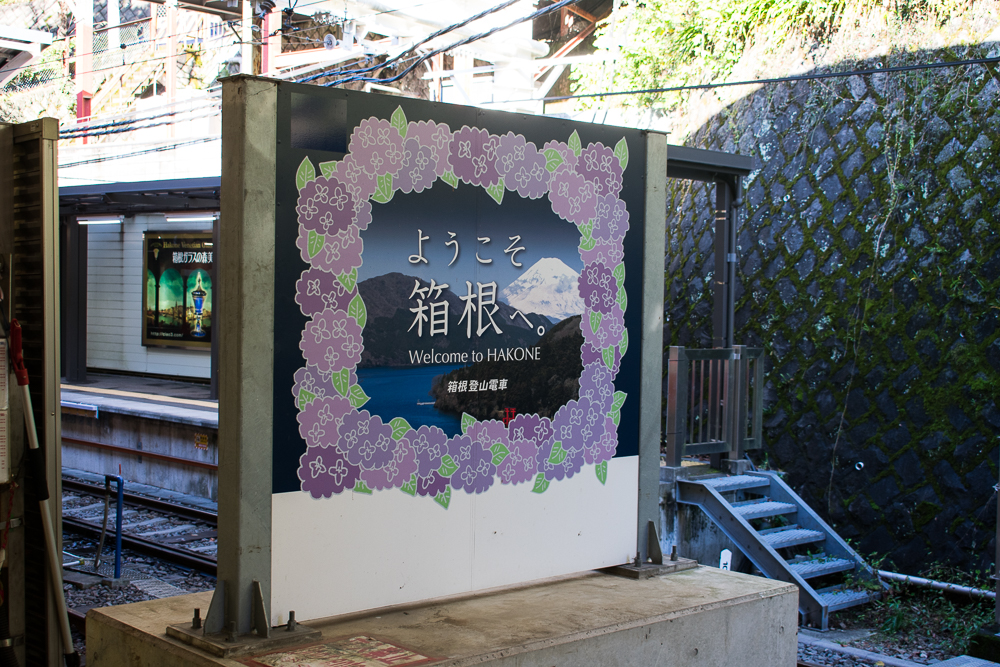 This red and white train below is the one that fetches you to Gora. When I took the train it was so crowded and we were all squeezed inside it! It will be an uphill climb and you'll see different stations along the way with some scenery. More to come later.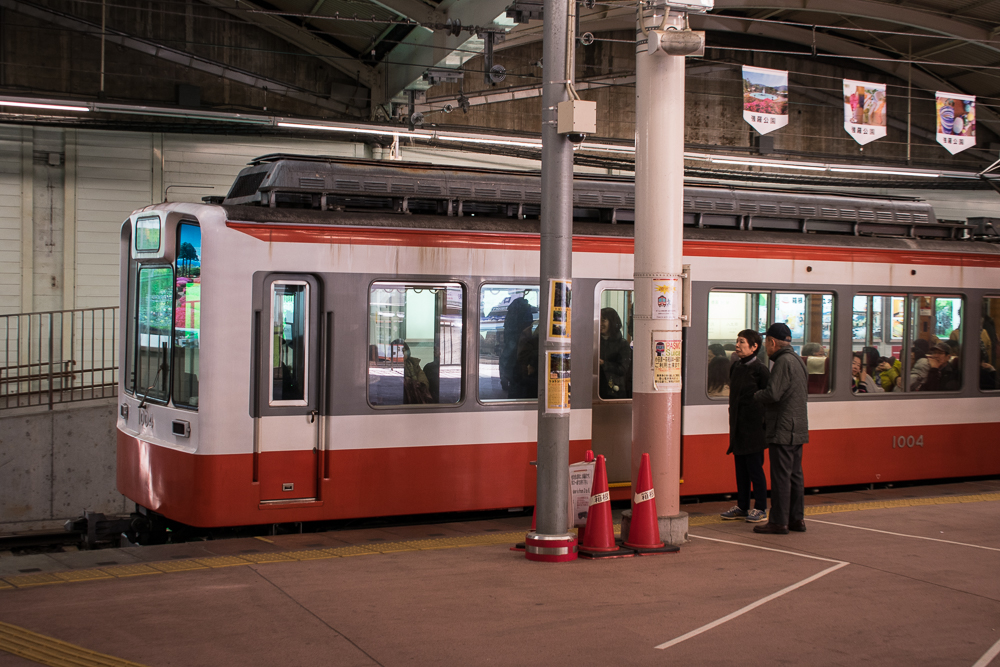 You can actually go out of the station and actually enter the small town of Hakone-Yumoto. That's what I did.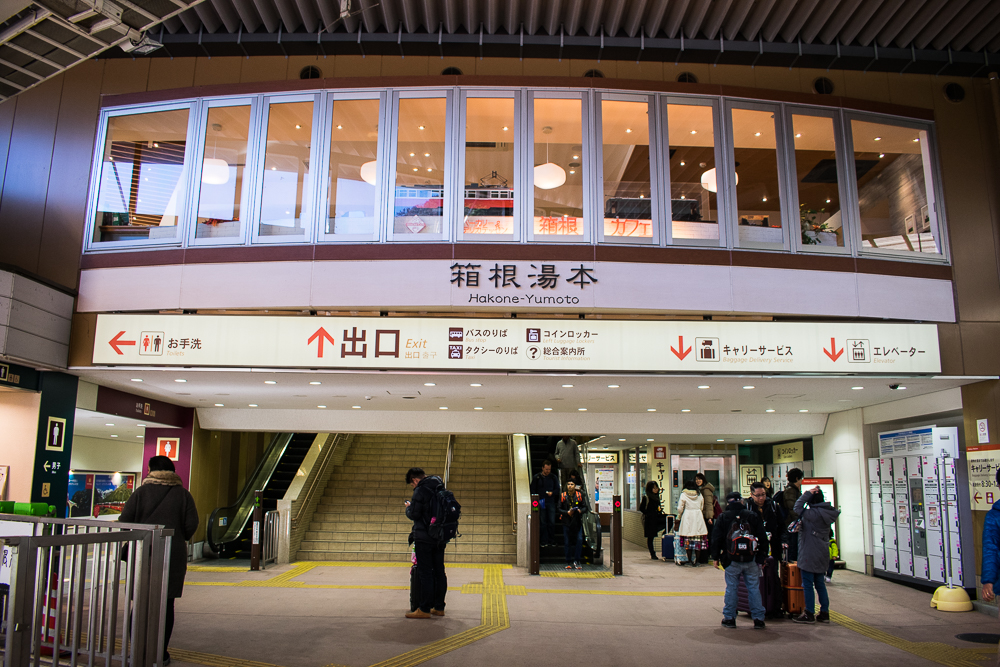 The town is small but it's really scenic! You can see the mountains/hills behind and the place is quite cozy itself.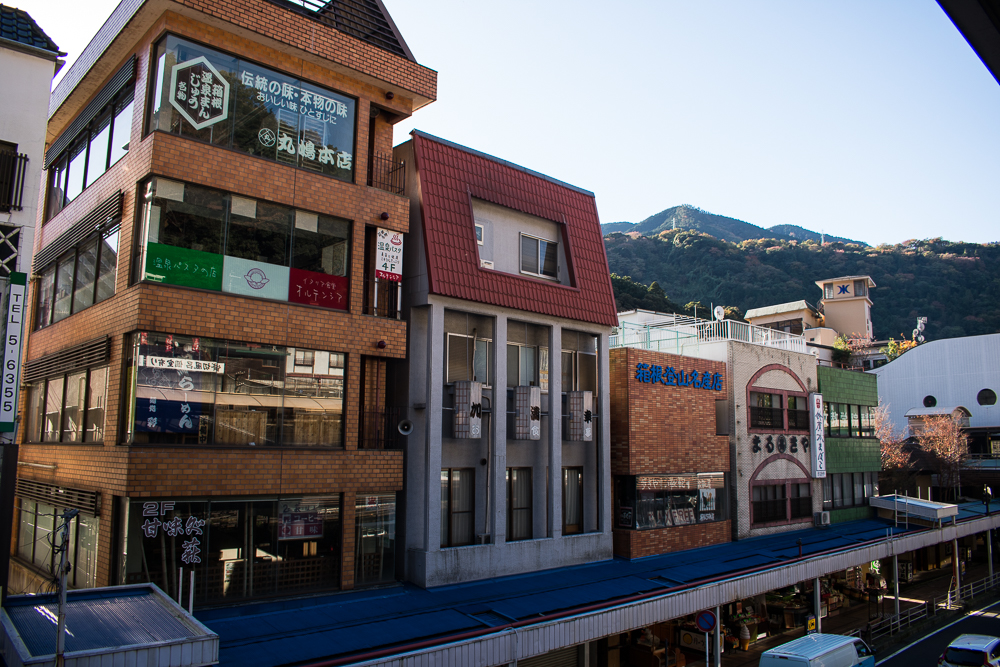 We actually stopped for breakfast here, which may have been a mistake because after breakfast it became crowded! We took some toast and tea in one of these shops. There is also a Tourist Information Center that opens at 9 am. You can ask them questions.
If you plan to go clockwise, I believe the bus station is just around this corner.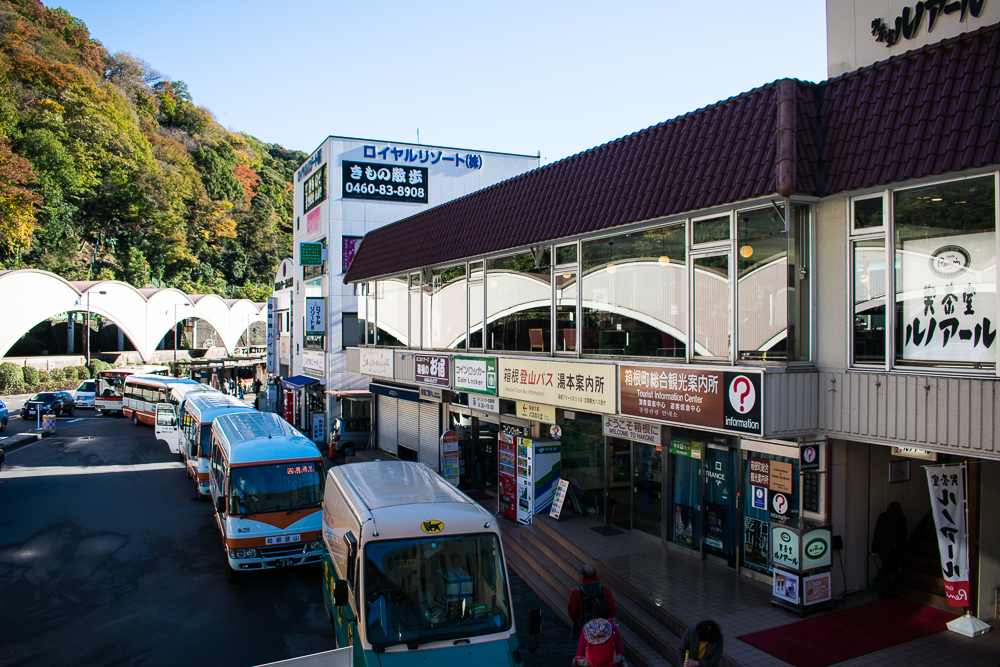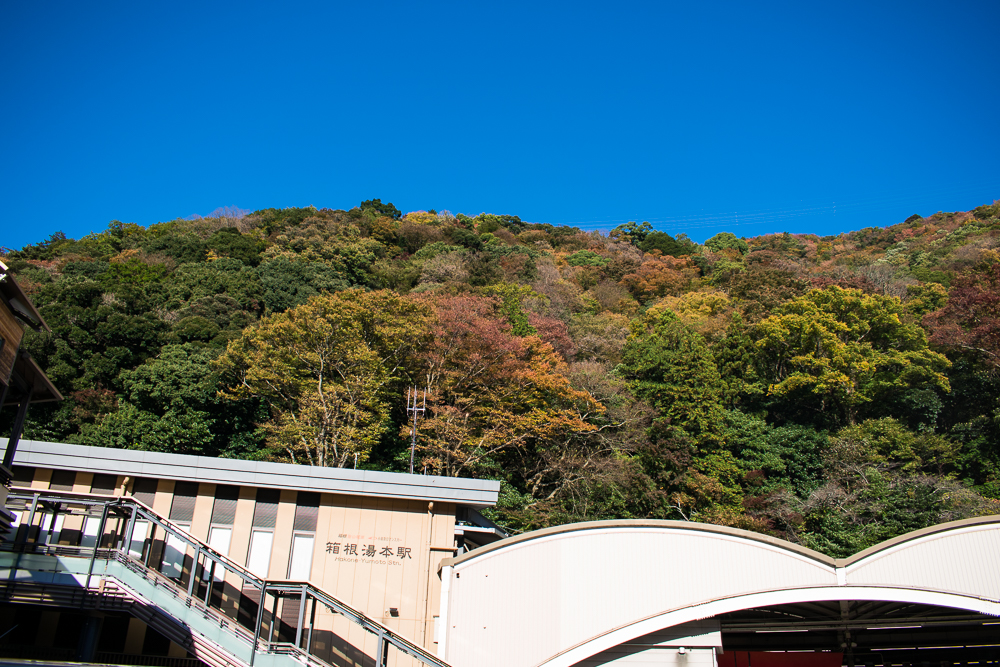 The stream of water is really peaceful and you can take some amazing photos here. I guess the cold weather makes the place much better.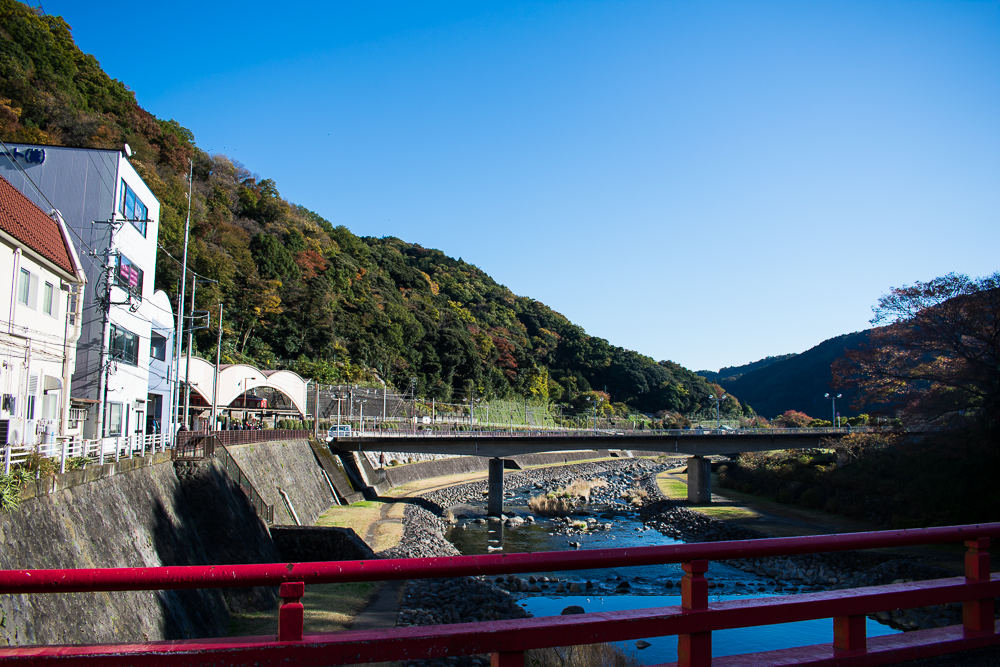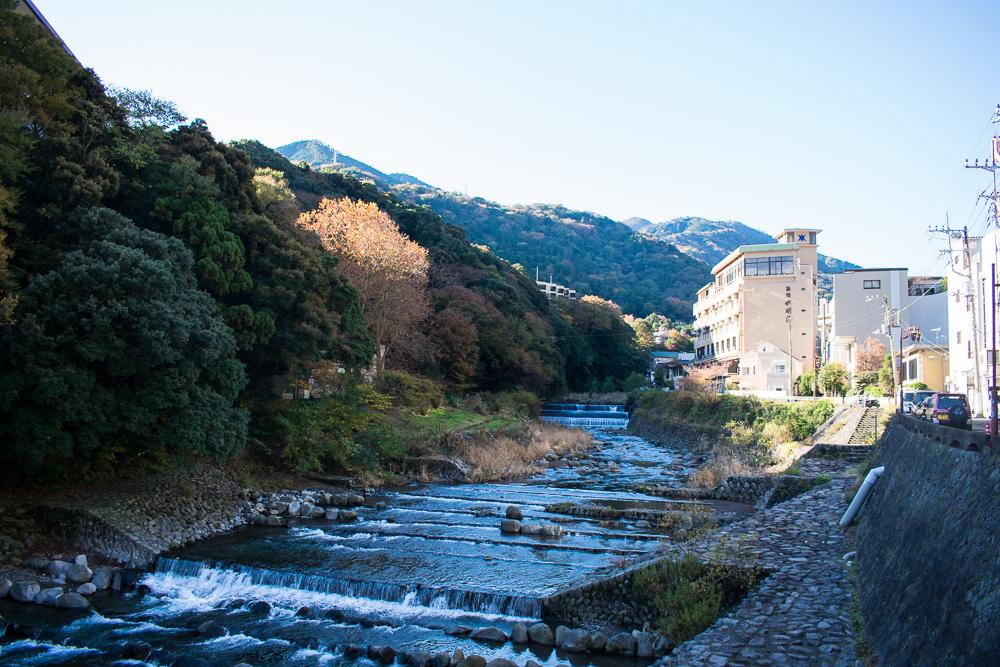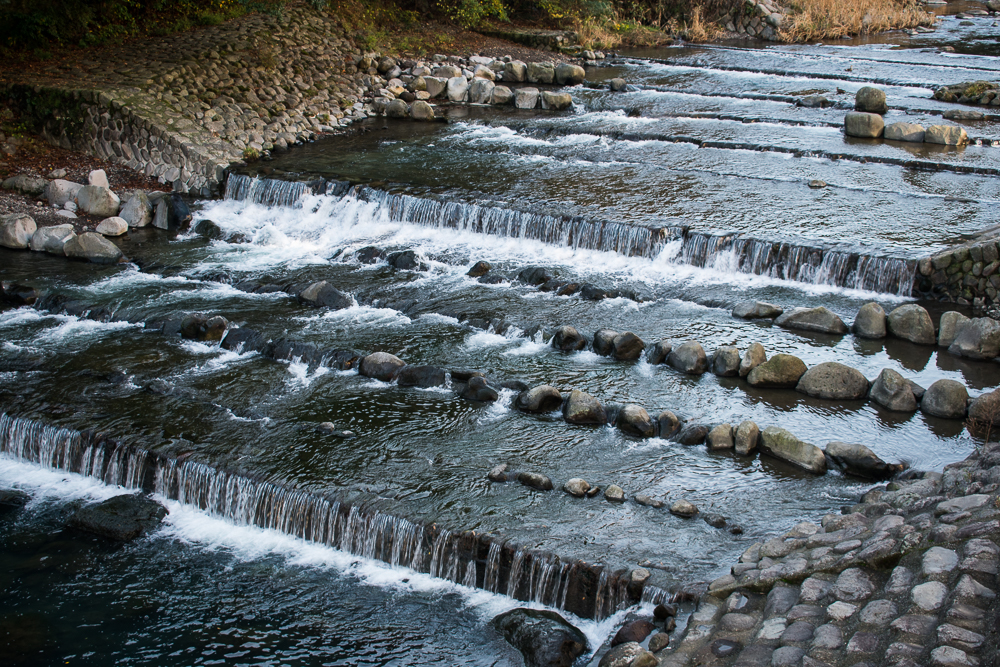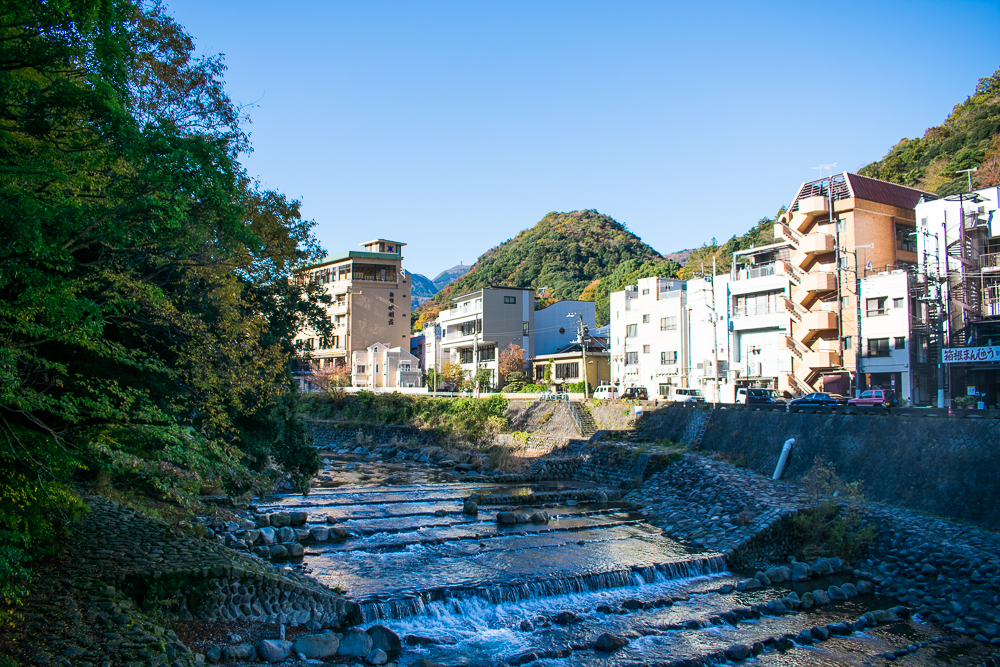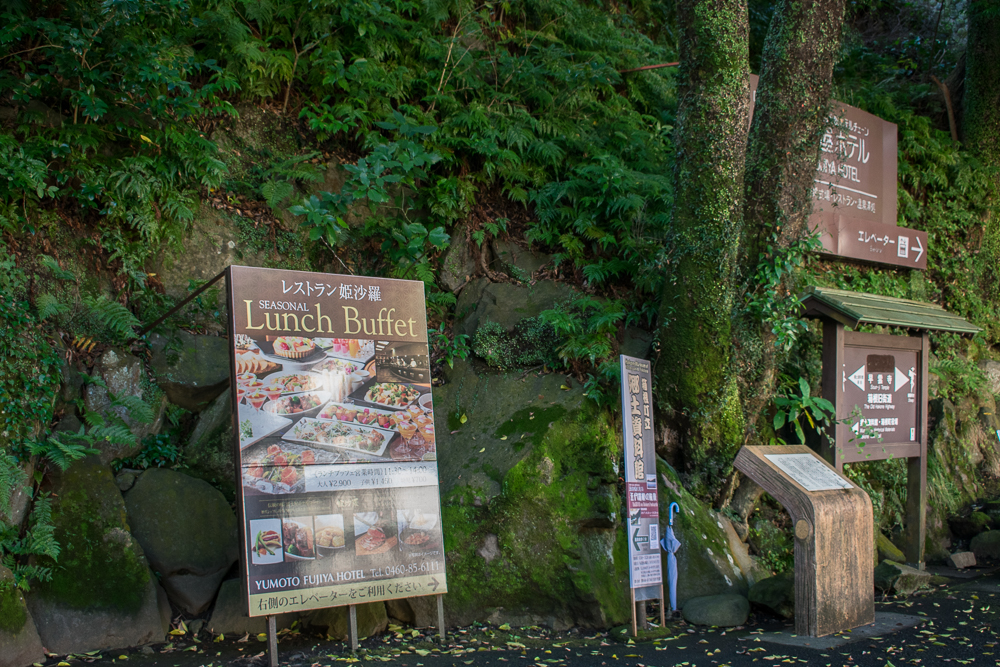 We saw one hotel here and I guess some of the tourists stay here. There's an elevator up and you can check out the hotel, but there's nothing much there if you're not a guest.
This is one of the food places inside the hotel.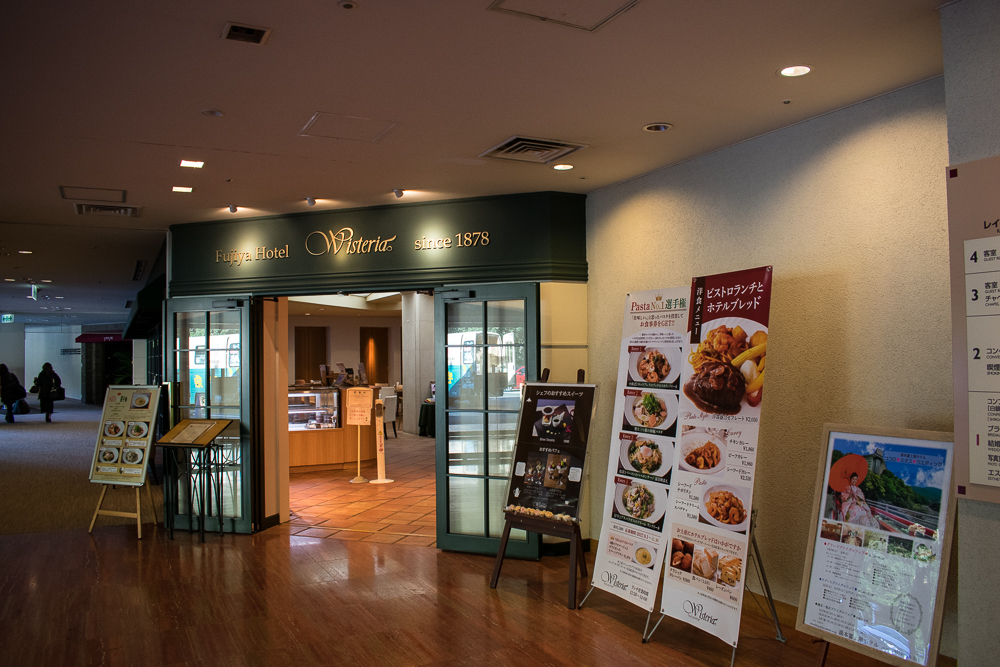 Hakone-Yumoto is quite a pretty place to visit and relax.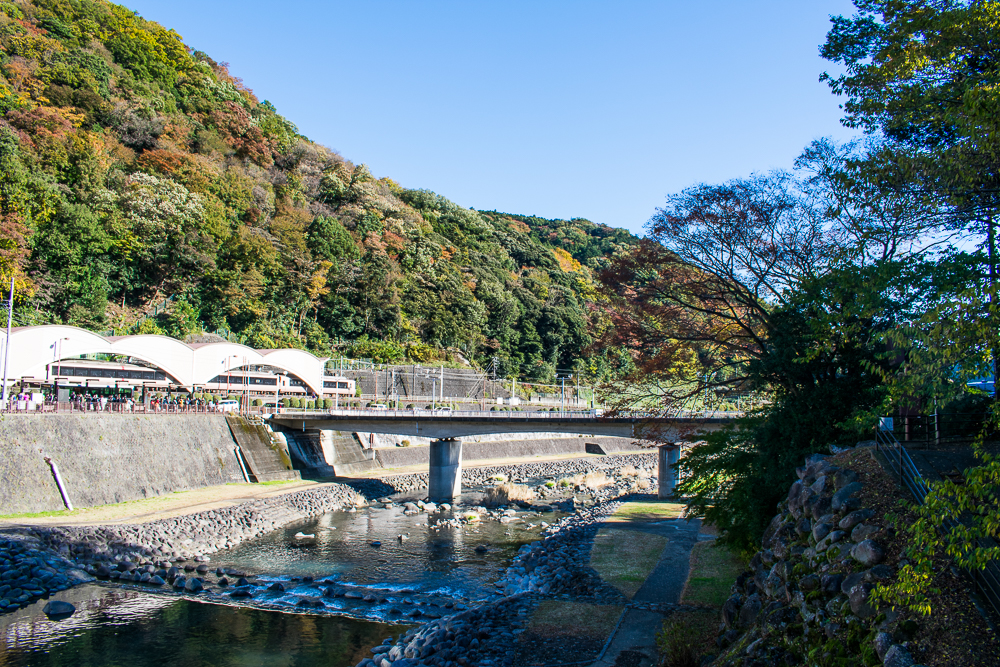 This is where we dined for breakfast. I believe we were the first customer of the day! It was empty and they were just starting. The shop is called Ginza Renois if I'm not mistaken.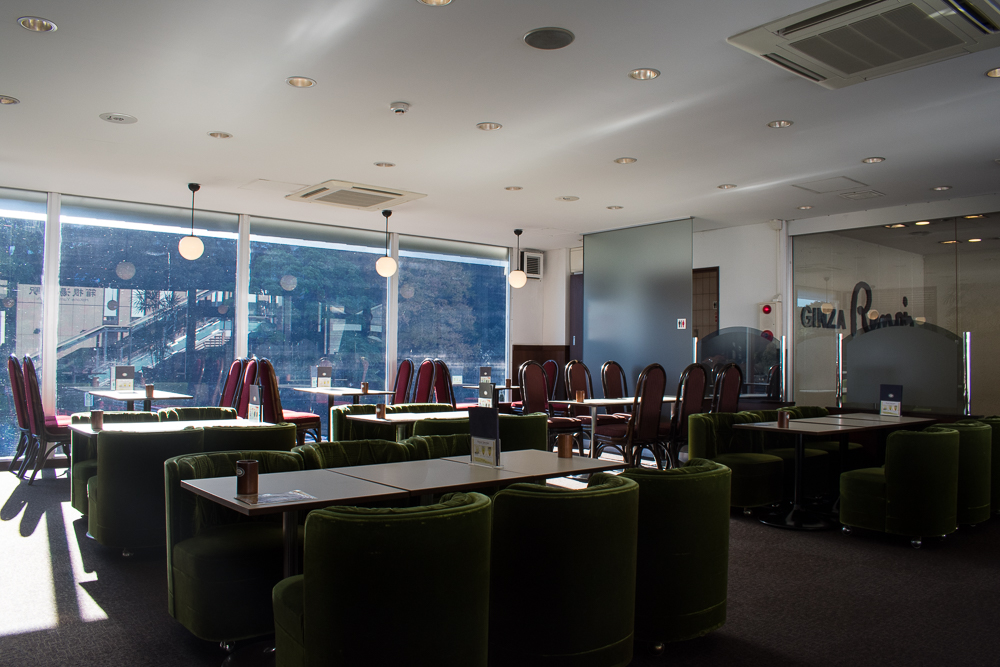 To make things easy, they have 3 sets labeled A, B and C. We ordered all three!
This one is their egg sandwich. Don't be fooled because the portion is big. It looked small from the images.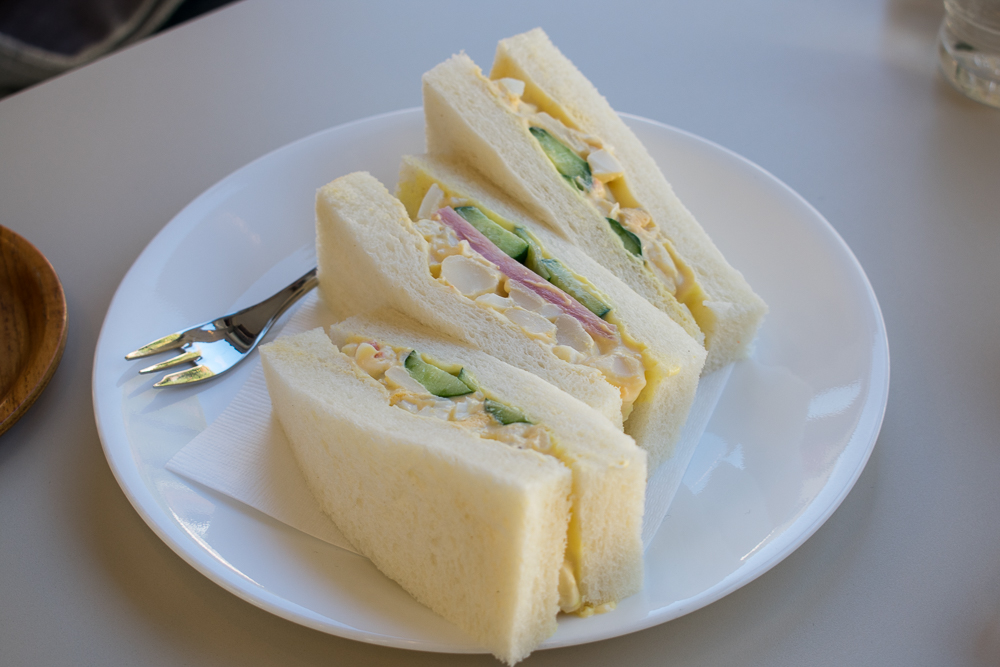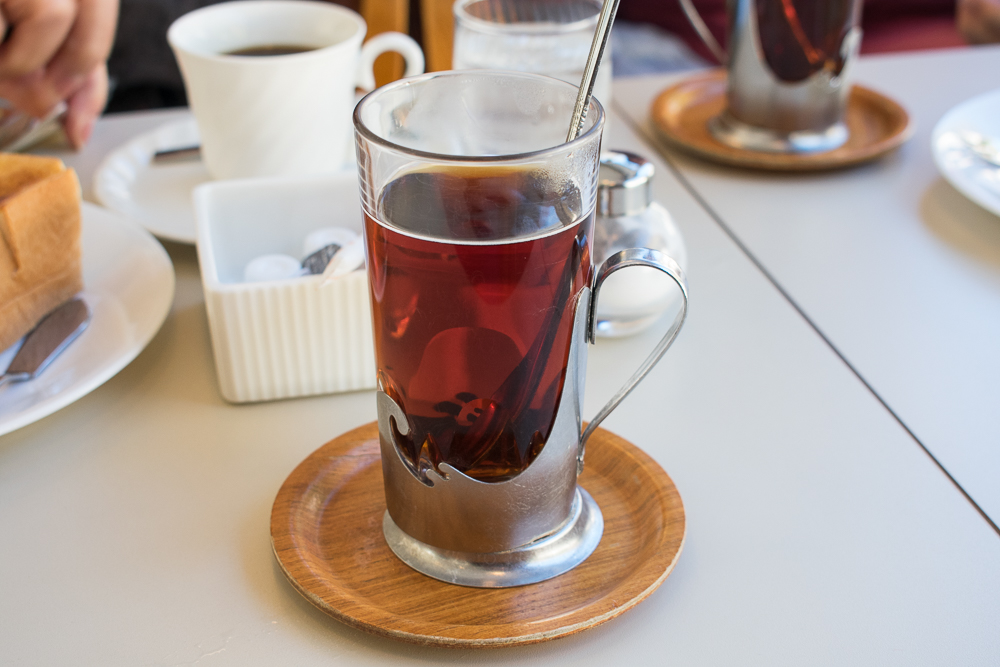 This is a thick toast with some butter on top. They normally use Hokkaido butter since Hokkaido specializes in dairy products. The butter and milk in Japan are really good.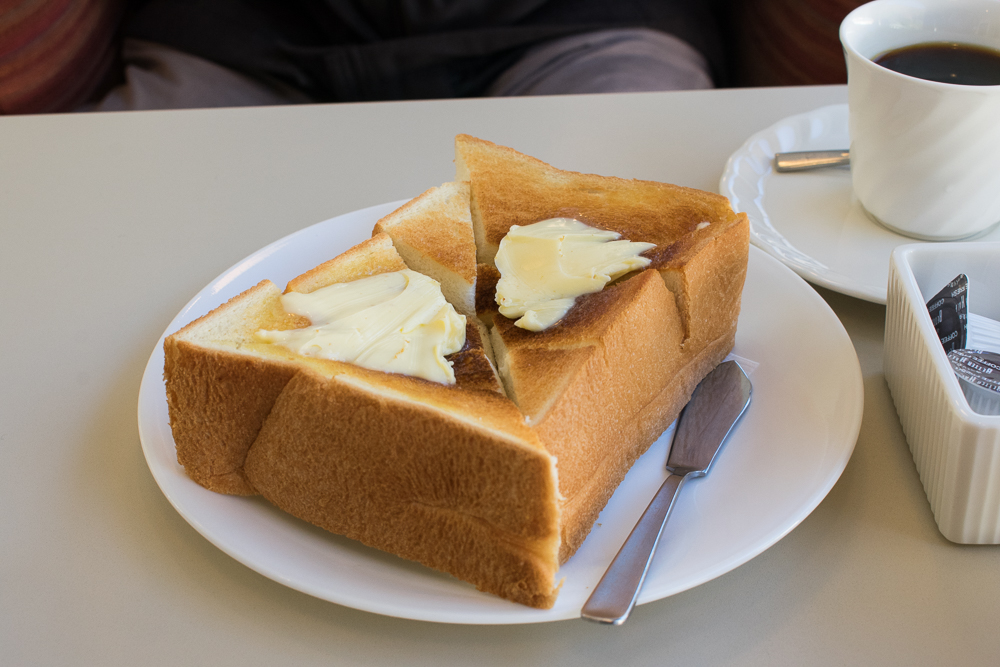 This is their toast with cheese, corn and ham. It was good as well. Actually all 3 sets were delicious.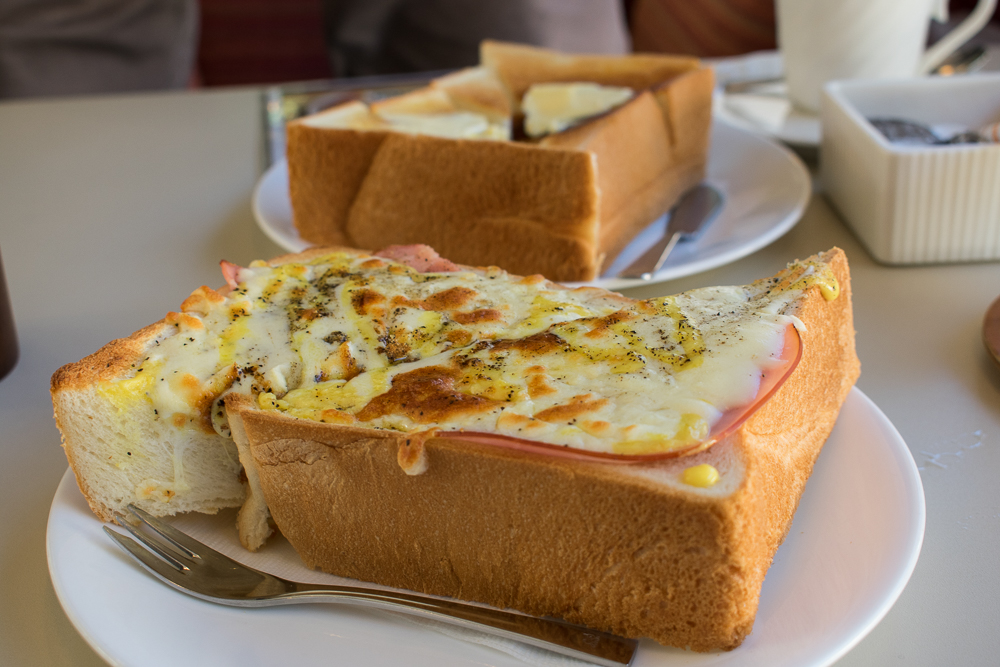 Get a good view of Hakone-Yumoto before you proceed to the next stop.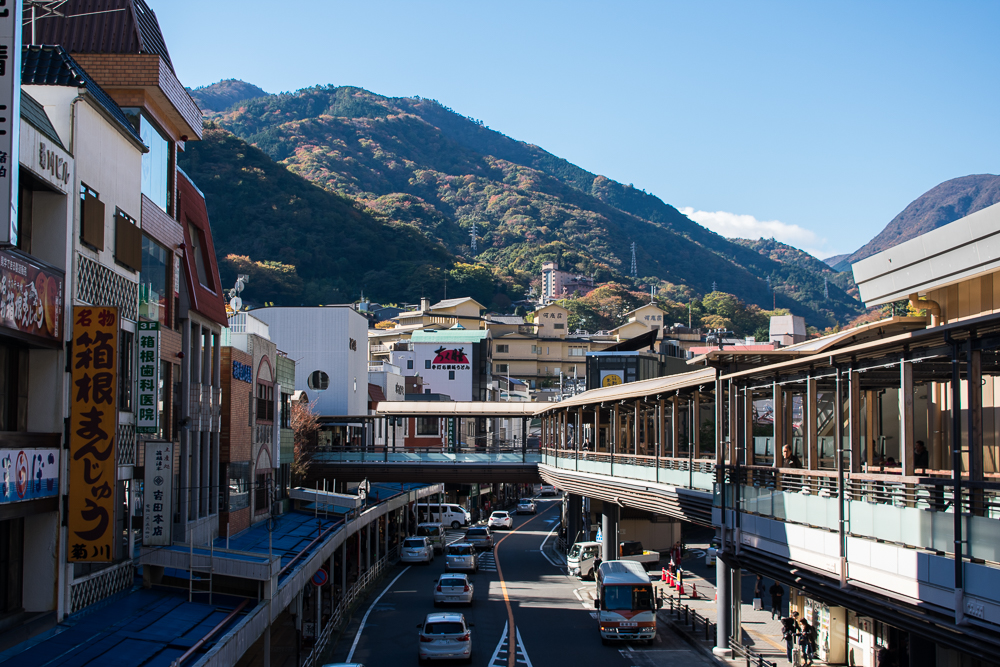 We went back to the station after this and boarded the red and white train (as shown earlier).
I didn't take much photos on the train because the reflection made it less clear.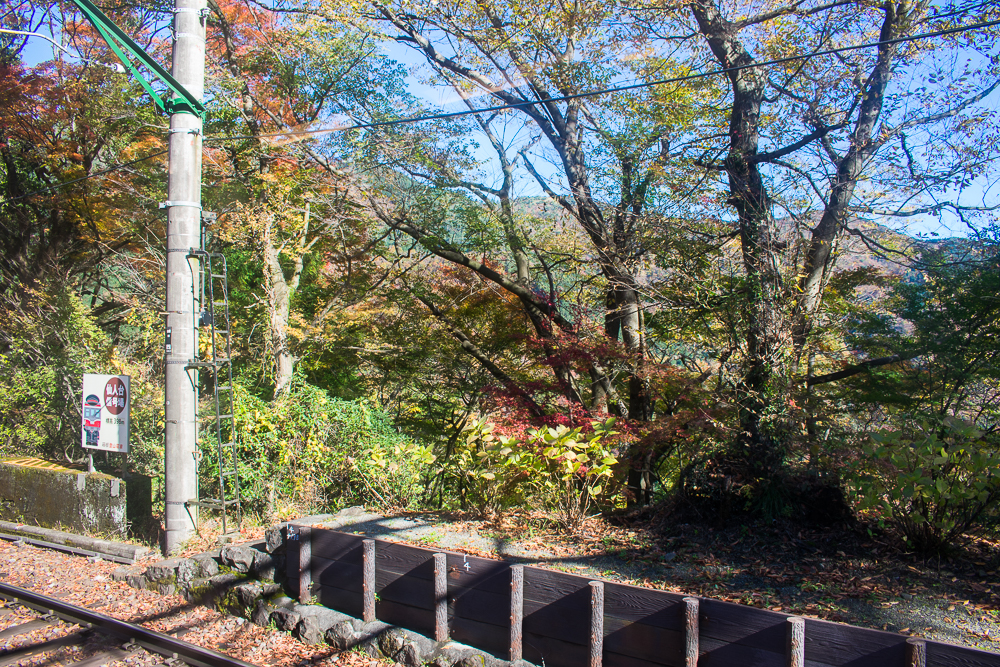 You'll be able to see lots of red, green and yellow leaves during autumn. They will stop at small stations as well but there's nothing outside. If you're interested in the Open Air Museum, you need to stop right before Gora. I didn't go to the museum so I can't advise you on it.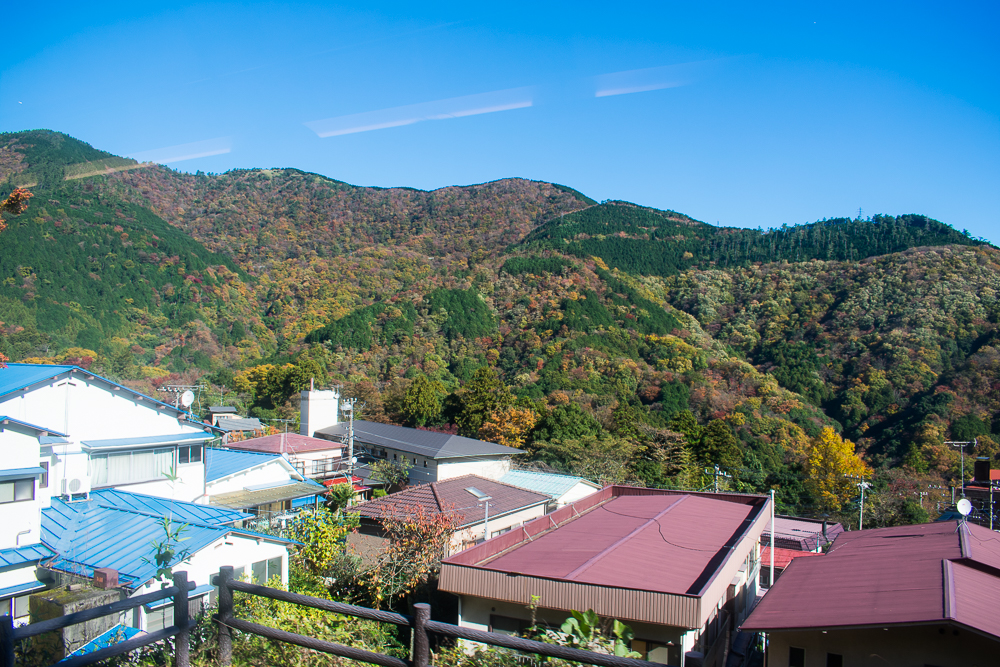 When we reached, the crowd was crazy!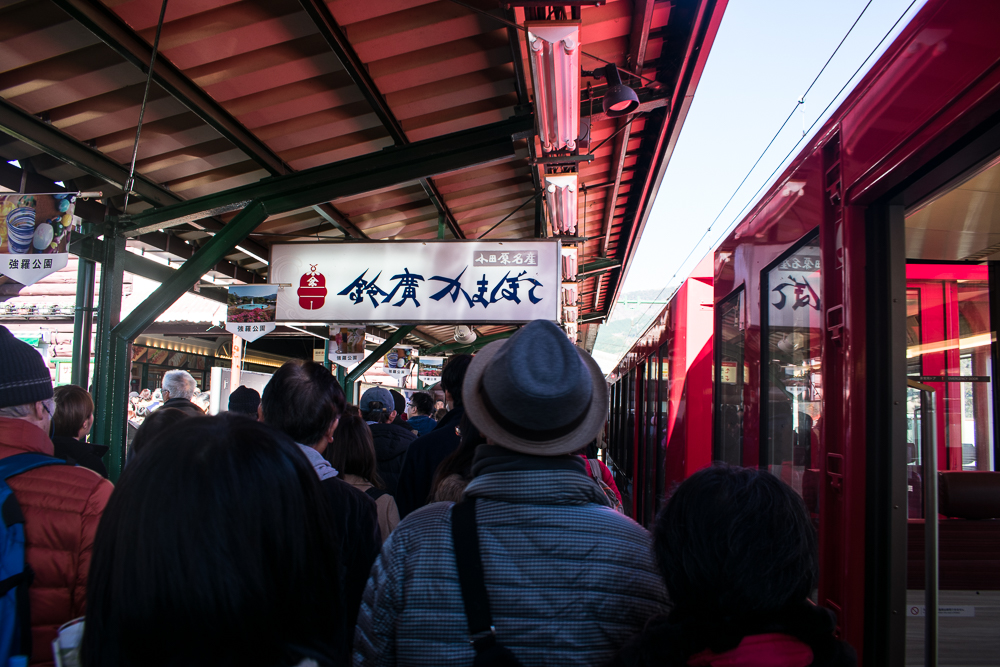 4. Take the cable car from Gora to Sounzan
Once you've arrived at Gora, you can either join the queue to take the cable car to Sounzan, or you can just walk around an even smaller town. There are a few eating places nearby but they are quite small. Most people are queuing anyway.
We went on a Friday (in between a holiday and the weekend) so it was pretty crowded. The line stretched all the way to the back.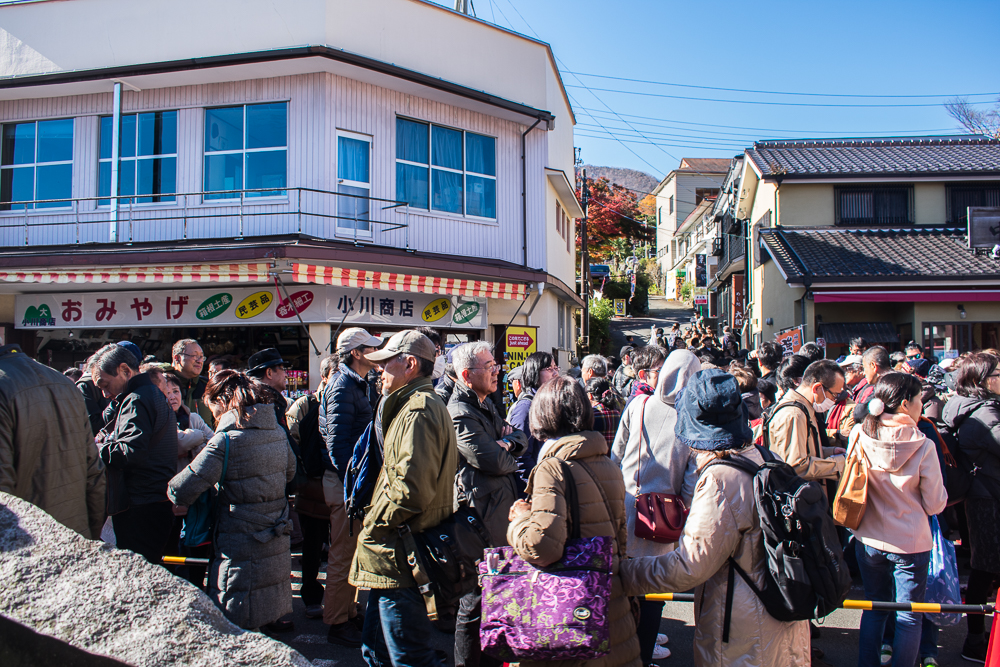 Be happy if you reached this part of the queue.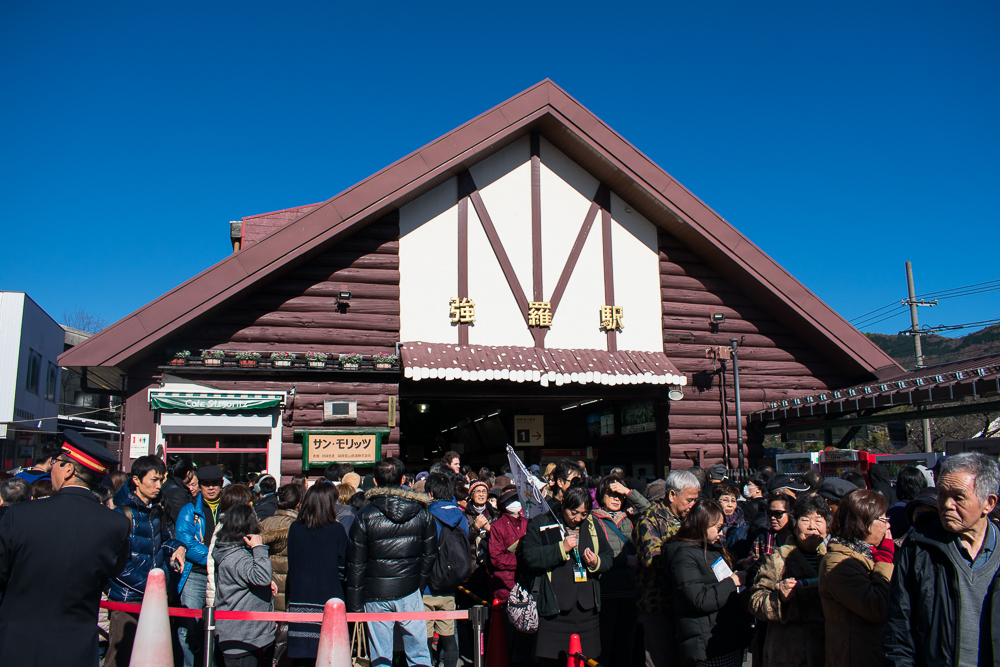 Where we were queuing, there were a couple of trees with really red leaves. They are beautiful.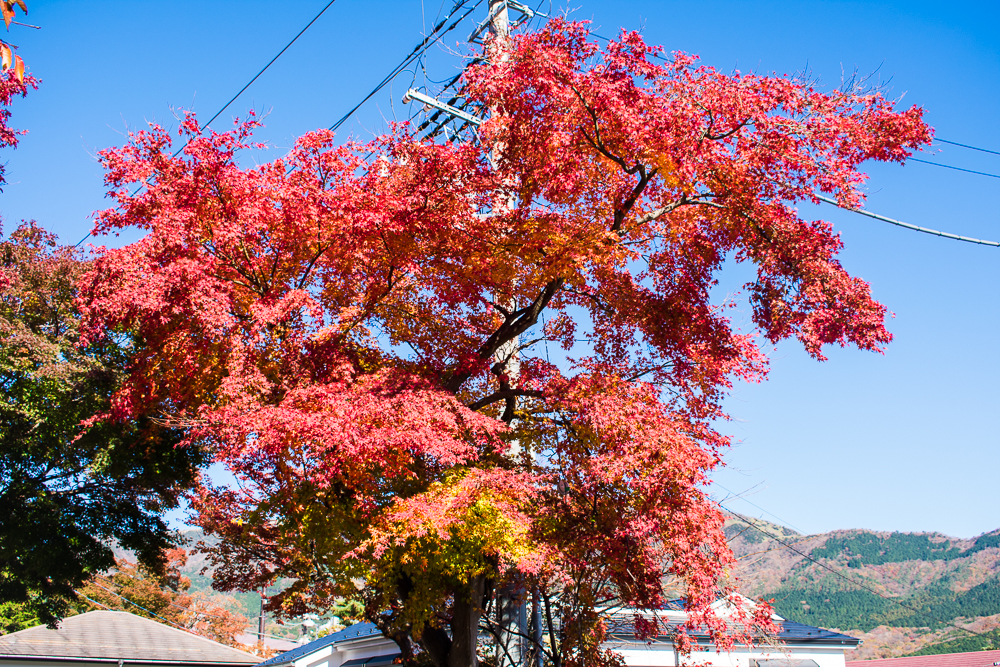 Yep this is the back alley!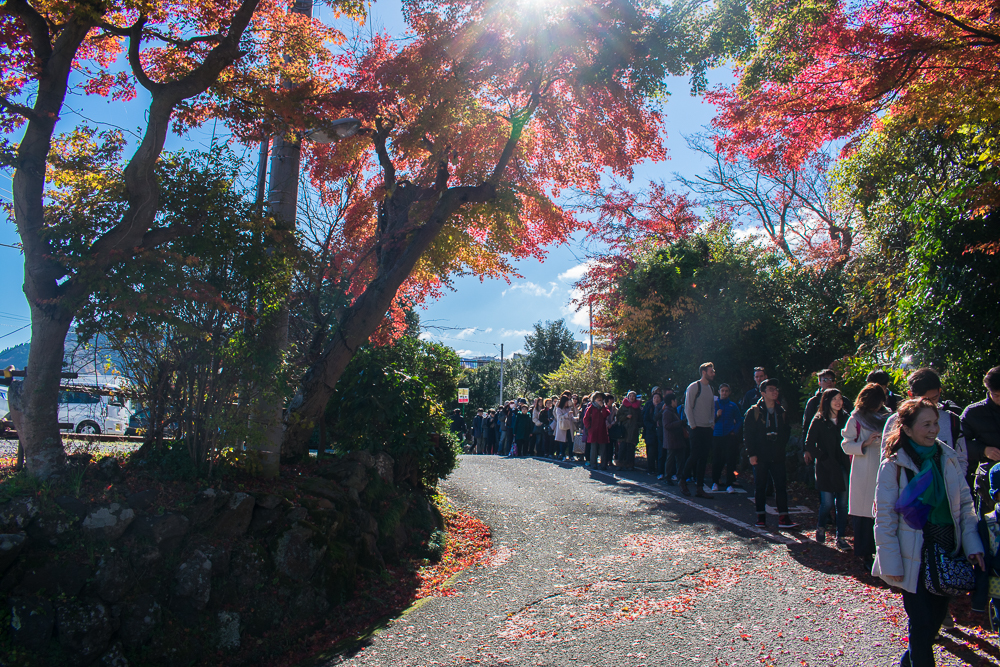 We will queue all the way back to this entrance.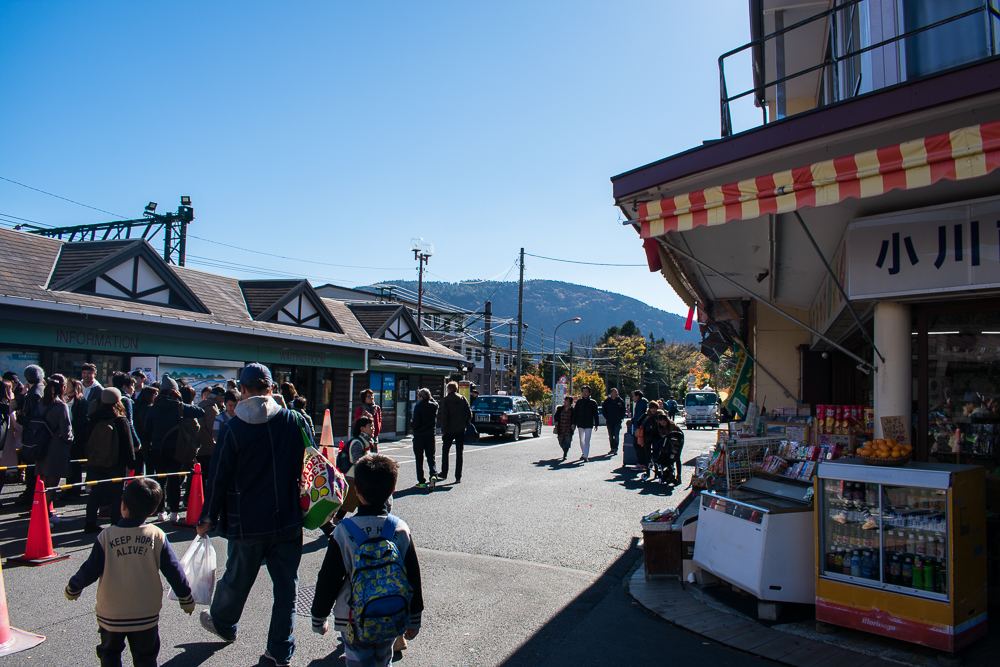 Inside the building there's a queue as well. You can buy some souvenirs and stuff here.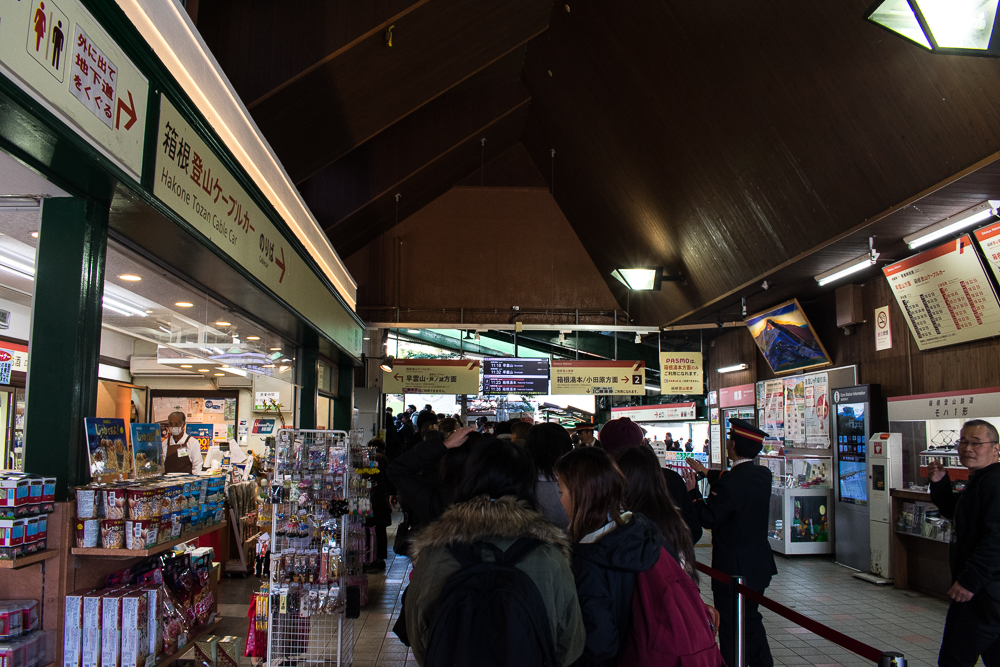 We've finally arrived at the track! When they say cable car they actually meant a tram. So don't be expecting a cable car as they labeled that was ropeway.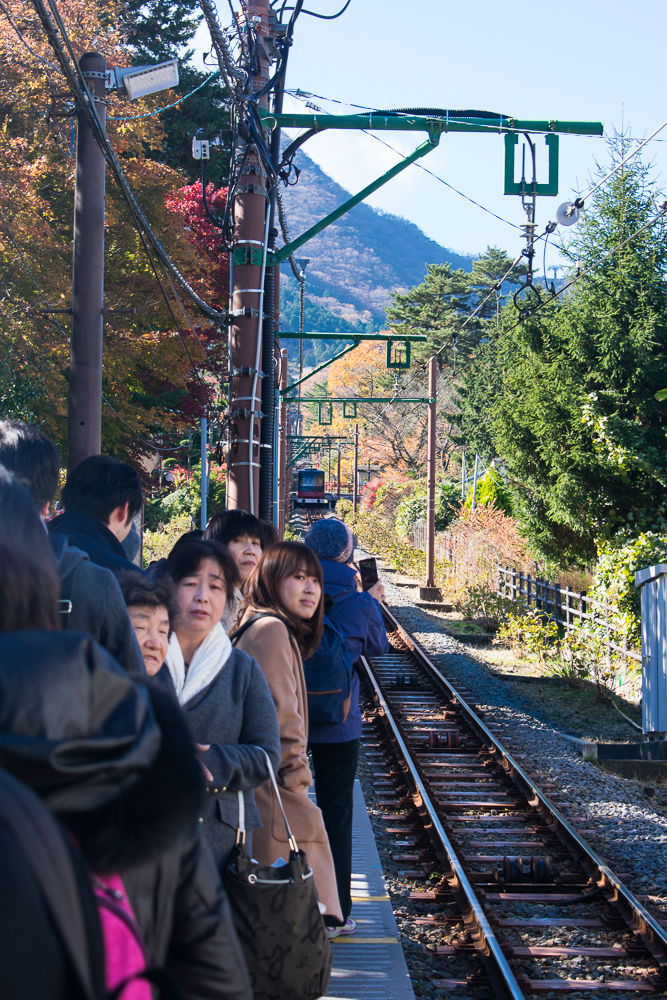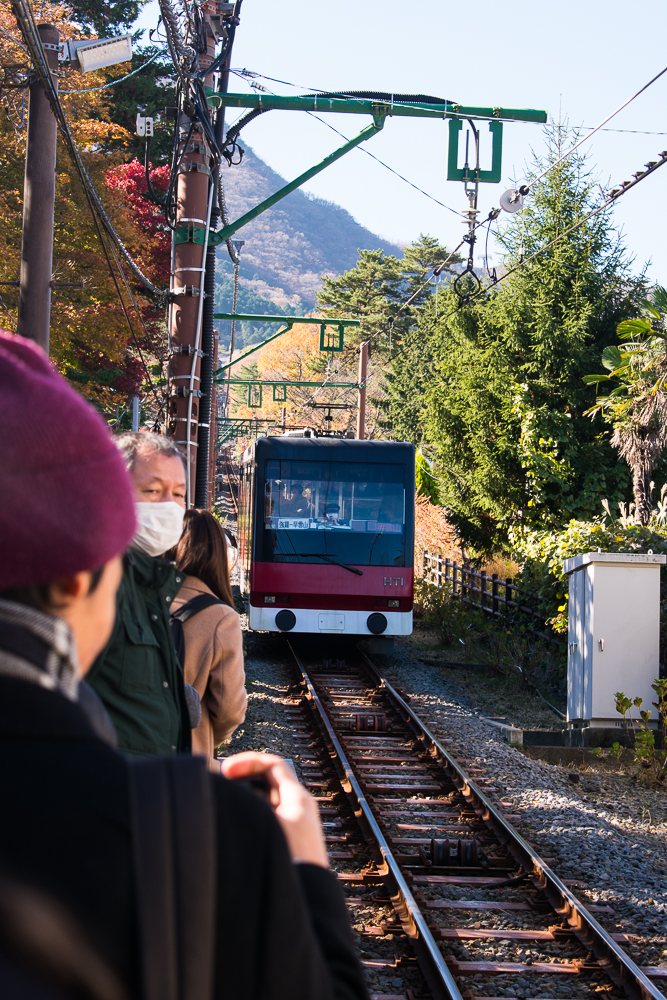 Upon reaching Sounzan, which is not far from Gora, you'll meet another queue!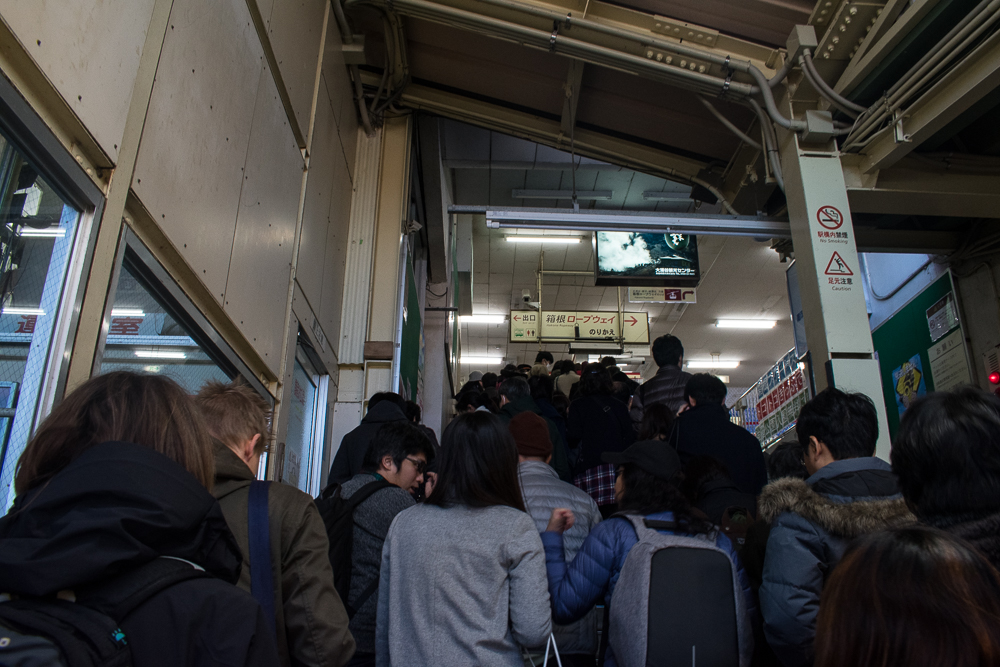 5. Take the ropeway from Sounzan to Togendai (with a short stop at Owakudani)
Once you've reached Sounzan, there isn't much to do here. It's basically a place for you to take photos and join the queue for the ropeway. The ropeway is basically the cable car that you sit in other countries, but here they call it ropeway.
This is the magnificent view from the top of Sounzan.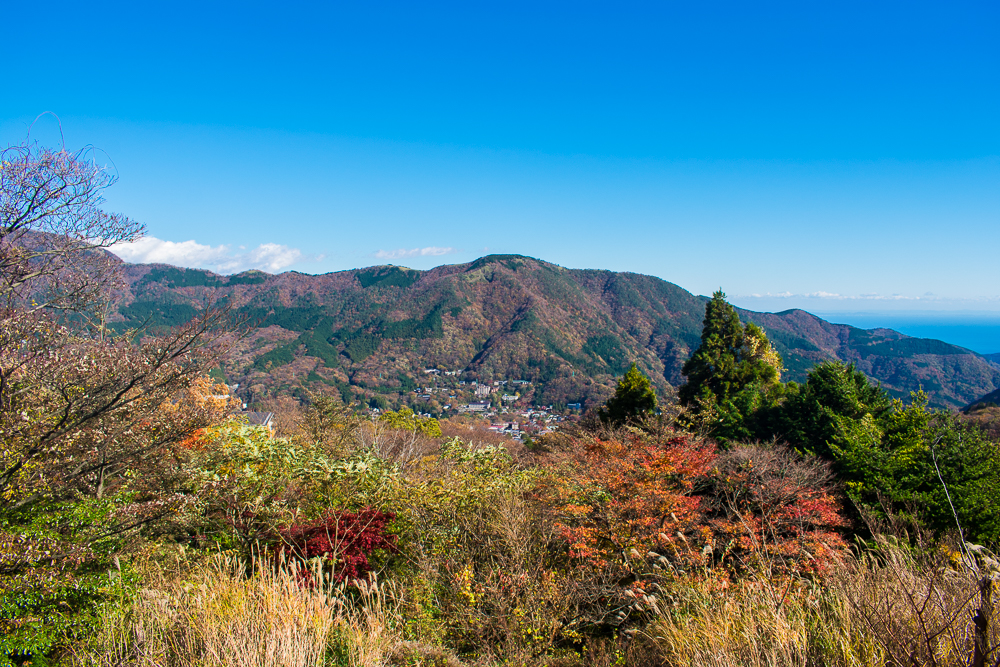 Stop by and take a couple of photos here before you join the queue.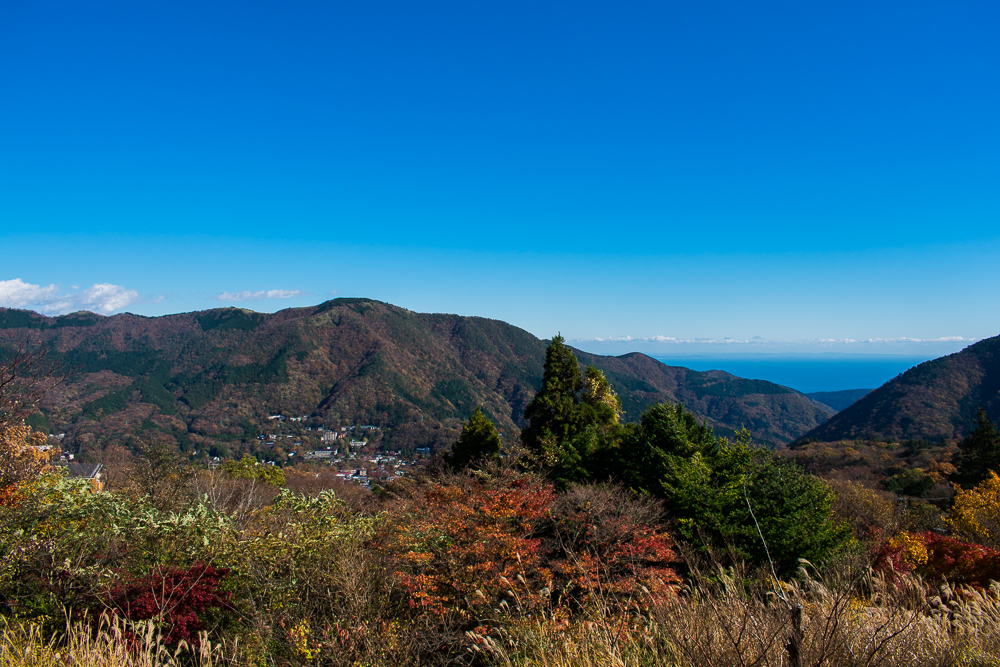 If you are visiting during winter or near winter, always remember to wear thick enough. It's super cold up here! The wind was really strong and it was freezing.
Remember to wear your scarf and your face mask.
As you can see the queue is long even up on Sounzan.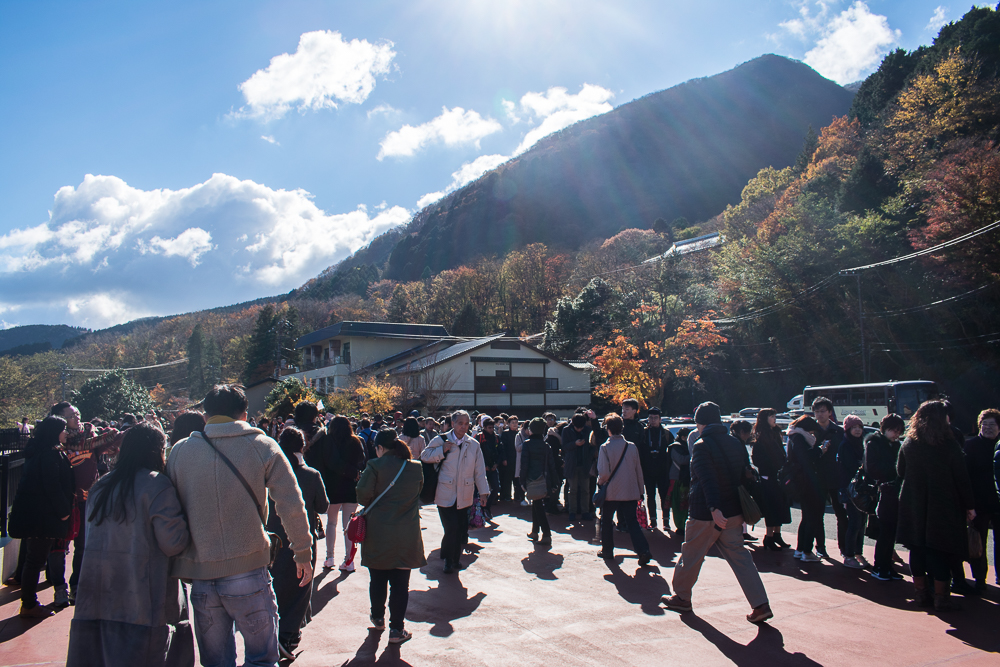 You can stop for a toilet break as you'll probably have to wait an hour. If the queue is short then lucky you!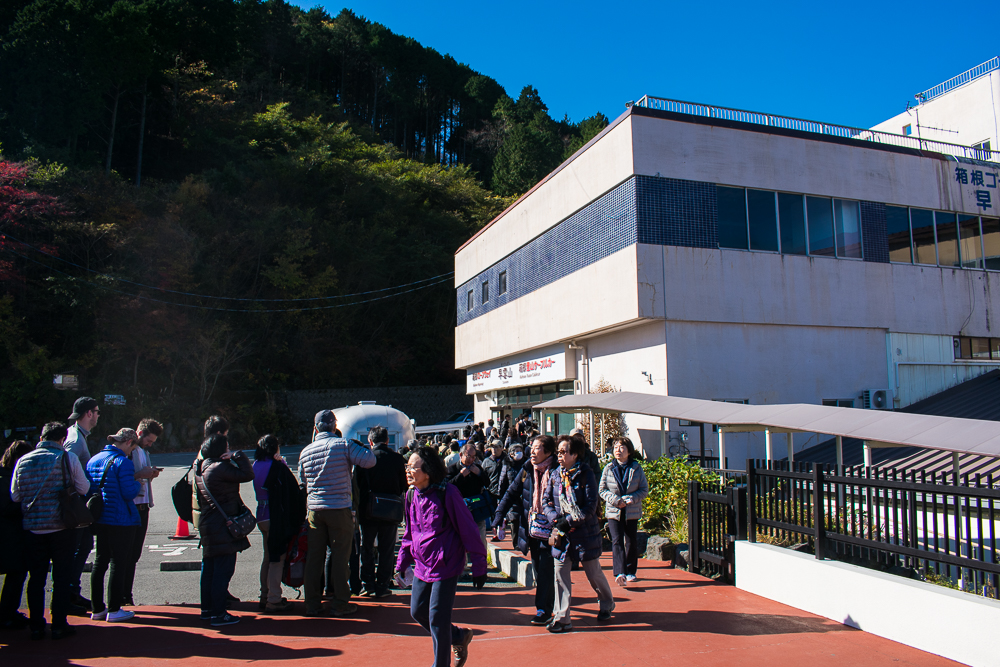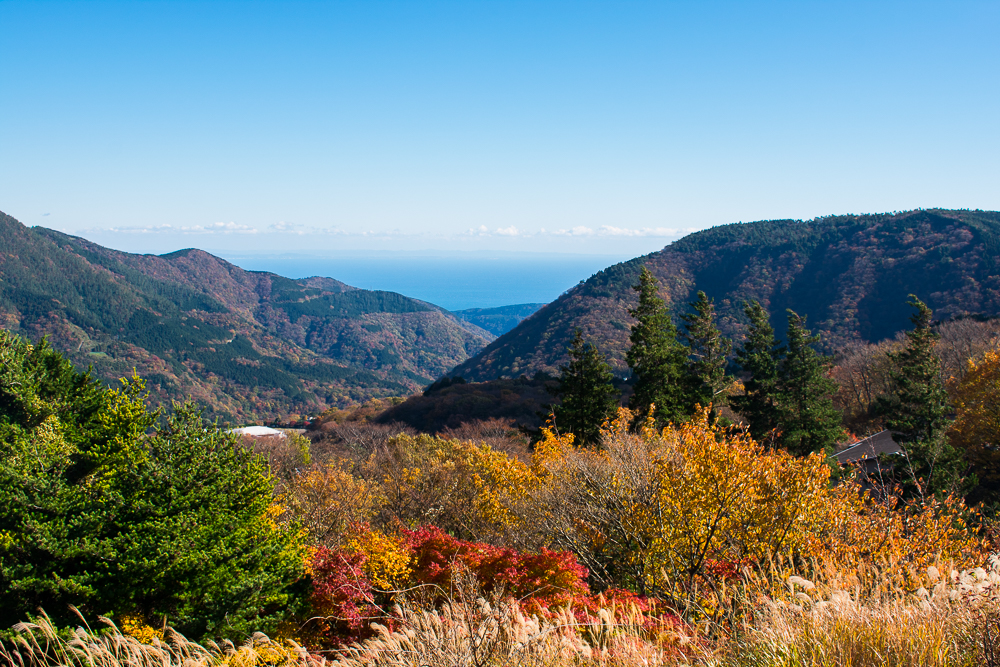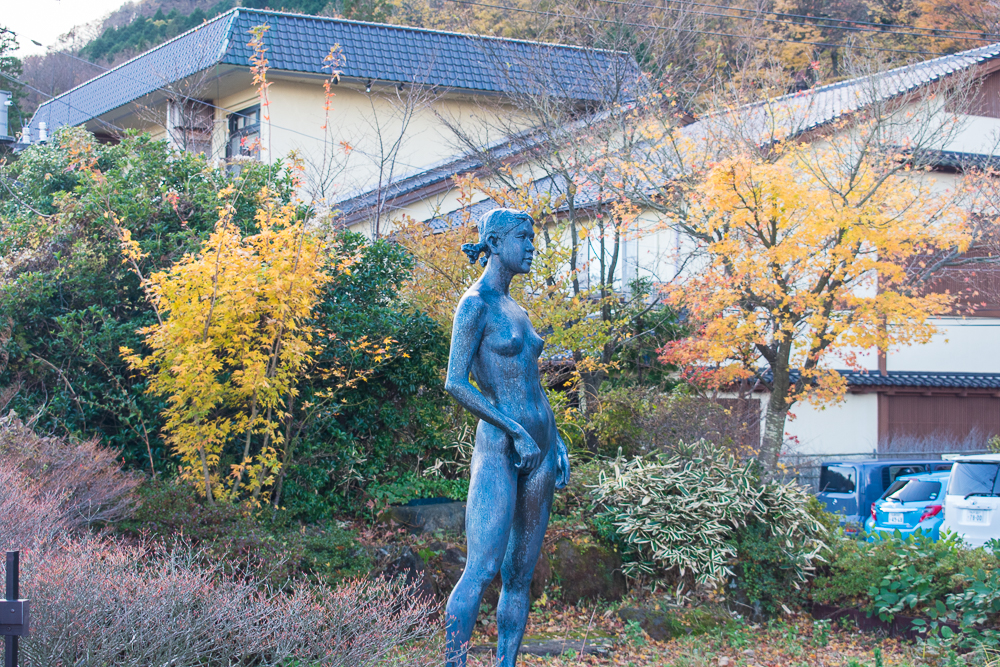 We finally reached the ropeway! The queue was from outside to the inside of the building, up the stairs and finally we've arrived.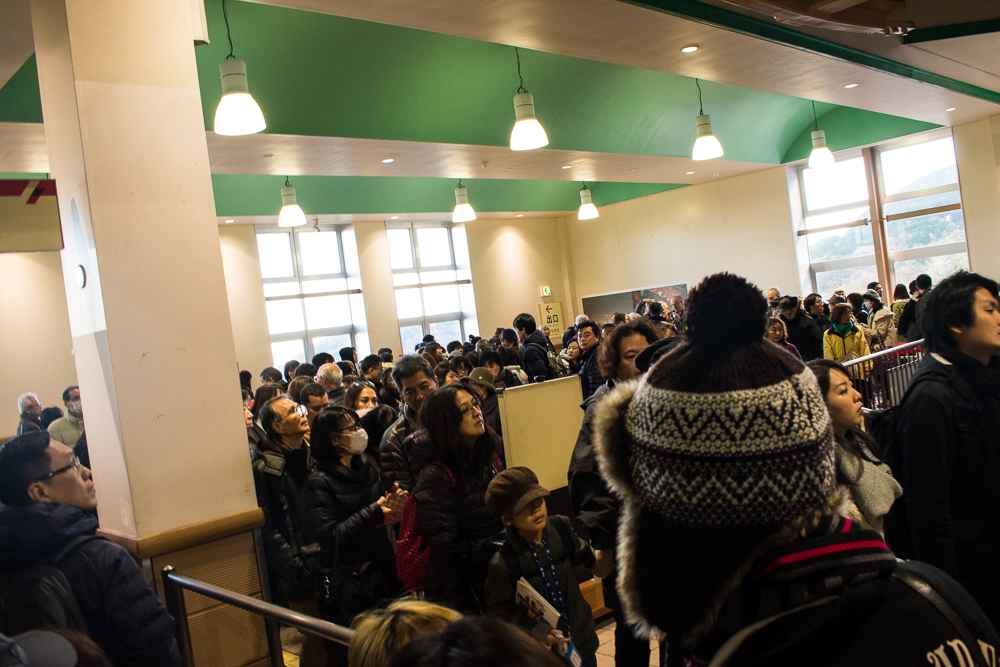 There's even a queue inside here.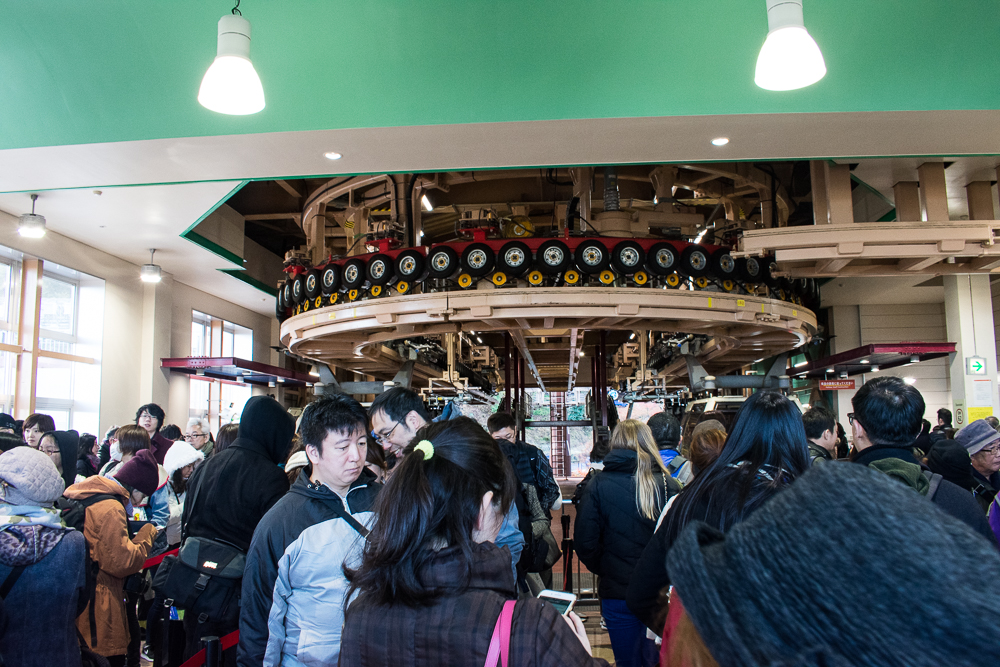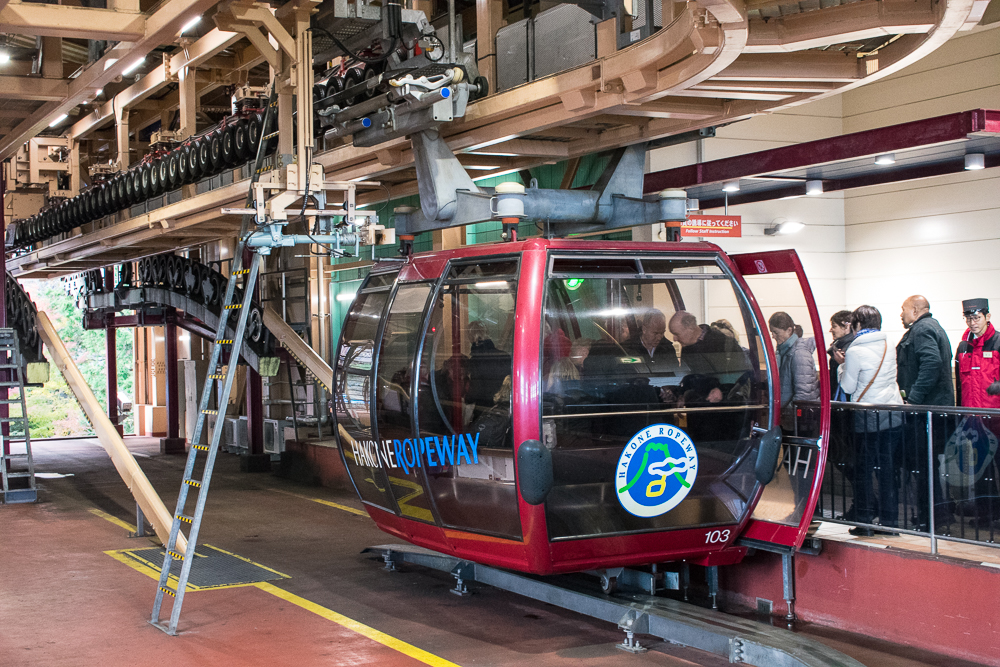 They will provide some wet tissues for you to cover your mouth and nostrils. This area is very close to the volcano and there's a lot of sulphur in the air. If the amount of sulphur surpasses a certain percentage, they may even suspend the service for awhile.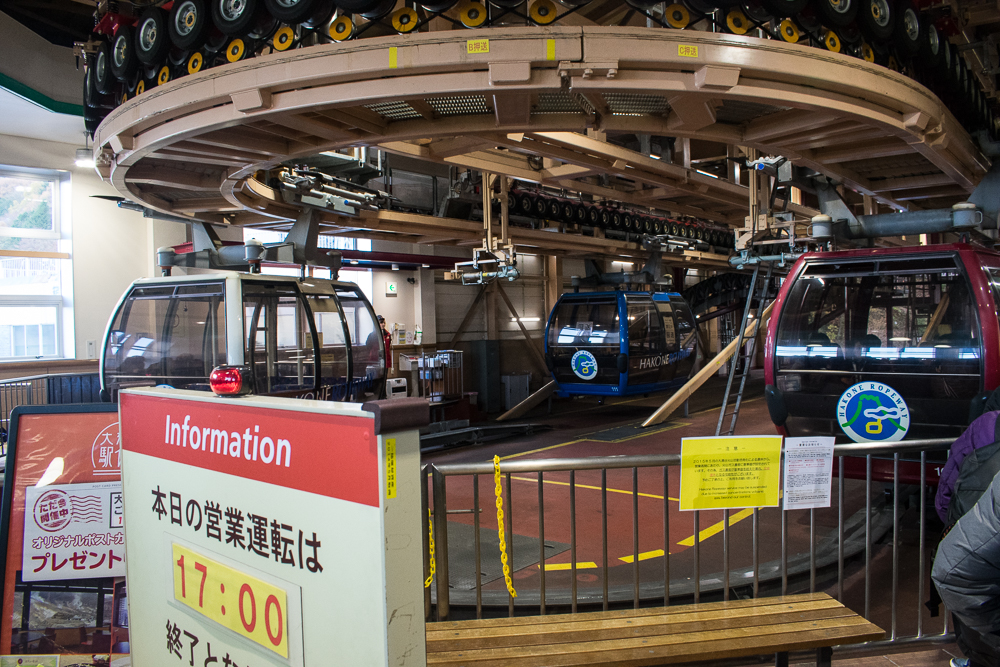 Do reach before 5 pm because that's the last ropeway car.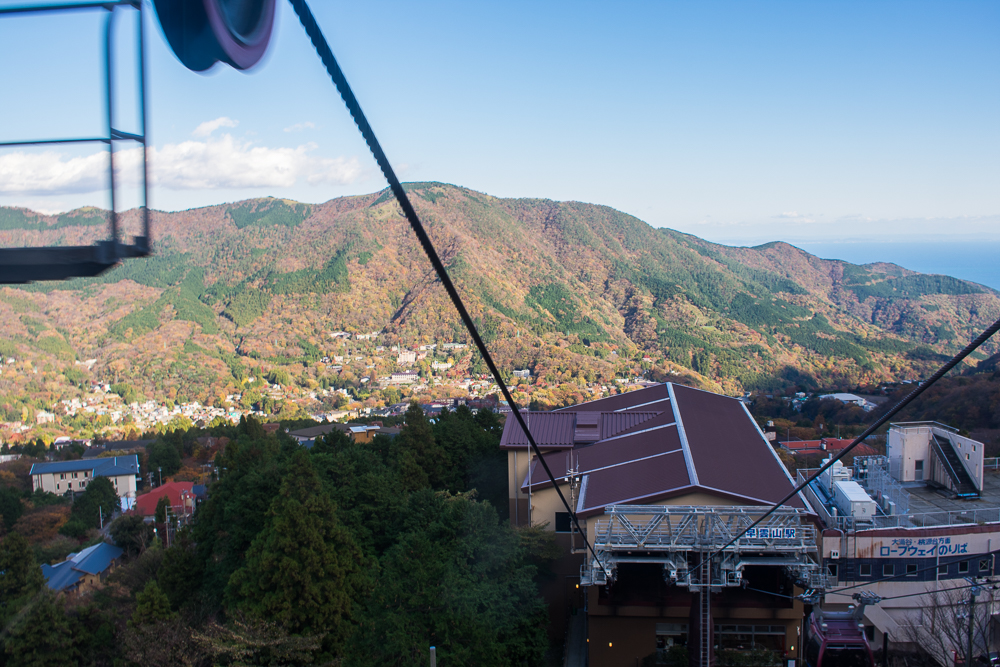 View from the ropeway car.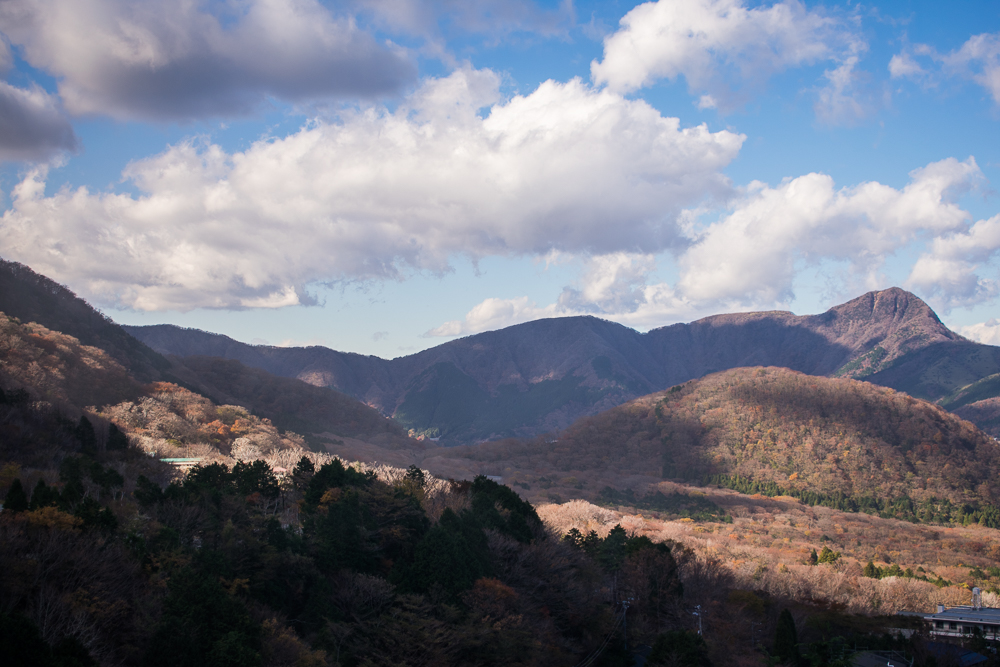 Pretty scary from the top!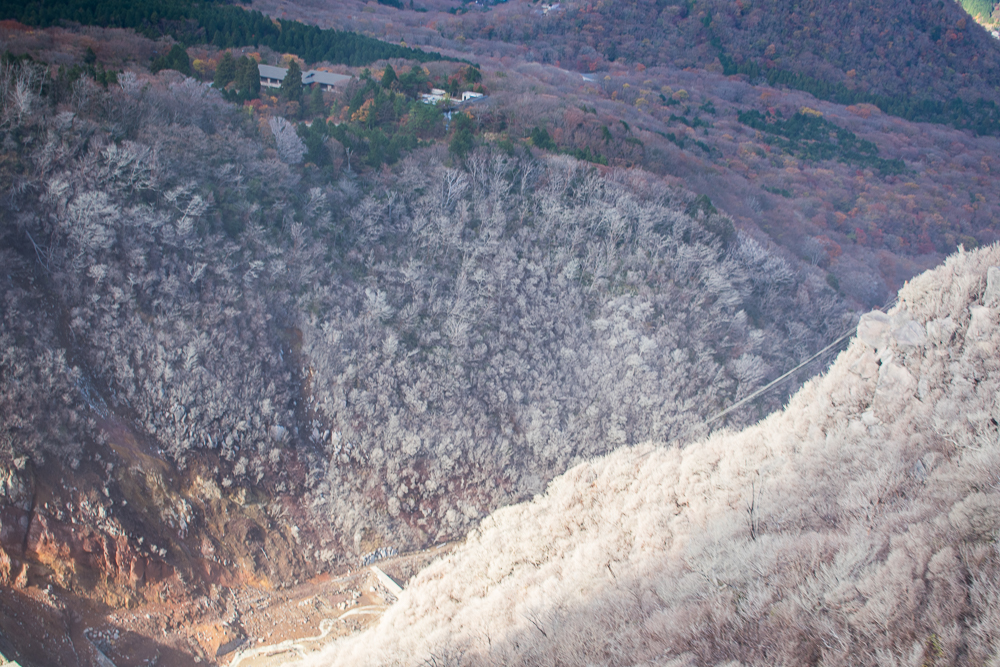 As you can see, the white smoke is actually sulphur from the volcanic area.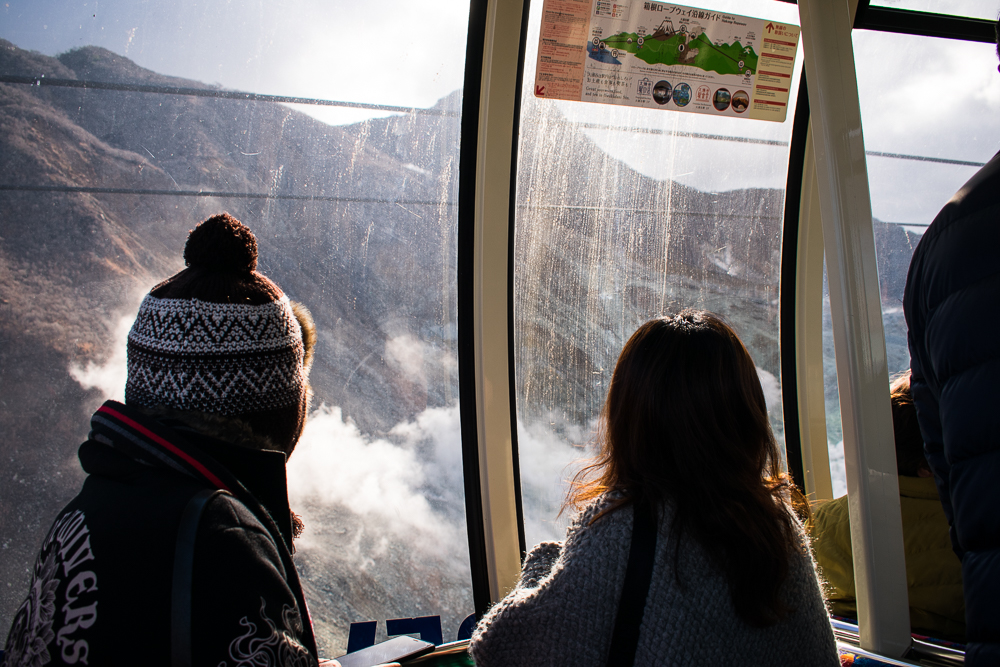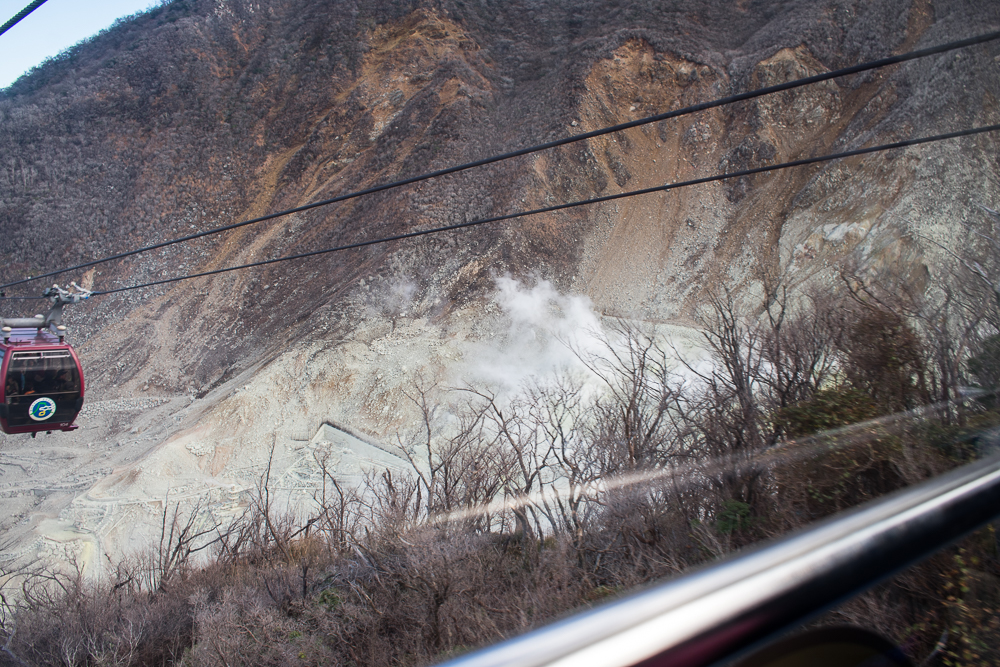 Here you will stop at a mini station called Owakudani. It's actually a mini town and you can have some black eggs and soft serve ice cream.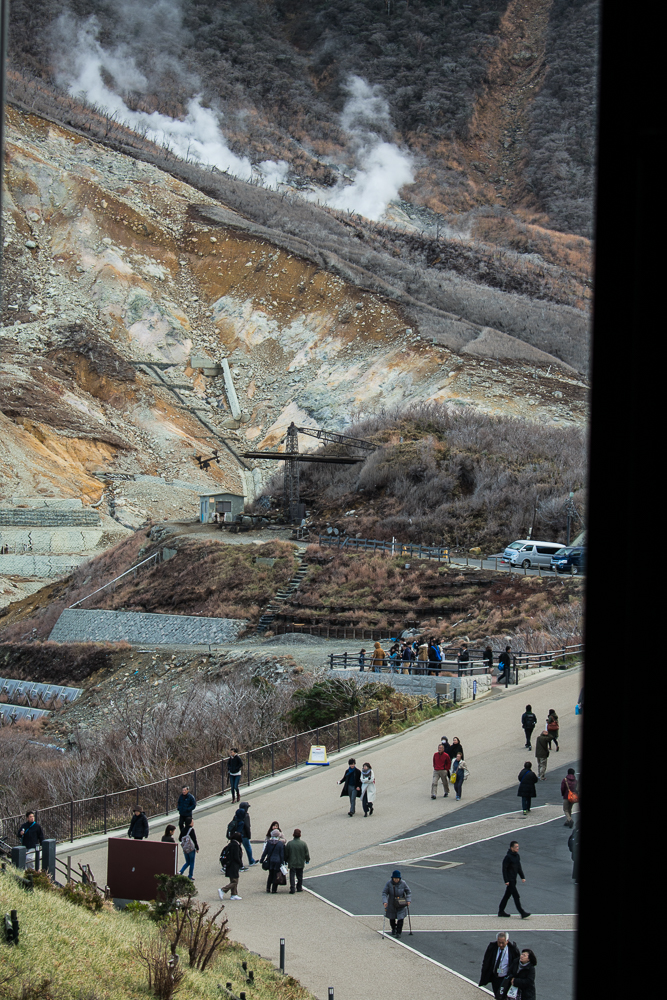 Some people actually stop here and take a rest, take some photos and enjoy the view. There are also restaurants with a nice view. I wonder if there are hotels here.
We didn't make the stop and we proceeded to queue for the next ropeway. This ropeway will take us to Togendai.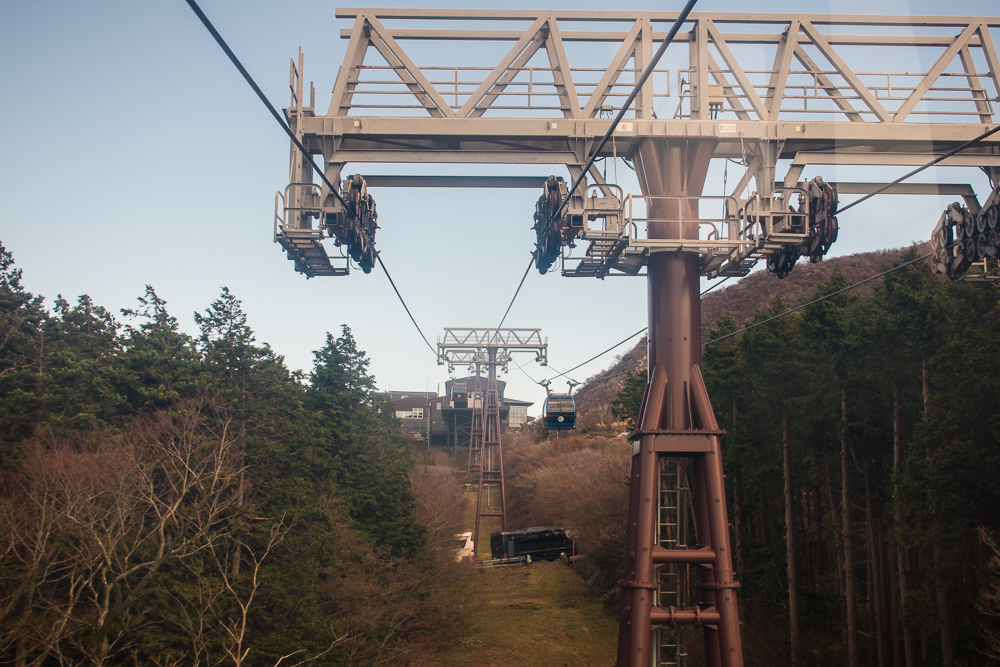 A parking lot.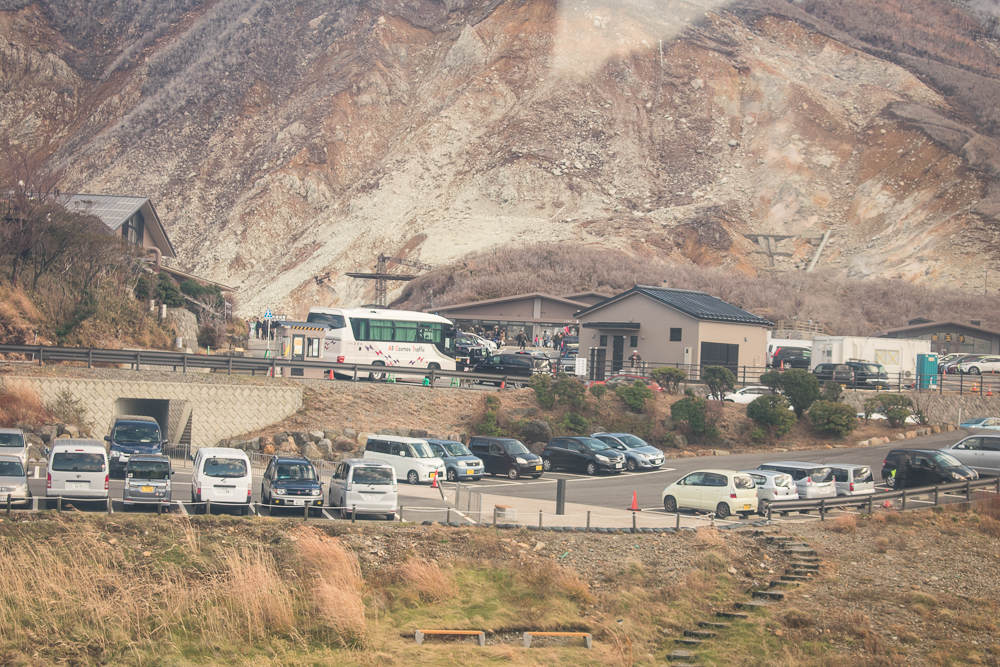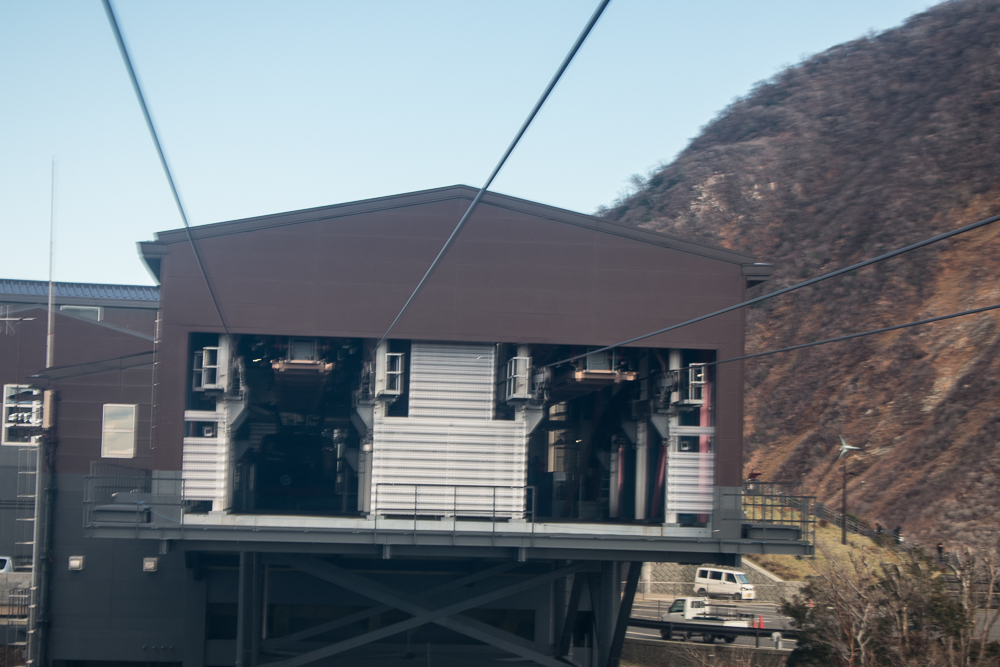 We managed to see a little of Mount Fuji from the ropeway car! Too bad the clouds covered it a little but luckily we could still see the white peak.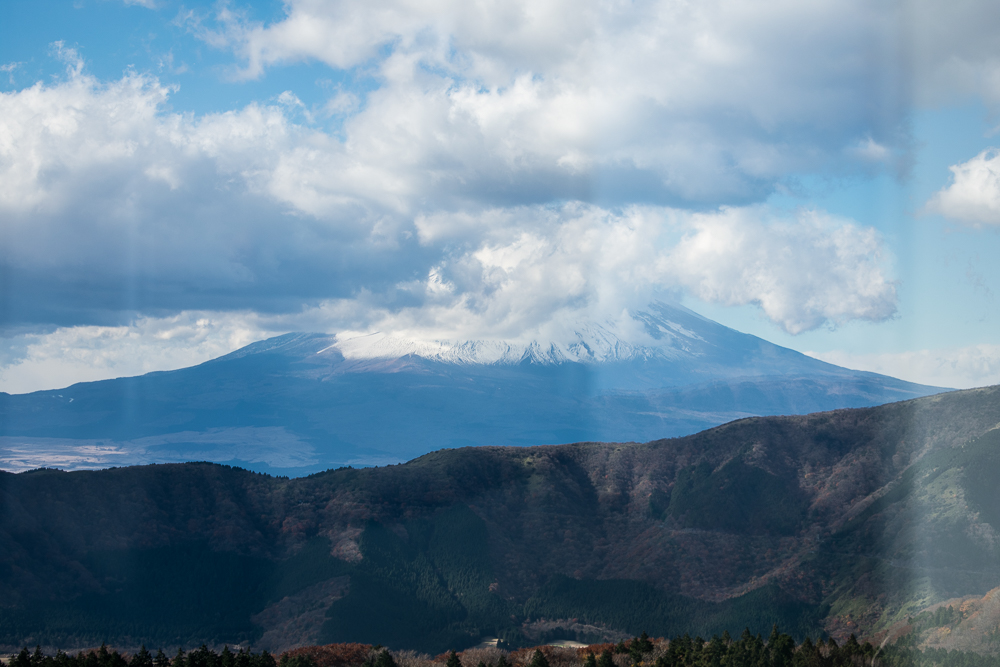 Colorful leaves in autumn.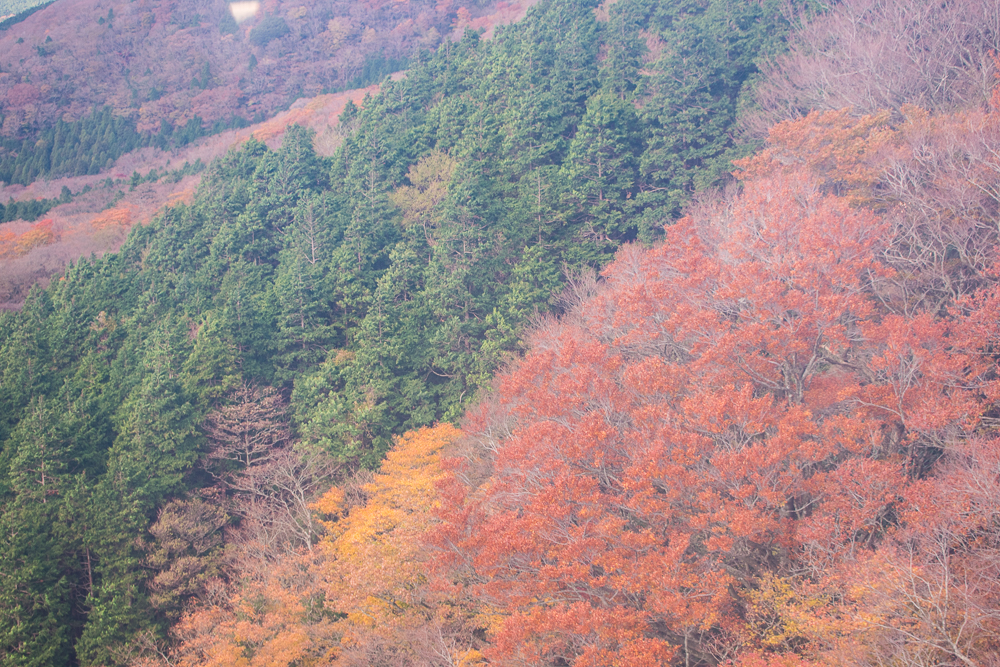 Once we're done with the ropeway, we've reached Togendai! Togendai is basically the area surrounded by Lake Ashi.
6. Cruise from Togendai to Moto-Hakone or Hakone-Machi
The Hakone round trip continues!
At Togendai, stop by for a meal (perhaps lunch) as they have a food court for you. The choices are limited but good enough.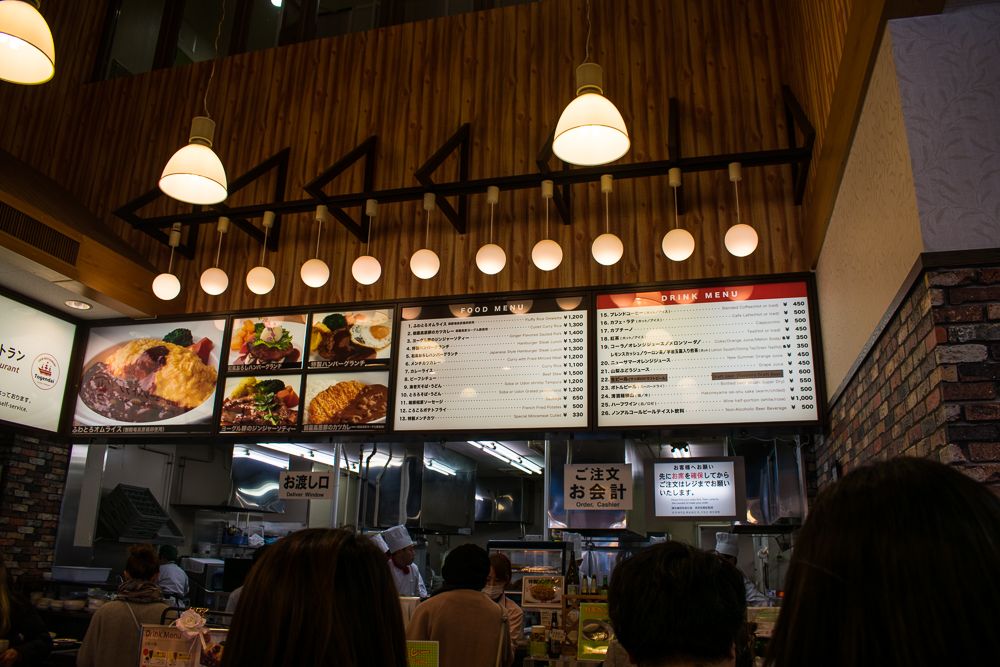 As usual, they have their popular omelette rice, curry rice with fried chicken and beef steak. Get a seat first and order at the counter. They will give to you a buzzer for your food. When it buzzes, just collect the food at the counter. The meals are not subsidised by the Free Pass of course.
This is their beef steak. The beef is so tender it's unreal.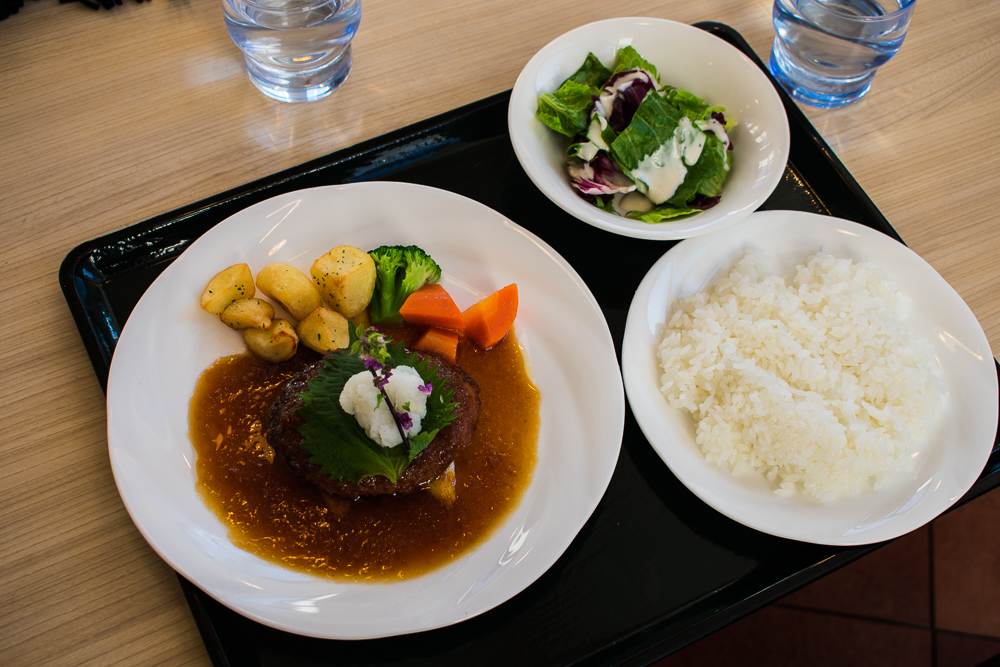 Their omelette rice. You'll find lots of these in Tokyo.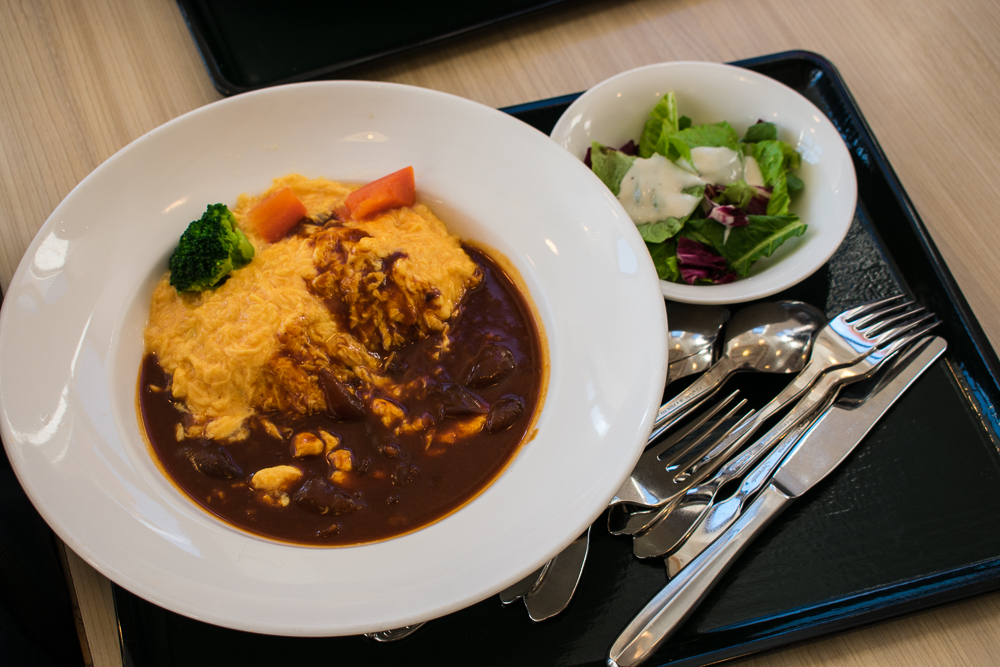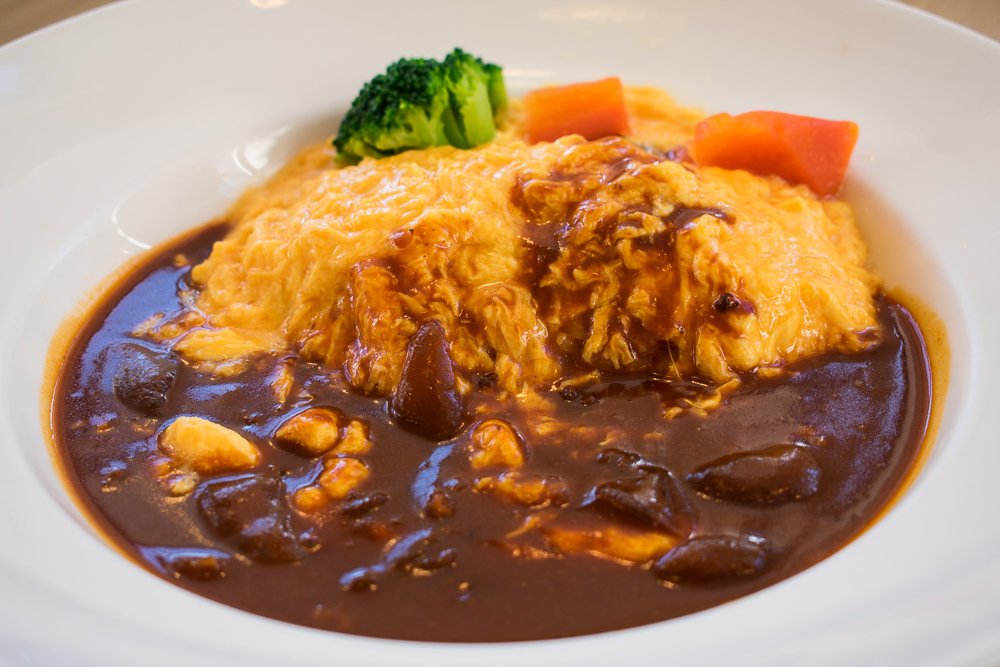 I ordered the curry rice with the deep fried chicken. They were quite fulfilling.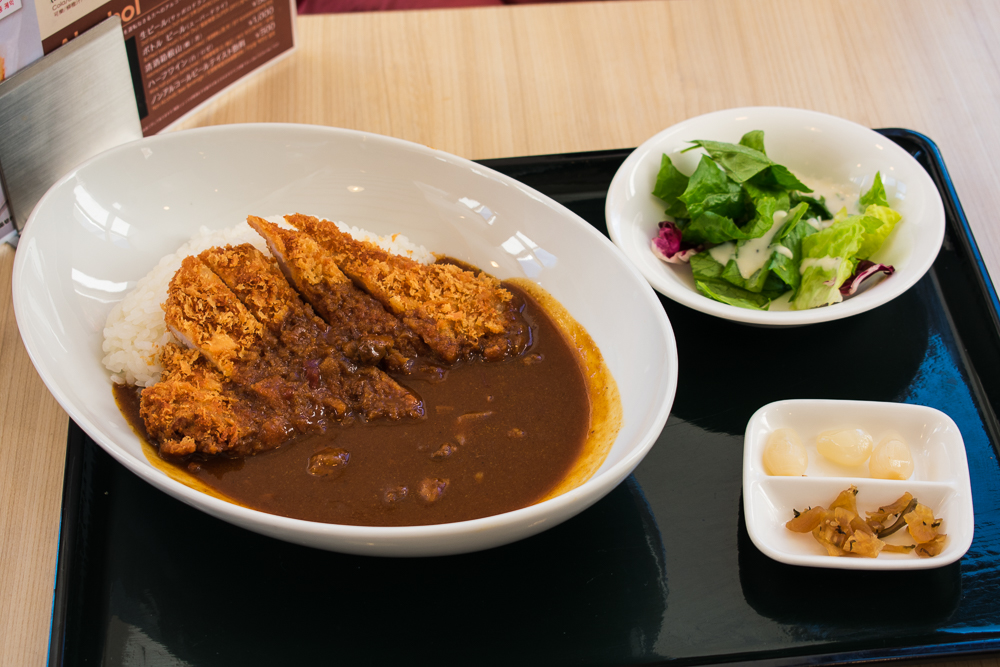 Once you're done, you can either walk outside and admire the Lake Ashi, or you can just queue for the cruise ship.
Thankfully, the queue isn't so long and the ship can accommodate a lot of people.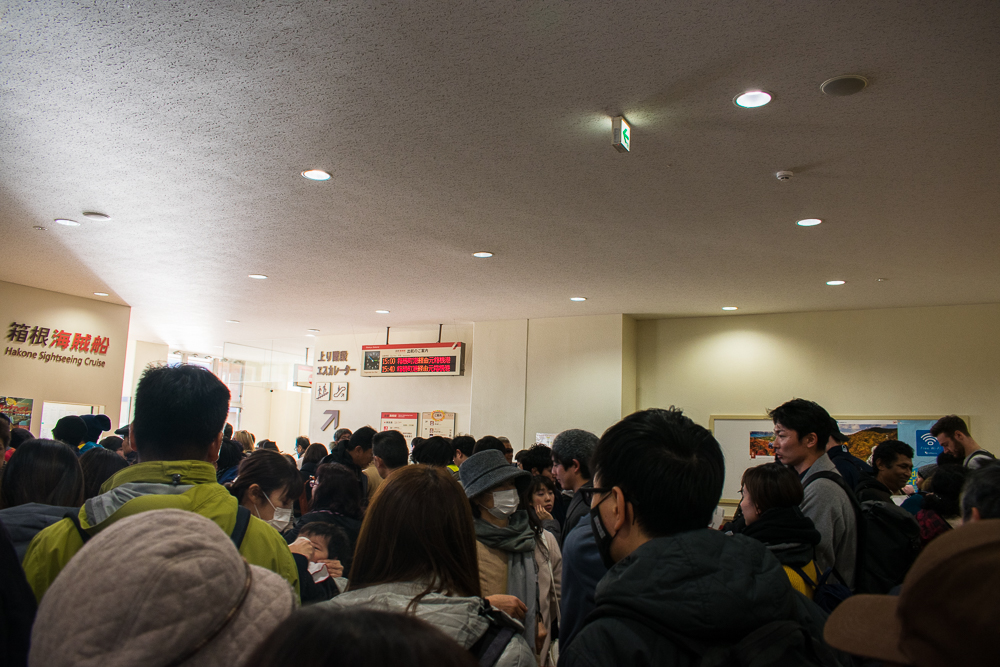 This is the view from the dock. We had to wait there a few minutes before docking the ship. Isn't it beautiful?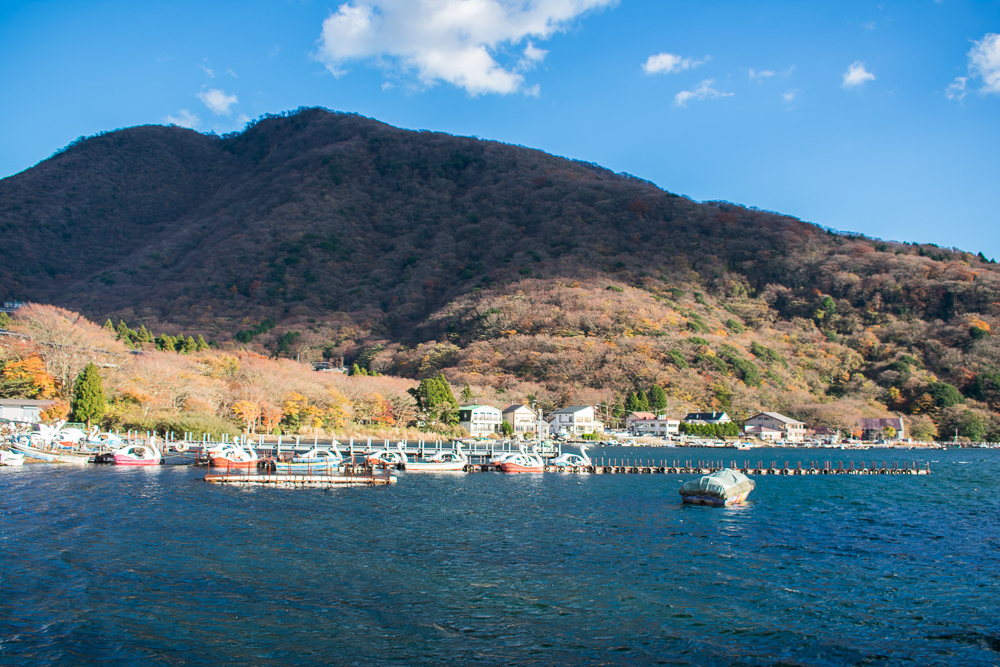 And this is one of the ships. It looks good from the outside and it's quite spacious in the inside.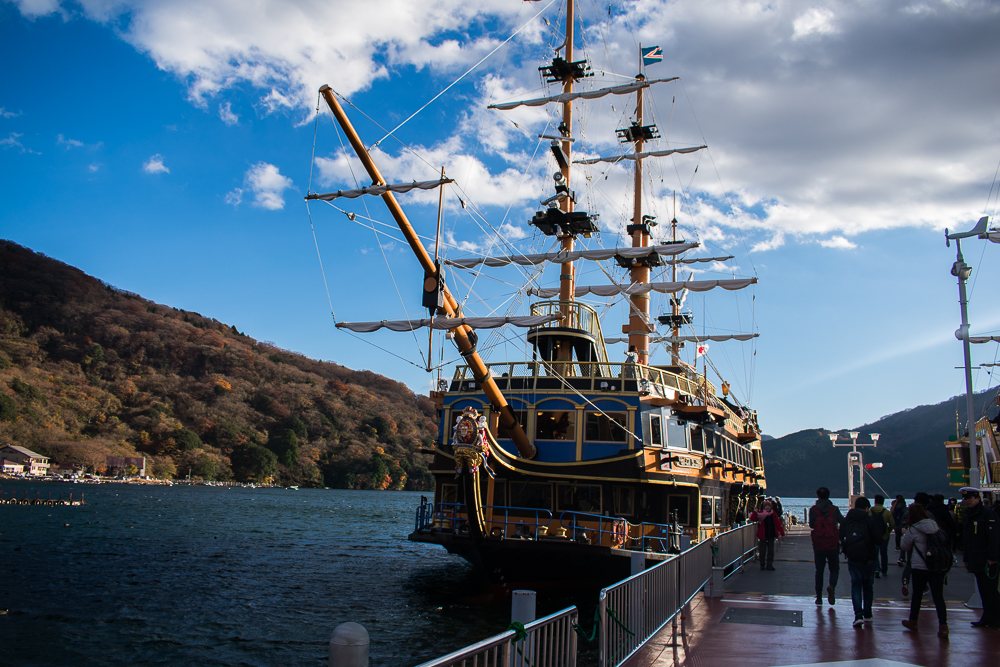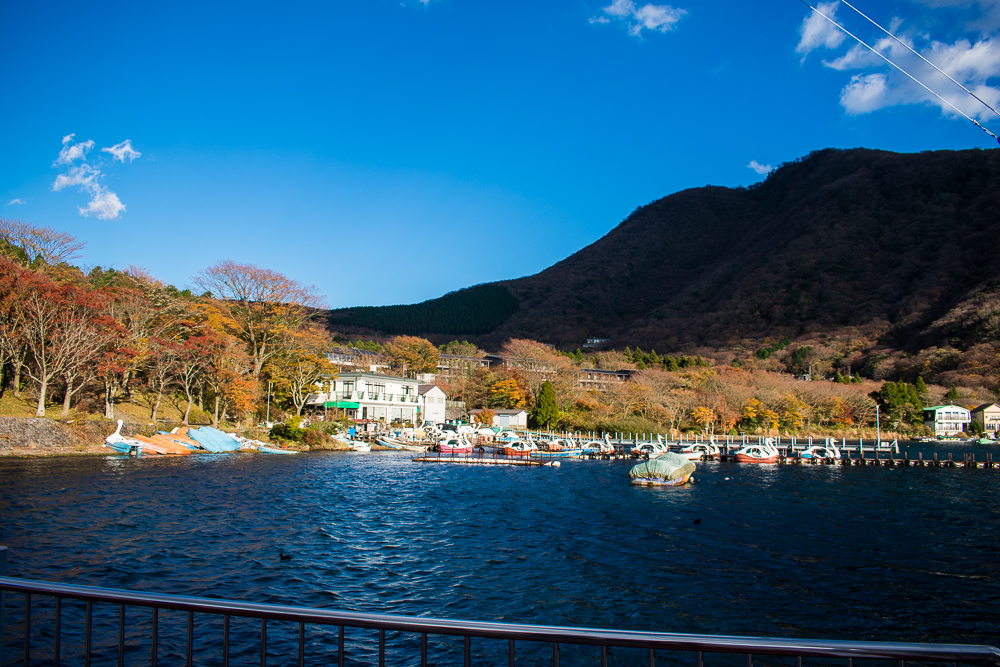 We sat the green one.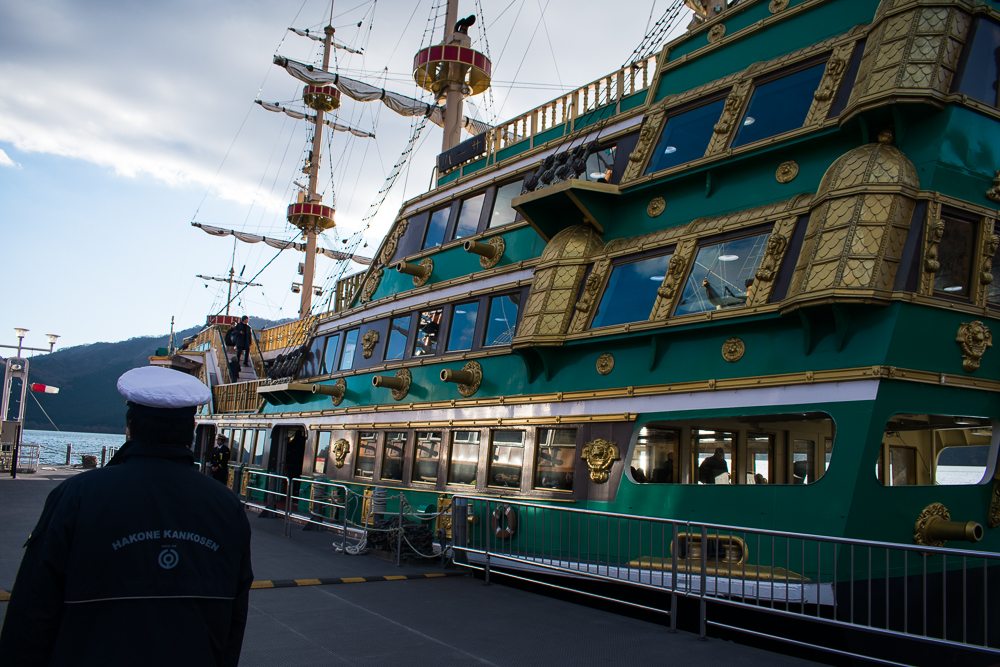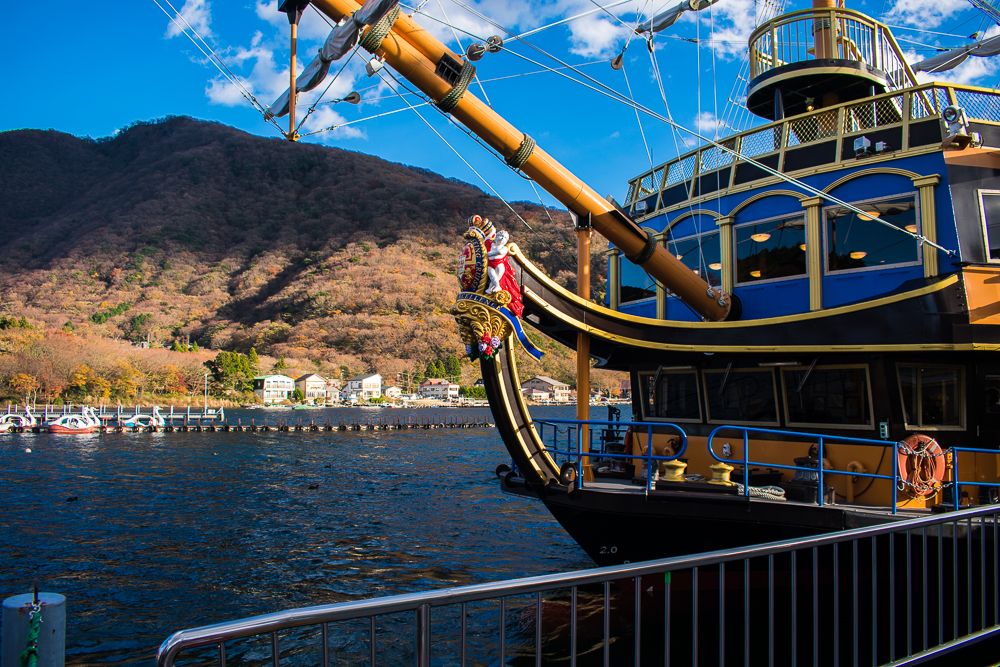 From the ship, you can either find a seat, or stand at the open area. You can take lots of photos from the ship. You'll find plenty of other bloggers doing the same!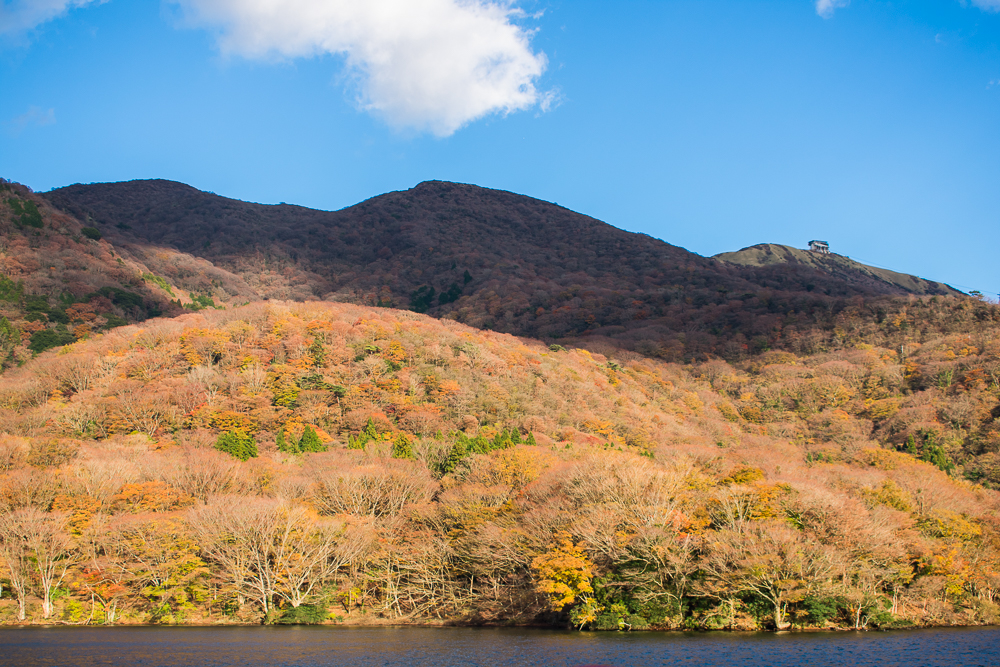 Most of my photos are edited, but even without editing, the sky was blue and the lake was really blue as well.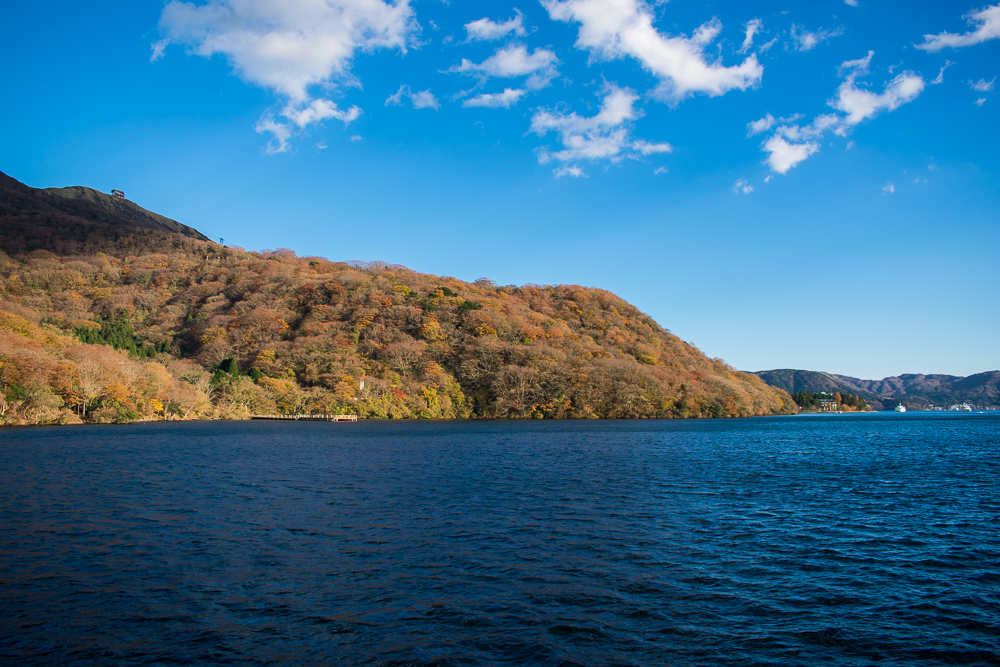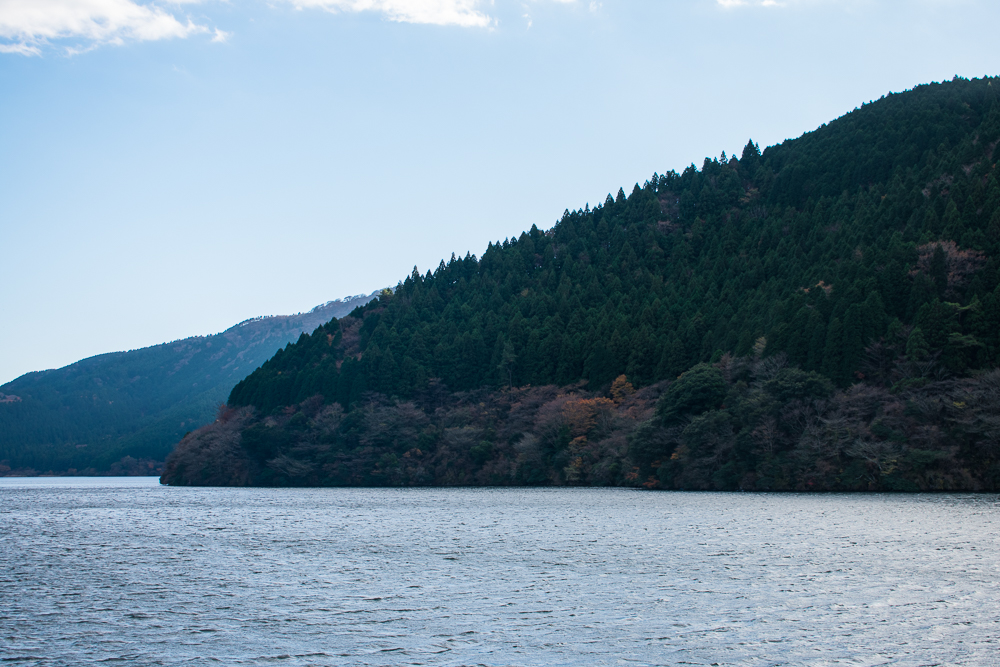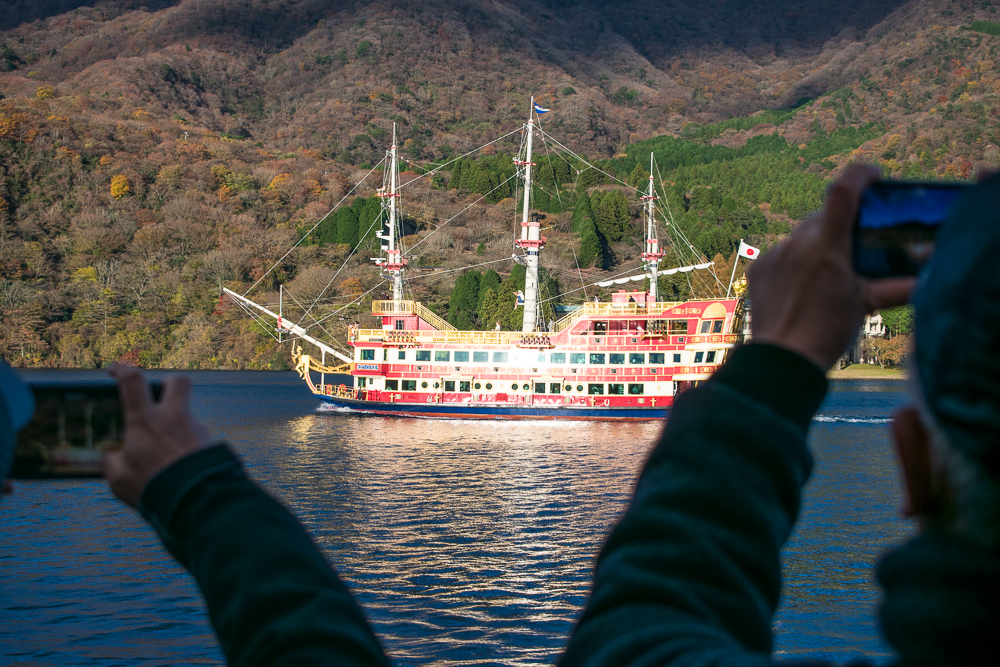 We were lucky to get a view of Mount Fuji from the ship! You can actually get a good view of Mount Fuji at Moto-Hakone. Unfortunately we went for the bus instead of hanging around to take more photos of Mount Fuji.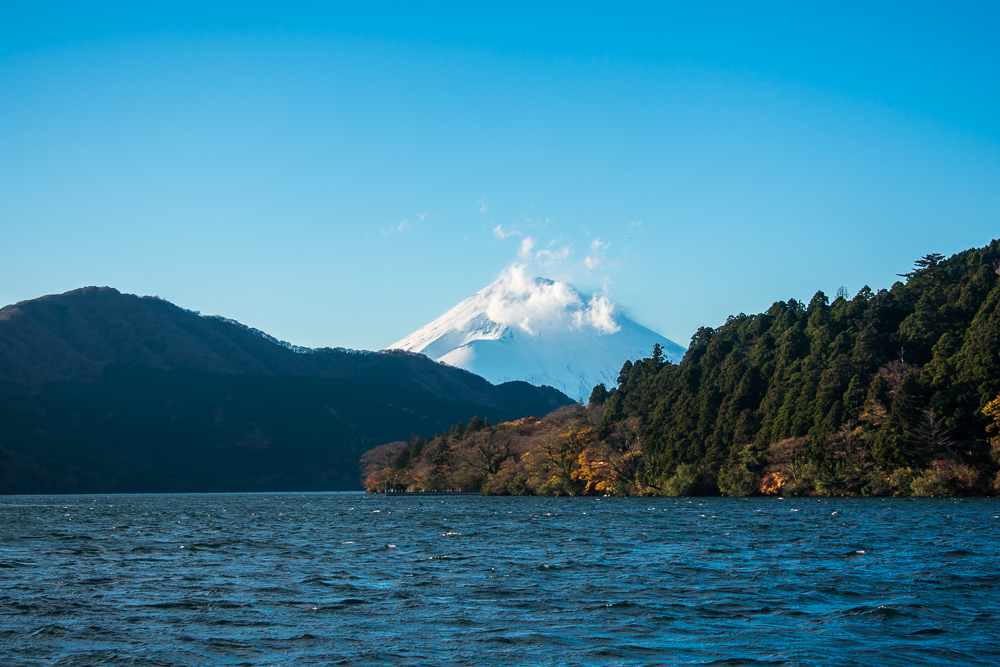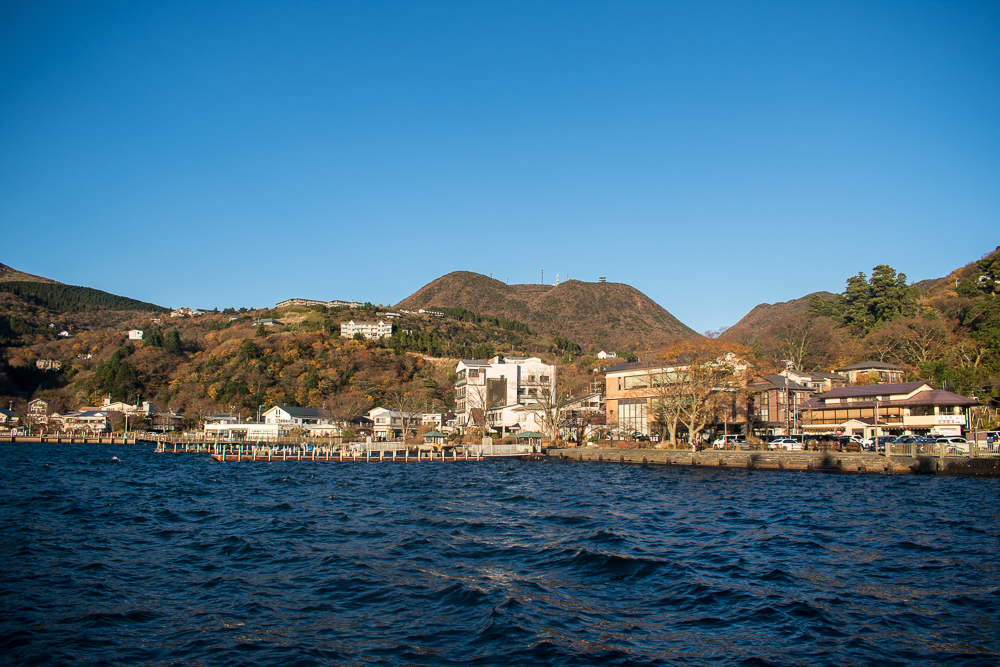 To clarify, the cruise ship stops at 2 places. It will first stop at Hakone-Machi and later at Moto-Hakone. We opted for Moto-Hakone because we followed another travel blog!
Both stops will lead you to a bus stop. If you take a bus from Moto-Hakone, you'll end up stopping at Hakone-Machi. Having said that, the buses are all full and passengers from Hakone-Machi couldn't board the bus.
7. Take a bus back from Moto-Hakone or Hakone-Machi
As explained earlier, we took the bus at Moto-Hakone and most of the crowd was there.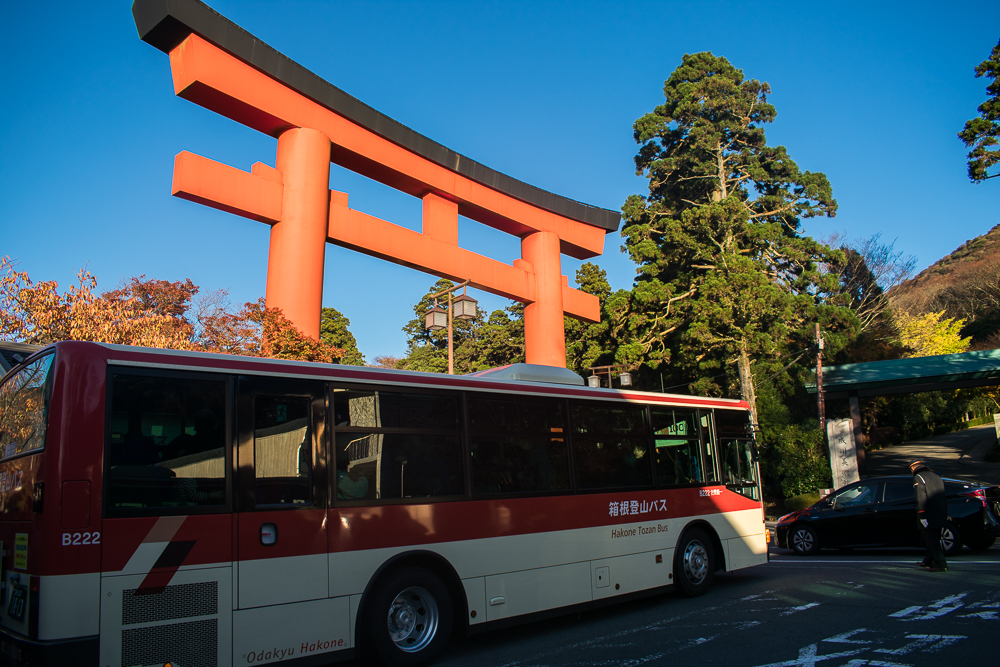 This is the famous gate that many people take a photo of. I can't remember the name at this moment.
Look for the queue for the bus. You'll notice most people heading towards the same direction so you shouldn't go wrong. There are also sign boards to say which bus goes where. Both buses will end up at Hakone-Yumoto so don't worry about it. Just follow the queue.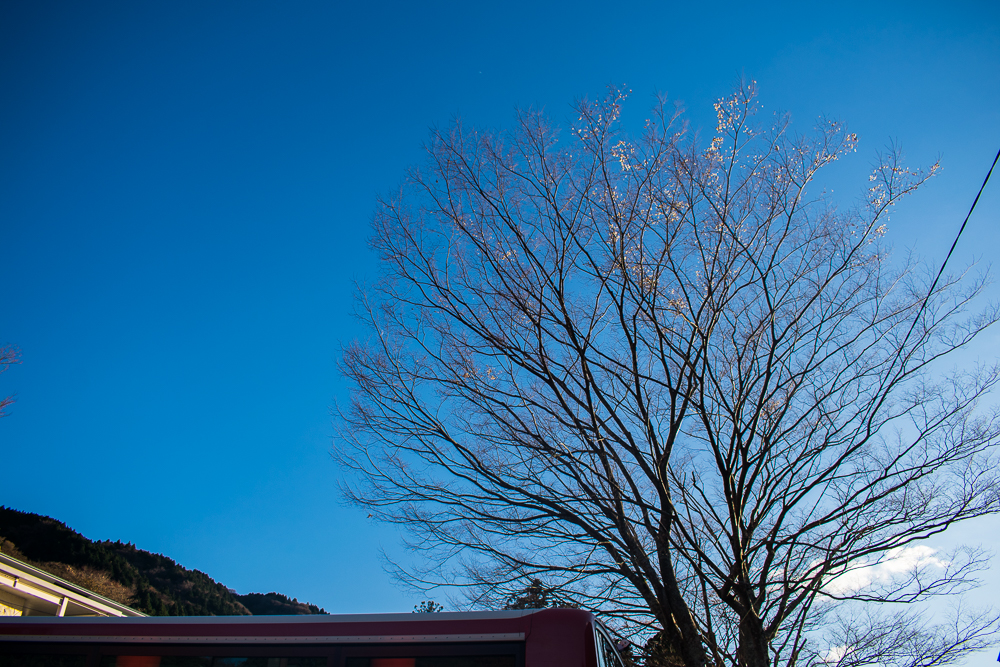 We took the bus for around half an hour and the bus dropped us at the Hakone-Yumoto bus stop.
Walk a little further and you'll find yourself back to the train station.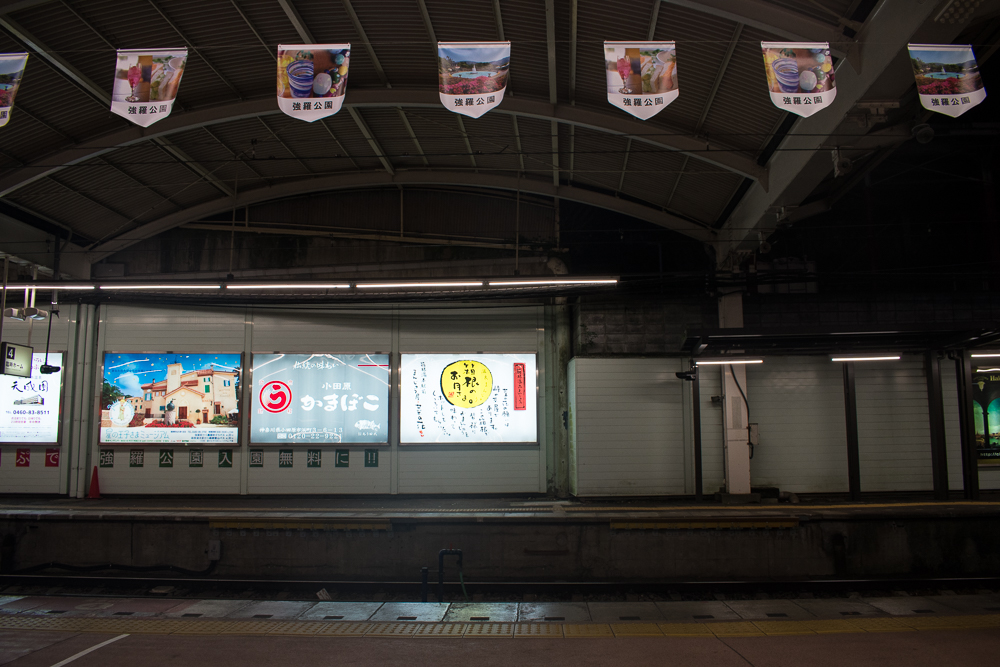 Once you're at the station, you can wait for your Romance Car or regular subway. If you still have time, go for a walk in the small town and you will love it. The view is amazing and the place is cozy.
That's what the Hakone day trip round course is about! To recap, you can go either clockwise or counter-clockwise. If you follow my route, it's counter-clockwise.
It may actually be better to go clockwise to avoid the crowds, which means you take the Tozan bus from Hakone-Yumoto to Moto-Hakone. Then, take the ship from the same place to Togendai. Just follow the rest in reverse order.
If you have any questions on the Hakone day trip (round trip), do leave comments below.
Thanks for reading!
---
If you like food blogs, take a look at some of my other articles:
6 Fun Things To Do In Akihabara
Top 10 Attractions And Things To Do In Osaka