Osaka is a prefecture described as the second largest metropolitan area in Japan right after Tokyo.
Located in the Kansai region of Japan, Osaka is bordered by Nara in the east, Kyoto in the north, and Wakayama in the south.
It has been considered as the economic powerhouse of the Kansai region. But there is more to Osaka than just that.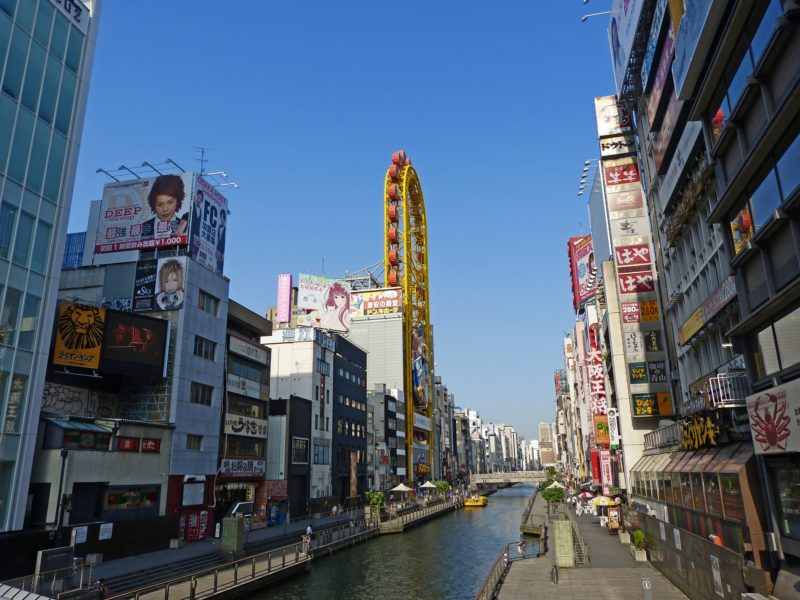 There are plenty of things to do and attractions to visit in Osaka.
It is also worth noting that Osaka is home to stunning modern attractions and fascinating traditional structures.
It allows us to discover the rich heritage and rapid progress of Osaka.
From towering castles to entertainment areas, Osaka has lots to offer to its visitors.
On this article, we have identified and described ten different attractions to visit in Osaka.
1. Dotonbori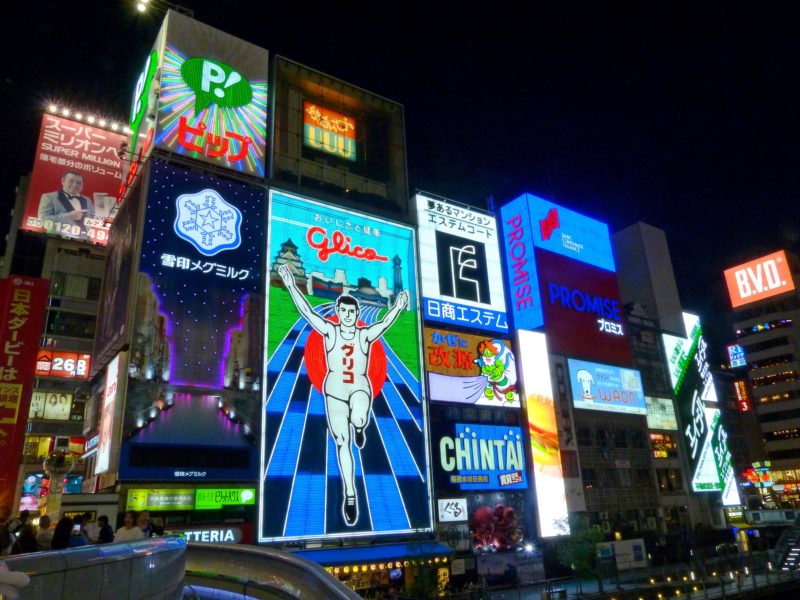 The first attraction that you should be visiting in Osaka is Dōtonbori. This is a major tourist destination in Osaka which runs along the Dōtonbori.
The first tracks of Dōtonbori could be traced back to the 17th century when it became a puppet theater.
At present, Dōtonbori is a famous entertainment area in Osaka which is characterized by its illuminated signboards and its distinct atmosphere.
Several landmarks and restaurants could be spotted when one is sightseeing around Dōtonbori.
Enjoy its eccentric nightlife as you try native Japanese dishes.
Location: Japan, 〒542-0071 Osaka Prefecture, 大阪市中央区道頓堀
2. Shitennoji Temple
The Shitennoji Temple is a major Japanese landmark that is situated in Osaka.
Founded by Shotoku Taishi in 593, the temple is recognized as the oldest official temple in Japan.
Taishi, who introduced Buddhism to Japan, named the temple after the shitenno, or the four heavenly kings of Buddhist tradition who protect the world from all the evils.
Most of the external buildings are free to see. However, there are some locations at the Shitennoji Temple wherein you will need to pay a fee to enter.
Location: Japan, 〒543-0051 Osaka Prefecture, Osaka, Tennoji Ward, Shitennoji, 1−11-18
3. The National Museum of Art (Osaka)
The National Museum of Art is a Japanese art museum that could be found between the Tosabori River and the Dojima River in central Osaka.
It is home to a collection of artwork from the post-war era of Japan.
However, there are still some pre-war art pieces from artists such as Pablo Picasso, Max Ernst, Tsuguharu Foujita, and Paul Cezanne, among others.
The museum was designed by Arata Isozaki and was established in 1977 as the National Museum of Art.
Location: Japan, 〒530-0005 Osaka Prefecture, Osaka, Kita, Nakanoshima, 4丁目2−55
4. Sumiyoshi Taisha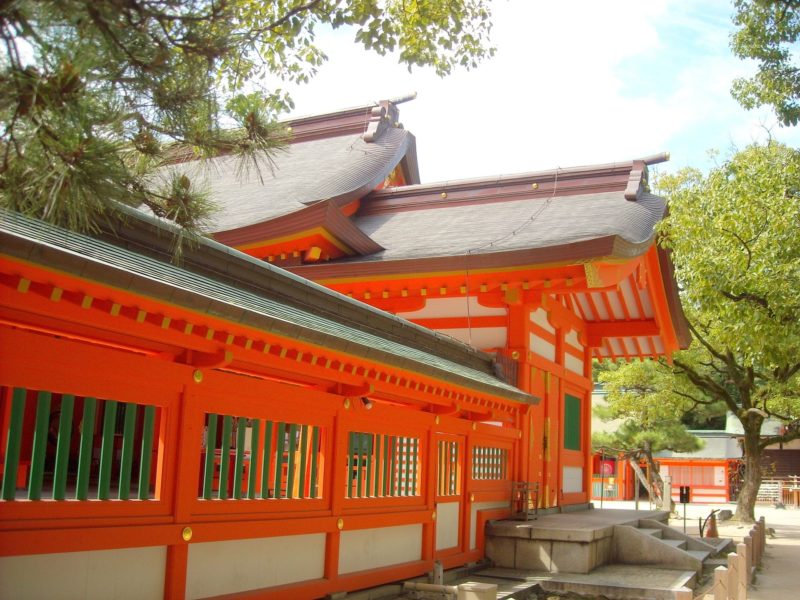 The Sumiyoshi Taisha, commonly known as the Sumiyoshi Grand Shrine, is a Shinto shrine found at the Sumiyoshi war in Osaka.
It was founded in 211 by Tamomi no Sukune, during the reign of Emperor Chuai.
The shrine is considered as the main shrine of all the Sumiyoshi shrines across the country.
This attraction enshrines the Sumiyoshi Okami, otherwise known as the great gods of Sumiyoshi.
The Sumiyoshi taisha is noted for its history and its distinctive architecture.
Location: Japan, 〒558-0045 Osaka Prefecture, 大阪市住吉区住吉2丁目9−89
5. National Bunraku Theatre
Next on the list of attractions is the National Bunraku Theatre. This is a complex in Osaka which consists of two halls and an exhibition room.
The theater opened in 1984 and became the headquarters of bunraku.
The larger theatre has a capacity of approximately 700 seats which depends on stage setup. It is used for performances of bunraku, Buyo, and stage plays.
In the smaller hall, performances such as rakugo, manzai, and other traditional arts are done.
Location: Japan, 〒542-0073 Osaka Prefecture, Osaka, Chuo, Nipponbashi, 1 Chome−12−10
6. Osaka Castle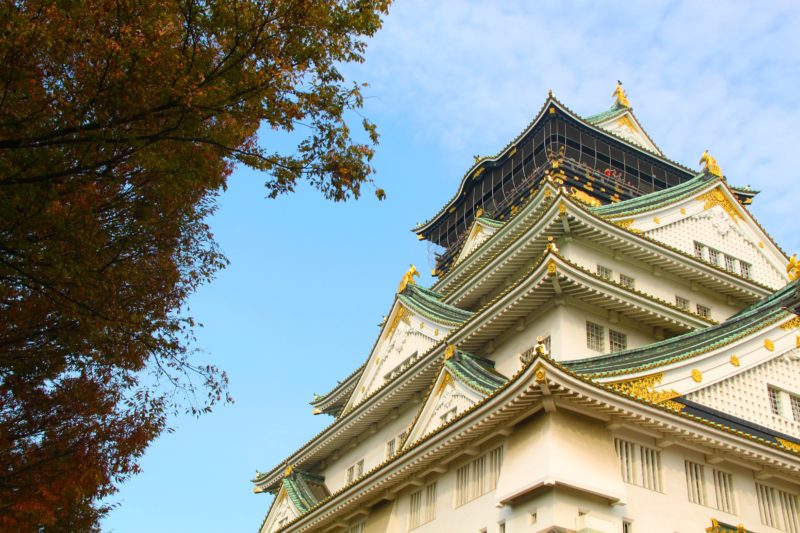 Osaka Castle is a Japanese castle and a major landmark that could be found in Osaka.
It served a major role in the unification of Japan during the Azuchi-Momoyama period in the sixteenth century.
The main tower of the Osaka Castle is eight stories on the inside and five stories on the outside.
It was built on top of a tall stone foundation on a raised platform in order to protect occupants from attackers.
At present, the castle could be accessed by the public from the Osakajōkōen Station.
7. Umeda Sky Building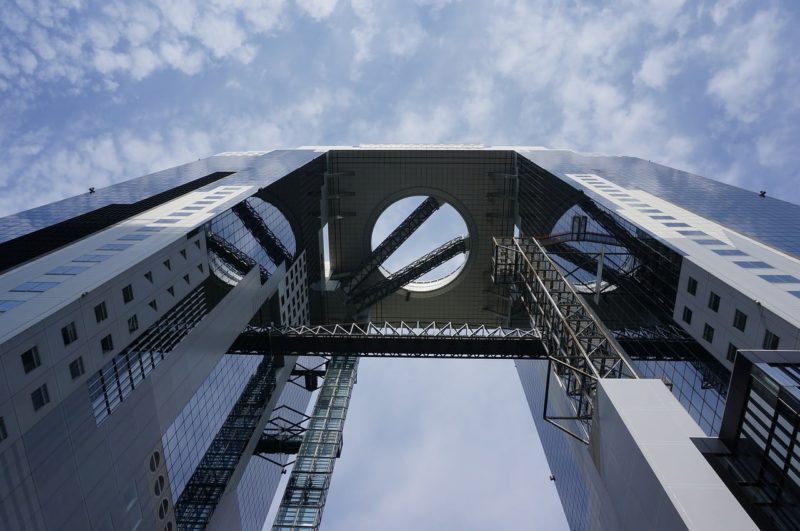 The Umeda Sky Building is one of the most recognizable landmarks that could be found in Osaka.
With a height of 173 meters, the structure is regarded as the nineteenth tallest building in Osaka.
It comprises of two 40-story towers that are connected at their uppermost stories.
A bridge and an escalator cross the wide atrium-like space in the center of the building.
At present, the Umeda Sky Building features a rooftop observatory, an underground market, and The Floating Garden Observatory.
Location: Japan, 〒531-6023 Osaka Prefecture, 大阪市北区大淀中1−1
8. Universal Studios Japan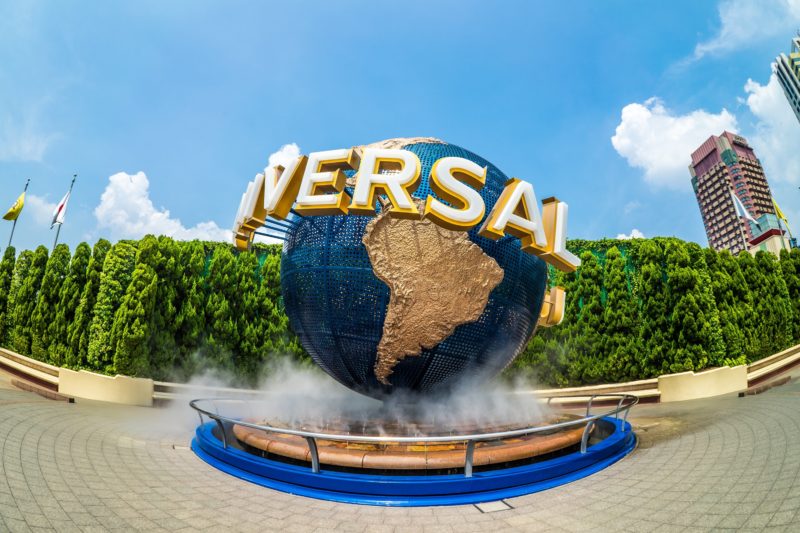 Universal Studios Japan is a major entertainment attraction for locals and foreigners alike.
Since its opening in 2001, the park has had an average of 14.9 million visitors each year.
Like any other Universal parks, the Universal Studios Japan showcases attractions which are based on Universal's extensive theme.
However, it also has other attractions from other franchises.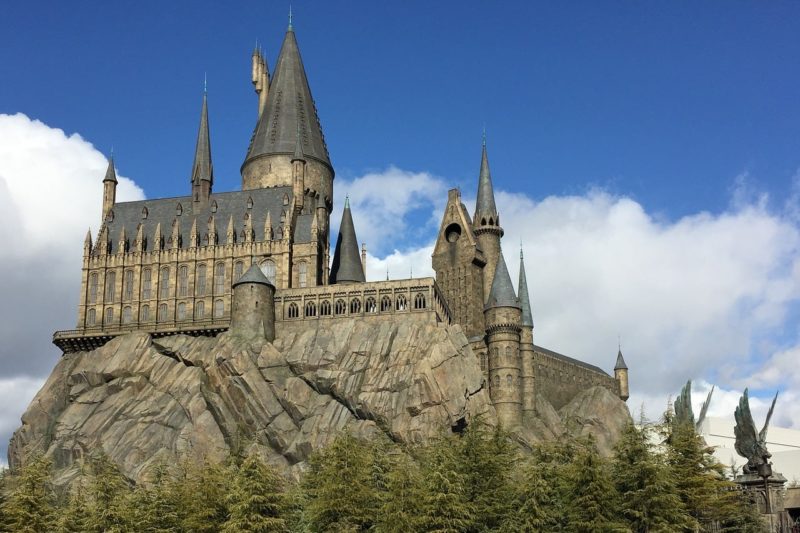 Some of the attractions include the New Adventure of the Amazing Spiderman and the Wizarding World of Harry Potter.
Location: Japan, 〒554-0031 Osaka Prefecture, Osaka, Konohana Ward, Sakurajima, 2 Chome−1−33
9. Museum of Oriental Ceramics
The Museum of Oriental Ceramics is a Japanese art museum which collects, conserves, studies, and exhibits ceramics coming from East Asian countries such as China and Korea.
Some of the most important cultural properties contained in the museum include a celadon vase with phoenix handles, a porcelain with a carved lotus design, and a stoneware with Sgraffito decoration of peony with transparent glaze under green glaze.
Location: Japan, 〒530-0005 Osaka Prefecture, Osaka, Kita, Nakanoshima, 1 Chome−1−26
10. Osaka Aquarium Kaiyukan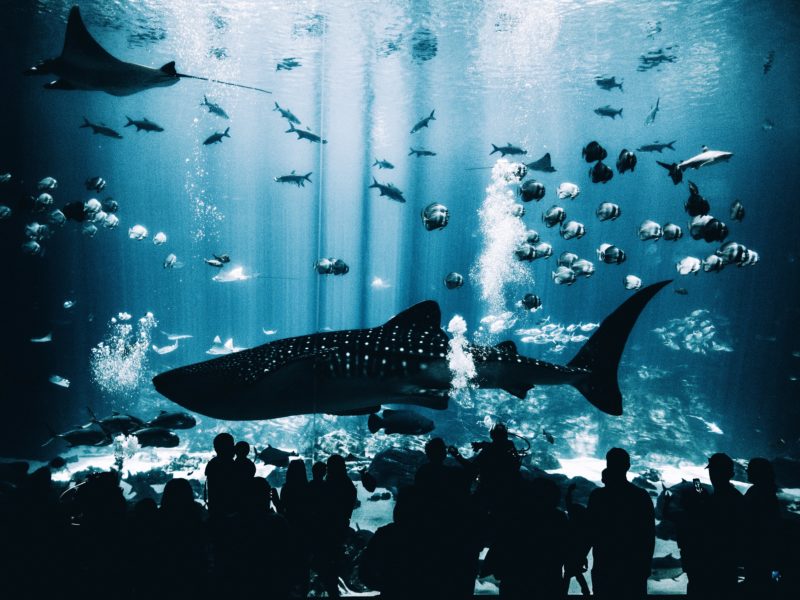 The Osaka Aquarium Kaiyukan is an aquarium that could be found near Osaka Bay in Osaka.
With a land area of 26,570 square meters, this attraction is recognized as one of the largest public aquariums in the world.
The walk through aquarium exhibits marine life which thrives in various habitats.
These marine species are stationed on 26 tanks in 16 main exhibits.
Some of these exhibits include the Tunnel Tank, Japanese Forests, Monterey Bay, the Pacific Ocean, and the Great Barrier Reef.
Location: Japan, 〒552-0022 Osaka Prefecture, Osaka, Minato Ward, Kaigandori, 1 Chome−1−10
In a nutshell
When sightseeing around Osaka, it would be no surprise that you would encounter countless attractions which you could visit.
These places would not only allow you to appreciate the culture and the heritage of Osaka, they would also allow you to experience them first hand.
There are more attractions in Osaka than the places which are mentioned above, giving you an excuse to explore the city once more.
---
Related articles:
What To Do In Bali? – Top 10 Attractions To Visit In Bali
Royal Caribbean Review (Singapore – Phuket)
Shinjuku Gyoen – One Of The Nicest Parks In Tokyo
Quantum Of The Seas (Royal Caribbean) Review – Singapore To Phuket
Day Trip To Hakone / What To Do In Hakone
Tokyo To Hakone – 3 Easy Ways To Go To Hakone
9 Fun Things To Do At Asakusa Tokyo