You may agree that to have ideal travel memories in Bali, a culinary adventure is a pre-requisite. You should endeavor to savor the top local delicacies.
These are essential for you to complete your list of must-do activities included in your trip. Imagine being able to interact with your friends about such exotic and unique food dishes.
For the culinary enthusiasts, such exploration will add to your inventory of food experiences.
So let's explore some of the top food in Bali!
Note: some are without photos as the photo quality turned out bad.
1. Babi Guling (roasted suckling pig) at Ibu Oka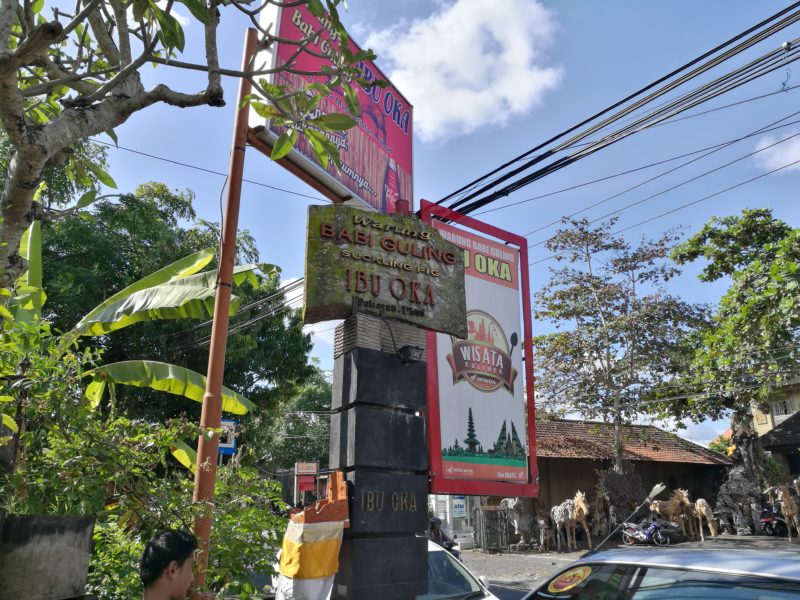 Probably the best known Balinese dish with most tourists having tasted it. Some are known to come to Bali primarily to re-taste it.
The marinated whole piglet is skewered over a fire and done to perfection. Balinese love their Babi Guling to the extent that preparing this is now a loved activity.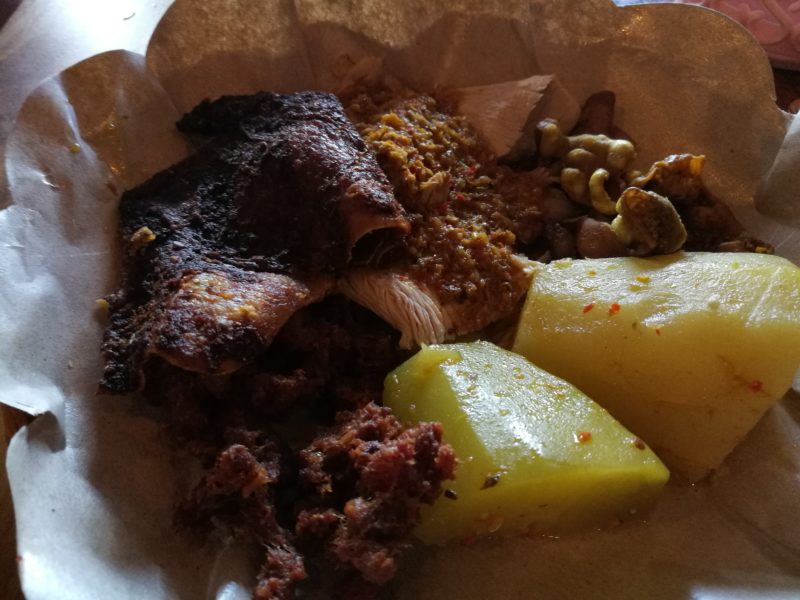 The recipe used is generally not much different. While there are a few good outlets for this, the name "Ibu Oka" comes to mind readily.
There are quite a number of branches all over the island.
2. Pork ribs – Hog Wild & Naughty Nuri

Another acclaimed dish that you should try while in Bali is the delicious pork ribs. Hog Wild would come quickly to mind when one thinks of this fabulous dish.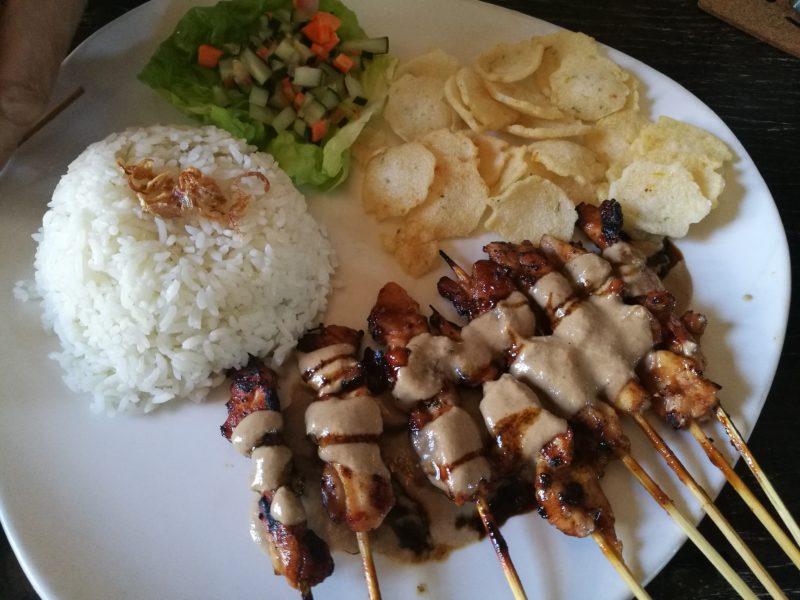 A slab of ribs grilled to prefection with the right herbs and sauce. This dish has not failed to live to its reputation of being tasty, delicious and finger-licking good. Besides pork ribs,you will be able to savor other Balinese delicious dishes in a one-stop restaurant.

There appears to be wide consensus that pork ribs are equally good at Naughty Nuri. Besides these acclaimed ribs, you will not be disappointed with the other offerings.

Try the set of sliders (mini burgers) which will surely impress you.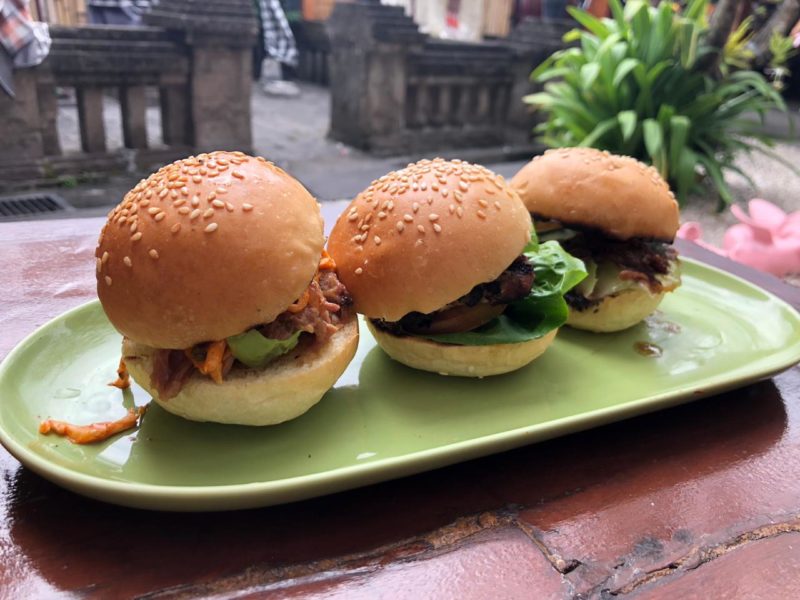 3. Grilled Fish Pyramid at IBC
If you are tired of pork or duck, why not try the Grilled Fish Pyramid at IBC. The fish is fresh considering that Bali is an island completely surround by the seas.
IBC has three branches in Bali. The restaurant in Sunset Road does not have wifi nor air-conditioning, but it's spacious and comfortable. The ambience is good and pleasing as well.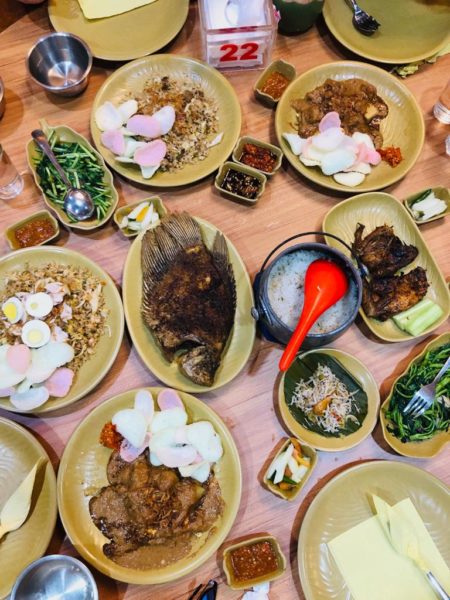 Besides the fish dish, the restaurant serves a wide variety of local dishes and is very popular with the local people.
4. Bebek guling (crispy duck) at Bebek Joni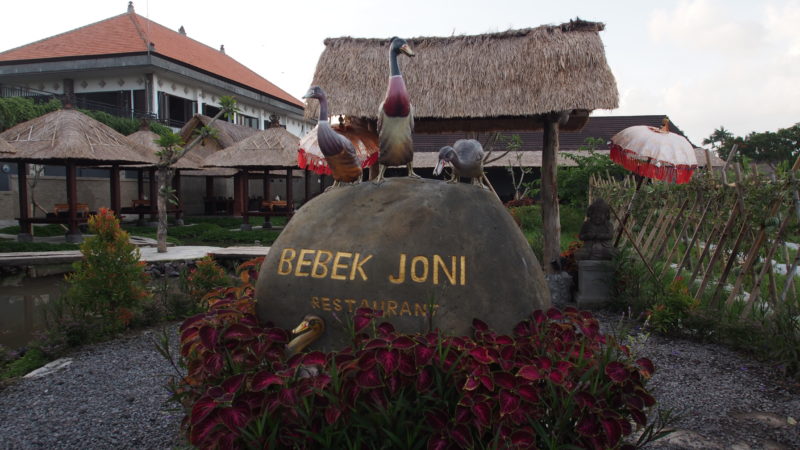 For those of you who would like to taste a non-pork dish, which is equally famous in Bali, you should try the crispy duck. While many places offer this dish, our favorite is the Bebek Joni.
This dish involves marinating the duck in spices for many hours, steaming and then frying the duck. The skin is crispy and the meat is delicious and tasty.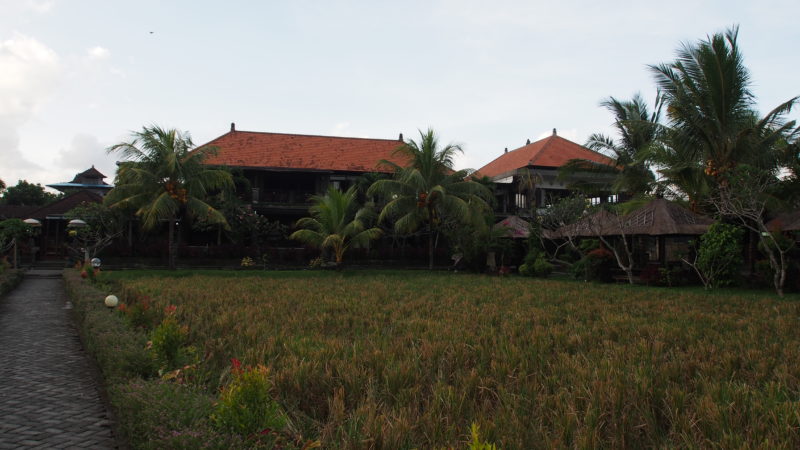 At Bebek Joni, you have the choice of indoor dining space that is ample and well spread out in a pleasing green environment.
5. Ayam Tulang Lunak (pressure cooked chicken) at Malioboro
This special chicken dish is so delicious that even the bones can be eaten easily.
The place is Malioboro which has nice internal decoration and air conditioned for comfort.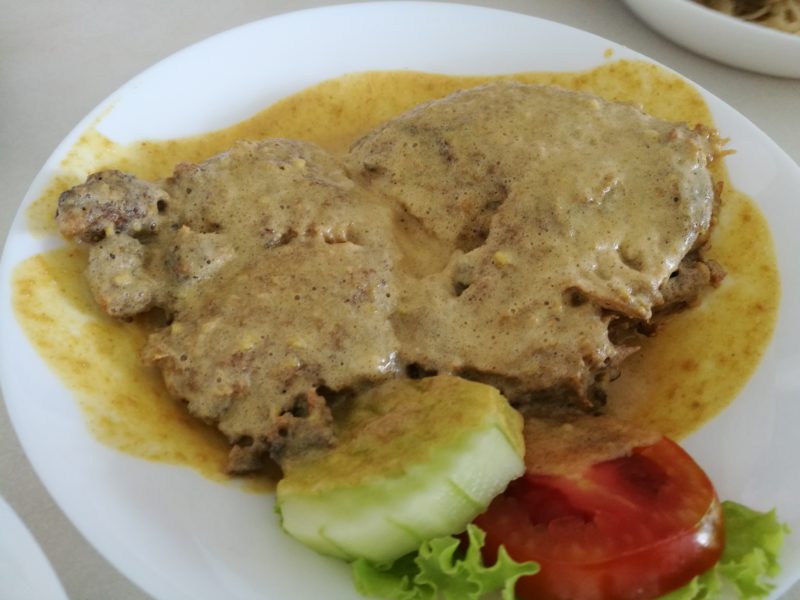 You should try the chicken with salted egg and also the tauhu which is beancurd. There are other equally nice dishes here.
Some customers have commented that prices are above average, but still, you should definitely try it at least once on your trip.
6. Hungry Bird Cafe, Changgu
If you are a coffee aficionado, this place is a must visit. A nice cup of coffee is available anytime of the day.
The baristas are knowledgeable and helpful. The coffee served is excellent.
Vegan dishes are available if you do not relish nice sandwiches.
7. Nasi Goreng (fried rice) in Tamade Kafe, Kuta
Nasi goreng is a much sought-after dish done in the Balinese way is a good choice if you just want to have a simple one-dish meal.
Many warungs (aka stalls) will serve this on the menu. That said, Tamade Kafe made this dish very well. There are many other equally delicious dishes on their menu.

You will be happy to note the excellent service offered in this outlet. The proud owners are a friendly husband and wife team who cares about their quality. Definitely worth trying.
8. Kelapa (coconut) at warungs

Kelapa is a widely acclaimed tropical fruit found in abundance in Bali. You should ask for the fruit which contains a layer of flesh besides the healthy, sweet and clear coconut water.
You will enjoy scraping the flesh from the coconut husk with a spoon, at the same time as sipping the coconut water. Although some warungs serve the whole fruit which is preferable, some stalls will provide the drink in a glass.
You should not leave Bali without trying this fruit.
9. Tauhu and Gado at IBC (and others)
Another not-to-be-missed Balinese dish is the tauhu goreng (fried beancurd) and Gado-gado. Tauhu goreng is a popular dish in Indonesia and Malaysia.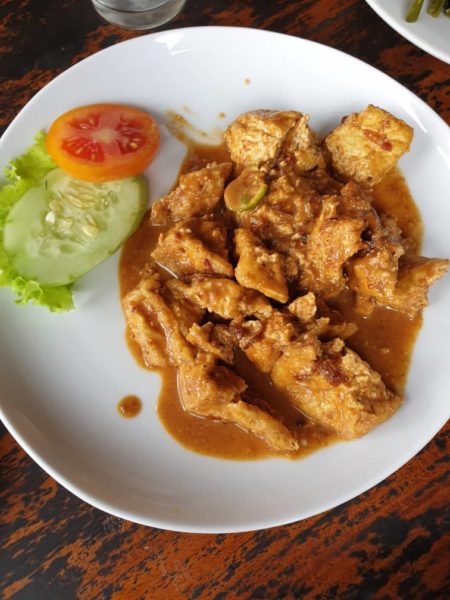 Here in Bali, you will probably love these fried tofu served with a rich peanut sauce.
The gado-gado is also made of tofu but with mixed vegetables, served with delicious peanut sauce. They are some of the more iconic dishes in Bali.
In a nutshell
We have listed 9 popular Balinese food that you should try when visiting the island of Bali.
Bali is a unique place that's quite different from other parts of Indonesia, and is probably the number one tourism island in the country.
Do check out some of the listed places!
This article was written by Richard Lau.
---
Related articles:
12 Best Japanese Instant Noodles To Buy [Updated 2019]
What To Do In Bali? – Top 10 Attractions To Visit In Bali
Sharing Plates Cafe (Malacca) Review
Seafood Buffet At Spice Market Cafe (Shangri-La Penang)
Best Buffet In Malacca – Hotel Buffets You Can Check Out