If there's one actor known for his skills n martial arts, it has to be Jackie Chan.
He started his career as an actor in 1976. A rival producer hired him after seeing his natural martial arts moves and active prowess.
Today, Jackie Chan is not just an actor but many look up to him as a signature star who is recognized all over the world.
Not many foreign actors were able to break it in Hollywood but for this Hong Kong based celebrity; he was able to penetrate the US movie industry and starred with other Hollywood actors and actresses.
Jackie Chan isn't only famous for being a master martial artist but he is known to doing his own stunts.
In fact, he has broken a lot bones more than celebrities out there. He's a real charmer who is also active in charity work and is reported a great singer as well.
Below you'll find some of the best and most memorable Jackie Chan movies of all time.
1. Rush Hour Film Series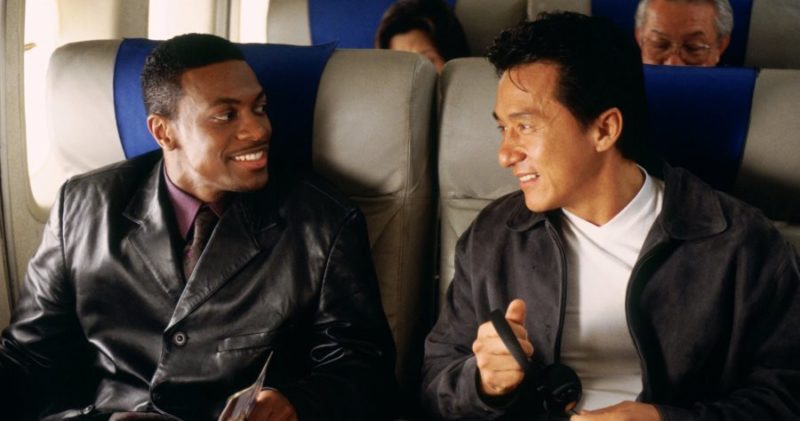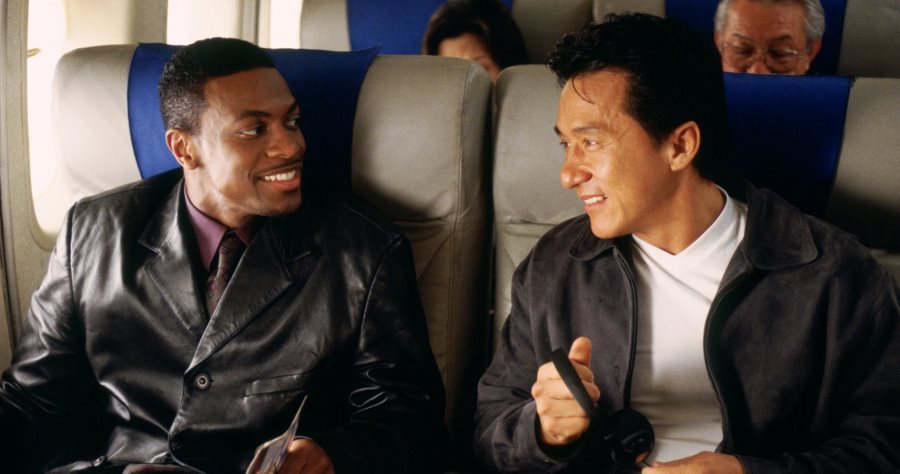 One of the most unforgettable Jackie Chan movies ever made is the Rush Hour Series. This action-packed comedy movie starred the incomparable duo of Jackie and Chris Tucker.
Both of them looked so good and together and their chemistry onscreen made this move series a must-see.
Here you'll be able to see a whole new Jackie as he trashed talk, delivered comedic lines, as well as act out in very emotional scenes.
2. Shanghai Knights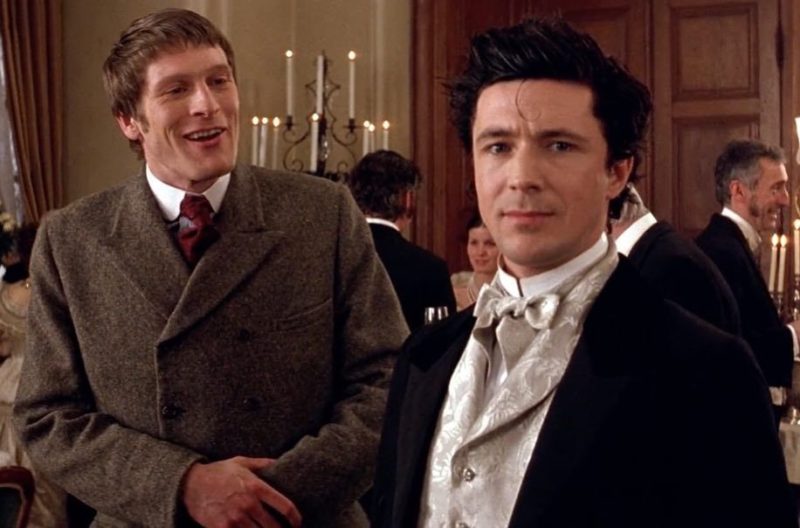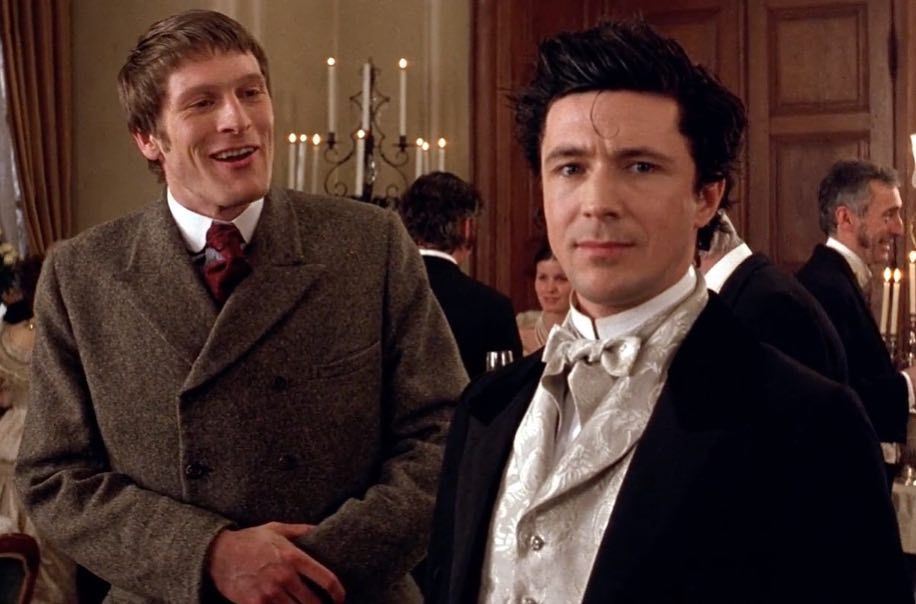 Another action comedy movie that will always be remembered by Jackie Chan fans is Shanghai Knights.
Here he paired with another comedic actor Owen Wilson.
There's a great contrast between the two characters as Jackie was more serious while Wilson was a fun-loving guy.
The movie was set in Victorian England where the two dealt with different challenges to prevent the assassination of the Queen.
3. The Forbidden Kingdom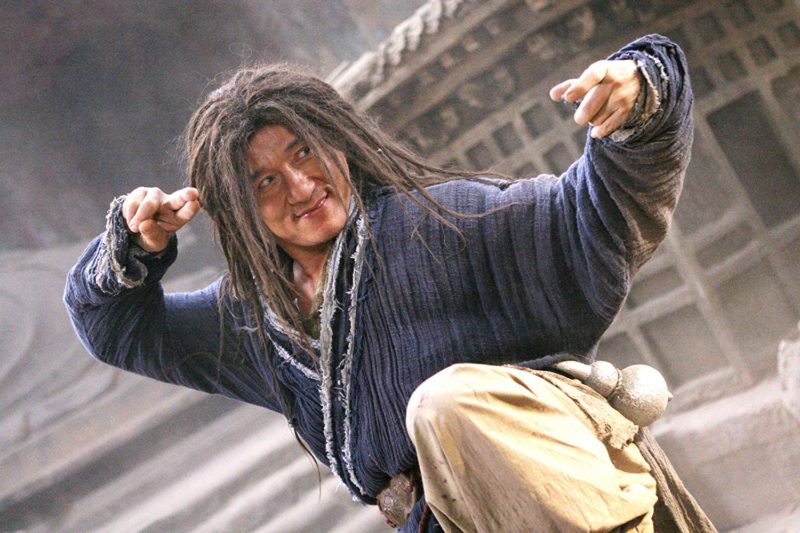 In this movie, Jackie plays a drunkard martial artist. He met a young American boy who travelled in time to Ancient China after discovering a magical staff.
Evil entities wanted to get hold of the staff and soon the boy found himself in an incredible quest.
The movie has a lot of twists and turns that are guaranteed to keep you at the edge of your feet.
4. Rumble in the Bronx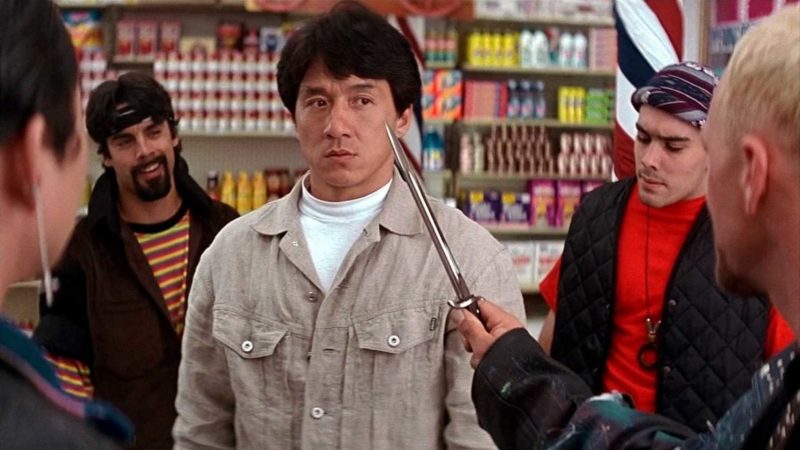 If you're looking for an action-packed Rumble in the Bronx is one of Jackie Chan's best movies. Here he played a Hong Kong police officer who arrived in New York.
He was completely unaware that his presence brought about a larger ploy that led to some of the most thrilling fight scenes.
It is said that this movie is the one that gained him worldwide recognition as a great actor and martial artist.
The scenes included some creative action scenes and had Jackie play a funny protagonist as expected from him.
This movie is a worldwide success that should be on your list of must-see Jackie Chan movies.
5. Armour of God 1986
If you're a fan of Indiana Jones, this is one of those Jackie Chan films that boast of the same genre.
He played Asian Hawk together with his partners, Alan and May. Together they tried to steal the treasure called Armour of God from a group of weird monks.
The film had two sequels, Operation Condor and Chinese Zodiac. It's loaded with exciting cat-and-mouse chases but what really made it popular were the dangerous stunts.
In this movie, Jackie almost got killed after falling five meters onto a big rock, with his head first. His skull was fractured, leaving him bleeding from his eyes and ears.
Due to this unfortunate event, he had a permanent plug in his skull and suffered from subsequent hearing loss in his right ear.
6. Operation Condor (Armour of God 2)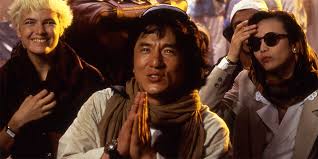 If you're into adventure-filled movies like the Indiana Jones series, then you're sure to love the Operation Condour (Armour of God 2).
Dubbed as one of the most expensive movies in its time, it was worth $15 million American. Jackie played the character of Asian Hawk who is also a comedic figure.
Jackie realized that he could reach a larger audience by adding humor to his movies which are known for being carefully choreographed though a little over the top sometimes that he almost got himself killed, too.
7. Who Am I?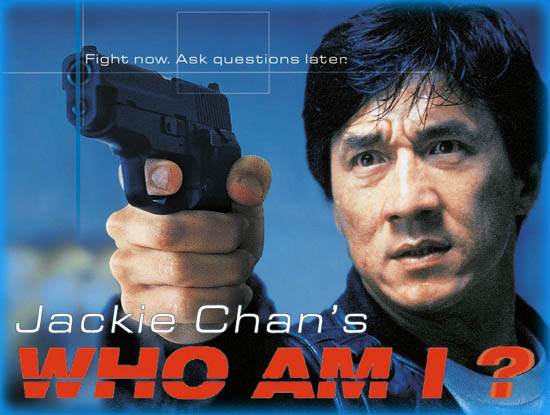 This movie is the idea of Benny Chan, the lead and collaborator who conceptualized this easy comedy. Jackie is portrayed here as a character who suffered from post trauma illness.
His confused character is none other than a secret agent who many referred to as Whoami. Many assassins seeking revenge came after him but as usual, Jackie was able to save himself from them.
This movie is packed with heart-pounding fight scenes as well as some hilarious moments you will surely enjoy.
8. Project A

Project A is undoubtedly one of Jackie's most successful movies. The movie was given a generic title to avoid leaking the plot.
They wanted to keep everything a secret before its release. It's an action comedy film dealing with the high seas and pirates starring Jackie alongside Hung and Biao.
The setting was in the 1800s. The movie showed how the three characters trained to fight the bad guys who happened to be Hong Kong mobsters.
9. Supercop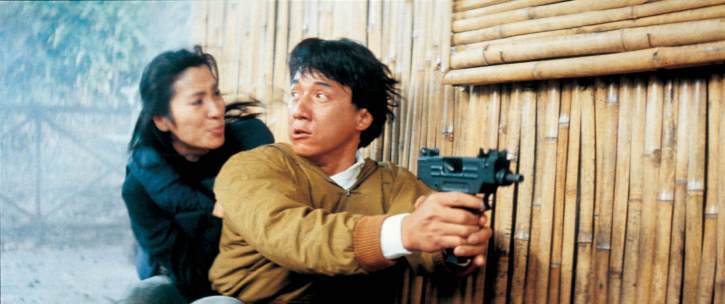 This is the third film in the famous Police Story franchise and the first one that Jacky Chan himself didn't direct and it was taken over by Stanley Tong.
Here he partnered with Michelle Yeoh, a superstar actress who originated from Malaysia. Yeoh played as Jacky's Interpol contact and together they helped each other in fighting their enemies.
Some of the epic fight scenes took place in a train, helicopter and in one scene, Jackie was seen hanging to a rope ladder.
The movie was so impressive that even director Quentin Tarantino considers it as one of his all-time favorite movies thanks to its unrivaled stunts.
10. Drunken Master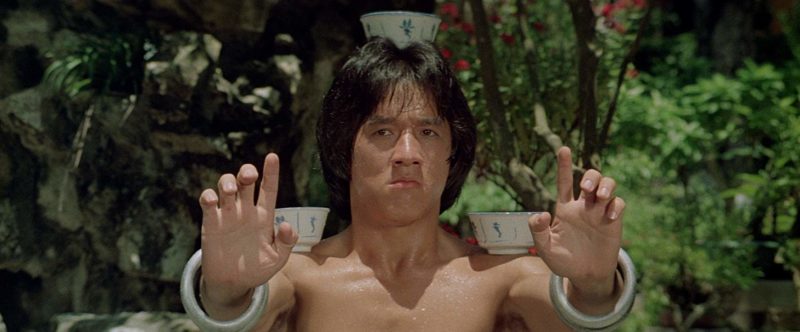 The movie came out in 1978 but it will always be remembered as Jackie Chan's first time to embrace comedy as part of martial arts.
Here he had proven himself as the best actor that he is. He portrayed the role of young upstart who was always bullied by others around him.
He underwent training with an old little sensie who taught him the Drunken Boxing and the Eight Drunken Immortals.
It's packed with electrifying fight scenes with young Jackie showing Hong Kong his incredible talent.
11. Drunken Master II (Legend of the Drunken Master)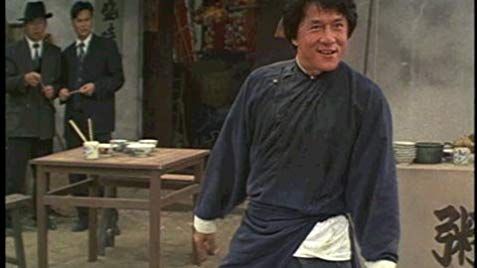 It's like a sequel to the Drunken master but not quite. Here Jackie Chan plays Wong Fei-hung who is an acclaimed martial artist, acupuncturist, physician, and revolutionary who later became a folk hero in China.
It's another period movie with a modern flair and features one of the best action and stunt scenes throughout his career.
Roger Ebert, a film critic, said he loved the movie and specifically pointed out that the last fight sequence is one of the best he had ever seen.
Surely, this is reason enough to watch this one of a kind martial arts movies.
12. Police Story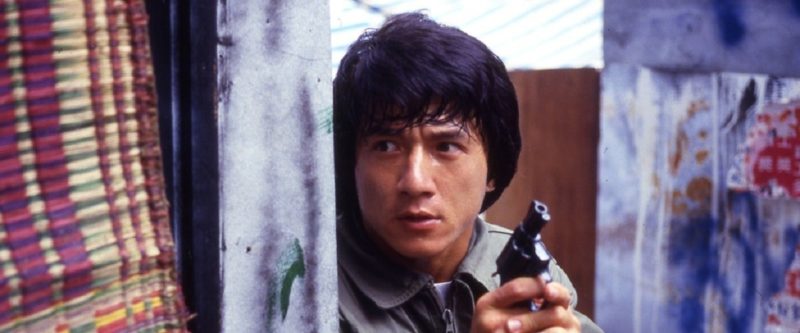 Jackie Chan himself considers this as his best action film. He wanted to break into the American audience so in 1985, he partnered with director James Glickenhaus to make The Protector, which was a big disappointment.
That's when he decided to take the reins in his next movie, Police Story, which was the first in a 28-year movie franchise. It's loaded with incredible stunts with expertly choreographed fight scenes.
The storytelling itself was highly entertaining which left fans begging for more. The Police Story will always be referred to as a Hong Kong masterpiece.
13. Mr. Nice Guy 1997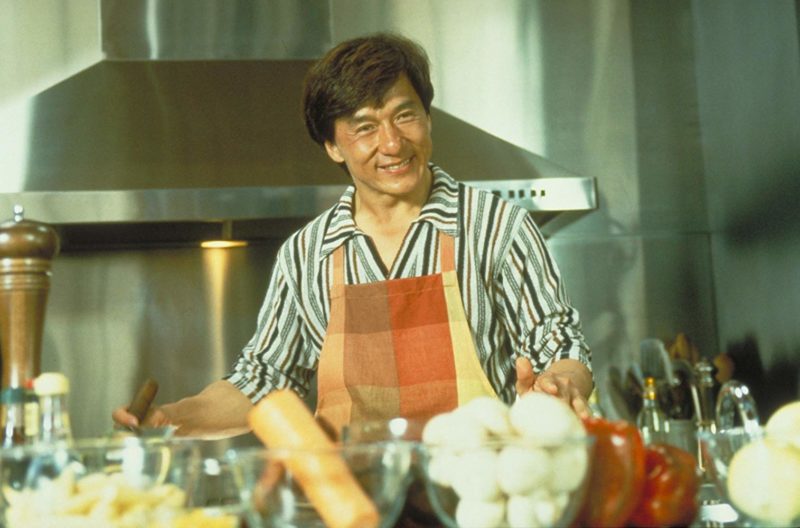 In this movie, Jackie Chan played the role of a popular television chef alongside actress Miki Lee whose character is an investigative reporter.
Jackie saved her from the hands of two rival gangs who eventually teamed up to go after her after she captured footage of something that she shouldn't have filmed in the first place.
The movie has tons of engaging fight scenes but none can compare to the mall scene that portrayed Jackie having a live presentation as the gangsters interrupted him. T
here's also another exciting scene taken in the streets of Perth, Australia, showing Jackie fighting the evil guys on a horse draw carriage.
In a nutshell
Jackie Chan and his movies will always be a favorite not only among martial arts fanatics but to those who love action and comedy.
Jackie proved himself a great actor, producer and director with all the successful he created.
His stunts are among the best and knowing that he did them himself set him apart from other actors out there.
Hopefully this list of top movies by him will prove to be great for you.
This article was written by Stephanie.
---
Related articles:
Best Disney Movies Of All Time
Top 13 Best War Movies On Netflix You Can Watch Today
Top 13 Best Sad Movies On Netflix
Best Anime To Watch On Netflix If You Are Bored