In the past, fireplaces were used to warm the room and cook as well. Today, it is different. They are used for beautification as well as warmth.
A fireplace adds some class to a house, but it could be difficult to manage. Having a fireplace would mean getting logs and splitting them.
You may also have to deal with cleaning the residue of the smoke. With an electric fireplace, you don't have to worry about any of these things.
How can you choose a good electric fireplace? Here are the 5 best electric fireplaces on the market.
Note: there may be affiliate links below.
1. Touchstone 80004
This fireplace is an in-wall mounted equipment. It runs om 1,500 watts and has a voltage to 120. It can work in a 400 sq. feet room and heat it effectively.
When it comes to aesthetics, this fireplace is quite impressive. It has a black, stylish color that gives the home a modern look.
It has some impressive features such as the settings to set the color of the flames and the shine. The flames have three colors; blue, orange and blue-orange.
There is an option for you to choose between an intense or soft blaze. It comes with a remote control for this purpose and a user manual for easy installation.
Pros
Cons

2. R.W.Flame Electric
If you prefer a wider fireplace, the R.W Flame Electric may be ideal. It is wall mounted on the wall or fitted inside the wall. Also, it has a simple installation process and can fit in home and offices.
Despite having a touchscreen, the unit has a remote control. There are 5 flame speed models, sleep modes, auto flame design, 12 flame as well as LED flame bed color types. The flames are quite realistic and give a natural feel to the fireplace.
The heat settings allow you to save energy. It has two separate heat settings for this purpose. You can choose 750W or 1500W. While you warm up your room, you can also save energy.
It works well in large rooms as long as they aren't larger than 400 sq. feet. It distributes heat evenly as well and can maintain humidity in a room.
Pros
Cons

3. Puraflame Electric Fireplace
This electric unit is 30 inches in size and distributes heat evenly in your room. Its unique look makes it an excellent option for homeowners that want a realistic fireplace. The design, resin logs, interior brick wall and all other parts make it look realistic.
One impressive feature of the fireplace is power. It has an electronic temperature control that can be set to provide the best temperature for the room.
Also, it has a thermostat that can be adjusted to the right level of warmth. Its settings range between 60° F and 84° F.
In addition, it has an LED technology that works to save energy. If you are conscious of the environment, then this fireplace may be a good option.
Also, installation is a breeze as it comes with a manual to guide you through. Its voltage is 120 and it can be plugged into a nearby socket.
Pros
Cons

4. Dimplex DFI2310 Electric Fireplace
The Dimplex fireplace insert is another attractive option for your home. It can fit into an existing fireplace with ease. However, you have to ensure that it fits the space.
It has a 1375-watt output to produce enough heat for the room. It also comes with a remote control that allows you to change the settings when you need to.
You can plug the electric fireplace into any regular electrical outlet without a hassle. This way, you will not need special connections from a technician to plug it in.
It also has a reliable integrated blower fan that helps distribute heat evenly in the room.
The heat options include full heat, flame only and half heat. These three modes make it possible for homeowners to use the fireplace all year long and not just in winter.
During other seasons, the flame won't produce hear but offers a beautiful focal point in the room.
Pros
Cons

5. Duraflame Electric Infrared Quartz
The Duraflame fireplace uses infrared quartz to run smoothly. It can cover up to 1,000 square feet which is really impressive.
The portability of this device makes it a good option since it works well as a heating device.
This unit has a feature that helps save money on electricity bills. It is environmentally friendly and the infrared feature is a plus. This system allows it to warm the room while also maintaining humidity.
It has a 3D flame effect just behind and between the logs to give it a great look. The fireplace has options to adjust the brightness, color as well as the speed of the light. This way, you will be able to create your own ambience.
The general effect is like a real fireplace, but it does not light up the whole room. You can also change the temperature of the room with the thermostat.
The control panel is set at the bottom and seeing the numbers and dials could be a hassle. This device also has a protection feature which was built in to detect overheating and shut it off.
Pros
Safety features to prevent overheating
Cons
It may be difficult to see the controls.

How to choose the best electric fireplace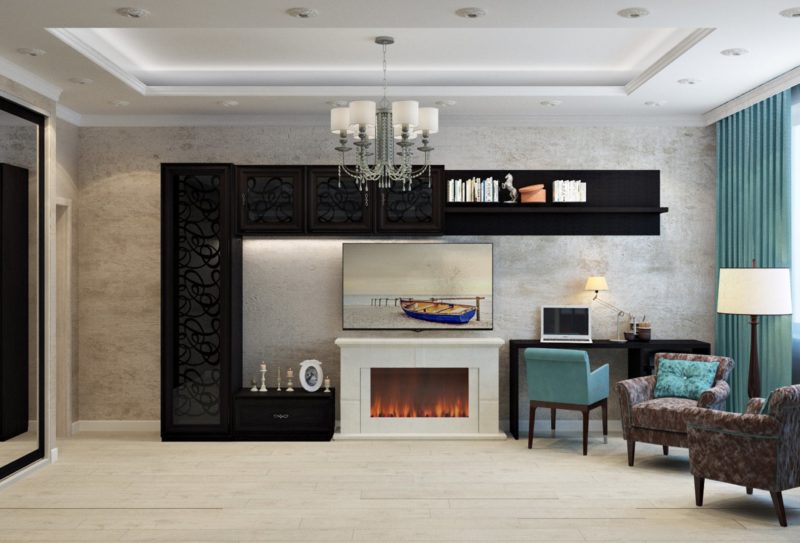 There are so many considerations to make before picking an electric fireplace. However, the most important factors include:
1. Heat source
Lots of people think that electric fireplaces generate heat in the same way. This is not the case. Electric fireplaces operate in different ways and you need to know the heat source.
Here are some common heating methods to help you pick the best one for your home:
Ceramic: this heating method involves using electricity to heat up a coil. Air is then passed between the coil and a ceramic plate. The heat is retained in the ceramic plate and then released as time passes. It can heat 200 to 450 sq. feet.
Fan powered: the fan-powered models work like the ceramic models. However, they lack an extra plate. The fireplaces provide extra heat that can cover 400 square feet in a room.
Infrared heat: this type is ideal for larger rooms. The heating system is stronger than the ceramic models as well as the fan-powered model. It can heat up a large area up to 1,400 sq. feet.
2. Fireplace style
The fireplace style is also an important consideration. Electric fireplaces come in different shapes and styles. Some sizes differ so you need to know which type will fit into your existing fireplace or be mounted on a wall. Below are some popular styles you can find on the market:
Standup electric models: this style of fireplace is easy to fix as it doesn't require installation. Most of the time, they come with stands to hold them in place. This means that all you need is an outlet to plug it in and start using. They are really easy to use and this makes them a favorite among many users.
Fireplace Inserts: the fireplace insert is also quite popular. This is because they can be used in so many different ways. If you had a space for a fireplace in the past, you can use it with fireplace inserts. Also, if you want, you can have a cubby constructed to house it. You can also install the fireplace inserts into an entertainment center. However, they are a bit different from standup models as they require some form of installation. They come with manuals so this should not be a problem.
Wall-mounted fireplaces: these types of fireplaces are mounted on a wall. Like a flat-screen TV. This may sound like an easy task to install, but it is more complicated than it seems. There are a couple of considerations to make before choosing a wall-mounted fireplace. You have to ensure that there is a provision for a wall stud. This would enable you to install it properly on the wall and run electricity to it. Aside from these requirements, installation of the wall-mounted fireplaces is a breeze.
What else should you consider?
The basic factors to consider have been listed above. However, there are a few other optional features you can consider when you want to choose an electric fireplace. Here are some other common features to look out for in the unit. They may come in handy in the long term.
Conclusion
While searching for the best electric fireplace, consider your needs when it comes to style, space and design.
The products listed above will help make your search easier.
---
Related articles:
The 5 Best Stovetop Espresso Makers
Best Lawn Sweepers For Your Home
Top Golf Travel Bags And Buying Guide
Best Self-Propelled Lawn Mowers Under $300
Top Gaming Laptops Under $600 You Can Buy Today
Top 14 Best Automatic Watches Under $300
Best Gaming Laptops Under $700
Best Treadmills For Home Under $500