Treadmills are the go-to home workout equipment because they are quite easy to use. They are also convenient because they allow you to exercise regardless of the weather conditions or the time of day.
Also, treadmills do not take up too much of space in the home. It may be difficult to pick a good treadmill product because there are so many brands on the market promising quality.
This review will highlight things to consider before choosing a treadmill as well as a roundup of the best treadmills under $500. This will help you to make an informed decision.
Here are some of the best treadmills for home under $500.
Note: This article may contain affiliate links.
1. Sunny Health & Fitness SF-T7603
The Sunny Health and Fitness treadmill is an affordable gear for people who want to work out at home. It has one-touch speed buttons and multi-function handrail control for convenience. It also offers pulse rate reading.
The incline can be adjusted in three levels to increase the intensity of the workout. It also has a 6 point shock absorption feature to reduce the impact as you walk and run on the gear. It has two spaces for water bottles and has an LCD screen to display fitness stats.
You can find the distance, time, and calorie stats on this screen. There is also an option to choose an inbuilt program from the nine programs available.
This treadmill may be a good option for exercise enthusiasts of all levels. It comes with a 2.2 HP motor and can support users weighing 220 pounds.
Pros
Cons
Not ideal for constant running

2. Miageek Fitness Folding Treadmill
The Miageek treadmill comes with transport wheels and a foldable design for mobility. It is also quite portable for home use as well as office use. The gear supports users who weigh up to 227kg and offers a health report and personal trainer feature.
The Bluetooth Fitshow app can control the device and it is compatible with iOS and Android operating systems. When it comes to speed, it offers 0.8 to 12 km/h of speed.
Like the treadmill above, it has some inbuilt training plans, about 12 programs as well as a heart sensor. Users can pick different speeds and programs to suit their needs.
Miageek treadmill has an automatic stop safety function and low noise motor; it also has a safety key for emergency stops.
Pros
iOS and Android system compatible
Cons

3. XTERRA Fitness TR150
The XTERRA Fitness treadmill is easy to use and assemble. It comes with a large 5' LCD screen which contains workout stats. The button design is intuitive, and it incorporates speeds buttons for quick access. This may save you a lot of time when you're exercising.
This gear has a built-in stand for libraries as well as accessories that can hold reading material. You can also store a remote control or any other item you'd love to have around as you exercise.
It has hand-held pulse sensors on the side handlebars to keep you in the training zone. The treadmill runs quietly with its 2.25 HP motor.
Also, the gear has 12 pre-set programs for different levels to offer users variety. It also has an extra soft padded platform with a large running surface.
The manual incline configuration offers 3 levels to push you above your limits.
Pros
Cons
No controls on handle bar

4. Goplus 2.25HP Electric Treadmill
Next on the list of top treadmills under $500 is none other than the Goplus Electric Treadmill.
This treadmill takes the 4th spot in this review because it has some outstanding features. Its 5' blue-ray LCD screen displays all the stats during the exercise session.
Some stats include distance, time, calories, pulse, speed and incline. It also has a water bottle holder and an iPad holder.
The incline level is also adjustable, but it is only operated manually and has three levels. This feature may help intensify exercise for faster and better results. The speed is also easily adjustable from 0.5-7.5MPH. This makes it suitable for both runners and joggers.
The gear is sturdy as it is built with high-quality steel. Users who weigh up to 250 pounds can use this treadmill. The foldable design also eases storage of the gear. It has a soft drop system which makes it possible to store the treadmill.
There are 4 silicone pads on both sides of the machine and these pads reduce noise while also decreasing floor vibration as well.
Another impressive feature of this machine is the safety key. It also comes with an emergency stop button which is located on the handrail. The running belt isn't as spacious as others in the list, but it is comfortable to use.
The treadmill also has 12 built-in workout programs for different fitness levels. This may spice up your workout routine.
Pros
Cons

5. Sunny Health and Fitness SF-T4400
This is the second Sunny treadmill on the list. The SF-T4400 machine has a folding mechanism as well as a soft drop system. These features make it easier to fold and unfold the treadmill for storage. The built-in user programs on this machine are just 9 as opposed to 12 on other models in this list.
The LCD display allows users to keep a record of their training stats. It also has a tablet stand and a clamp strip to prevent your smartphone from sliding and falling as you exercise.
The weight limit on the Sunny SF-T4400 is 220 pounds. It also has a soft fall hydraulics mechanism that ensures safe deployment. This feature makes it easier to fold the treadmill and store it after completing your exercise. Also, it reduces the impact on your joints and legs as you exercise.
The treadmill offers a heart rate monitor to help users determine how effective their workouts are. It runs with a 2.20 HP with speeds of 0.5 – 9 MPH. The manual incline has 3 options like other treadmills in the list.
Its handrail has control buttons to start, stop and control the speed of the machine. This makes it quite convenient since you won't need to move your hand to the front to control the machine.
Pros
Comes with safety lock function
Convenient handrail controls
Cons
Negligible incline function

What you should consider before picking a treadmill for home use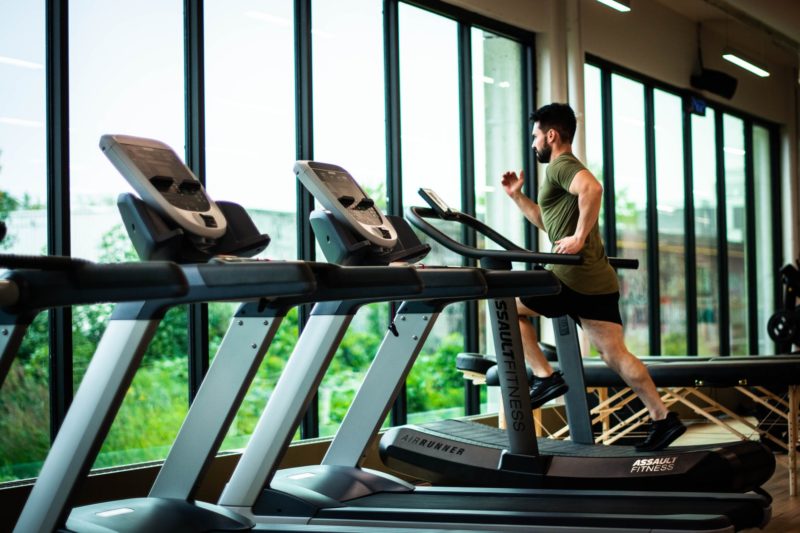 Now that you have seen a list of the best treadmills for home under $500, what important features should you look out for? What other feature or consideration should you make before picking a treadmill under $500. Here are some things you should consider:
Motor
You need to check the horsepower of your preferred treadmill. This horsepower determines how fast it can go. A lower HP means the treadmill may not produce desired results. Most commercial treadmills have an HP of 3.0 and above, while treadmills for home use are usually above 2.0.
When picking a treadmill for home use, opt for one with a 2.0 -3.0 HP motor. This should give you great results for home workout.
Incline
The incline intensifies your workout, so it is a decent feature to look out for as you search for a treadmill. This feature helps you to prepare for hikes as it simulates hills or mountains.
However, some treadmills come with their incline already set, while others can be modified when the need arises. Look out for a machine that has an incline feature, no matter how small. It would go a long way.
Size
The size of your home or room where you plan to keep the treadmill should also be considered before choosing one. This is one of the most important considerations before picking this exercise machine. If you have enough space for the machine, you can then decide how large you would prefer it to be.
Regular treadmills are 7 feet long, but others may be shorter. The shorter designs do not take as much space. However, they may require more work to maintain balance as you run on them.
Where would you like to set down the treadmill? In the bedroom? Study? Living room or garage?
This would determine if you need a bulky machine or one that helps you save space.
Price
Treadmills come in different qualities and more features come in more expensive models. However, you can still get decent treadmills at mid-range prices.
Foldability
This feature may not matter to everyone as it comes in handy when the treadmill is not in use. Although, it may save some space if you have space constraints.
Conclusion
Treadmills make it easier to achieve your fitness goals despite weather conditions or a busy schedule. The best treadmills for home under $500 are sized for convenience, have excellent features and are powered by strong motors.
These treadmills must also be versatile so they can meet the needs of users and their family members. The machine should also work as quietly as possible to reduce noise in the home.
---
Related articles:
Best Self-Propelled Lawn Mowers Under $300
Best Hard Shell Luggage You Can Buy Today
Top 7 Best Vitamix Blenders To Use Today
When Is The Best Time To Buy A Laptop?
Top 8 Gifts For Writers – Best Presents For Writers Today
12 Best Japanese Instant Noodles To Buy [Updated 2019]
Top 8 Gifts For 10-Year-Old Boys
18 Best Gifts For Photographers – Whether Professional Or Amateur
Best Bladeless Fans: Top Ten Picks [Updated Today]