Stovetop espresso makers have been a common staple among coffee lovers since they came to prominence back in the 1930s.
They've been the go-to choice for people looking to have their favorite cup of joe right at home, just the way they like it.
However, as their popularity rose, so did the number of manufacturers who entered the foray.
The increased number of stovetop espresso makers on the market have made it difficult to differentiate the good ones from the bad ones.
Because of this, we've decided to round out the best stovetop espresso makers available today.
1. Bialetti Venus
This stovetop espresso maker is made in Italy, which helps guarantee that it is of the highest quality. Not only that, but it's also made out of 18/10 stainless steel.
This makes it excellent at conducting heat while also being dishwasher-safe.
The Bialetti Venus is also quite portable. You can detach it into many pieces. It also has an insulated handle for safe handling when it's boiling hot.
Perhaps the best thing about the Bialetti Venus is that you can use it on all types of stovetops. This includes induction-type stove tops.
It also comes in 4 and 6 cup sizes, which is just the right amount of cups a day that a coffee lover would drink in a day – with room to spare.
A true classic, the Bialetti Venus is perfect for those looking for a no-fuss stovetop espresso maker.
Pros
Beautiful and stylish stainless steel design
Insulated handle for safe handling
Easy to detach for easy cleaning and portability
Cons
Doesn't come in larger capacities

2. Alessi Espresso Maker 9090 by Richard Sapper
Where the Bialetti Venus is a classic stovetop espresso maker, the Alessi Espresso Maker 9090 by Richard Sapper is a more modern take.
Featuring a more modern, svelte design, the Alessi Espresso Maker 9090 will appeal to those looking for something different. In fact, the design is so good that it's been enshrined in the Museum of Modern Art, which is no small feat.
However, make no mistake, the added aesthetics aren't just for show, it's also crafted to be as durable as possible.
The high-quality stainless steel, aluminum core, and cast-iron handle, all combine to create a durable stovetop espresso maker that you'll be more than proud to serve directly to your guests.
Pros
Beautiful aesthetics makes it a versatile centerpiece that you won't be ashamed to use and serve directly in front of your guests
Capable of producing coffee crema that's very close to actual espresso
Durable and built to last
Cons
Cleaning can be quite complicated

3. Rapid Brew Stovetop Coffee Percolator
The common phrase, "small but terrible", applies perfectly to this stovetop espresso maker.
Despite its miniature size, especially compared to other stovetop espresso makers, the Rapid Brew stovetop coffee percolator is surprisingly versatile. It comes in a variety of sizes, capable of making as many as 12 cups without sacrificing its compact design.
The heavy gauge stainless steel body also combines with its diminutive size to create a solid but also appealing stovetop espresso maker.
On top of this all, this stovetop espresso maker comes with a top glass lid that lets you watch your coffee as it brews.
If you're looking for something that's easy to store, or something that you won't have any trouble carrying with you when you're out and about, such as when you're out on the road or when you're on a hiking or camping trip, then this stovetop espresso maker is for you.
Pros
Unique and functional build that gives it both appeal and portability
Easy to maintain and clean
Has clear and permanent calibration markings
Wooden handle adds appeal and safer handling
Cons
Doesn't work on electric and induction stoves
Lid is known to pop up when used

4. Delonghi Alicia
We've featured the classic, the unique, and the modern. Now, it's time for something unconventional.
The Delonghi Alicia comes completely out of left field for those looking for a traditional stovetop espresso maker. Why? Because it's an electric-powered espresso maker.
But it's not like other coffee maker or espresso makers either, because it still follows the same process as a conventional stovetop espresso maker.
The only difference? It uses electricity instead of your stovetop's heat or flame.
The Delonghi Alicia takes the most cumbersome parts of making coffee using a stovetop espresso maker and keeps things simple.
To that end, it comes with an automatic shut-off timer and lets users choose between 3 and 6 cup sizes. This means that it can brew enough coffee for the regular coffee drinker, while also letting you do other things as you wait for your coffee to finish brewing.
It also comes with a transparent collection chamber so you can see the entire brewing process as it happens.
As an added bonus, this stovetop espresso maker comes with a detachable coffee pot and will keep your coffee hot for a good 30 minutes after brewing.
Pros
Convenient and great, especially for those who would love to have the same stovetop espresso without the need for an actual stove
Removable cord for easy operation
Cons
The need to be close to an electric outlet at all times can be a turn-off

5. Cuisinox Roma
If the Alessi Espresso Maker 9090's design isn't doing it for you but you're still looking for something classy without being too non-traditional and price isn't an issue, the Cuisinox Roma is well worth a look.
This stovetop espresso maker is made out of high-quality 18/10 food-grade stainless steel and comes in 4, 6, and 10 cup variants.
All three of these variants are priced well above the typical stovetop espresso maker, so feel free to choose whichever you feel like satisfies your coffee cravings the most.
For the money, the Cuisinox Roma will let you enjoy a classy stovetop espresso maker that works on conventional stoves, electric, and induction burners.
Every purchase of the Cuisinox Roma also comes with a reducer, as well as an extra gasket.
Pros
Classy, stylish, and sleek design
Has a spare gasket and reducer
Cons
A bit on the expensive side for a stovetop espresso maker
Non-insulated handle can get hot

How To Choose The Best Stovetop Espresso Maker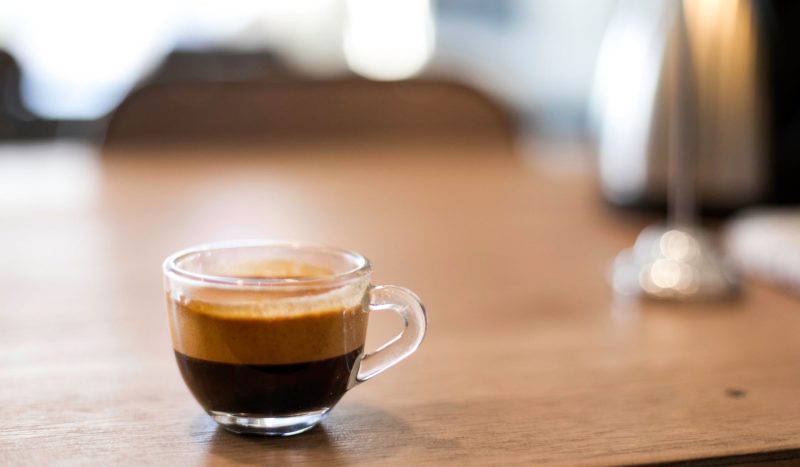 Stovetop espresso makers are a bit different than espresso and coffee machines. The process isn't as simple, but that's part of their appeal.
Many believe that it is this somewhat complicated process that gives the coffee an authentic feel and taste.
Consider these following features to choose the best stovetop espresso maker:
1. Manufacturing location
Italian stovetop espresso makers are considered the best and of the highest quality.
Although there are a number of "Made in China" stovetop espresso makers that are also good, you're almost always assured of a high quality pot if you buy one that comes from Italy.
2. Capacity
As a general rule of thumb, it's always best to go with a pot that can brew between 2-4 cups at a time. This is true even if you live alone.
Because there will come a time when you won't feel like brewing another cup of coffee but still want one. Having a pot that can brew multiple cups will let you enjoy a cup of coffee without having to brew one for yourself every time.
But of course, if you're expecting company all of the time, pots that can brew at least 6 cups or more are always better.
3. Your stove
From the name itself, stovetop espresso makers make coffee using the flame (or heat) from your stove. If you use an induction stove top, make sure that the model that you want to buy is compatible.
Otherwise, you'll end up with a useless pot.
4. Material
Stovetop espresso makers are made out of either aluminum or stainless steel. The former is usually cheaper and still durable, since the material is light and great at conducting heat.
But if you're willing to spend money, stainless steel stovetop espresso makers are much more durable, albeit also more expensive and heavier to carry around.
As an added benefit, you can wash stainless steel espresso makers in dishwashers. You can't do the same with aluminum stovetop espresso makers.
Final Thoughts
Once you go and buy stovetop espresso makers, you'll never go back to using drip coffee makers and other types of coffee makers. Although the process is a bit more involved, you'll eventually get used to using stovetop espresso makers.
Not to mention, they're generally easier to use, don't ask for cords, and are inexpensive to maintain.
But that's not all. The best part about stainless steel espresso makers is that they produce great-tasting and smelling coffee.
With that said, we have made sure that no one is ever going to go wrong with any of the stovetop espresso makers we rounded up above.
They are the absolute best in their class, and anyone looking for a sturdy coffee-making devices will definitely feel satisfied with their purchase.
This article was written by Ray.
---
Related articles:
20 Best Gifts For Coffee Lovers [2019 Update]
Best Gaming Laptops Under $600 You Can Buy Today
7 Best Harry Potter Gifts To Buy For Any Potterhead
Best 4 Cup Coffee Makers That Are Also Affordable