The drama 'Was It Love?' finally ends with sixteen episodes in total, as the 16th episode was released hours ago.
As expected from the start, we can finally see a happy ending for the leads since most parts of the drama have been upsetting or frustrating.
Here's a brief recap of episode 16 (ending) of 'Was It Love?'.
Episode 16 (ending) recap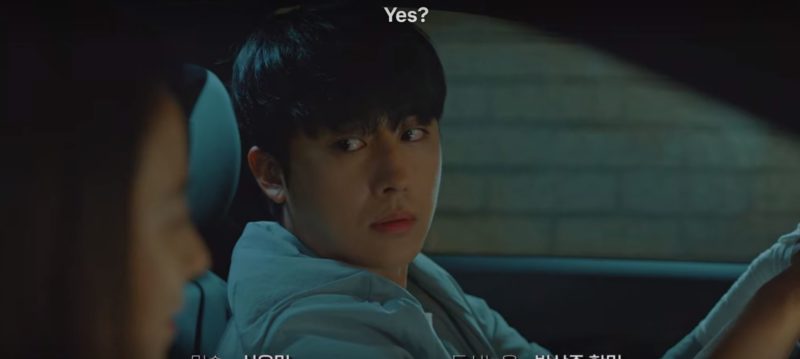 The episode starts with Dae-o and Ae-jung reaching the latter's home after their long date at Hankuk University.
Dae-o asks Ae-jung not to give him an answer so quickly, after he proposed to her at the university.
Ae-jung tells him that her dreams all came true and that she'll try to persuade Ha-nee to open up to her father.
Dae-o who is touched and happy then tries to kiss Ae-jung but is blocked by his seat belt; while Ae-jung asks him not to do that in a public area.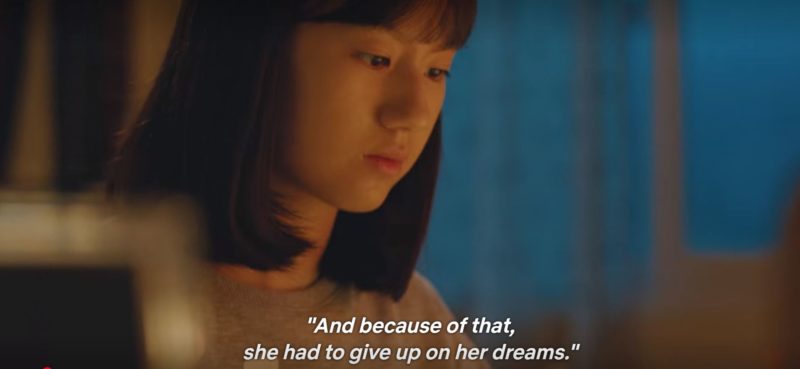 Meanwhile, Ha-nee is seen reading the Love is Nonexistent book as she recalls the article where Dae-o was exposed as a fraud.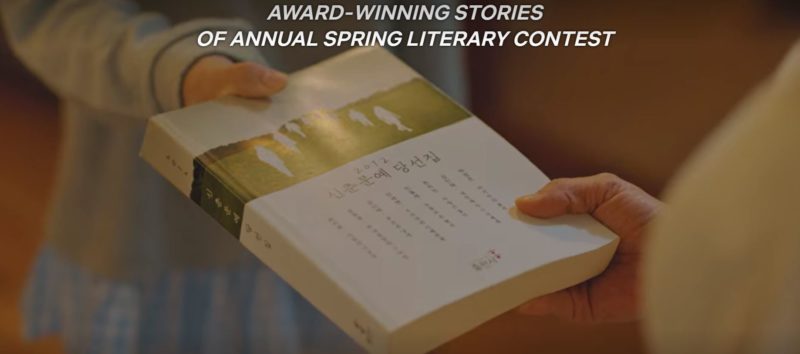 When her mother arrives home, Ha-nee asks her about the book and whether she knew about it. She asks her mother to tell if it's true that Dae-o wrote a false story on purpose.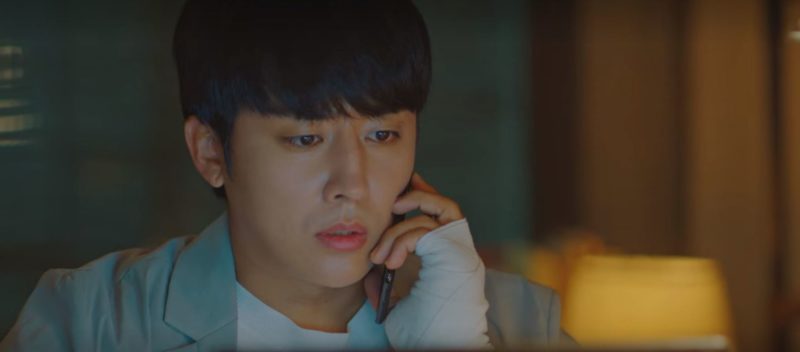 Dae-o also found out about the online posting as he arrives home, after getting a call from his manager.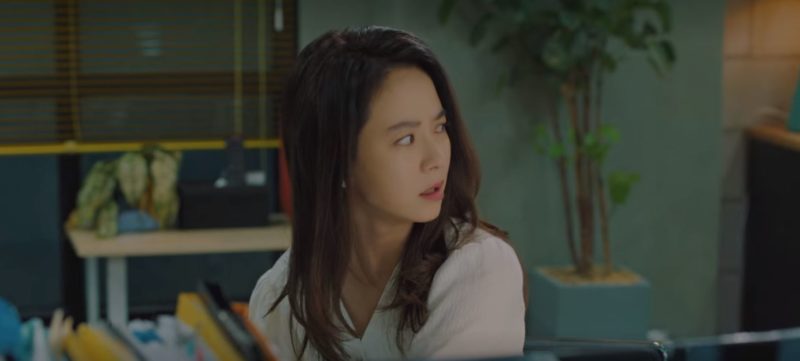 Ae-jung returns to the office and meets Hye-jin after learning that their accounts are empty.
She also noticed that the bank book has been taken and suspects Mr. Wang.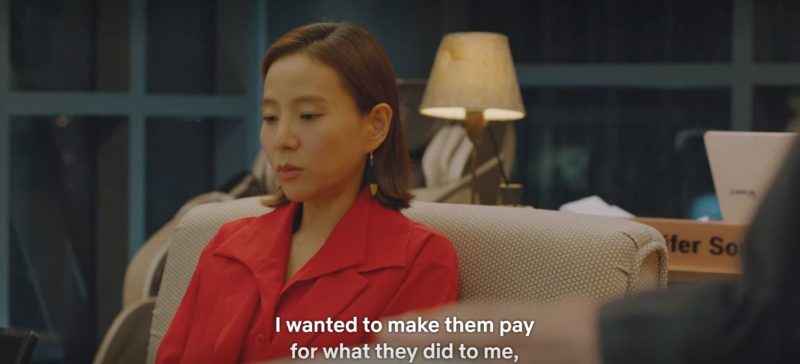 Ms. Song is then seen meeting with the blogger Mr. Na who collaborated with her on the article.
She then says she's not satisfied despite bringing them down and asks Mr. Na to never meet again.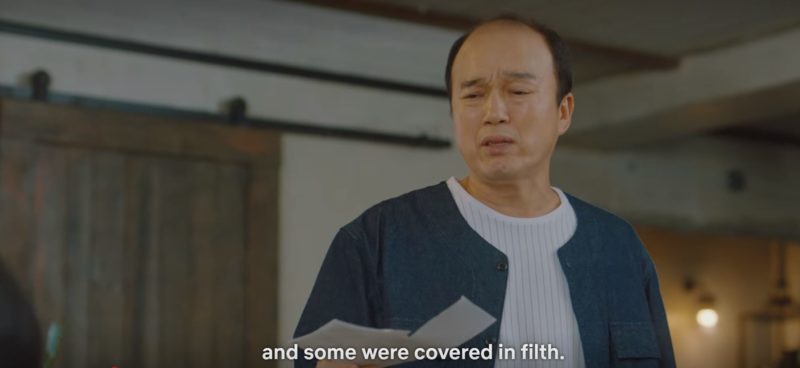 Dae-o's manager arrives at his home and finds more boxes of torn paper in his home (the office had 23 similar boxes).
They were sent by people who were angry with what Cheon Man-ok (Dae-o) has done, and are covered in filth or red-pen writings.
Dae-o then asks his manager to delete the video and all articles relating to Ha-nee and Ae-jung to protect them.
He also says he shouldn't be a writer anymore as his debut novel was based on a lie.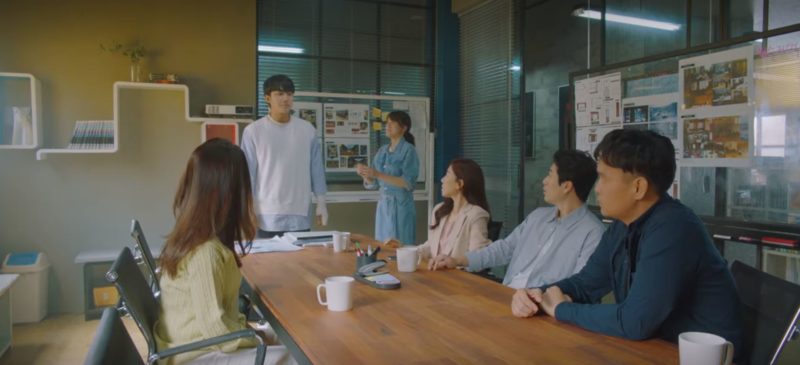 At the office, Ae-jung meets with some of her staff as they want to leave the project after hearing the news. They also claim for payment for all of their work done.
Dae-o arrives at the office and asks them to get their money from him instead.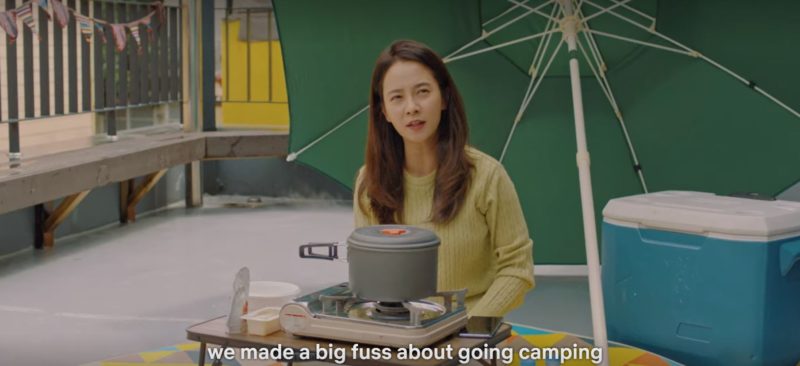 After some time, Dae-o is still feeling defeated for everything that has happened as he stays in his room.
He then gets a text from Ae-jung asking him to meet at the rooftop.
As he arrives, he sees Ae-jung waiting under a huge umbrella with some picnic food. She reminded Dae-o of the year 2006 when Dae-o did the same thing for her.
Ae-jung assures Dae-o that they'll get through this obstacle together but Dae-o disagrees, saying he'll not let Ha-nee and Ae-jung take the blame.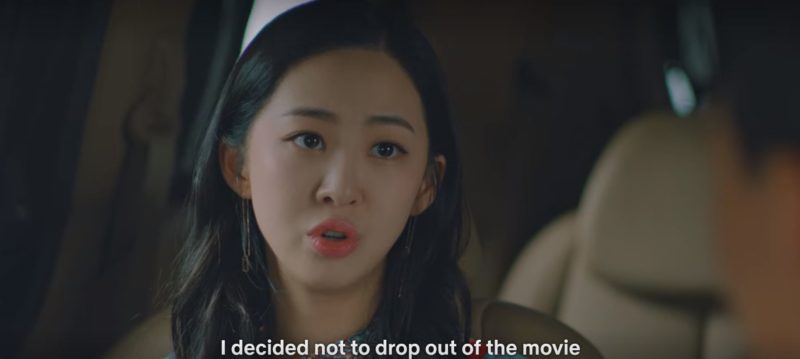 At the parking lot, A-rin finally hears the news about Dae-o from her manager. She then sees Ryu-jin arriving and he gets bombarded by the paparazzi.
They kept asking Ryu-jin whether he knew about Dae-o's fake story and so on.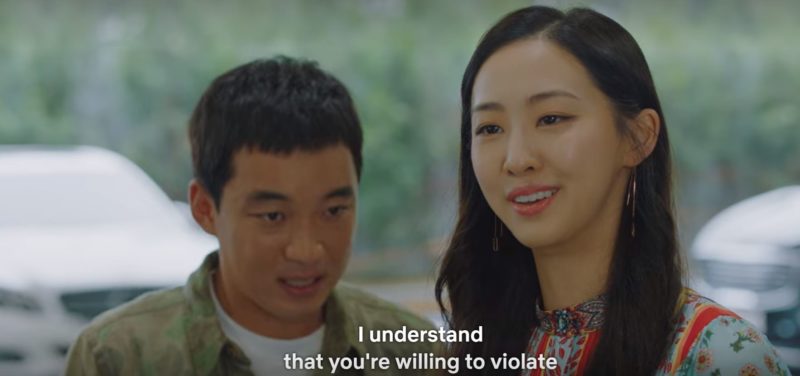 A-rin who couldn't stand it interferes and asks the paparazzi not to meddle with non-celebrities' lives.
She even cursed at them, breaking her 'Asia's Angel' image.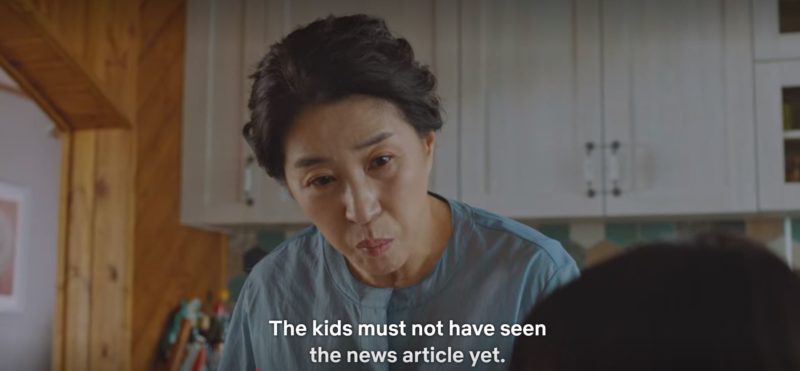 Hyang-ja who is at home sees the news talking about Dae-o who misled the public by writing a false story.
She however knows that it's not true. Ha-nee arrives home and upon being asked, tells her grandmother that the kids didn't bully her despite the story.
They however badmouthed Dae-o but she couldn't defend him and felt upset at herself. Despite the news, Ha-nee also trusts that Dae-o didn't write a fake story on purpose.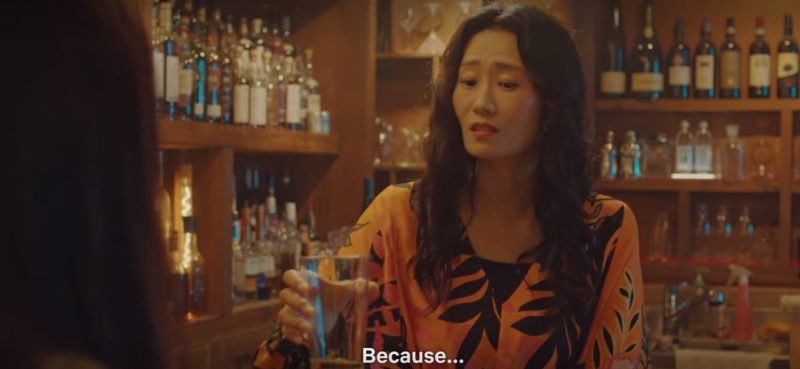 Ae-jung meets Sook-hee at the bar as she laments about her life always being filled with sadness. She feels sad that she can't protect both Dae-o and Ha-nee at the same time.
Sook-hee comforts her and also recalls the past. In 2013, Sook-hee was seen dining at Ae-jung's family's restaurant. She looked upset as she was holding a photo, which is probably an ultrasound of a fetus. Perhaps she decided to abort her baby last time and felt depressed.
At the time, she sees Ae-jung with Hyang-ja and Ha-nee who struggled financially and have no place to stay.
Sook-hee then offers them a place to stay in return for extra chicken pieces every time she visits the restaurant.
Ae-jung tells her that she shouldn't be so trusting. Sook-hee however replied saying that Ae-jung is feisty enough to chase her dreams and raise Ha-nee at the same time — meaning she can be trusted.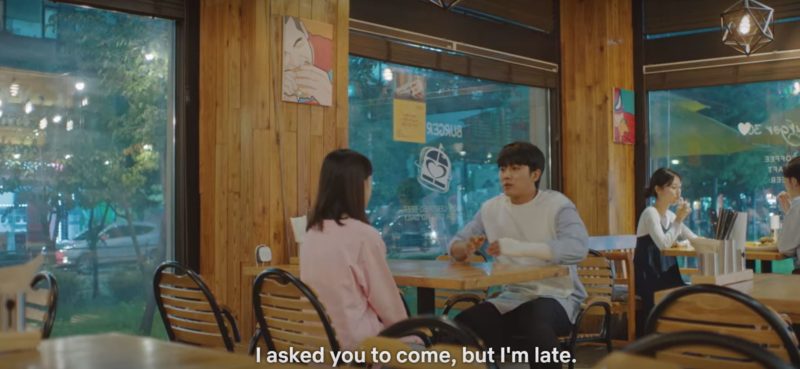 In the present, Dae-o meets with Ha-nee and explains that the whole situation was a misunderstanding.
Both Dae-o and Ae-jung thought that they abandoned each other in the past and Ha-nee finally learns the truth.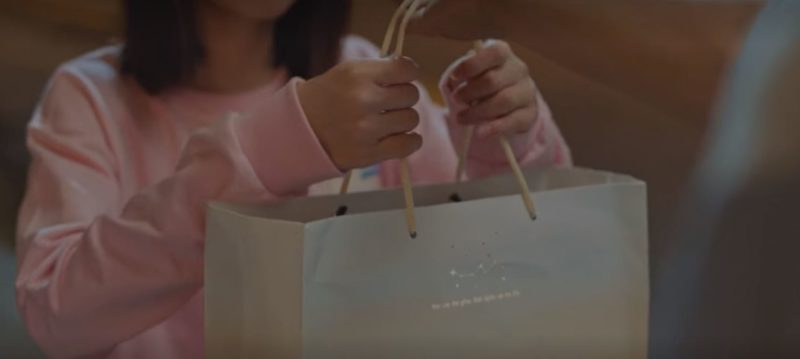 Dae-o sends her home and gives her a gift, asking Ha-nee to open it another day.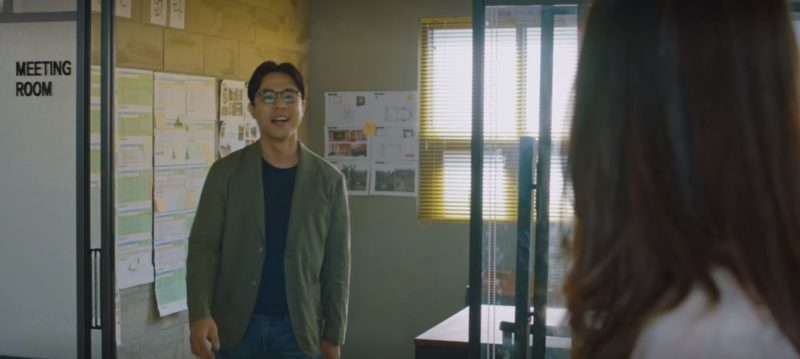 The next day, Ae-jung arrives at the office and sees Mr. Kim, a director. He is here to direct the movie No One But My Man.
It was her first project back when she worked under Mr. Wang.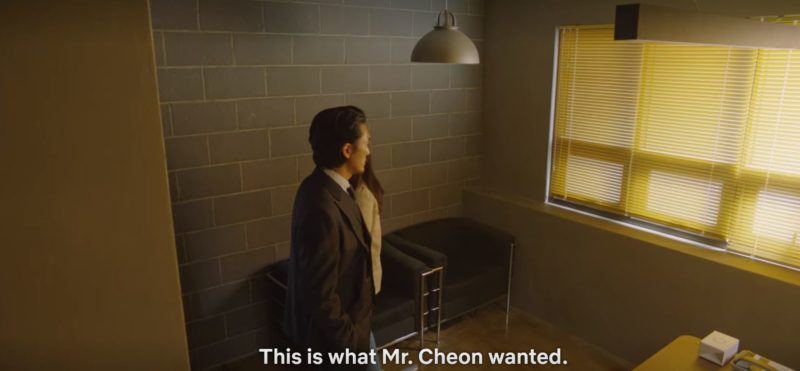 She tries calling Dae-o as she didn't know about it but the latter never picked up the phone.
Koo Pa-do then meets Ae-jung at the office and explains that he'll fund the new movie, with the same actors. It was also Dae-o's wish.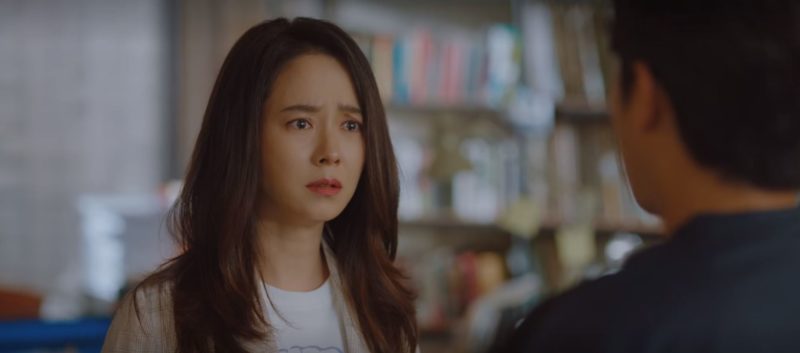 As Dae-o never picked up the phone, she goes to his place and finds him packing.
Dae-o then says he has to leave Ae-jung and Ha-nee as he writes a new book, because he won't allow her debut film to be made from lies.
He also doesn't want the Ha-nee and Ae-jung to be disturbed by the paparazzi.
Dae-o hugs Ae-jung as he bids farewell.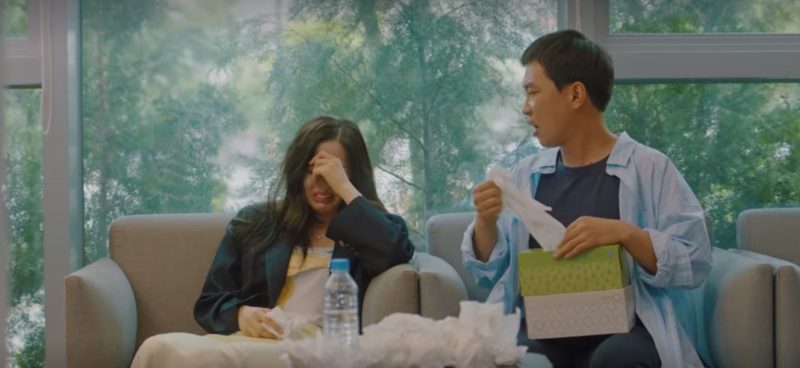 A-rin is then seen crying as his managers prepare a few tissue boxes. She regrets cursing in front of the paparazzi as it ruined her image.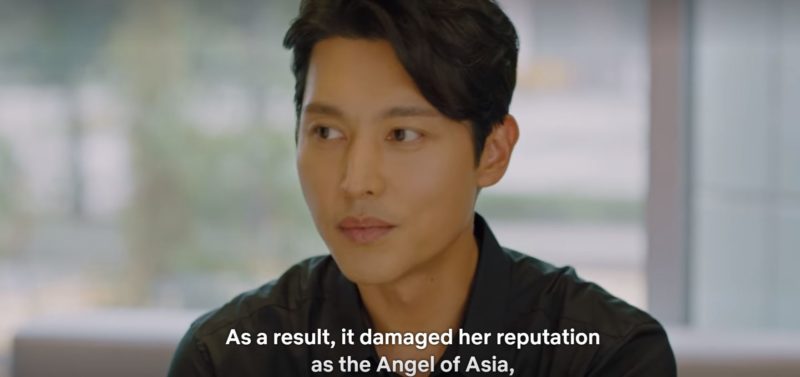 Her manager then showed her a video by Ryu-jin, as the latter tries to justify what A-rin did; that she risked her reputation to defend Ha-nee and Ae-jung who weren't celebrities.
A-rin then stopped crying and wondered if Ryu-jin likes her.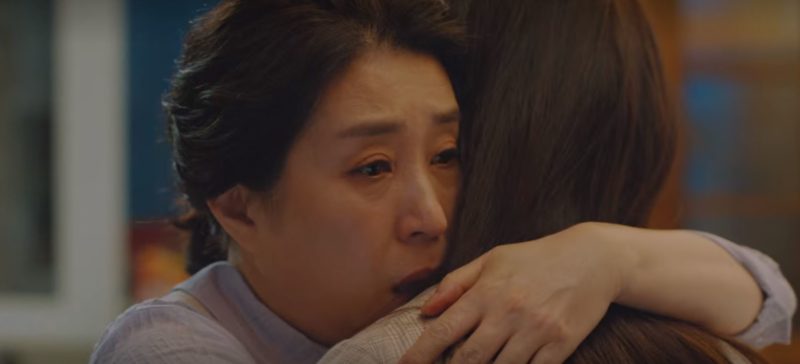 Ae-jung finally returns home and sees her mother preparing dishes for Dae-o.
She sobs as she hugs her mother, explaining that Dae-o left them again to protect her and Ha-nee.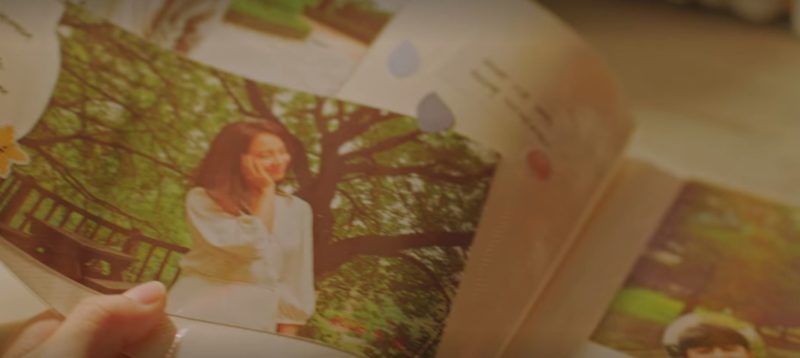 Ha-nee who sees her mother crying goes back to her room. She opens the present given by her father earlier and sees a pair of new shoes (the same one from before).
Inside the box, she also sees a scrapbook with pictures of her mother and father back in 2006, featuring their love story in Hankuk University.
She also sees the checklist that she gave her father; as he returned it after ticking all ten boxes.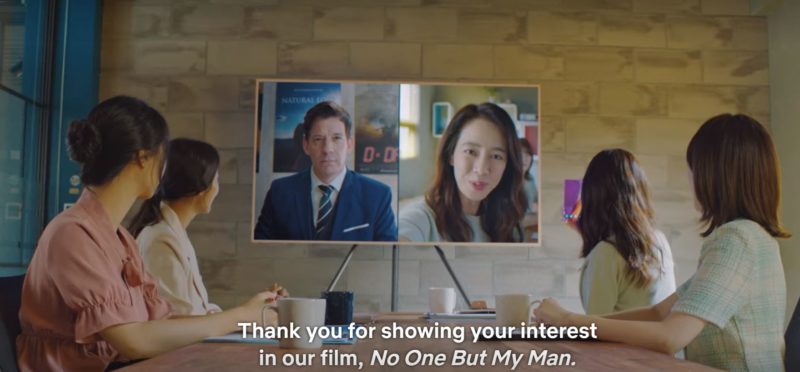 Fast forward two years, the film No One But My Man has finally been produced.
She is seen having a live conference with someone interested in the publishing rights overseas, which is more of a PPL (product placement) for Samsung's TV and phone.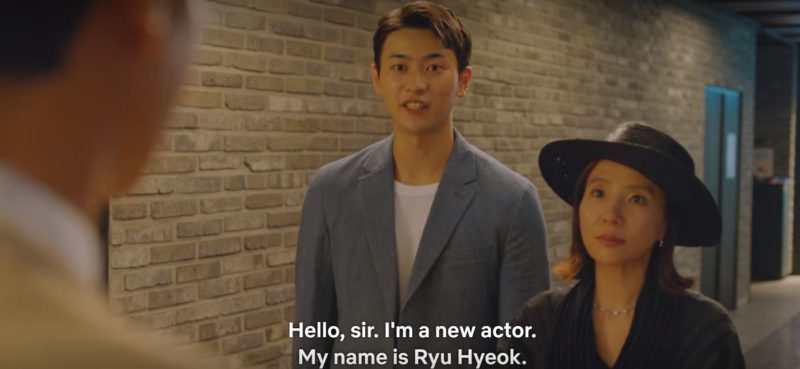 Ryu-jin then stumbles upon Ms. Song and a new actor named Ryu-hyeok.
Ms. Song says she doesn't regret what she did in the past, and wants Ryu-jin to return. He declines but is still grateful to her, for bringing him into the movie industry.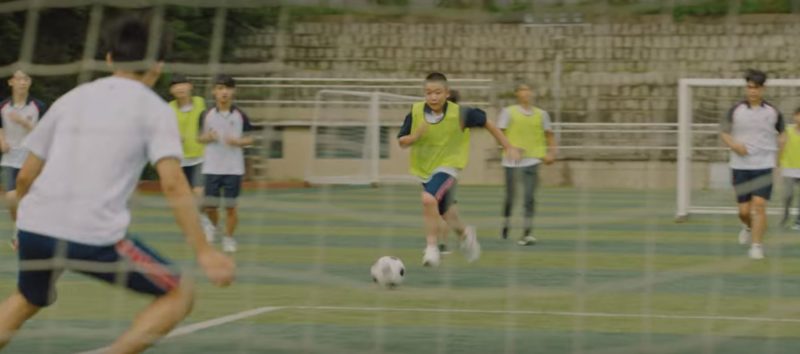 At school, Ha-nee looks at her phone which has a wallpaper of both her mother and father. She's also seen holding a ticket to the premiere of her mother's movie.
As the whistle is blown, Ha-nee sees the boys playing football (soccer) and seemed to be rooting for one of them.
Dong-chan is then seen playing football but fails to score a goal at the end.
Ha-nee however wasn't rooting for Dong-chan but some other guy who is much taller. She then attempts to ask the boy for a date with her movie ticket.
Pa-do who is also there asks Dong-chan to never hesitate in life.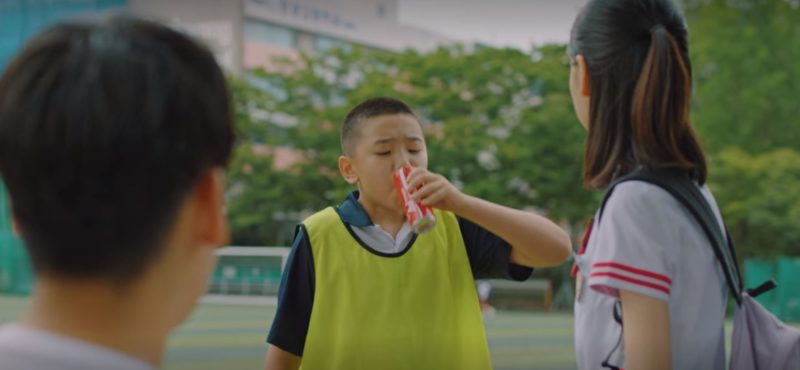 Dong-chan then grabs a can of coca-cola, drinks it and burps in front of Ha-nee and the boy as he attempts to ruin the situation.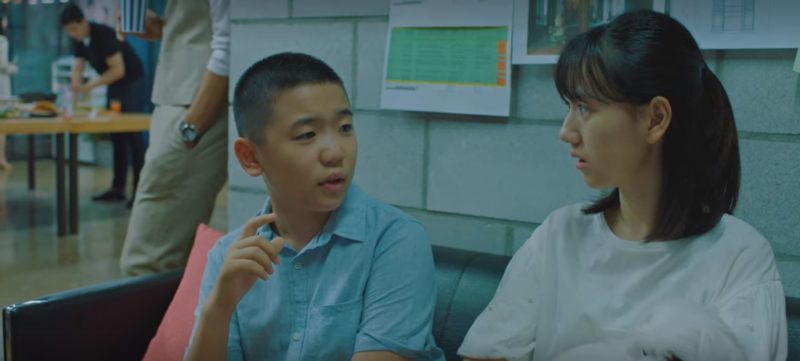 At the movie's team celebration, Ha-nee wonders why Dong-chan had to burp in front of them.
He then comes and sit with her, as he tries to look cool in front of Ha-nee.
Ha-nee however doesn't seem to get the idea that Dong-chan likes her.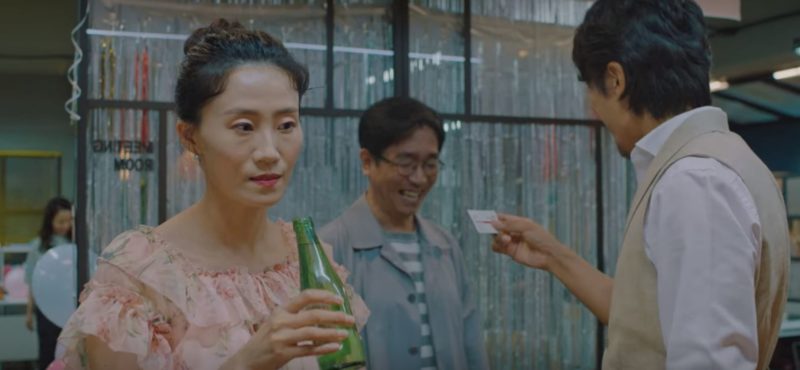 Sook-hee who is also present meets Pa-do again.
This time, they both grab a drink as Sook-hee tries to flirt with Pa-do but before they can say 'cheers', Ryu-jin's manager interrupts to introduce himself.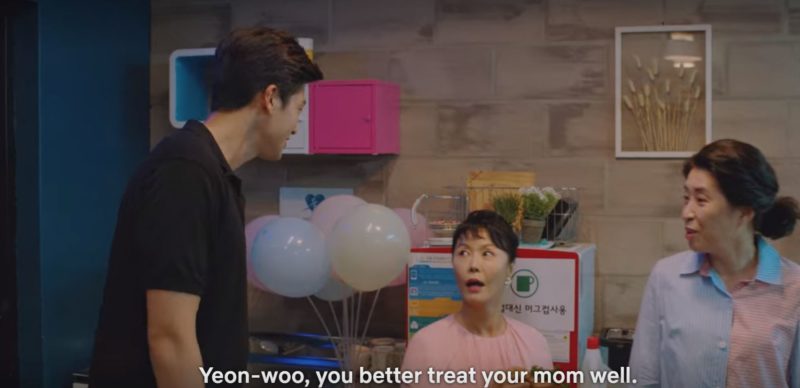 Meanwhile, Bo-hye is seen chatting happily with Hyang-ja. Bo-hye compliments her cooking and asks her to teach her some of the recipes.
Yeon-woo also appears and learns that his mother is trying to learn cooking to please him. He then thanks his mother as they slowly heal their relationship.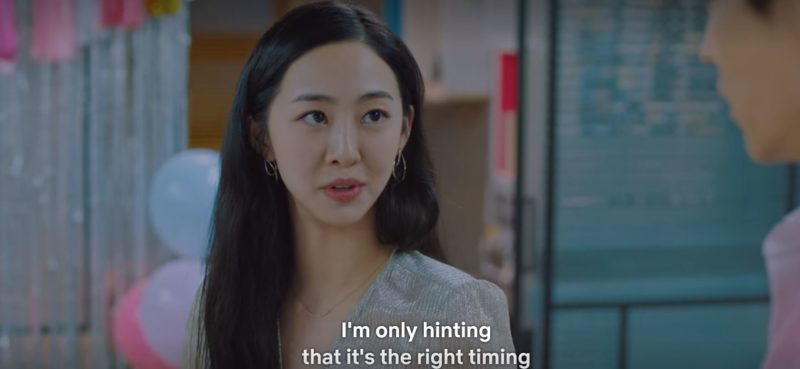 A-rin and Ryu-jin meets again at the party. A-rin then asks Ryu-jin if he likes her and tells him to confess if he does, since it's the right time to do so.
Ryu-jin is left speechless as A-rin walks away.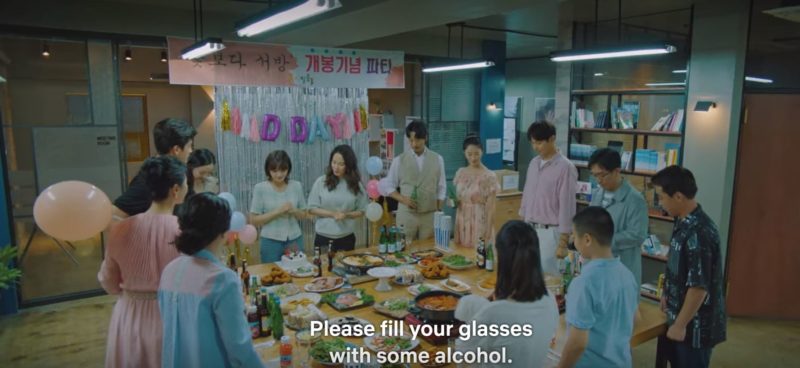 The whole team then raise their glasses as they drink to celebrate the movie's success.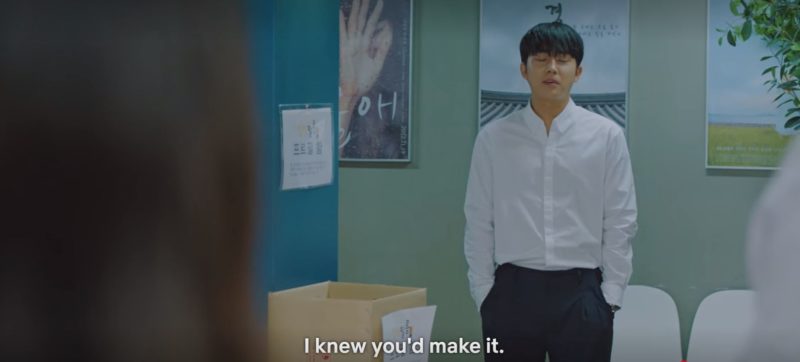 While they're celebrating, Ae-jung hallucinates and sees Dae-o congratulating her even though he's not there.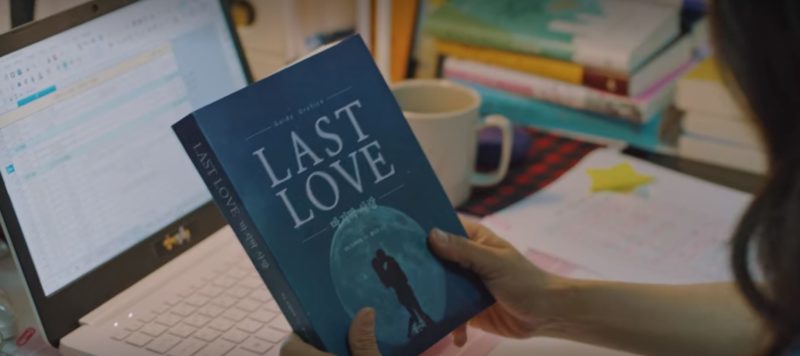 As she returns to her desk, she sees a pile of books to read, possibly for her next movie.
She then looks at the book titled Last Love, written by Guido Orefice. She reads the novel and it's similar to her own experience with Dae-o.
Ae-jung then calls Hye-jin to schedule a meeting with the author.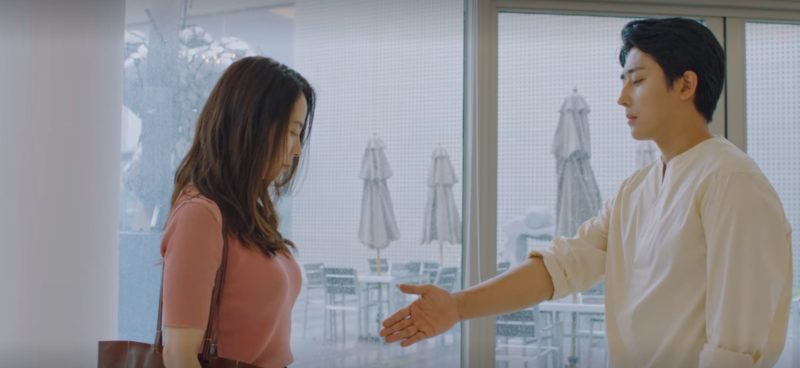 The next day, Ae-jung is seen walking towards the meeting point as she learns that the author may be an immigrant in Europe.
The author apparently rejected all offers from other producers and only wants to work with one producer.
Ae-jung sees him from behind and recognizes Dae-o as he turns around.
He then re-introduces himself as Guido and hugs Ae-jung as he misses her. Dae-o also apologizes for being late, as he took two years to come back.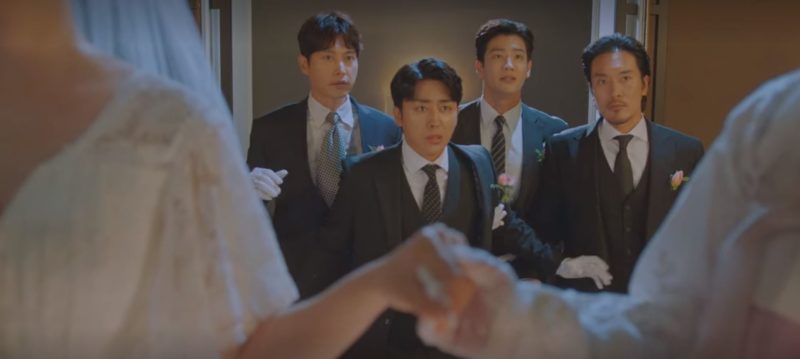 Fast forward many years again, we see the same familiar faces at a wedding hall.
Ae-jung is seen holding a lady's hand, and the lady turns out to be Ha-nee (but her face is not shown).
Dae-o, Yeon-woo, Ryu-jin and Pa-do all appear from behind and almost cause a commotion.
The groom's face is not shown as well, but he has a bald cut which resembles Dong-chan.
Pa-do is also seen tearing up, meaning Ha-nee and Dong-chan may have ended up together and is getting married now.
'Was It Love?' finally ends on a happy note especially for Ae-jung, Dae-o and Ha-nee as they're reunited at last.
---
Related articles:
Flower Of Evil Episode 12 Preview
'Do You Like Brahms?' Episode 3 Preview
Forest Of Secrets 2 (Stranger 2) Episode 7 Preview – Dong-Jae Disappears