Episode 6 of Forest of Secrets 2 just released hours ago and we can't wait for the next episode already.
The episode ended with Yongsan Station's Violent Crimes Unit finding blood and Seo Dong-jae's car.
Here's a preview of episode 7 for Forest of Secrets 2 (Stranger 2).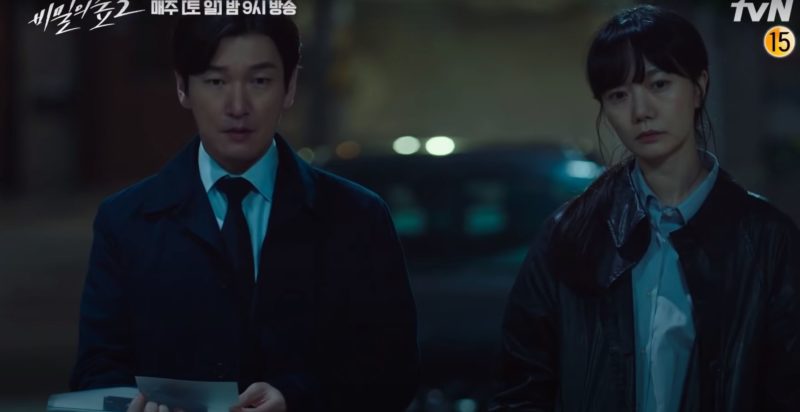 How episode six ended
Episode 6 of Stranger 2 had a lot to do with Si-mok investigating the cover-up by Tae-ha and Assemblyman Nam.
Yeo-jin who was asked not to open the envelope that was to be given to the assemblyman made a copy of the USB found inside the envelope. She also looked into the files and discovers what Chief Choi sent to the assemblyman.
Meanwhile, Yeon-jae begins her scheme to counter Sung-jae's intention of disposing her as the chairwoman of Hanjo Group.
Episode 6 ended with Dong-jae having found to have disappeared, leaving his car and some blood stains.
Episode 7 preview
The preview of episode 7 can be watched from the end of episode 6 or from YouTube (video below).
Most of the preview is on Dong-jae's disappearance, with both Tae-ha and Chief Choi wondering what had happened to Dong-jae or why he was kidnapped.
Si-mok is also seen going around looking for clues on what had happened to Dong-jae. He even interrogates his boss Tae-ha.
At the crime scene, Si-mok meets Yeo-jin as they attempt to figure out who took Dong-jae.
Thoughts
Seo Dong-jae's disappearance seems to have something to do with Yeon-jae, or at least that's what the director wants us to believe.
Yeon-jae saw a message by Dong-jae right at the end of the episode and she hinted at getting rid of him as well.
Episode 6 also shows how cunning Yeon-jae can be and how it's only the beginning of her plan to maintain control of Hanjo Group.
In the preview of episode 7, we see both Si-mok and Yeo-jin trying to figure out why Dong-jae was taken.
Hopefully we'll see more of the two working together like in the previous season, as this season has put them at opposing sides.
---
Related articles:
'Was It Love?' Episode 16 (Ending) Recap
Flower Of Evil Episode 11 Preview – Who Is The Accomplice?
'Was It Love?' Episode 15 Recap & Breakdown
Forest Of Secrets 2 Episode 4 Recap And Breakdown
'Do You Like Brahms?' Episode 3 Preview