Linea is the new Layer 2 product by the well-known company in the cryptocurrency industry; Consensys. The latter is the company that is also responsible for introducing Metamask, the most popular web3 wallet in the world and also Infura.
Linea did a 9-week voyage which is basically a program for their testnet which attracted millions of wallets (many bots) and probably less than a million real users. They also did a Proof of Humanity filter which cut down the number of real users to around 350,000. They then launched their mainnet to all soon after the testnet voyage ended.
Consensys has raised around $725 million so far and this funding is probably used for Linea as well.
Here's how you may potentially qualify for the Linea airdrop (guide).
Disclaimer: The information provided on this website does not constitute investment advice, financial advice, trading advice, or any other sort of advice and you should not treat any of the website's content as such. Do your own research and never invest more than you can afford to lose.
Will Linea do an airdrop?
This part is speculation of course and Linea will definitely deny any airdrop; similar to other projects.
We do think they will do an airdrop eventually simply because of Phase 3 on their roadmap.
Phase 3 says Decentralize Operators and Decentralize Governance.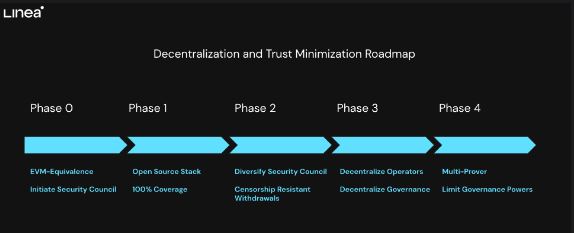 You can refer to the screenshot below on what Phase 3 means.
We're focusing on the Decentralizing Governance part simply because it's another way of saying they will release tokens or introduce some sort of way for everyone to join in Linea's governance. The most direct way is to have their own tokens and create a DAO for governance.
Of course, they can do a token sale but with the high funding and the fact that they're an American group, it's unlikely they will sell given the regulatory headaches there.
An airdrop is a good way to reduce the regulatory issues with the SEC in the USA.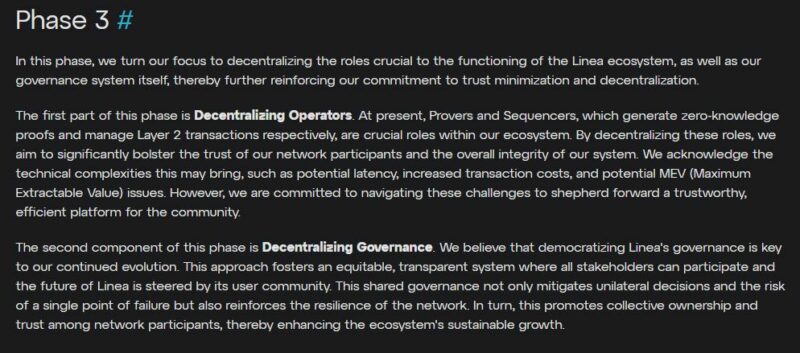 Apart from that, doing airdrops (fairly) will help boost the network's usage as seen with Arbitrum. The current investors of Consensys will also be able to sell their tokens if Linea does issue their own tokens. It's one way for investors to cash out on their investments easily.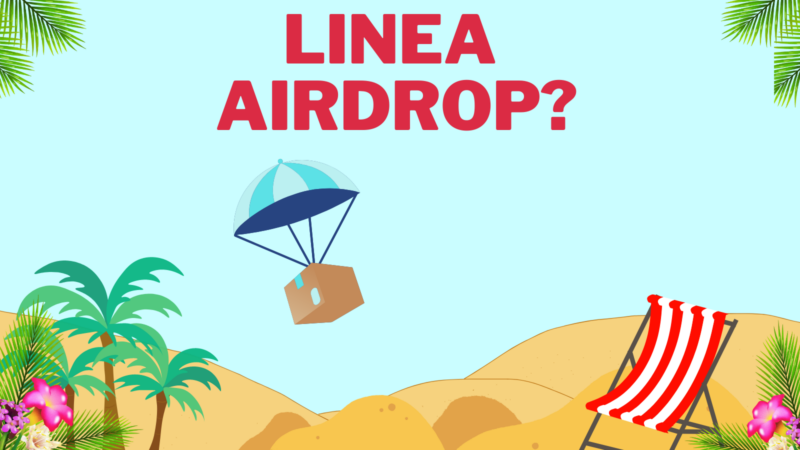 How to potentially get the Linea airdrop (guide)
With speculation out of the way, here are some ways you can possibly farm for the potential $LINEA airdrop.
Linea just launched their mainnet alpha which means there aren't that many decentralized apps (dapps) yet but you can still interact with the network.
Most of the speculative criteria below is based on previous airdrops like Arbitrum. There will be more and more dapps as time goes by but the concept is the same.
1. Bridge funds into Linea mainnet
First of all, you will need to have funds in Linea mainnet. As Linea is one of the products of Consensys, they have the benefit of having the chain at the top of Metamask, just below Ethereum mainnet. This means you don't even need to add the chain into Metamask as it's built in.
To get funds into Linea, you can either bridge using their official bridge or via a third party dapp like Orbiter Finance, Rhino.fi or Layerswap.
The official bridge is more expensive simply because you can only use Ethereum mainnet to Linea mainnet (at the time of writing). The only issue here is whether the official bridge becomes a criteria for the potential airdrop and this part is up to your discretion.
It's of course cheaper to use a Layer 2 to bridge into Linea via the various third party dapps as mentioned above (e.g. Orbiter Finance).
2. Do some swaps on decentralized exchanges (DEX)
Now that you have funds on the mainnet, you can start doing swaps on DEXes.
There are a few DEXes available at the moment like HorizonDEX, Syncswap and Izumi Finance. There will be more coming in the future including the more established ones.
You can swap between ETH and BUSD (stables in general) or whatever token you wish to swap. However, do be careful of slippage as you can easily lose a lot of money especially when there's a lack of liquidity on certain exchanges and certain tokens.
3. Provide liquidity (LP)
Some of these dapps like Syncswap also allows you to provide liquidity (LP) and this sometimes form a criteria on some airdrops.
We don't know if this becomes a criteria for Linea and if they do use it as a criteria, will it be time-weighted. For instance, if you provide liquidity of $100 will it be multiplied by the time you put in there or whether it's a one-off amount type of calculation. All of these are speculation and in the end you will have to decide for yourself.
The benefit of providing liquidity is that you'll earn an interest rate. This comes with the risk of losing your funds if a dapp rugs or if a token drops in value. You will need to decide if the risk is worth it.
Perhaps it's better to place your funds in a more established platform.
4. Mint or trade NFTs
Apart from swapping tokens or LP-ing, you can also mint or trade NFTs. At the time of writing, you can use NFTs2Me to mint your own artwork, among others.
You can also use Zonic and Bilinear to trade NFTs.
That said, most of the NFT marketplaces available now are very new and lack a lot of features. Give it time and the big ones will join in.
5. Volume matters
As always, volume is one of the main criteria for airdrops in general.
A user with a $100k total volume will normally get a much bigger airdrop allocation than someone who only has $100 in volume.
This volume can be calculated for swaps, bridges, LP and so on.
6. Linea Voyage NFTs
The most controversial part of the potential criteria is the Linea Voyage NFTs.
Approximately 350,000 NFTs were airdropped to the testers in the Linea Voyage who scored over 2,500 points. If you did the Proof of Humanity task, then you will automatically get 2,500 points. Among these NFTs, there are four tiers depending on how high the user scored after 9 weeks. You can read more on the tiers here.
There is also a tier 5 NFT that will be able to be claimed by everyone who has participated in the voyage which amounts to a few million NFTs. This NFT is presumably of less importance due to the sheer number of issuance.
All Linea says officially about the utility is:
"This collection is, first and foremost, a set of artistic works celebrating an important technological milestone for Linea and the important role our early community played in bringing it about. This NFT will forever serve as proof of your contribution to launching this network and scaling solution for Ethereum.

As a piece of technological memorabilia, this NFT collection's utility solely comes from proving that you were there to contribute to this key milestone in the history of web3."
We know that projects don't directly say if a certain NFT will lead to an airdrop, which is why it's heavily speculated. Will the tier 1 – 4 NFTs be used as a criteria for a potential airdrop? We'll never find out until we get further news or when the potential airdrop comes out. Whether you should buy the NFT or sell it off is totally up to you since nobody outside the team knows for sure.
In a nutshell
Linea has the potential of giving out one of the biggest airdrops to-date simply because Consensys is a big name in the space and has great funding. They also have the help of Metamask since they're essentially under the same company. Whether they choose to do so is up to them.
---
Related articles:
How To Potentially Get The Manta Pacific Airdrop (Guide)