Taiko is a new layer 2 in the cryptocurrency industry and is still in testnet at the time of writing.
As always, many have speculated for a potential airdrop, including us. They have raised around $22 million in funding across two rounds.
Here's how you can potentially get the Taiko airdrop (guide).
Disclaimer: The information provided on this website does not constitute investment advice, financial advice, trading advice, or any other sort of advice and you should not treat any of the website's content as such. Do your own research and never invest more than you can afford to lose.
Do the Taiko Quest with Galxe
At the time of writing, Taiko is on testnet version 3 and they have just introduced a new Taiko Quest in partnership with Galxe.
You can refer to their tweet here.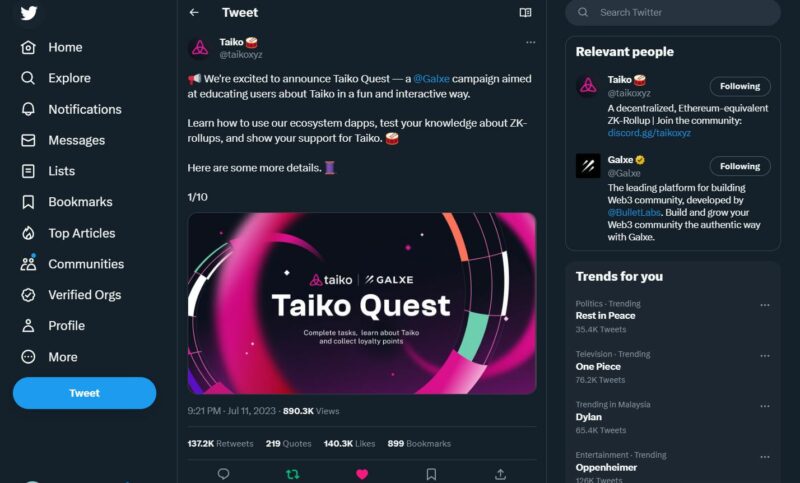 First of all, do note that testnets typically do not reward airdrops to users with very few exceptions like Aptos.
This means you may put in all the effort and get nothing in return other than just experience.
Once you're ready to start, head to the Galxe link provided in the tweet.
You will see a list of things you need to do. To begin, you have to do it in the order provided.
This means you need to become a Taiko discord member first, followed by Twitter and so on. You can't claim in the middle as they follow the order.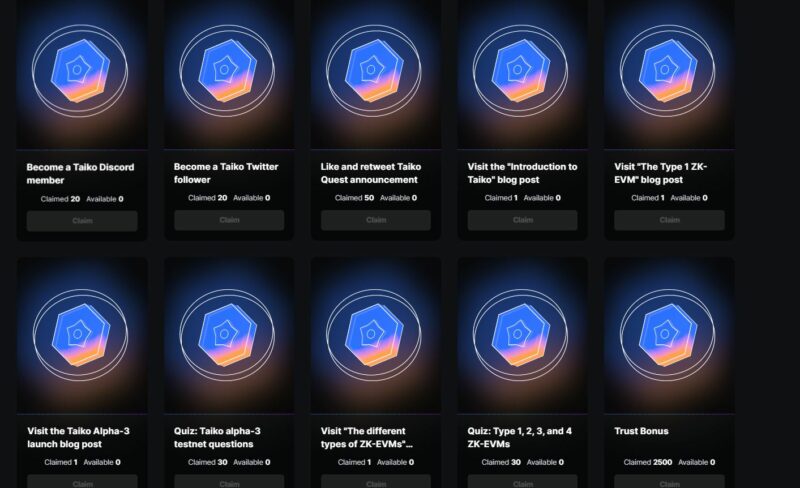 Just follow all of the steps until the last one. The Trust Bonus gives the most points and you need to have the required Gitcoin score / Galxe passport depending on which one you're comfortable with having.
The quiz answer for Taiko alpha-3 testnet questions is C, C, B.
The quiz answer for Type 1, 2, 3 and 4 ZK-EVMS is B, C, C, B, B.
Complete future quests
Apart from the Taiko Quest, there will be future quests as referenced in the same tweet thread shown below.
You will need to do swaps, bridging and all the usual DeFi stuff.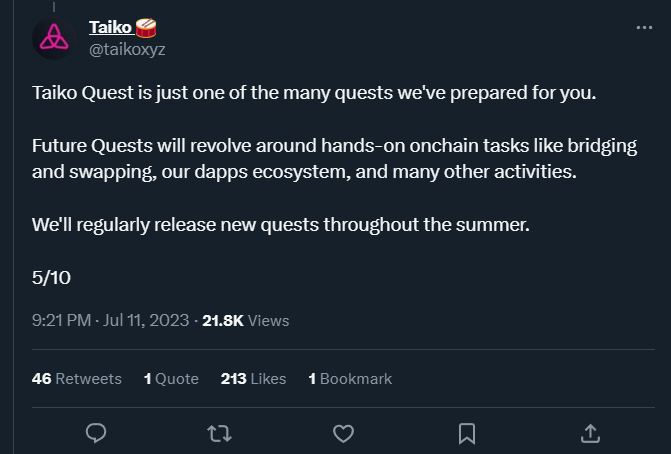 You can refer to their Galxe page for future tasks.
The newest quests are Bridging and Swapping on Taiko, Proposing on Taiko and Proving on Taiko.
Quiz answers for Bridging and Swapping on Taiko are B, B, A, C, D.
Quiz answers for Proposer questions by Taiko are A, C, A, C, B.
The quiz answers for Proving on Taiko are B, B, B, C, D.
Interact with the testnet
While waiting for future quests, you can also do some interactions on the testnet, including getting Sepolia ETH from faucets.
With ETH in Sepolia, you can bridge from Sepolia to Grimsvotn L2 and subsequently bridge from Grimsvotn L2 to Eldfell L3.
On L2 and L3, you can perform swaps among other things.
You can refer to their main guide on how to do transactions on their testnet.
---
Related posts:
How To Potentially Get The Arkham Airdrop