Pixels is a NFT game that is planning to release airdrops in the form of tokens. There are two tokens, i.e. $PIXEL and $BERRY.
The airdrop snapshot is the 31st of October and to get it, you basically need to be in the top 20,000 accounts with the most points. At the moment, the points threshold continues to climb as we approach the snapshot date.
Here's how you can get the Pixels airdrop and gain points to try and make it before the 31st of October 2022.
Click here to join the Pixels game (referral link).
Disclaimer: The information provided on this website does not constitute investment advice, financial advice, trading advice, or any other sort of advice and you should not treat any of the website's content as such. Do your own research and never invest more than you can afford to lose.
How to get airdrop points
Based on the tweet that Pixels released on their own Twitter page, you can earn airdrop points by:
Owning the Pixels NFT land
The Pixels NFT land has gone up in price a lot since they announced the airdrop snapshot date. It may be quite risky to buy them as players will likely dump them after getting the airdrop allocation.
For free-to-play enthusiasts, you will have to play the game actively from now until the snapshot date and also earn badges in the process of doing so.
Read this guide on how to farm airdrop points quickly.
How to earn badges
If you look at the airdrop page of Pixels, there are badges and each badge you unlock will give you a certain amount of points. The most amount of points you can get are probably from badges as farming doesn't pay much.
The badges can mostly be earned from playing the game and completing the quests.
For example, it's easy to complete the Farmer badge which gives you 1,000 points and all you have to do is to be the top 50% of farmers and it's achievable in a day.
The introduction Barney quest will also give you 500 points and it takes a few minutes.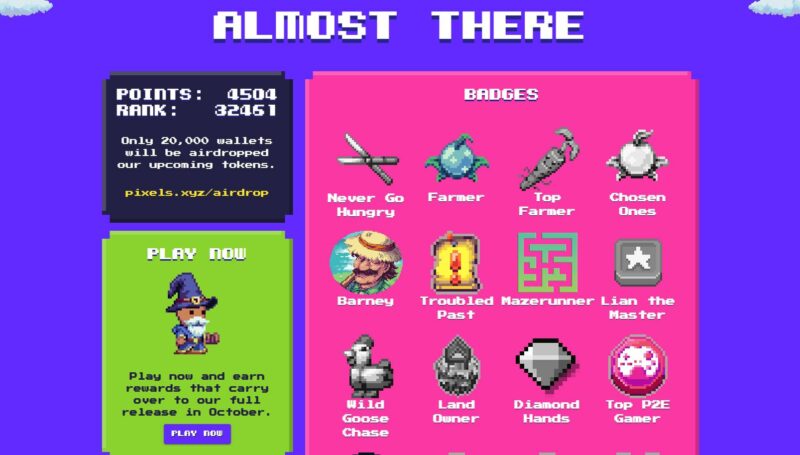 Complete quests
As mentioned earlier, completing quests can give you badges and you should do all of them.
At the moment, there are four fixed quests you can do, i.e. Cook, Line and Sinker, Barney's Farm, Maze Runner and A Troubled Past.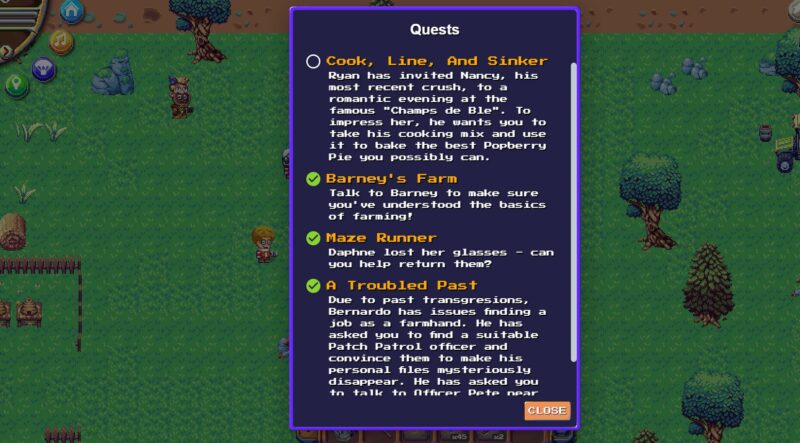 Cook, Line and Sinker – this quest requires you to talk to Ryan standing near Champs de Ble in town. He'll ask you to bake the best Popberry Pie. You can probably buy a Popberry Pie from the grocery store directly. Another way is to bake a pie, you probably need to buy a cooking pot first which requires 5,000 in-game gold. Use the pot on a fire and bake the pie. Do this quest quickly as you will get Golden Popberry seeds as a reward.
Barney's Farm – this is an introductory quest which requires you to plant some popberries. It can be done in a few minutes.
Maze Runner – this is a quest where you talk to Daphne first, who is standing near a portal in the southern part of the town map. Enter the portal and you'll enter a maze. Inside the maze, there's another portal. Enter that portal and go all the way to the right to find her friend who is taking her glasses.
A Troubled Past – this quest requires you to speak to Bernardo. Then, talk to Officer Pete at the fountain. He'll tell you about Officer Barnbardy. Go southwest to the Drunken Goose and you'll see Barnbardy in front of the shop. He will ask you to give a Grumpkin. To get a Grumpkin, go to the grocery store, buy the seed and plant it. Harvest the Grumpkin and give it to Barnbardy. Return to Bernardo to finish the quest.
Utilize public farms, Barney's farm and farms by other players
Apart from quests, you have to do a lot of farming. You will start with popberries. You can plant them at Barney's Farm or the public farm. They are accessible through the menu on the top-right of the screen. The disadvantage of the public farm is that apparently there's a high tax on your harvest.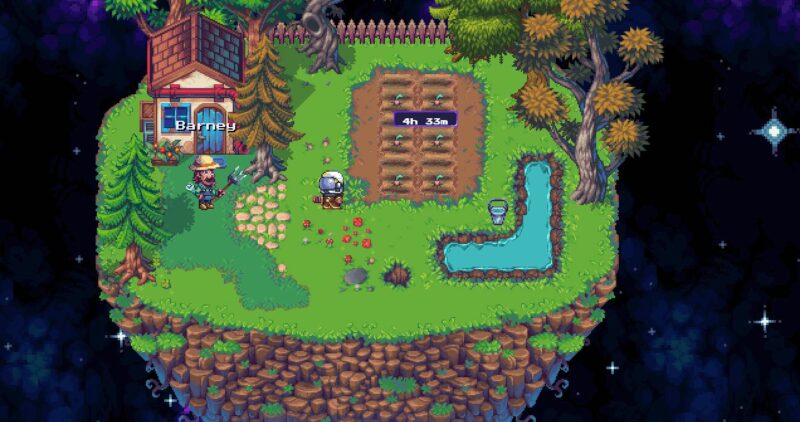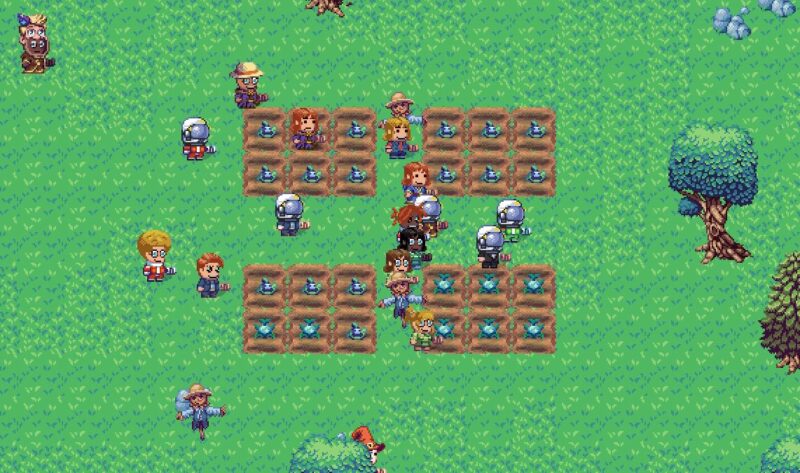 If you have a ton of seeds, you can try planting on farms owned by other people. For example, you can use farm 231.
Just add farm231 behind the Pixels url as shown here –> https://play.pixels.xyz/farm231.
Farms owned by others can have different taxes, but apparently 231 is free. You can also look at farms with a lot more plots on Discord. They can have low tax or zero tax.
As soon as you have money, buy better seeds like Scarrot seeds or Golden Popberry seeds from the grocery store as they give more points and money.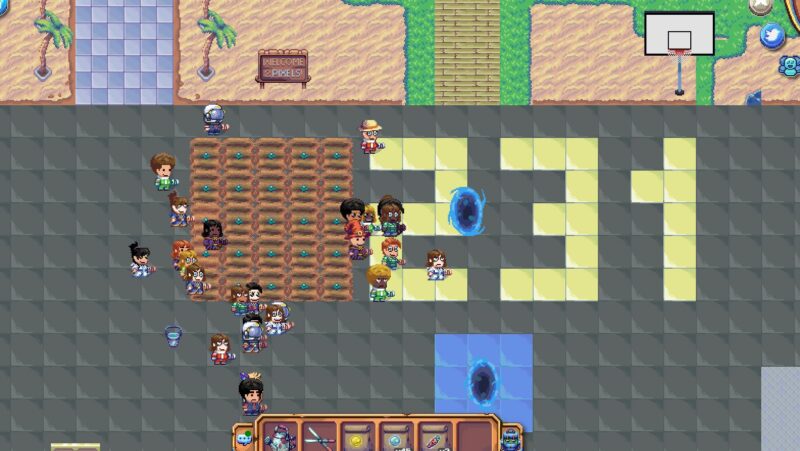 Register with Premint, Twitter and Discord
There are also badges given when you register with Premint, Twitter and Discord; and they'll give points individually for each badge.
Click here to join the Pixels game (referral link).
---
Related articles:
Neopets Metaverse's Alpha Is Finally Out For A Few Weeks