With so many top Dyson vacuums to consider, you will be spoilt for choice. However, for a first-time buyer, it can be a bit hard to choose the best one.
Thankfully, Dyson has something for everyone, especially when it comes to the range of vacuums that they bring users.
Here, we will look at 6 of the best Dyson vacuums, both corded and cordless and in different price ranges.
Note: this article may have affiliate links.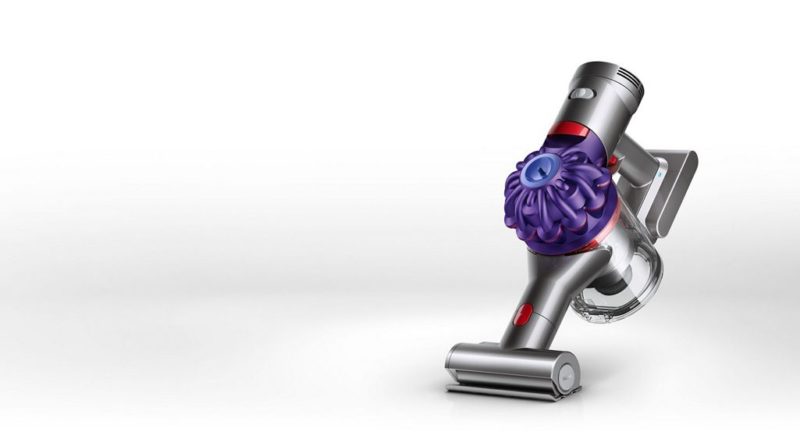 Best Dyson Vacuums Reviews
Below are some of the top vacuum cleaners from Dyson.
1. Best upright vacuum – Dyson Ball Animal 2
If you are looking for a cheap vacuum cleaner, you had better move on because this is not it. However, when it comes to the Ball 2 Animal, we say that it is better to pay more money for more features. So, what types of features will you get for your money? Many!
First, for the most difficult cleaning jobs, this cleaner is going to do them all, and do them very well. It is very powerful. The HEPA filtration system in the machine will not only capture all allergens and bacteria, but it will also seal them in automatically so they do not escape.
For a thorough cleaning job, this machine comes with a complete cleaning bundle. This includes nylon brush, stairs cleaning tool, tangle-free turbine, combination tool and a reach-under tool. It is the whole cleaning solution that you have been looking for.
This is one of the best Dyson vacuums for animal fur. When you have pets, you know the small problem of dealing with pet fur stuck on carpets and couches.
This cleaner comes with a tool for collecting that fur up, leaving you with clean surfaces and upholstery that even a person with asthma can use comfortably.
Pros
High suction power- cleans all dirt
HEPA filtration for allergens and germs
Can be used for cleaning the stairs
Cons
Quite expensive – will set you back hundreds of dollars

2. Dyson V10 Cyclone Vacuum Cleaner
Sometimes, it can be hard to associate cordless with power, but not when it comes to the Dyson V10 Cyclone. It has incredible suction power and on a fully charged battery, this vacuum cleaner can give you an hour of cleaning time, which is what we need before taking a break anyway.
While this is a battery-powered vacuum cleaner, the designer has been able to take care of a problem that is rampant in other vacuums. You get fade-free power all the time.
This means your cleaning experience will be consistent from the minute you start cleaning to the minute you stop. The soft roller cleaner is designed to pick up the small and the large debris.
Weighing just 5.9 pounds, it is easy to carry this vacuum cleaner from one place to another, even up the stairs. Besides, if you would like to make the vacuum cleaner smaller so that you can clean your car upholstery easily, this one converts to a handheld one.
You will find this vacuum cleaner quite versatile. You can use it on different types of floors including carpeted and hard floors.
It is so gentle yet so effective such that it does not leave a scratch on the hard floors, thanks to the powerful soft roller head feature.
Pros
Good for cleaning different floors
It can be used as a handheld vacuum to reach squeezed spaces
Can remove 25 percent more dust than its predecessors
The instant-release trigger saves power
You get fade-free power in various modes
Cons
Charging time is a bit long at three and a half hours
Batteries could be better if they were removable

3. Dyson Motorhead V7
Super slim and super agile for cleaning different areas does not even begin to explain the versatility that you enjoy from this vacuum cleaner. Although the Dyson Motorhead V7 has some issues to do with the battery, it is still a good investment for vacuuming your home and your car upholstery.
This vacuum cleaner has been designed with a self-sealing cleaning system that collects 99.9 percent of fine and large debris and locks them inside. Even during the dumping, the no-touch dustbin ensures that you do not come into contact with the bacteria when emptying the vac cleaner.
You can use this vacuum cleaner on different types of floors. To do that, you just need to adjust the settings for suction. For example, you can engage regular cleaning mode for the hard floors as it is not going to cause scratches.
As the predecessor of the V8 and V10, the V7 has slightly lower specs, but then, you will save money when buying it.
For what it is worth, you will have a great time using it and it will clean thoroughly, leaving the floor spotless with all the germs and allergens sucked in.
This vacuum also transforms into a handheld vacuum easily allowing you to clean your car upholstery and clean hard-to-reach places.
Pros
Cordless – you can clean anywhere with it
Light in weight – 5.3 pounds only
Good for deep cleaning the carpeted floors
Emptying the vacuum cleaner is so easy and germ-free
The 15 cyclones arranged in dual tires suck even the finest dust
Cons
Battery lasts 30 minutes only
No warning when battery is about to die

4. Dyson V11 Torque Drive Vacuum Cleaner
This is another great vacuum cleaner from the V series of the best Dyson vacuums. It will set you back a good amount of money, but the features and the service that you will get from it more than compensate for the high price.
The Dyson V11 Torque Drive vacuum is battery powered, and it gives you a cleaning time of 60 minutes. At the back of the vacuum cleaner, you will find a small LCD screen, which displays the amount of power left in the battery as well as the cleaning mode that the cleaner is running on.
This is an intelligent vacuum cleaner and there is a good reason to show for it. When you change from carpeted to hard floor and vice versa, this vacuum senses that and adjusts the suction power automatically.
If there is a floor spot that is specifically dirty and you would like to clean it thoroughly, this vacuum has a power boost feature, which enables you to increase the suction power greatly.
The filtration system of this machine enables it to capture about 99.9 percent of allergens and germs. It is able to pick the smallest particles, even as small as 0.003 microns.
Pros
You get fade-free cleaning for the entire 60 minutes
14 cyclones pick the tiniest particles and dump them in the bin
High torque head for cleaning stubborn dirt
Intelligent system shows you remaining runtime
Alerts you when to clean the filters
Cons
Battery is not designed to be removable

5. Dyson Ball Canister Vacuum for Multi-floor Cleaning
Canister vacuums come in two parts – the head and the canister itself. They are attached with a flexible hose and as you clean, the canister rolls after you. This vacuum cleaner is a serious performer on any kind of surface. It is sold with all the cleaning tools that you need. These include crevice tool, stairs tool, wand rotator and dusting brush.
The Dyson Ball Canister Vacuum packs a lot of suction power. Nothing can stand in the way of a 250 AW raw power. You can use it on different types of floor.
In addition, this is a corded cleaner with 21 feet of cord plus the 14 feet that you get from the hose. That should be enough to cover any room in your house, end to end.
You will find the dust canister in the ball itself. The ball rolls along as you continue cleaning. The good thing is that as the balls rolls, if it hits an obstacle, it rights itself easily and the canister inside the ball cannot spill its contents.
Pros
The ball self-rights if it topples down
Wand and extension stretch to give you a reach of 35 feet
Wide cleaning path of 12 inches makes the job faster and easier
2-tier cyclone filtration technology captures even the tiniest bacteria
Good for cleaning different types of floors
Cons
Has some learning curve if this is the first time to use a ball vacuum

6. Dyson V7 Trigger Handheld
You cannot complete a lineup of the best Dyson vacuums without reviewing at least one handheld vacuum cleaner. The V7 Trigger is one of the best ones in this area. For a handheld vacuum, it delivers unequalled suction power.
Many reviews may tell you that this vacuum cleaner is not worth it because you can still transform many of the stick vacuums from Dyson into handheld ones. However, if you are looking for a standalone handheld vac, this is it.
There are no hindrances that come with using a corded cleaner. The Dyson V7 Trigger is cordless, giving you more flexibility as you clean. It also comes with important tools such as crevice cleaner, combination tool and a mini-motorized tool.
It has been designed with 15 cyclones for trapping even the tiniest particles of dust. You get fade-free cleaning power for the full 30 minutes of cleaning.
The dirt ejector is so effective such that you do not have to touch the dirt. In single action, it will get all the trapped dirt out.
Pros
Ergonomic handle is comfortable for long-term use
Powerful vacuum cleaner for furniture and upholstery
Removes pet hair on couches and floor using the mini-motorized tool
Has a crevice tool for vacuuming the hard-to-access spaces
Covered by a warranty of 24 months
Cons
Cost is high, sometimes people just buy the stick vacuums

Final verdict
After reading our reviews for the best Dyson vacuums, you have seen a few of almost every model, including one handheld vacuum cleaner.
There is no doubt that Dyson is one of the best names for vacuum cleaners, with good warranty, high suction power, high quality build and versatility being some of the things to consider when buying one.
This article was composed by a freelance writer.
---
Related articles:
Top 7 Best Travel Strollers To Use During Your Holidays
Dyson Pure Cool DP04 Review: Is It Worth Buying?
Top 10 Bladeless Fans For Your Home
Top 8 Gifts For 10-Year-Old Boys: Buy Some Cool Presents Today!
Best Gaming Microphone For Streamers And Casual Gamers
Best Gaming Keypad – Features And Specifications (Updated 2019)