So you're in your first few months of blogging, you stumbled upon articles from other bloggers. They don't seem to run out of ideas! What to blog about?
That's the question that most of us bloggers have.
For those who are really passionate in their niche, they can probably think of 50 different ideas in an hour.
What if you don't have that kind of passion?
There are certain avenues where you can look for your next big topic and inspire your readers.
Here's a post for you to get rid of your writer's block and start generating ideas for your next topic.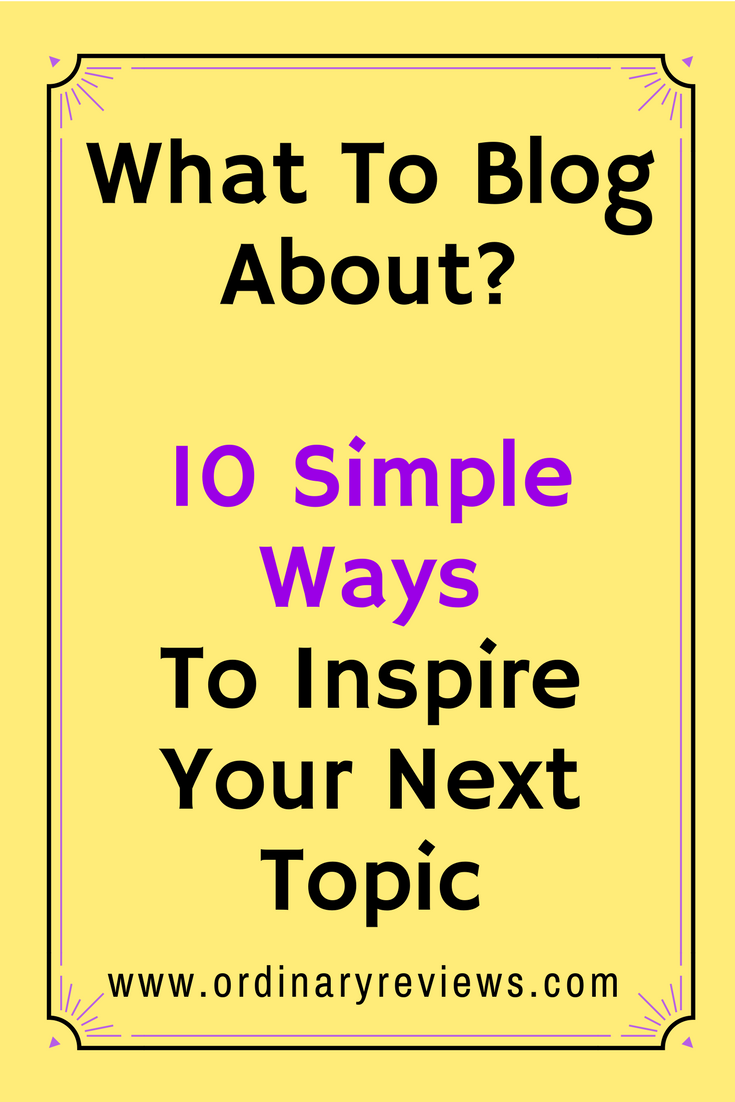 #1 Ask your readers
This one's the most straightforward.
Your readers (especially your subscribers) are the ones that have been checking out your content each time you post.
If you need an idea on what to blog about, send an email to your subscribers. Ask them if they need help or if they are particularly interested in certain topics.
You'll most probably get new ideas for your next blog post.
Out of all the ideas, choose the idea with the majority vote.
#2 Check out your competitors
This is one of the main ways I get inspired into writing my next topic.
I always take a look at articles written by "big blogs" such as Neil Patel, MoneyPantry and Problogger, and wonder if I can top that.
Probably not. But I've tried.
For instance, if someone writes an article on "25 ways to make money online", try writing a much more comprehensive article like "36 ways to make money online".
Who knows? You may rank better than your competitors in the long run.
It's probably really difficult to outrank them as they have the quality backlinks and they are the authority in the niche.
Nonetheless, you should try to churn out quality articles consistently and you will start getting noticed.
#3 Utilize social media platforms
Social media platforms such as Facebook and Twitter come in handy as well.
They can actually be used for your next topic. How?
I've seen members in blogging groups asking questions to other bloggers, with the hope of writing their next piece.
For instance, I've seen a question like "What's your biggest struggle as a blogger?".
Most members are pretty helpful if you're polite. They would actually participate in your question and give you lots of ideas.
That particular question had a lot of comments which must have helped that particular blogger.
Start asking others today!
#4 Check out relevant forums
Forums can be a great way of asking questions and at the same time get traffic to your blog.
If you've no inspiration on what to blog about, why not browse through relevant threads and get ideas?
Surely, there are forums that are popular for most niches.
For example, if you're in the digital marketing niche, a great forum is Warrior Forum. It's said to be the best digital marketing forum on the internet.
Even if you're not in that niche, you can get all sorts of help from there. They cover all kinds of topics from SEO to advertising to even starting an online business.
Perhaps you can look into popular forums in your country. For instance, Lowyat Forum is really popular in my country and they get millions of visitors a month.
#5 Get out of your house
This one's pretty simple. Get out of your house once in awhile.
If you stay indoors all the time and write every single day, chances are you will suffer from a writer's block.
Go for a trip or to the park and get some inspiration for your next big topic.
Sometimes an idea might just pop up even when you're strolling in the mall. It can happen.
#6 Pinterest
Pinterest is a great place to gain steady traffic to your blog.
If you need tips on using Pinterest I actually wrote a piece on how my pin went viral in the first month of Pinterest.
However, it's not just a place to gain traffic to your blog.
You can actually get lots and lots of ideas from pins all over Pinterest.
There are virtually all kinds of niches on Pinterest and a simple search of keywords will do. Look at the pins that are viral and learn from their virality.
I use Pinterest a lot to see what I should write about. What problems should I solve this time?
It really does help.
#7 Reddit
Reddit is a content aggregation site and it's basically ranked 7th in the world in terms of traffic.
It has probably more than 8 billion page views a month! As I have covered in my article circulated among subscribers, Reddit can be an amazing traffic referrer for your blog.
Having said that, you can also use it to get more ideas. Virtually all niches are already covered as subreddits.
If you write about travel, there are relevant subreddits with probably hundreds of thousands of users or even millions.
Make use of this gold mine of information and decide what to blog about.
#8 Find list articles on potential topics
Do a Google search on blog ideas relevant to your niche or even what to blog about.
Chances are, someone has already wrote a "list article" on topic ideas for most niches.
For instance, I wrote a list article of '101 ideas for your next blog topic' which may be helpful.
I don't normally search for potential ideas on Google, but I do it if I'm really lost.
#9 Do a post on other bloggers
Sometimes, your blog post doesn't have to be about you or what problem you can solve.
Give your readers some fresh content by writing on other bloggers and their achievements.
I've seen a couple of articles written on income reports by top bloggers and they were pretty inspiring.
Posts like this may sometimes get big blogs to link back to you and it increases your online presence.
Quality backlinks also increases your domain authority and your chance of ranking high on Google.
Why not try it today?
#10 Five W's and One H
Who, What, Which, When, Why and How.
Those are universal pointers when you're stuck with your writing.
When I'm really lost, I think of these five W's and one H to see if I can come up with a great topic.
If you write about money for instance, these are some ways to generate topics:
Who makes the most money online
Why you need to save money in college
Which websites are legitimate in providing work-from-home jobs
When should you start an online business
How do I know if my business will take off
The above are just a few ways to generate ideas when you have no idea what to blog about.
Writer's block is pretty common especially if you're blogging continuously and consistently.
Do remember to take a rest and enjoy life while you're blogging. It may do more good for you.
What do you guys think about this article? Let me know in the comments below!
---
Related articles:
How To Find The Right Niche For Your Website