Polygon ZkEVM is a new layer 2 project by the existing project known as Polygon (Matic). It's basically their 2.0 version of Polygon.
They've joined the recent wave of layer 2 projects that use ZK tech. Also, their existing token $MATIC will be converted to $POL in the future.
Here's a short guide on the Polygon ZkEVM Saga which is basically a 6-week quest / odyssey / voyage. There's also speculation that they might do an airdrop in the future although they already have tokens in circulation.
Disclaimer: The information provided on this website does not constitute investment advice, financial advice, trading advice, or any other sort of advice and you should not treat any of the website's content as such. Do your own research and never invest more than you can afford to lose.
Polygon ZkEVM Saga
You can read their tweet (Xeet?) on the zkEVM Saga.
They partner with IntractBuzz which provides the zkEVM Saga page (referral) that lists down the tasks and verifies them for you to mint some free NFTs.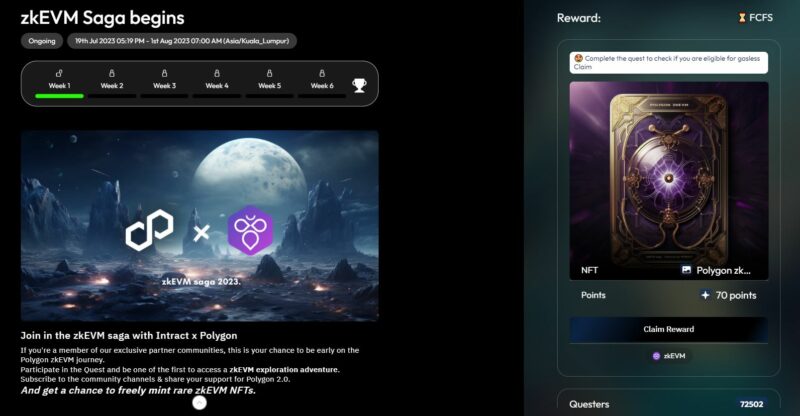 Week 1 quests
For e.g. for week 1, you need to connect your wallet and sign a message, follow Polygon's main Twitter page, follow IntractCampaign, join their Discord server and post a certain tweet.
Do all of that and you get 70 points in total. You can then claim the NFT for the week.
You'll need to have gas on Polygon zkEVM (costs about $1). You can transfer ETH from Orbiter Finance to the Polygon zkEVM chain to mint the NFT.
Apart from that, there's also a referral link you can post to invite others and potentially mint a higher tier NFT.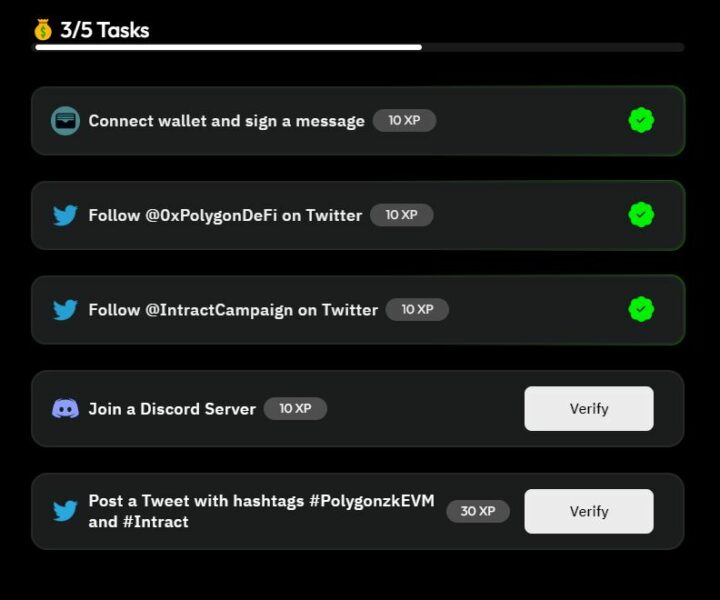 That's it for week 1. There'll be more on-chain quests in the future weeks.
Week 2 quests
For week 2 quests, you can use the link here.
You'll basically need to:
follow XY Finance's Twitter page
use XY Finance to cross chain swap tokens from or to Polygon zkEVM. This one has a lot of issues due to the number of transactions
join Quickswap's discord server
swap between tokens using Quickswap on zkEVM
follow @itsobvioustech on Twitter
post a tweet about Obvious wallet
That's it for week 2.
---
Related articles:
How To Potentially Get The Tabi Airdrop (Guide)