A blog cannot survive without traffic. Fortunately, there are many ways to drive traffic to your blog. One of the best types of traffic is search engine traffic and one of the ways to obtain such traffic is to write long-form content.
What is long-form content?
Simply put, it refers to lengthy content. There are no fixed number of words to define what is lengthy content. To be safe, long-form articles or blog posts should be at least 2,000 words. In fact, most of the articles on the first page of Google are at least 2,000 words long!
As more content is churned out every single day, you may need to create even lengthier content, perhaps 4,000 words and above, to compete with other bloggers or websites.
This doesn't mean that you should write long blog posts or articles with redundant content.
You have to write quality content which helps to solve problems.
Why write long-form content?
As Neil Patel has suggested, long-form blog posts tend to be shared more often than shorter blog posts. More shares tend to get more traffic. More traffic usually results in higher conversions and therefore a higher income.
Having said that, it's not easy to always churn out long-form content. It often results to a "blogger's burnout".
As some bloggers have not have even written a 2,000 words' long article in their lifetime, this article is meant to provide ways or ideas to write long-form content on your blog.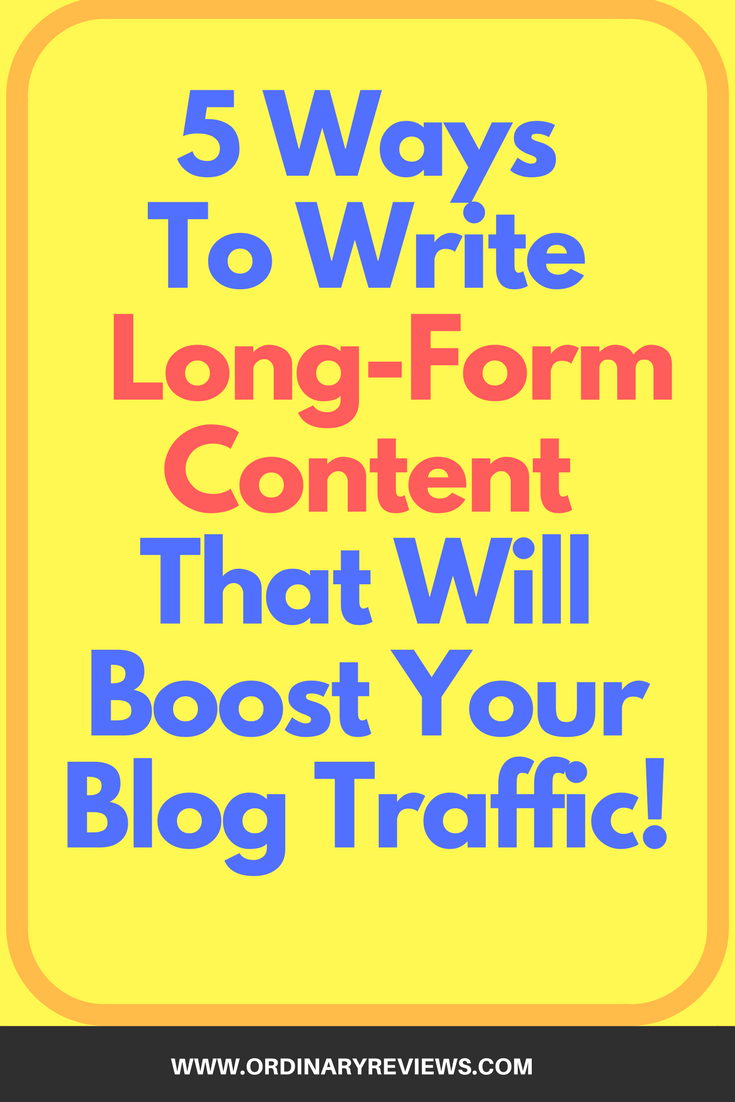 #1 Listicles
"Listicles" are list articles. For instance, "89 ways to drive traffic to your blog" or "Top 8 holiday destinations in the world". They are useful and at the same time, they are usually long.
Personally, listicles are my favorite kind of articles for long content as it's relatively easy to "break" the 2,000 words' mark.
Additionally, people are generally drawn into reading list articles. Being able to write "listicles" demonstrates authority that you may have in your particular niche. Greatly-written "listicles" that are helpful can even gain you new loyal subscribers. Apart from that, they are highly shareable, which results in more traffic over time.
Don't take my word for it. Popular sites such as ListVerse or TopTenz gained a lot of traffic from their list articles.
#2 How To's
The crux of quality content is how it actually helps people, which brings us to the second method. "How to" blog posts are a great way of writing lengthy content and at the same time boost your traffic. In fact, this article itself is more like a "how to" post, except that it's not worded that way.
For instance, if your niche is "making money blogging", you can write on how to make money blogging via affiliate marketing as an example. Taking that as an example, you can divide your post as follows.
Real-life examples of bloggers making five or six figures through affiliate marketing
List of affiliate marketing networks
There is no one style of writing a "how to" post, but it certainly is a way to write long-form content.
Add in some images or even videos to spruce up your content. Articles with visuals tend to be more attractive to new visitors if done properly. It helps with SEO as well, as you can add in keywords in the alternate text of images.
#3 Comparisons
A "comparisons" post may work well for long-form content as well. For instance, you can write a post to compare different web hosting companies and earn from affiliate sales. It's easy to go over 2,000 words as you can elaborate on the technical features of the plans offered by each of the company. Furthermore, you can provide your personal experiences or opinions on top of the said technical features.
It not only gives you room for a lengthy article. It helps a lot in affiliate marketing as well. A "comparisons" post normally attracts those who are already thinking of buying a product or subscribing for a service. For e.g. I compared Bluehost and Kinsta here.
If you have a product review blog, you can compare and differentiate the same type of product offered by different brands. For instance, a smartphone comparison between Apple, HTC, Samsung and Huawei.
You might actually earn a decent amount via affiliate sales from a "comparisons" post.
#4 Income Reports
The next on the list is income reports.
You would probably have seen income reports from Making Sense Of Cents, Problogger, Smart Passive Income and many other well-known bloggers. They are inspiring for all bloggers, whether new or seasoned.
If you are a new blogger yet you are already making decent income from your blog, you should try publishing income reports. They can be lengthy as well. Some of them are so detailed that it's longer than a regular post.
Why are they long? Aren't they just a breakdown of income?
Bloggers usually write on how they achieved their income as well. While doing so, they promote their blogging tools and resources (with affiliate links) and actually earn some income from it.
Income reports is a good way to establish authority in your niche as well. It's also highly shareable on Pinterest as it stands as a source of inspiration for aspiring or struggling bloggers.
#5 Detailed Reviews
Reviews are not confined to product reviews. Almost everything can be virtually reviewed. You can do reviews on freelance websites, web hosting companies, restaurants, hotels, services and so on.
As there are many review websites around, long-form content can help (but not guarantee) to put your review on the first page of search engines. Writing long reviews also show that you have an in-depth knowledge of what you are reviewing. To do so, only review products or services that you have actually used or tried.
This is an example of a review I did based on a product I actually tried.
Many businesses are using cheap freelancers for short reviews nowadays and they produce only about 500 words per article. Those articles are usually terrible and robotic.
The following is an example of a breakdown of how to write a detailed review.
Introduction and background of the product or service
Features and specifications
Lots and lots of images (and video if necessary)
Pros and cons of the product or service
Comparison with similar products or service
Who should buy the product or sign-up for the service
Ratings of the product or service
Takeaway for long-form content
This post is quite short so it's not a great example of long-form content. You can check out my "how to start a blog" guide as an example of a lengthy article.
There are many reasons why long-form content works. You establish your authority, you get more shares, Google trusts you and your readers may trust you as well. That said, you don't have to write lengthy articles every single time. Don't publish inconsistently simply because you don't have the time to write lengthy posts.
There are times when your articles can be direct and straight to the point, especially if it's a narrow topic. For instance, if someone asks what is DNS propagation, you don't have to write 4,000 words on it. Keep it simple when necessary.
I myself do not write long-form content all the time although I try my best to.
What do you guys think about this?
Do you always write long articles or just short ones?
Let me know in the comment box!