There are many freelance platforms these days that you're unsure whether they are legitimate. I started freelancing occasionally maybe 2 years back and I stumbled upon popular platforms like Upwork, PeoplePerHour and Freelancer.com.
Here's a short review of PeoplePerHour.
I've tried a couple of freelance platforms, and the 2 platforms that have worked for me are Upwork and PeoplePerHour.
This doesn't mean that other platforms are bad.
I was mainly looking for translation work in a language pairing that is not common at all. I happened to find some jobs in these platforms.
I'm not here to write about Upwork today. Upwork is rather well known already. I'm here to write on PeoplePerHour and whether it's legitimate or even worth it.
What is PeoplePerHour?
PeoplePerHour is a UK freelance platform and they are more of a general platform, meaning that you can find all sorts of jobs in different categories.
I won't be covering details on how to register as it has been quite some time seen I registered my account. I may not remember exactly what information is needed or whether they have changed the registration process.
After registration with PeoplePerHour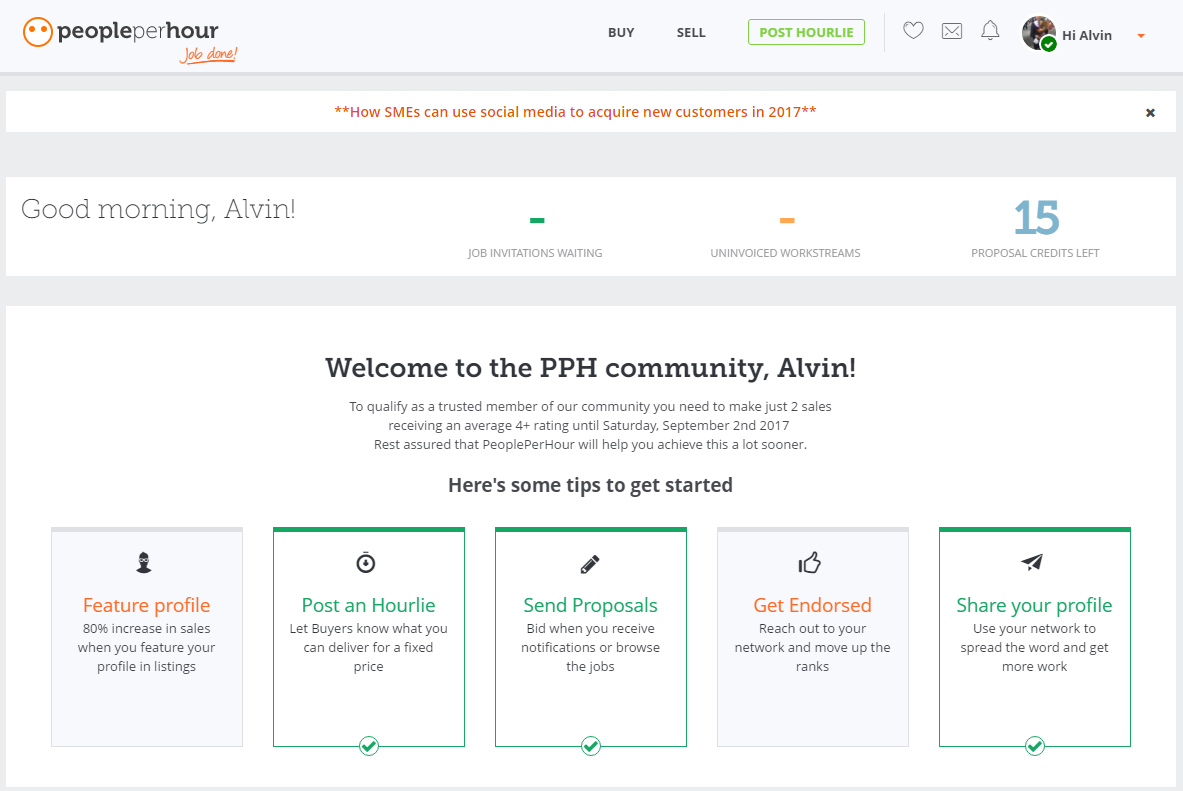 The above image is the dashboard that you'll see once you've registered for an account. As you can see, I haven't been active on this platform as I've been using my time on my 3 blogs rather than taking on freelance jobs.
If you're new to PeoplePerHour, you need to know these few basic things:
1. Completing your profile
Before you can even find for jobs, you have to complete your profile. I believe that's their requirement.
However, completing your profile actually helps potential clients look at your background and your technical skills.
If you were a client, would you hire someone with minimal profile information? Probably not.
Hence, remember to complete your profile.
2. Send Proposals
In PeoplePerHour, you can send job proposals to existing job offers by clients.
Just do a search using keywords and categories you're interested in, and you'll see all of the jobs that are still available.
This feature is similar with other platforms like Upwork and Freelancer.com.
3. Hourlies
If you're not keen to apply for jobs each time, you can create your own hourlies.
Hourlies are basically job offers by YOU, saying that you can do something (e.g. write a 500 words article) for a price.
Instead of applying for a job posted by a client, prospective clients can look for hourlies and they might find something they're interested in.
If you have created gigs on Fiverr before, the concept is quite similar. You create an hourlie which says how much it is and how long you will take to complete the job.
Clients will then place orders.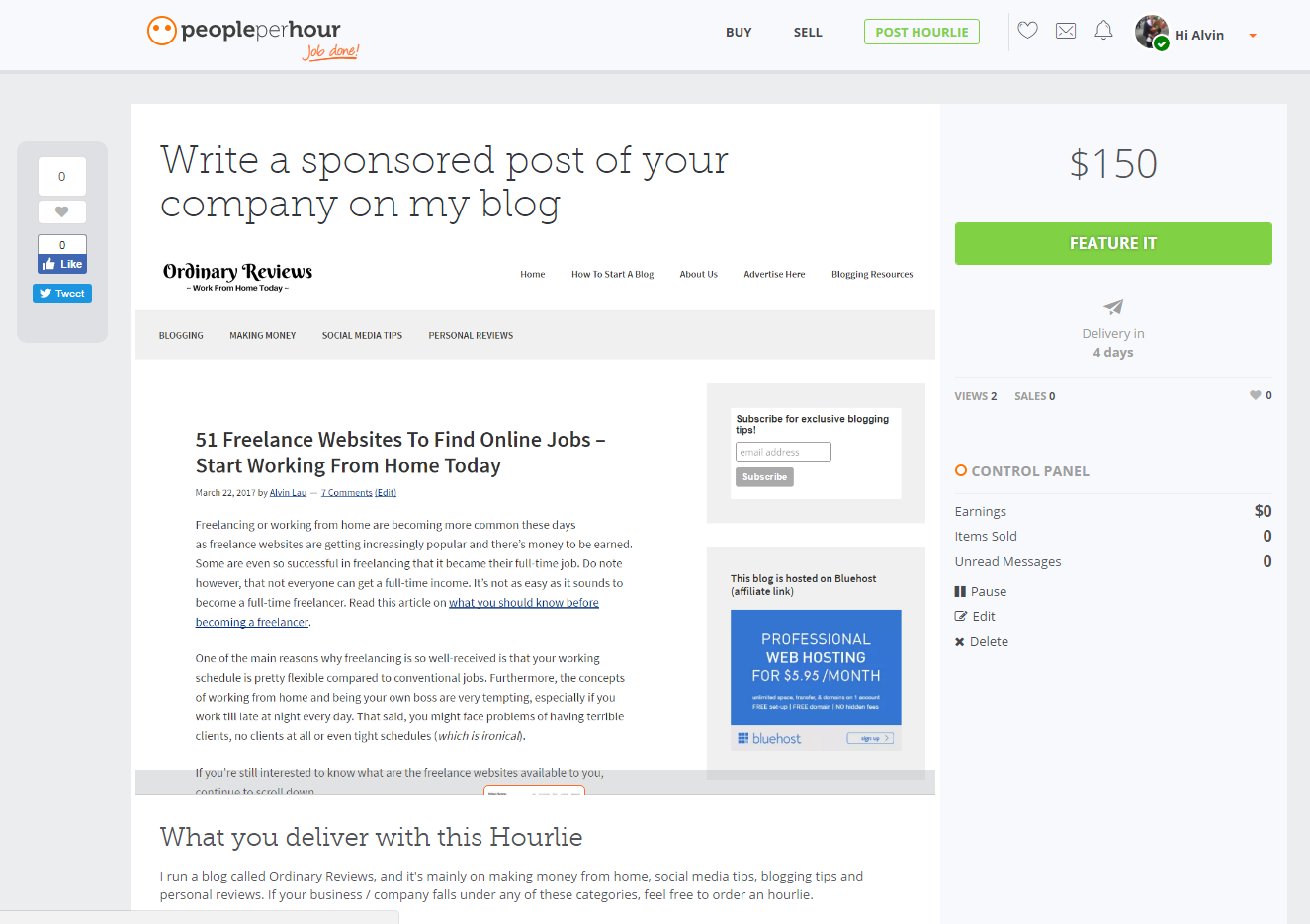 I created this hourlie a few days ago and this is how it looks like. You offer to do something for a price, and you can insert images as well.
4. Endorsements
This feature is rather new to me. Now you can get others to endorse you, and I think your profile will rank higher with endorsements.
It lets potential clients know that you're capable to a certain extent.
Endorse me here if you wish. Thanks in advance!
What kind of jobs are there on PeoplePerHour?
It is a general freelance platform with all kinds of categories. The following are just a few examples.
Web design
Writing
Translation
Social Media
Marketing
Software development
Logo design
Mobile app development
Is PeoplePerHour a legitimate freelance platform?
As far as the platform goes, I would say it is a legitimate platform.
I'll show you an example of a job I did earlier.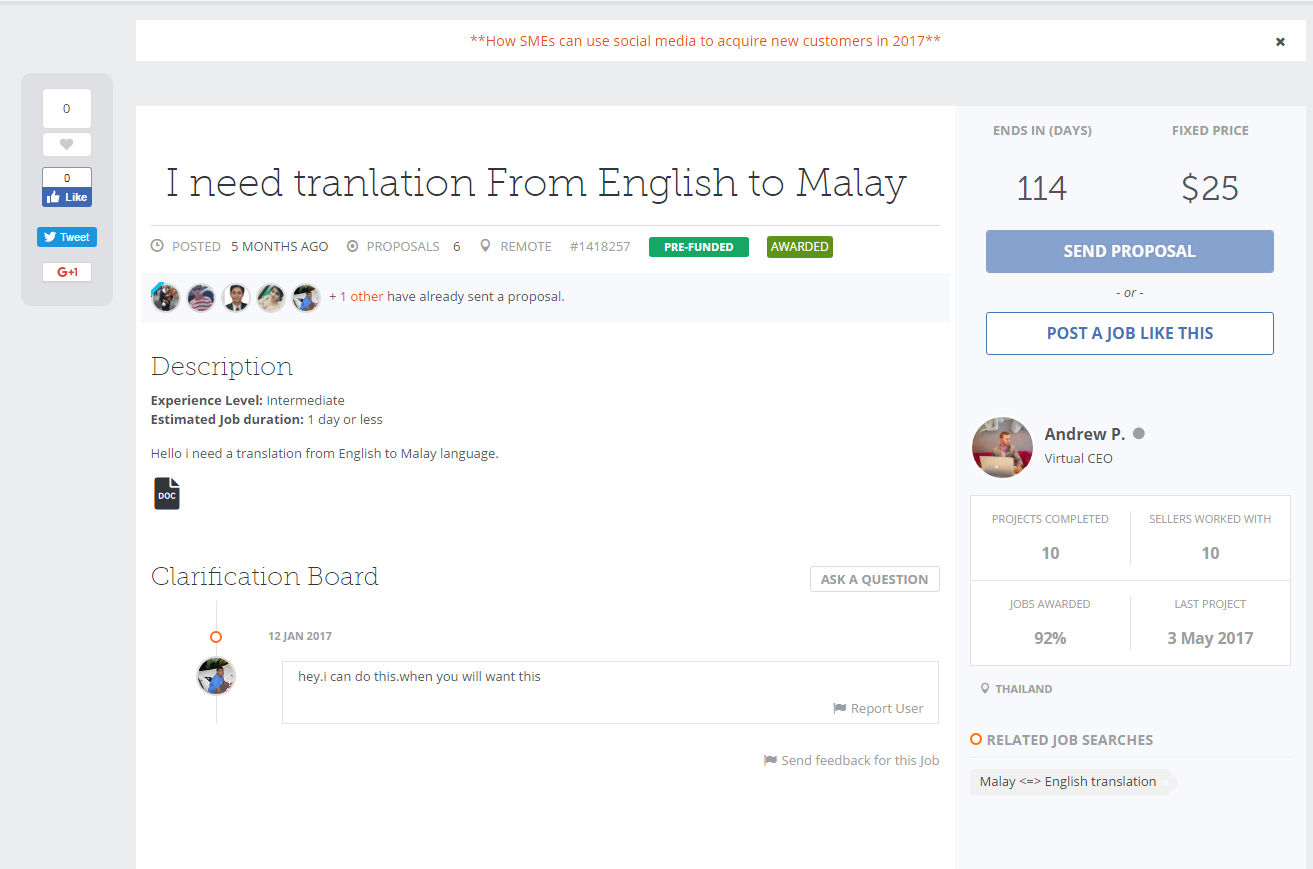 I did a translation job for the language pairing of English to Malay regarding binary options earlier this year.
It was a document of a few pages and the fixed payment was $25.
The job was done quickly and payment was made rather expediently.

As you can see in the image above, payment was made to me and I've withdrawn it using PayPal.
One thing you should note is that they have service fees levied on however much you've earned. That is why they don't charge you to be a member.
I believe that the current rate might be around 20% which is rather high. It used to be lower then.
From my experience, I believe that the platform is rather legitimate.
However, there are nasty clients everywhere, regardless of which platform you use.
Luckily, you can check if the buyer has deposited the fees in escrow. This means that the client can deposit the fees to PeoplePerHour even before the job commences.
It promotes a more secure environment for freelancers, in case some clients run away with your work. This feature is reflected in Upwork as well.
If you prefer to be paid before you deliver a job, you should use hourlies instead but it can be tough to get orders.
Otherwise, you can try Fiverr. They work on the basis that clients have to pay first. That said, it's not easy to land even one job if you're a newbie on Fiverr.
Freelancers who have gotten jobs would normally rank higher at the top and consequently get even more jobs.
It's never a fair game.
Pros and cons of PeoplePerHour
What about the pros and cons of this platform?
Pros
It is a legitimate platform. Minus the fees imposed by PeoplePerHour, you should be able to withdraw whatever amount you've earned safely.
You can either make offers to existing jobs or you can create your own hourlies. It increases the odds of you getting a freelance job.
It is a general freelance platform. This means that it has all kinds of categories available. Whether you're a writer or a web designer, you should be able to find jobs there.
Cons
The user interface of PeoplePerHour can be rather confusing at first. There are many functions and tabs that you can click on, and it had me confused when I first started using it.
There may not be many jobs for certain categories. The reason I didn't use this platform that much was because I couldn't find many translation jobs unlike in Upwork. They were rather scarce for my language pairing. It may not be the same for you though.
What do you guys think about PeoplePerHour? Have you had success with it? Do let us all know in the comments below!
If you're interested, you can sign up for PeoplePerHour here or by using any of the links above. By the way, this is not a sponsored review.
Remember to subscribe to this blog for more exclusive updates!
Please follow and like us: