New bloggers tend to struggle with monetizing their blogs. I do too. I am sure you have seen lots of income reports all over the world, be it through Google, Pinterest or even Facebook groups. One thing most top bloggers share in common is that they monetize their blog primarily with affiliate marketing. Pat Flynn from SmartPassiveIncome does that really well.
For new bloggers with low traffic, banner ads do not work well. Google Adsense or Media.net or other types of advertising networks generally work well with high traffic. Try not to focus too much on ads until you get about 100,000 monthly views. You can always use them earlier, no doubt. That said, you should concentrate on affiliate marketing as well.
Note: This article may contain affiliate links which means that I earn a small income if you sign-up for any service using my link at no additional cost to you.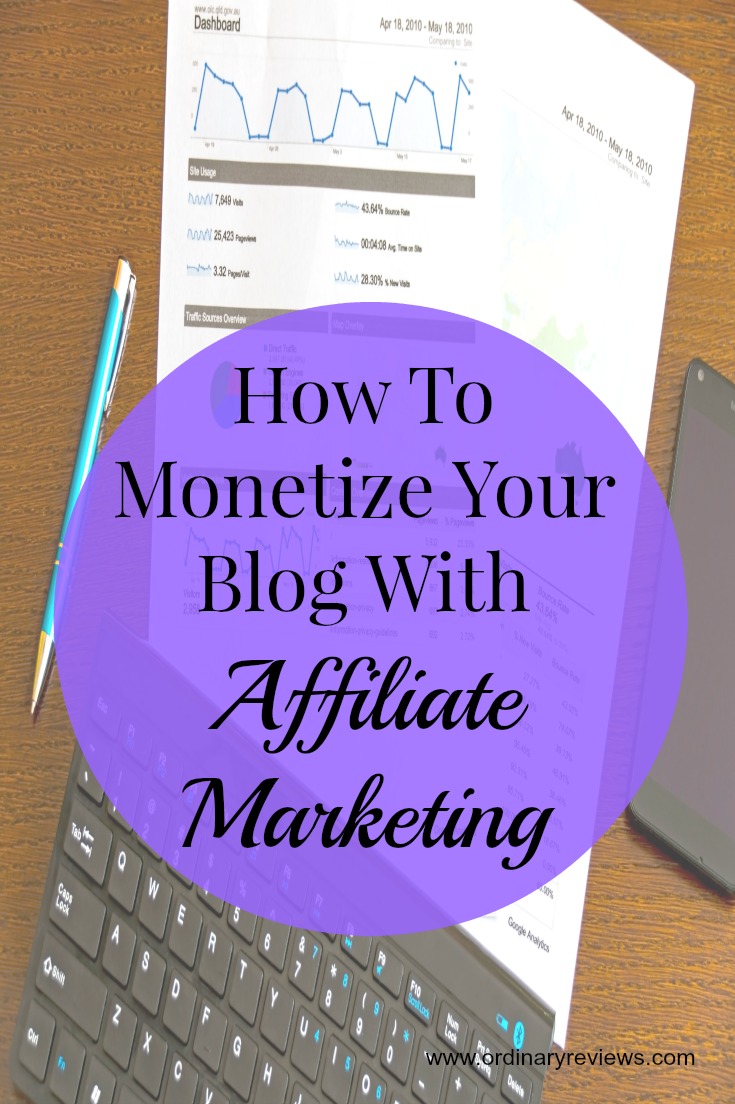 What is affiliate marketing?
According to Pat Flynn in Smart Passive Income, "affiliate marketing is the process of earning a commission by promoting other people's (or company's) products. You find a product you like, promote it to others and earn a piece of the profit for each sale that you make."
He could not have defined it well enough.
Affiliate marketing is not limited to just niche sites which does product reviews. You probably would have heard of CNet and TrustedReviews which deals mainly with product reviews. They earn a lot from affiliate sales each month because they are usually on the first page of Google for many products. You don't have to compete with them if you manage your blog alone.
It works even if you don't specialize in product reviews. If you are a lifestyle and travel blogger you can earn by promoting hotels that you have stayed during your trips. You can also promote cosmetic, skincare or other products that you love as well, which is what many other bloggers are doing.
There are potentially so many things that you can earn from as an affiliate partner. Many companies realize the influence bloggers have on their products or services. Hence, they don't mind spending money to get a good return on investment (ROI).
The hard part is not to find for companies to work with, but to choose the right company to work with among thousands!
Will every click on my affiliate link be rewarded if a sale is made?
The thing is, if a person clicks on five different affiliate links for the same service or product, only one will be rewarded the sale.
Companies either use the "first click" system or the "last click" system.
First click system – the company will only pay the affiliate who received the first click even if the buyer eventually clicked 4 other links before making the purchase.
Last click system – the company will only pay the affiliate who received the last click before the buyer made the purchase.
You have to check the terms of each company individually to determine if they reward you based on the first click system or the last click system.
What if I received the last click but the buyer made the purchase 20 days later directly through the official website?
The great thing about affiliate marketing is that companies store cookies on a visitor's computer to track information about the visitor. Each company utilizes a different duration for cookies. Some as long as 3 months, others as short as a day.
If the company you are working with uses a 3-month duration, you will still get paid for a sale made 20 days after your link was clicked (provided it was the last affiliate link).
Affiliate Networks
I hope that by now you understand how affiliate marketing works generally. The next important step is to choose the right affiliate networks to work with.
There are a few networks that are more popular than the rest. They are also quite reliable and have been in the market for years.
How most affiliate networks work is that they have thousands of companies in their database and you apply to be an affiliate for a company that you would love to work with. For instance, if you are a travel blogger, you may want to look for hotel websites like Booking.com or Agoda. You can work with Airbnb as well. If you are a fashion blogger, you may want to look for Swarovski, Pandora or other popular brands. You get the drift, right?
I will only list a few networks that are highly reputable as you don't need to join so many affiliate networks. Honestly, one may actually be enough as each network is connected to thousands of companies. However, certain companies are only available in specific affiliate networks, so you may have to join more than one network if you have specific brands in mind.
#1 Amazon Affiliates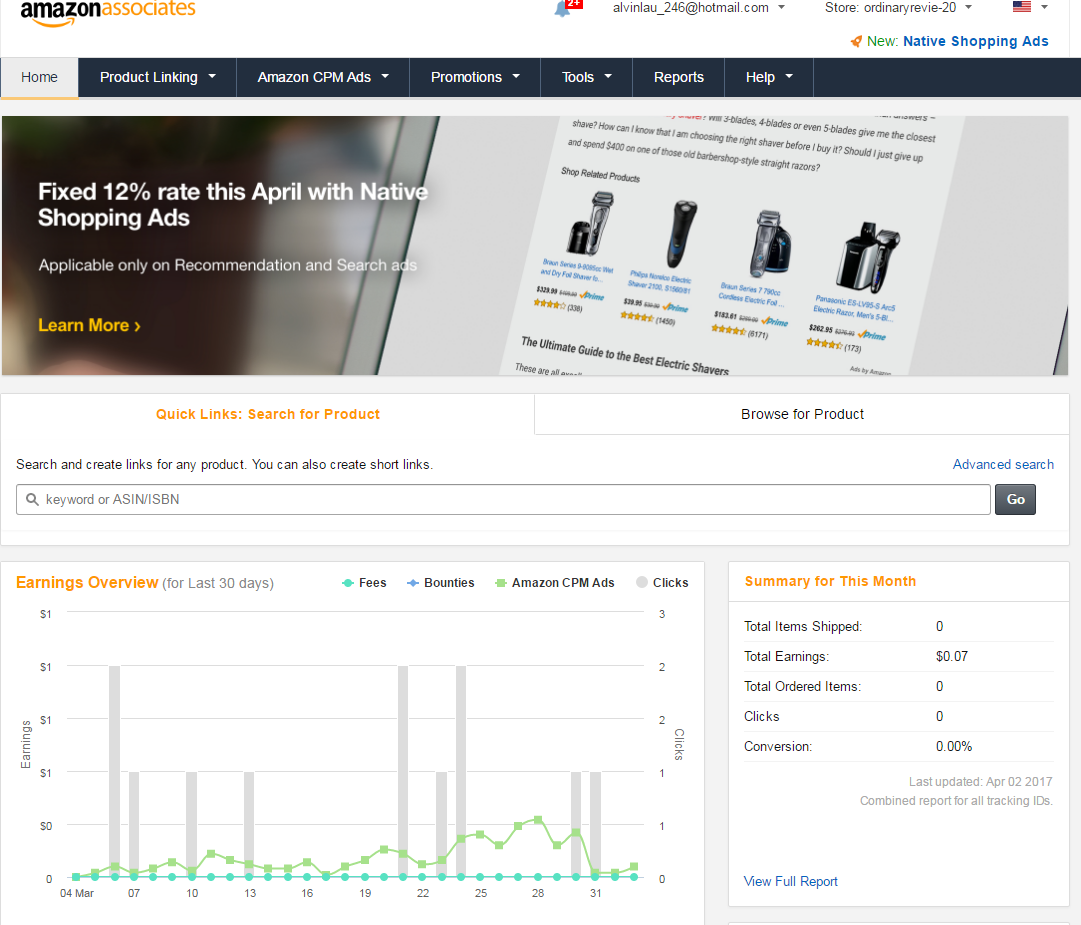 Amazon Affiliates is probably one of the most well-known affiliate programs as Amazon is a huge giant in the e-commerce world.
As they are widely trusted by everyone, it's not difficult to make a sale through Amazon. Most people are already shopping on Amazon anyway. Some bloggers even made niche sites for the purposes of earning through Amazon Affiliates!
The great thing about Amazon Affiliates is that you will be paid for products that you didn't even advertise! For instance, you promoted a new PS 4 game and someone clicks on your link. They eventually bought a book instead. You still get paid commission for that book.
The negative is that, they only reward you if the sale is made within 24 hours from the link. It's standardized throughout all Amazon products and the cookie duration is much shorter than other affiliate networks.
If you haven't heard of Amazon CPM Ads yet, you can read this article. They are configured on the same platform as Amazon Affiliates.
#2 CJ Affiliate by Conversant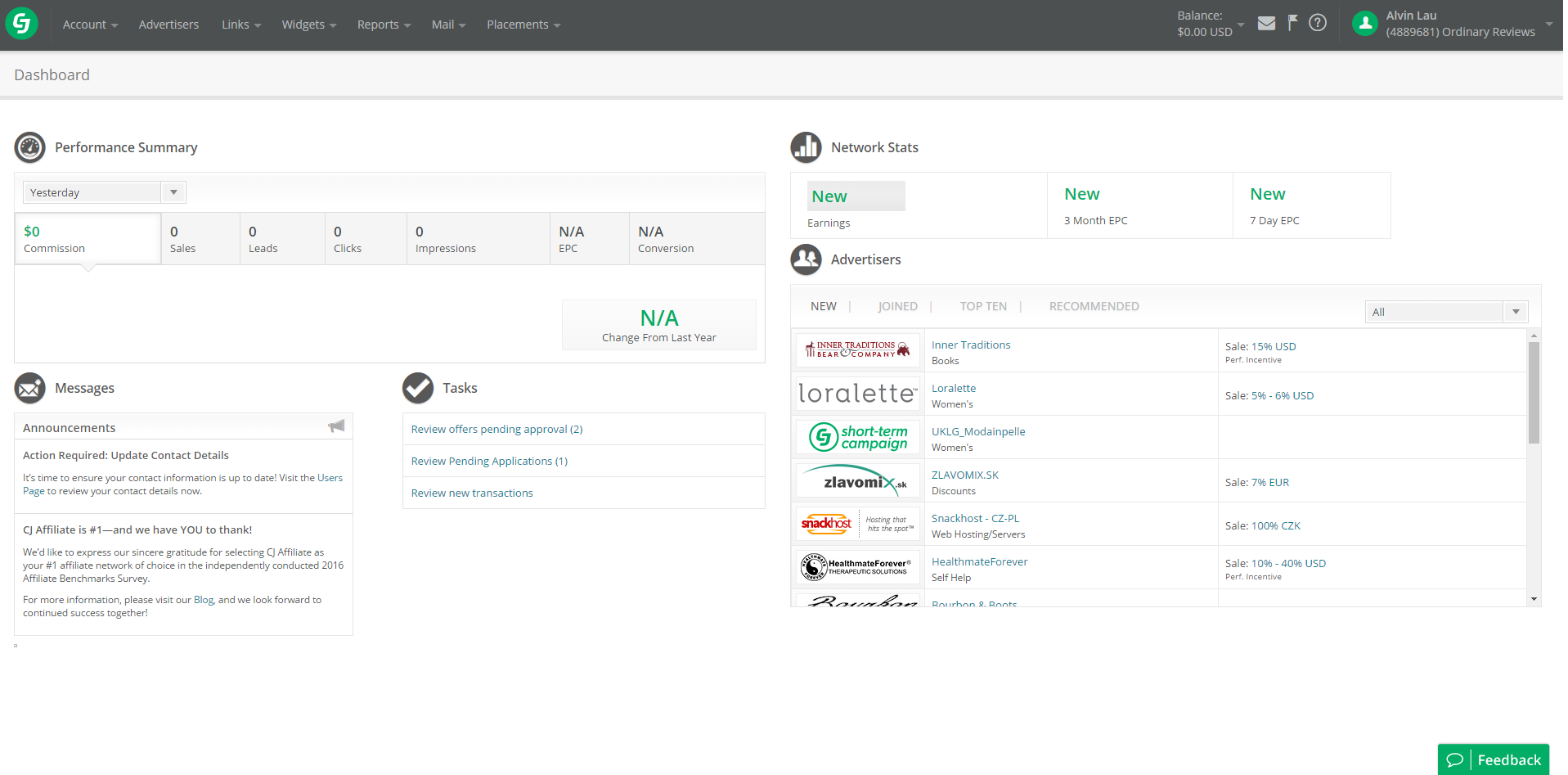 CJ Affiliate by Conversant is another popular affiliate network. It was known as Commission Junction.
It is free to join and you have to apply to companies if you would like to market their product.
The good thing about CJ Affiliate is that they have popular web hosting companies within their network, including Bluehost and HostGator. Promoting them through CJ Affiliate actually rewards you a small sum of money for 100 of clicks on your link within 7 days or 3 months (even without sign up).
Sign up for CJ Affiliate by Conversant
#3 ClickBank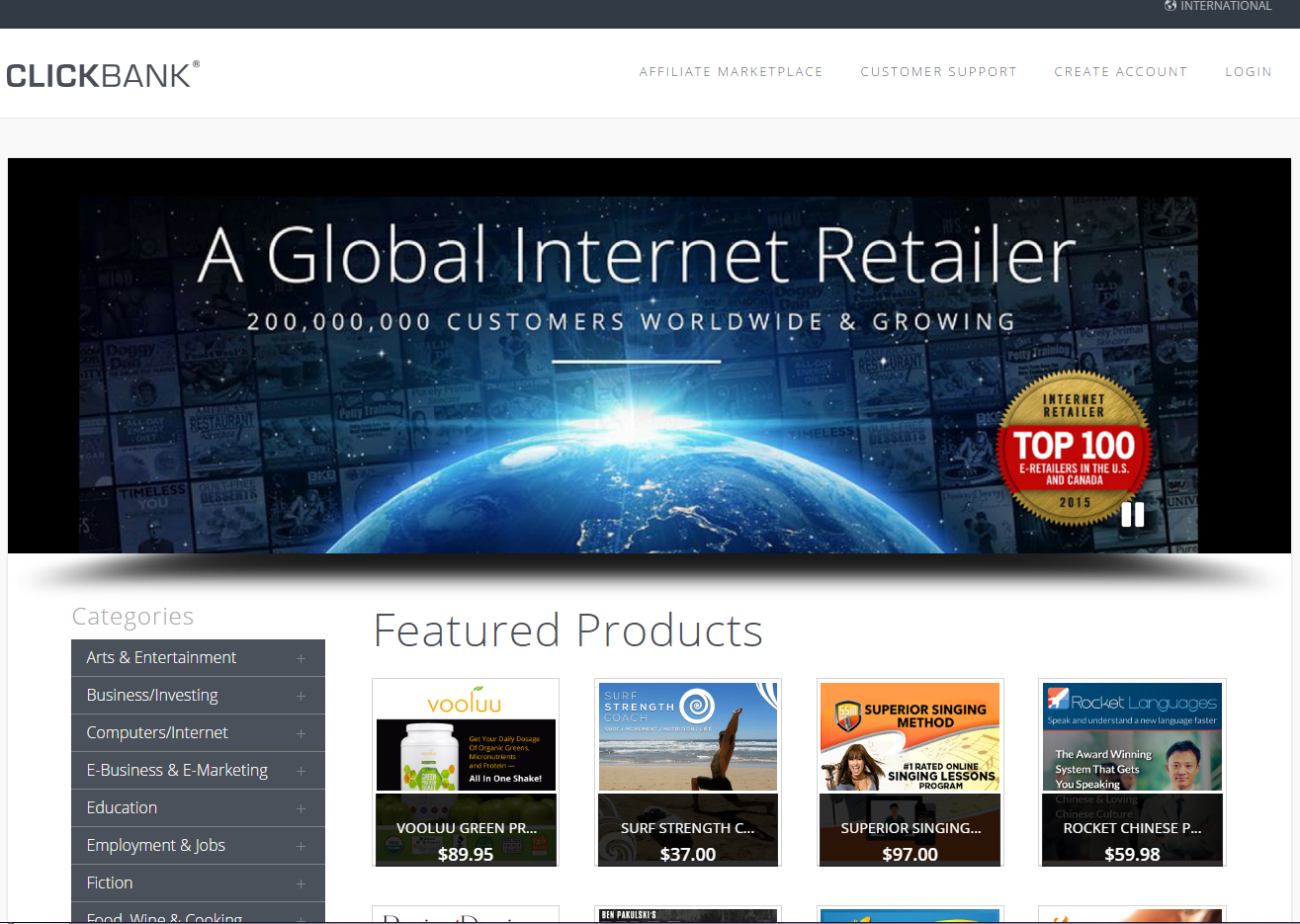 I have not personally tried ClickBank before but they claim to have over 500,000 members using their platform.
It's mainly focused on digital products, so if you normally promote digital products on your blog, it may be good for you. Some of the products that I came across are e-books on affiliate marketing, blog marketing and SEO.
#4 ShareASale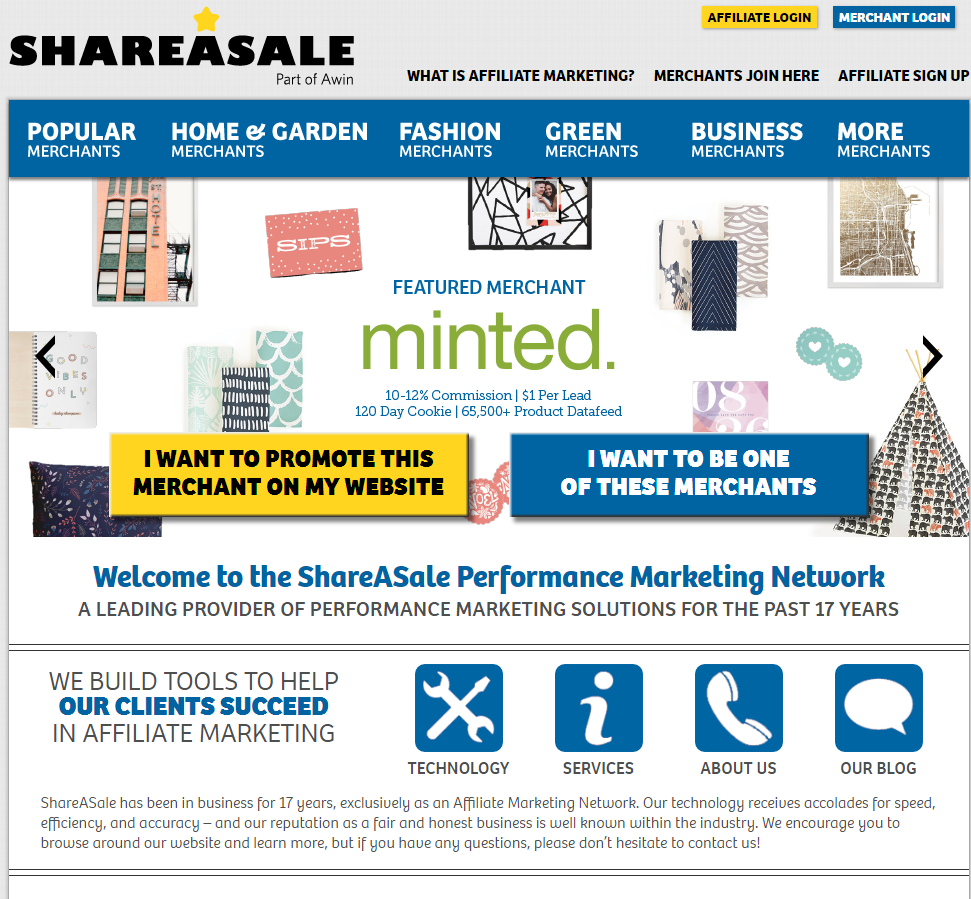 ShareASale is another popular affiliate program for bloggers.
They offer all kinds of products to market including fashion, web hosting, WordPress themes, books publishing and even weddings. Even my Genesis child theme (under StudioPress) is one of ShareASale's affiliate partners.
Apart from that, if you have been using Pinterest to drive traffic to your blog, you would have heard of Tailwind. Tailwind's affiliate program is exclusively under ShareASale.
How do I promote my blog posts to be successful in affiliate marketing?
There are many ways that you can promote your blog posts but I focus on these three.
Search Engine Optimization (SEO). It's no surprise that you see this term everywhere. Everyone wants to have their blog posts show up on the first page of Google for highly-searched long-tail keywords. There are many things that you should know about SEO, both on-page and off-page SEO. I won't go into details but it involves many factors including long-tail keyword optimization, length of your content, alt images, quality backlinks, website speed, user-friendliness of your blog and many others.
Social Media or other platforms – Pinterest works like magic when it comes to both new and old blogs. You can't depend on SEO for the first few months of blogging, so you should try Pinterest. I use Tailwind as a scheduling tool for Pinterest, which enables me to pin any time of the day. You can try BoardBooster as well. Apart from Pinterest, you can promote your blog on Facebook, Twitter, Instagram and many other social media platforms. Read this article on 9 Free Places To Promote Your Blog and it may help you.
Build a mailing list. It's not easy to get others to give away their email address and subscribe to your blog. If they do, they are potentially your loyal followers. It's easier to market products that you genuinely believe in to your mailing list. I use MailChimp for pop-ups as it's free for the first 2,000 subscribers. No matter what anyone says, pop-ups work! I experimented with pop-ups and I received my first 15 subscribers in a week! You can also use ConvertKit to collect email addresses via pop-ups. Apparently it's quite good. ConvertKit requires a paid subscription but it's highly recommended by pro bloggers. If you want a free option for now, you can try MailChimp.
By the way, remember to subscribe to this blog if you love my articles! I write on social media tips and making money online as well.
Conclusion
Affiliate marketing is not as easy as it sounds. You can't just put links into your blog and expect others to buy things. A blog is like a business when you chose to monetize it. You need to establish authority in your niche, gain more traffic and more importantly, trust from your readers. Only then will you be successful in affiliate marketing. Lead by example.
Remember to always put a disclaimer right at the top of your post, which goes like this "This article may contain affiliate links which means that I earn a small income if you sign-up for any service or buy any products using my link at no additional cost to you." It's not the exact wording but it's similar. I put it as the second paragraph rather than the first, as the first paragraph is meant for optimizing my long-tail keywords (for SEO). Some affiliate companies require such a disclosure.
If you wish to build a profitable blog from day one, read this guide on how to start a WordPress blog. If you need help in setting up a blog or migrating to a self-hosted blog via Bluehost, let me know.
Please follow and like us: