Writers are very creative and they're often lost in their own little world.
If you happen to have a friend who loves to write, then you're lucky because there are many gift ideas for writers out there.
Here are some of the best gifts for writers today.

1. Qwerkywriter S Typewriter Inspired Retro Mechanical Keyboard

The Qwerkywriter is a mechanical keyboard that looks a lot like a typewriter. The keys use high-quality Cherry MX switches housed in an elegant and scratch-resistant aluminum body.
Additionally, the buttons feel great and sound a lot like a typewriter would which gives the keyboard a very tactile feel. As you'd expect out of a mechanical keyboard, it has programmable buttons.
For this particular piece, the typewriter's return bar can be programmed with up to 15 characters, allowing it to write signatures or perform copy and paste commands. It also has n-key rollover which means that no keystroke is lost no matter how fast your writer friend can type.
The Qwerkywriter S' body has a built-in tablet stand that can support up to 12-inch tablets. It has wired and wireless connectivity options, with the wireless being able to connect to three devices at once. It can connect to a computer, a tablet, and a phone all at the same time, for example.
Control is switched over easily with a push of a button. You can get a Qwerkywriter S on their website for $269.99. It's the perfect gift for a writer who needs a better keyboard and has an appreciation for the classics.

2. Fingerless Writing Gloves
When it starts getting cold, writing can become difficult. The fingers start shaking uncontrollably and the hand cans start to hurt all of a sudden. For those long, cold writing days, fingerless writing gloves can help immensely.
Regular gloves get in the way of typing because the tactile feeling of a keystroke is lost. With fingerless writing gloves, the wrist and palms can stay warm while the fingers do the work.
Storiarts makes handmade writing gloves with designs based on many different books. For those who love the classics, there are writing gloves designed with text from Pride and Prejudice, The Great Gatsby, Little Women, and more.
Fans of Shakespeare can get writing gloves with parts of Macbeth, Hamlet, or Romeo and Juliet. There are so many more designs on sale in Storiarts' website.
They sell it for $26 a pair. If you want a personal touch on the writing gloves, you can make one yourself with an old pair of gloves or socks.

3. Aqua Notes
Many will admit that they get their best ideas in the shower. Just like dreams, these ideas can be fleeting, gone by the time the shower is done. This 40-sheet notepad is an excellent way to preserve those inspired shower ideas for future writing.
Aqua Notes is a waterproof notepad that sticks to a shower wall through a built-in suction cup. It comes with a pencil and a pencil holder with a built-in suction cup, but the pencil is just an ordinary pencil.
Any graphite pencil will work with Aqua Notes. The 40-sheet notepad is available on the Aqua Notes website for $7 while a pack of five can be purchased for $28. Just keep in mind that there are no replacement sheets for the notepad.
Once the 40 sheets are used, it would be time to get a new one. Also, check if your bath can support a suction cup, to begin with. Not all surfaces work with suction cups and you really don't want to give a gift that doesn't work the way it should.

4. The Coloring Book for Writers
Writing can be extremely stressful. There are days when ideas stop flowing and the writer's brain grinds to a halt. For times like these, it's helpful to have a way to unwind a little to refresh the brain.
Adult coloring books are one of many ways to do this. Linda Fulkerson made two volumes of The Coloring Book for Writers: An Inspirational Brainstorming Tool, an adult coloring book filled with writing prompts and inspirational quotes.
It can help a writer deal with stress and creative blocks through coloring and effective brainstorming techniques. The Coloring Book for Writers has two volumes, both of which can be purchased from Amazon for $8.95 each.

5. Writer Emergency Pack
The Writer's Emergency Pack is another excellent way to get over writer's block. It is a deck of cards with ideas and tips designed to help writers get their stories unstuck. It was a highly successful Kickstarter campaign led by its creator, screenwriter and novelist John August.
The deck is composed of 26 Idea cards and 26 Details cards. Idea cards are short suggestions to tackle a story differently while Details cards provide more information regarding the Idea cards.
The cards focus on making its user think about their characters, conflicts, and plot differently and were developed from August's personal experience as a writer as well as the suggestions of his colleagues.
This Writer's Emergency Pack appears to be designed with newer writers in mind but more experienced writers may find a few surprises to spice up their stories in the randomness of the deck.
The Writer's Emergency Pack can be purchased from their website at $19.

6. Litographs shirt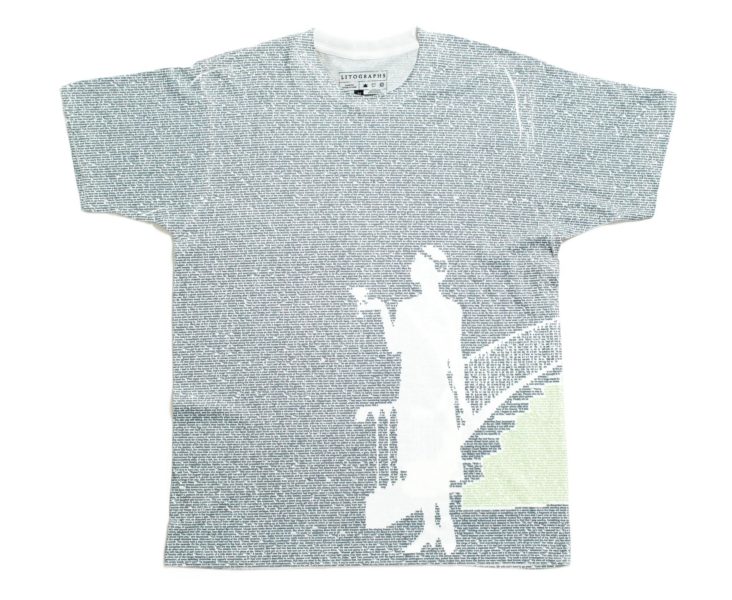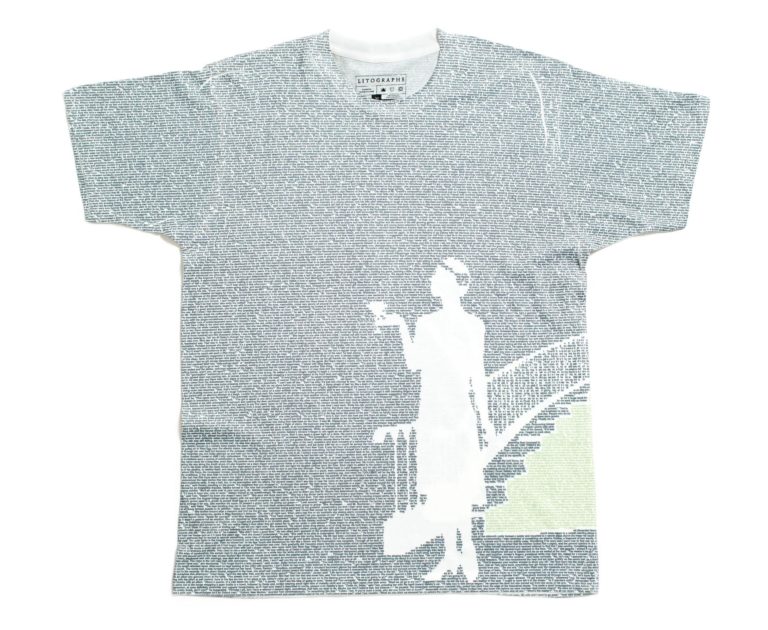 From far away, a Litographs shirt appears to be just like any other shirt. It looks like a colored shirt with some simple designs on top. When you look closely, the color of the shirt isn't solid. It's actually made out of small words packed densely enough to look solid from afar.
These are not just any words, they are entire books, poems, or plays printed on a shirt with the design to match the work. William Goldman's The Princess Bride is printed in black text on the shirt with Mandy Patinkin as Inigo Montoya from the film adaptation of the book featured in the shirt's center.
William Shakespeare's Hamlet is printed on a shirt with Yorick's skull as its central design. James Matthew Barrie's Peter Pan has Peter's window entrance on the front and Tinkerbell on the back.
The words that make up the shirt's background color go from front to back, a feature that is relatively uncommon among printed shirts. The shirts are made out of spun polyester. This allows the shirt to feel like cotton while allowing for the printing detail required to allow the words to be distinguishable.
Litographs features more than just literary works. They have designs from films like Quentin Tarantino's Pulp Fiction, featuring John Travolta and Samuel L. Jackson on the shirt. They even have a design from Apache Spark.
If shirts aren't good, they also offer scarves, tote bags, posters, pillows, and blankets with the same kind of design. The shirts can be bought from their website at $34 each.
7. Writer's Market
Any writer would love to have their work published. Who wouldn't want to be paid for doing the thing they love? To get your writer friend on the road to getting published, give them Writer's Market 2019.
Writer's Market is a yearly book from Robert Lee Brewer. It helps writers to get their works published by listing literary agents, book publishers, consumer and trade magazines, and contests to enter their works in.
The newer Writer's Market editions have sections for playwrights and screenwriters. All of these will have submission and contact information to connect writers and publishers easier.
The book is not just a glorified directory, though. It also includes information regarding the business and promotion of writing. Furthermore, it teaches writers how to do ten-minute marketing, some ways to improve their income through writing, ways to make some money by covering live events, and more.
It even includes business plan guides, pay-rate charts, and a subject index for book publishers. The basic edition of Writer's Market 2019 can be purchased on Amazon for $29.99. There are other variations of the Writer's Market that are more focused, such as the Novel & Short Story Writer's Market 2019 or the Children's Writer's & Illustrator's Market 2019.
The 2020 editions and all of its variations can already be pre-purchased for $20.22.

8. Mugs with clever prints
Most writers consume an enormous amount of tea and/or coffee to get their jobs done. Their mugs will be their companion for most of their workdays and having a personal mug can remind them of you as they work.
Mugs can vary in terms of material, size, and text, so pick the right one that works for your writer friend. The Unemployed Philosophers Guild sells all sorts of mug designs, including one with a variety of Shakespearean insults, one with some Shakespearean love quotes, and one with the first lines of many famous books.
There's even an Alfred Hitchcock mug that hides its design until the mug is filled with a hot drink. For those who prefer a mug with a funny side, there's the "I'm a writer. You may be killed in a story" mug, or the "Write epic shit" mug.
There are also several services that can personalize a mug for you, all you need to bring them is a design. A mug is a versatile, yet effective gift for any writer. Adding a personal touch is just makes it better.

This article was written by a freelance writer.
---
Related articles:
Best Dyson Vacuums To Buy Today (Value for Money)
Top 8 Gifts For 10-Year-Old Boys: Buy Some Cool Presents Today!
Top 8 Best Lego Games Of All Time
20 Best Gifts For Coffee Lovers [2019 Update]
18 Best Gifts For Photographers – Whether Professional Or Amateur
12 Best Japanese Instant Noodles To Buy [Updated 2019]