Dmail is basically the web3 version of email services. It has message communication, data storage, asset management, Web3 marketing, AI assistant and subscriptions and notifications.
In their recent Pre-A funding round, they have received investments from Amino Capital, OIG VC, Kucoin Labs, Draper Dragon and many other investors. The funding seems to be undisclosed.
Here's how you may potentially get the Dmail airdrop (guide).
Disclaimer: The information provided on this website does not constitute investment advice, financial advice, trading advice, or any other sort of advice and you should not treat any of the website's content as such. Do your own research and never invest more than you can afford to lose.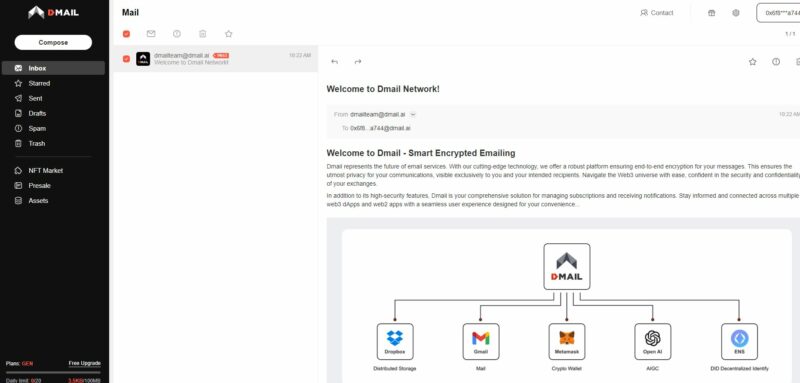 How to potentially qualify for the Dmail airdrop
Once again, we simply speculate that they'll do an airdrop because they have a points system and they do have undisclosed funding. This sort of refer to get an airdrop meta seems to have started after the Arkham airdrop.
First of all, you'll need to sign up for an account (referral link).
Next, buy the NFT on the ZkSync Era network.
After buying the NFT, remember to bind it to your account.
You can now get started.
Inside the Dmail platform, you'll see Points at the top of your screen. Click on it and you'll see a list of things to do.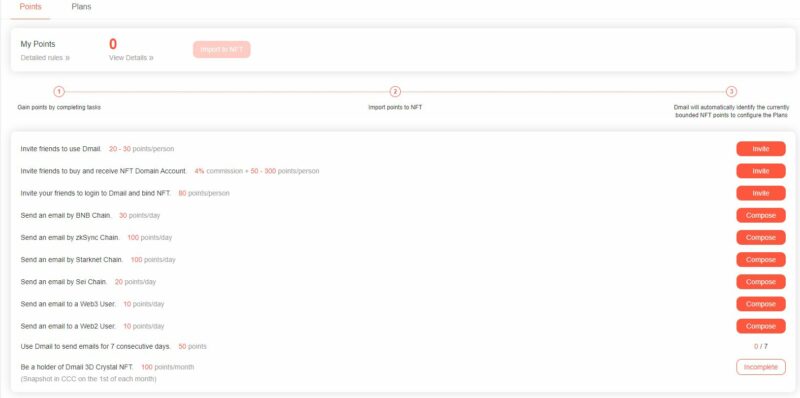 You will earn points from:
sending emails using certain chains (BNB, ZkSync, Starknet, Sei)
sending emails to both web3 and web2 users
using Dmail for 7 consecutive days
hold a Dmail 3D Crystal NFT.
The goal is to simply gather points to potentially get an airdrop from Dmail.
After earning points, remember to import the points to your NFT.
---
Related articles:
How To Potentially Get The Velo Data Airdrop (Guide)
Polygon ZkEVM Saga Quests – Potential Airdrop Guide