Cryptocurrency is a term used to describe virtual currency or digital assets and was probably popularized by Bitcoin, the pioneer that led to the creation of other coins.
Many came to notice cryptocurrency when Bitcoin had an insane price jump to almost $20,000 at one point and if you're interesting in getting cryptocurrency, read on.
This article is for cryptocurrencies other than Bitcoin, also known as altcoins. Here's how you can buy cryptocurrency in Malaysia.
Fortunately or unfortunately, it's not regulated in most parts of the world yet and you can easily buy them if you have access to the internet (and money).
Disclaimer: There may be affiliate links in the article.
How to buy cryptocurrency (other than Bitcoin) in Malaysia
For starters, there are almost 2,000 different cryptocurrencies listed in Coinmarketcap, and what you should know is that most of them are useless. They are also called shitcoins.
Also, the crypto market is highly volatile and risky, which means you may lose all of your investment if something happens to the token / coin. I use the terms token and coin interchangeably.
As it's risky, never invest what you can't afford to lose. Don't use your life savings to buy coins. You should also do extensive research online before buying any coins.
Back to the topic, these coins are traded on exchanges, similar to how stock markets are. However, there is no governmental regulation on these exchanges which makes it risky. An exchange may one day run away with everyone's money like it has happened in the past (e.g. Mt. Gox). This is why you should never keep your coins on an exchange. Once you've done a trade, withdraw it to your own wallet.
Think of your wallet as your own bank where only you have control over it.
What you need to have before buying cryptocurrencies
Here are some of the minimum requirements before you make a purchase.
1. You need to have a cryptocurrency wallet
There are different kinds of wallets, i.e. software wallet, online wallet and hardware wallet . Online wallets are probably the most risky as you're storing your coins on somebody else's platform. Software wallets are those you can download and install on your desktop. They are probably safer than online wallets but still pose some risk if your computer gets infected by malware. Hardware wallets are the safest as they are offline. Take for example, the Trezor wallet. If it's offline, hackers can't get to it. The risk is that if you buy a fake hardware wallet from an unofficial store as it may be implanted with malware or perhaps the wallet gets corrupted like how a USB does and stops functioning.
However, if you're buying a less popular cryptocurrency, it's unlikely that you can use a hardware wallet. These coins usually have their own official software wallet released by the developers themselves. They are apps that you can put on your desktop. Whenever you use one of these wallets, you will be introduced to the concept of seed phrase or private keys. Think of them as your password to the wallet. Only you have a copy of it, so please copy the "password" exactly. You can either write it on a paper or print it out. Some people only keep an offline copy of the password (on a paper or elsewhere) as nobody can steal it online. Just don't lose the paper and you'll be fine and you can access your wallet from anywhere with an internet connection.
If you do lose your seed phrase / private key, it's the same as losing your money in most cases. Store them properly.
Hopefully you've understood the basics of having a wallet for cryptocurrency. What you should know is that you may find yourself installing various types of wallets to store different types of cryptocurrencies, assuming you're the type who invests in many types.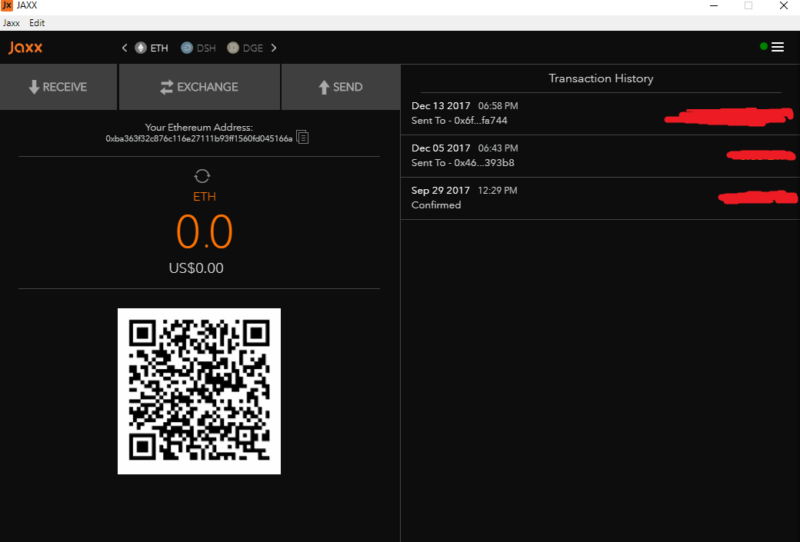 2. You need to have cryptocurrency to trade
The common cryptocurrency most people use to trade is Bitcoin. Hence, if you do not have any form of cryptocurrency at all, you can always buy some Bitcoin first.
For now, most crypto can't be bought with cash. If you do not wish to purchase cryptocurrency, try earning them through other means as listed here.
3. You need to check if the exchange trades in your coin
What this means is that cryptocurrency exchanges do not have every single coin in the market. Some exchanges may have more than others but you may have to look for more than one exchange if the coin you're intending to buy isn't that mainstream.
For example, if you're buying a coin like Basic Attention Token (BAT), you can always check on Coinmarketcap to see where it is listed.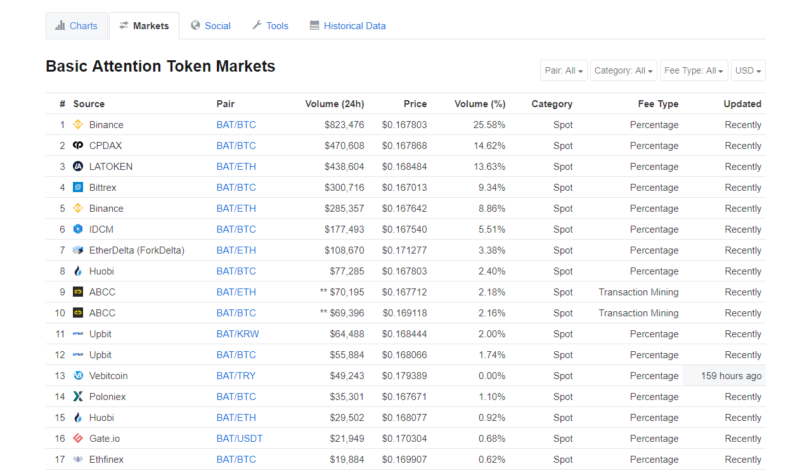 As you can see in the screenshot, the first is Binance, which is quite a well known exchange that I normally use to trade.
For some of the uncommon tokens, you may find it hard to buy as very few exchanges list them. Furthermore, some of these exchanges are not user-friendly nor reputable, which makes it a bigger risk.
Exchanges you can use to buy cryptocurrency in Malaysia (apart from Bitcoin)
There are so many exchanges these days and as mentioned above, you need to first find out where the coin you intend to buy is listed.
It may not be on one of the reputable exchanges, so you need to do your research to see if the exchange can be trusted.
That said, here are some of the popular exchanges in trading cryptocurrency generally. Coinbase is not listed since it's not supported in Malaysia.
This list is for exchanges that deal with many different coins. There are of course other reputable exchanges but some are very limited and only has less than four different coins listed.
1. Binance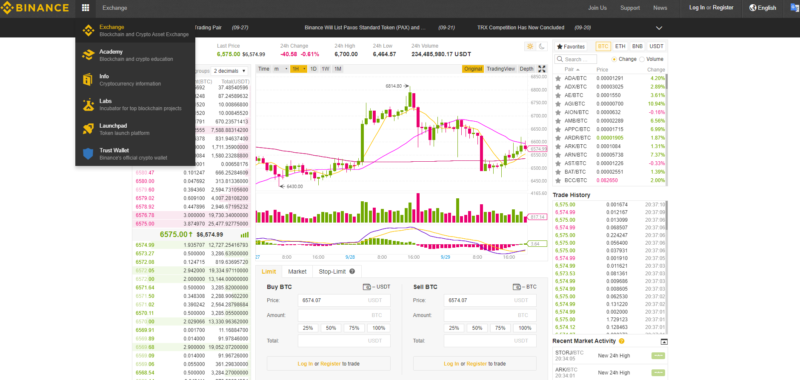 The exchange I'm using the most right now is Binance. This exchange was founded in China, but has now moved its headquarters elsewhere and is expanding to Europe.
Binance is one of the biggest exchange as it lists so many different coins for trading. Most of the ones I bought were listed here so it was convenient for me. Prior to this, I used Bittrex a lot and it's also an alternative to consider.
2. Bittrex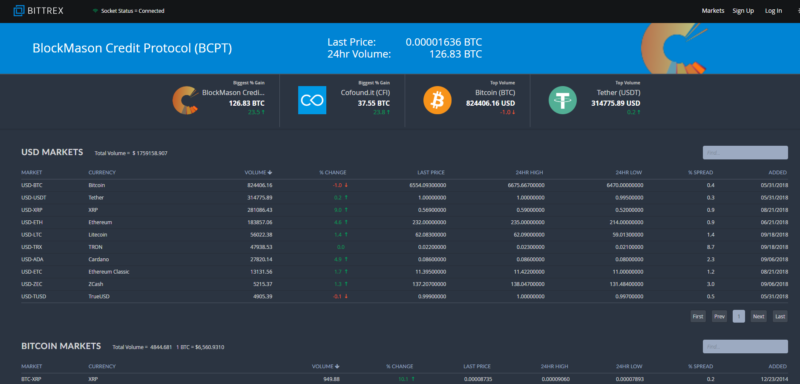 Bittrex also deals with a lot of different tokens in the market and is great if you intend to buy many different types of cryptocurrencies. That said, I haven't used it for months and I'm not sure how it is now.
They have changed the user interface as it used to look pretty old fashioned back then. Before using any exchange, it's wise to do some research on whether the exchange is doing fine, or is showing some warning signals. Do some reading on forums like Bitcointalk or even on the cryptocurrency channel in Reddit to know the latest news.
3. Bitfinex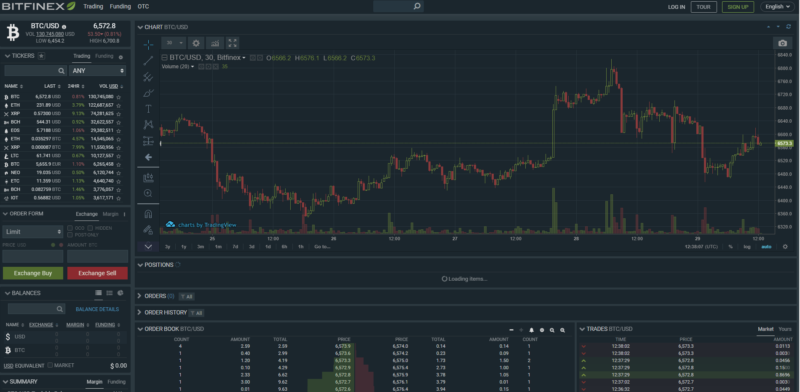 Another exchange you may want to check out is Bitfinex. I've used it in the past, but wasn't as happy with it as one of my withdrawals took a long time. That said, I got my withdrawal in the end.
It also features a huge range of coins and if you can't find your coins on other exchanges, you may want to try this exchange.
Step-by-step on how to trade cryptocurrency in Malaysia (Binance)
I'm using Binance as an example for this since I've been using them lately (and I'm also an affiliate for them). Each exchange is slightly different, so just follow the instructions given.
1. Sign up for an account
First thing to do is to sign up. Use a strong password that you have not used elsewhere to be safe.
Also, if they ask whether you want to sign up for 2FA authentication, do it. It's added protection for yourself.
For e.g., they will require an authentication code before you can login and also send you an email before you withdraw any coins.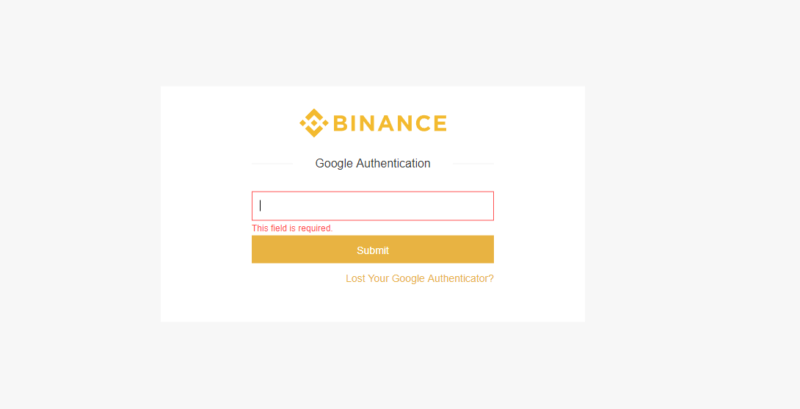 It's for your own safety.
2. Deposit cryptocurrency
Before you can get the token you want, you need something to trade it with right? Most of the time people will use Bitcoin (aka BTC) as it's easier to buy Bitcoin in Malaysia compared to other coins.
Furthermore, BTC is normally used as the medium of exchange. For e.g. you normally can't trade Litecoin directly with Steem or any other altcoin.
You have to convert it to BTC first and then trade it with the token you want. Hopefully they make it easier in the future.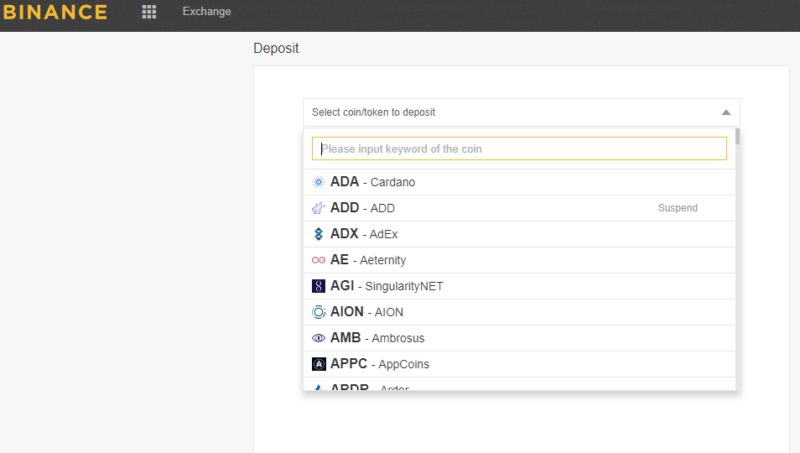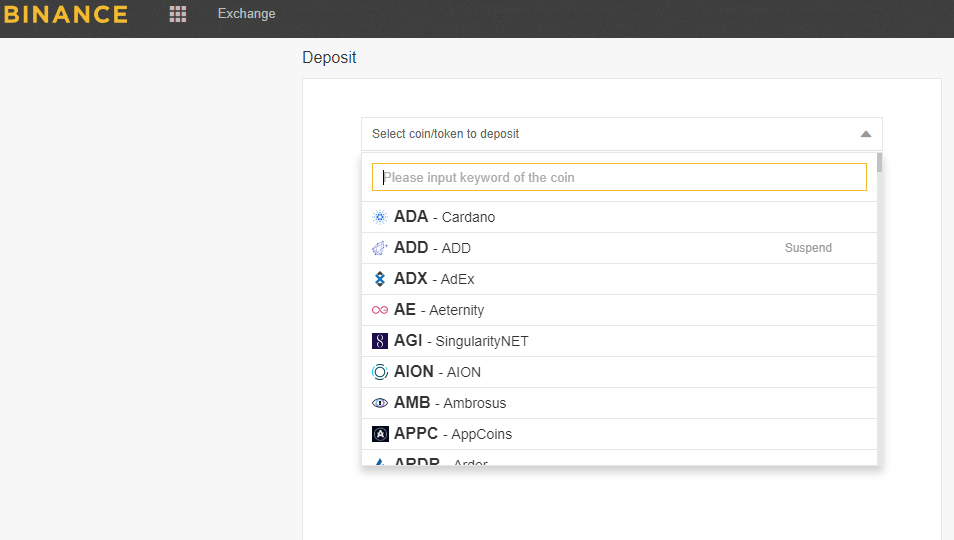 This is what you will see when you click on "Deposit". Choose the cryptocurrency you wish to deposit. If you have Bitcoin, look for BTC – Bitcoin.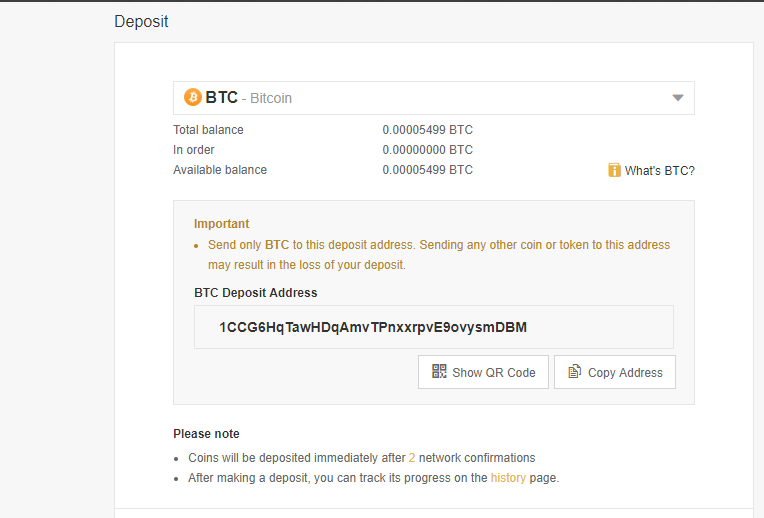 Once you've clicked on BTC, you will be given the deposit address. On your own wallet where you're storing your BTC, use this deposit address and send the requisite amount of BTC. Do not get the address wrong. Every single uppercase or lowercase has to be right as well. You can just click on "Copy Address" to be safe, but do triple check.
You will then have to wait some time (for network confirmations) before the BTC gets credited into your Binance wallet.
3. Open an order
Once the BTC is in your balance, go to the exchange section. There's basic and advanced. I normally click on basic as it's sufficient.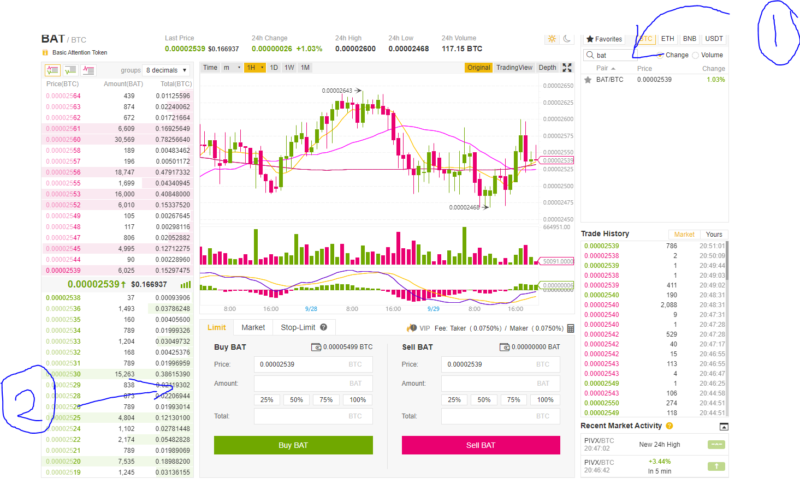 If you can see the arrows on the screenshot above, you need to choose the token / coin you wish to buy. I used Basic Attention Token (BAT) as an example.
Once you find BAT/BTC, or whatever pairing you choose, click on it. They will now show "Buy BAT" and "Sell BAT" or whatever coin you chose.
Just fill in the amount you wish to buy and click on buy. Once the order is filled (meaning someone else traded with you), you can go to your withdrawals.
If the order doesn't get filled, it probably means the price has gone up and you need to buy for a higher price. Otherwise, you can wait and see if the price drops again.
It's your decision to make.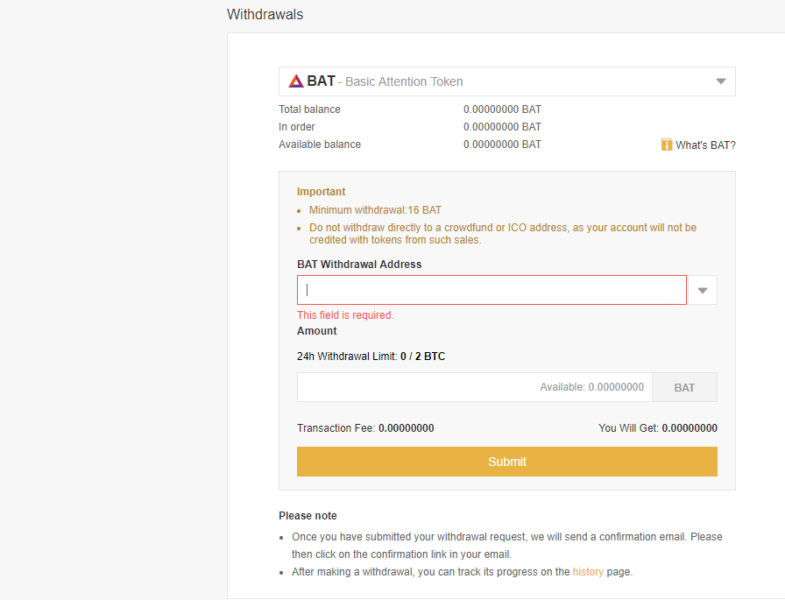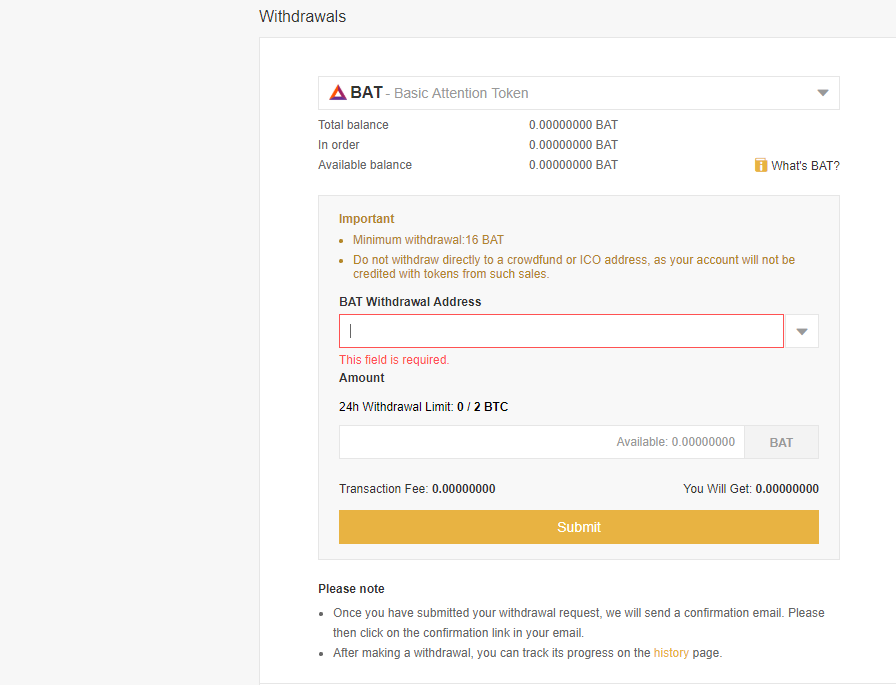 As for withdrawals, I used BAT as an example again. You need to have a BAT wallet or the wallet of whatever cryptocurrency you bought before you can withdraw.
Key in the address of your own wallet there and the amount of coins you wish to withdraw.
Triple check your address and click submit. They will then send an email to you to approve the withdrawal. Check the transaction details again in your email.
Once you approve the transaction, you have to wait for it to be sent to your own wallet. It normally takes like half an hour for me (when the network is not busy).
And that's about it!
In a nutshell
Buying and selling cryptocurrency in Malaysia may seem daunting at first, and it's definitely not user friendly yet.
It's still a rather new technology and it takes time for it to be simpler to use.
Regardless, this is how it works in the moment and hopefully this guide on how to buy cryptocurrencies other than Bitcoin has been useful for Malaysians.
---
Related articles:
30 Top Altcoins And Cryptocurrencies With High Potential
8 Popular Bitcoin Exchanges – Buy Bitcoin And Other Cryptocurrencies
7 Bitcoin Referral Programs You May Want To Join