If you're a new blogger thinking of creating a profitable blog, or if you have been blogging for some time now but are thinking to migrate to a self-hosted WordPress blog, then you might be wondering, which is the best WordPress hosting in 2018? You don't really need a powerful hosting in the beginning and a shared hosting is more than sufficient.
This article may contain affiliate links, where I earn a fixed sum if you sign up using my affiliate links.
I have narrowed it down to only three WordPress hosting companies, i.e. SiteGround vs Bluehost vs HostGator.
There are good and bad reviews for all hosting companies but these hosting companies are still recommended by many for a good reason: they work well for most beginners. I'm using Bluehost for this blog (Ordinary Reviews) and it's working well so far with minimum downtime. Yes, I've experienced downtime before, for a short moment and it's a terrible feeling. Read all the way to the end to find out which hosting company I recommend for 2018.
By the way, if you need a guide to set up a self-hosted WordPress blog, you can refer to this article on how to start a WordPress blog.
If you're not convinced that you should switch to a self-hosted WordPress blog, you can read this article on why I chose a self-hosted WordPress blog.
Bluehost
Let's start the comparison with Bluehost.
Bluehost is owned by Endurance International Group, which is the same parent company as HostGator. In other words, both Bluehost and HostGator are under the same holding company. It was founded in 2003 and has been a leading web hosting provider, especially for WordPress blogs.
To determine what's the best hosting company for your WordPress blog, we normally look into several important factors. For the purposes of this comparison, I will only list down the plans which are most suitable for WordPress blogs and their respective features.
What does Bluehost offer?
Bluehost offers different types of hosting plans, namely, shared hosting, VPS hosting, cloud hosting, WooCommerce hosting and dedicated hosting. For a new blog, you only need a shared hosting as your traffic will be low at first. It means that you share your hosting bandwidth with some of the other websites under the same hosting plan, and for that reason, it's cheap.
It comes with a 1-click WordPress installation, meaning that it's easy to install WordPress. They have their own cPanel platform, where you can manage your WordPress installations, your SSL Certificates, your domains and other background technicalities in only one platform.
They offer a money-back guarantee. It means that you can cancel within 30 days of your hosting service and get a full refund. If you cancel after the 30 days, you still get a pro-rated refund which is great. UPDATE 31 March 2017: No more prorated refunds.
True scalability. It means that you can start with a shared hosting when the traffic is low, and when you're getting loads of traffic, you can easily upgrade to a VPS or dedicated server with just one click.
It is recommended by WordPress themselves as they have worked together since 2005.
24/7 WordPress support. Bluehost themselves have experts on WordPress and if you have a problem, you can contact them via phone/email/live chat. Personally, I've contacted them before via live chat when I was migrating this blog to Bluehost and they helped me with it. It took me about five minutes to reach them.
Free domain. You have to pay for additional domains of course.
Advertising credit (including Google Adwords) of $150 free for certain countries.
Price starts at $3.95 per month for basic, but I recommend using the "plus" or "prime" plan for your blog, as they come with more benefits. For e.g. you can host an unlimited number of domains (provided you buy them), unmetered bandwidth, unlimited email storage and so on. Both plans are currently at $5.95 a month.
Personal Experience With Bluehost
I have been using Bluehost for almost a year now, and overall it's working fine so far. If it's not broken, don't fix it.
Pros:
Installing WordPress using Bluehost's cPanel took only a few minutes.
Their support team helped me whenever I had issues. It took maybe five minutes or more to reach them. They know how to solve WordPress problems as well as they have experts in their team.
Hosting speed is satisfactory.
Cons:
I have experienced downtime of about a minute or so.
cPanel was a bit confusing to me in the beginning as there are so many items in the menu. Once you have gotten the hang of it, you'll realize that you don't need to look at everything. As far as your blog is concerned, you only need to navigate to limited areas on cPanel. SiteGround and HostGator uses a cPanel platform as well.
They only accept upfront payment of about a year or so.
Pricing of Plans: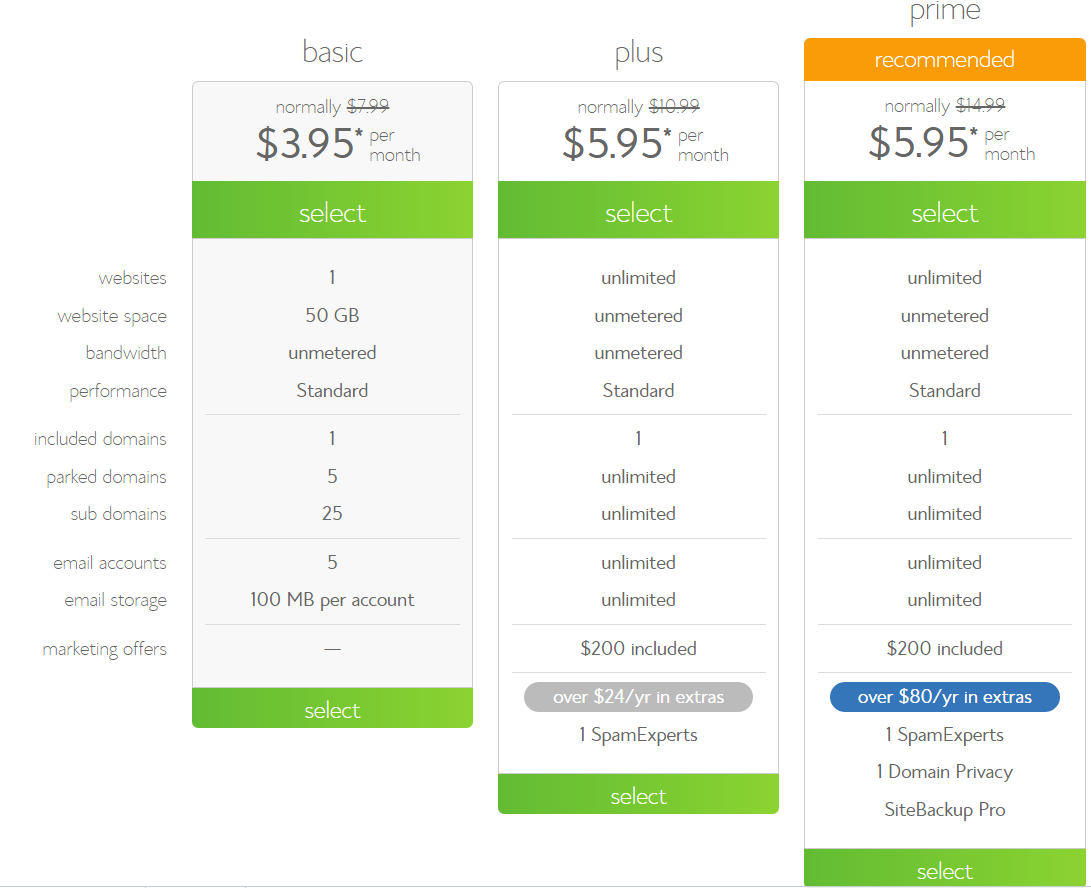 If you're interested in signing up for Bluehost, you can use my affiliate link below:
SiteGround
Next on the list of best hosting company for new blogs in 2018 is no other than SiteGround.
I'm sure many bloggers have recommended SiteGround to you lately. SiteGround was founded in 2004 and it provides different types of web hosting, i.e. shared hosting, cloud hosting, dedicated hosting, reseller hosting and enterprise hosting.
What does SiteGround offer?
They have 3 different plans, i.e. StartUp, GrowBig and GoGeek.
Fast setup. It takes only 3 clicks to set up a new site with SiteGround and they call you to guide you through the process.
24/7 support team which can be contacted via phone/chat/ticketing system. They also promise a no on-hold time on phone and on live chat, and also an average 10 minutes response on tickets.
Compatible with WordPress and Joomla.
Friendly interfaces. They also have a cPanel, like Bluehost and it's easy to manage.
If you choose GrowBig or GoGeek, you will get premium features as well, for e.g. premium support, unlimited websites, premium e-commerce, premium speed and so on.
Money-back guarantee. You can get a refund if you cancel within 30 days, similar to Bluehost.
Free domain name.

Edit:

No more free domain name from hereon.
Pros and cons of SiteGround
Pros:
It comes with many features.
Great reviews from bloggers. Most of the bloggers I've discussed with seem to recommend SiteGround strongly and most of them moved from Bluehost or other hosting companies.
Apparently it's a great thing that SiteGround is not part of the Endurance Group.
Cons:
Limited web space, for e.g. StartUp only has a 10GB web space.
Limited monthly visits, for e.g. StartUp is suitable for 10,000 monthly visits and GrowBig is suitable for 25,000 monthly visits.
More expensive than Bluehost for a similar plan.
Pricing of plans: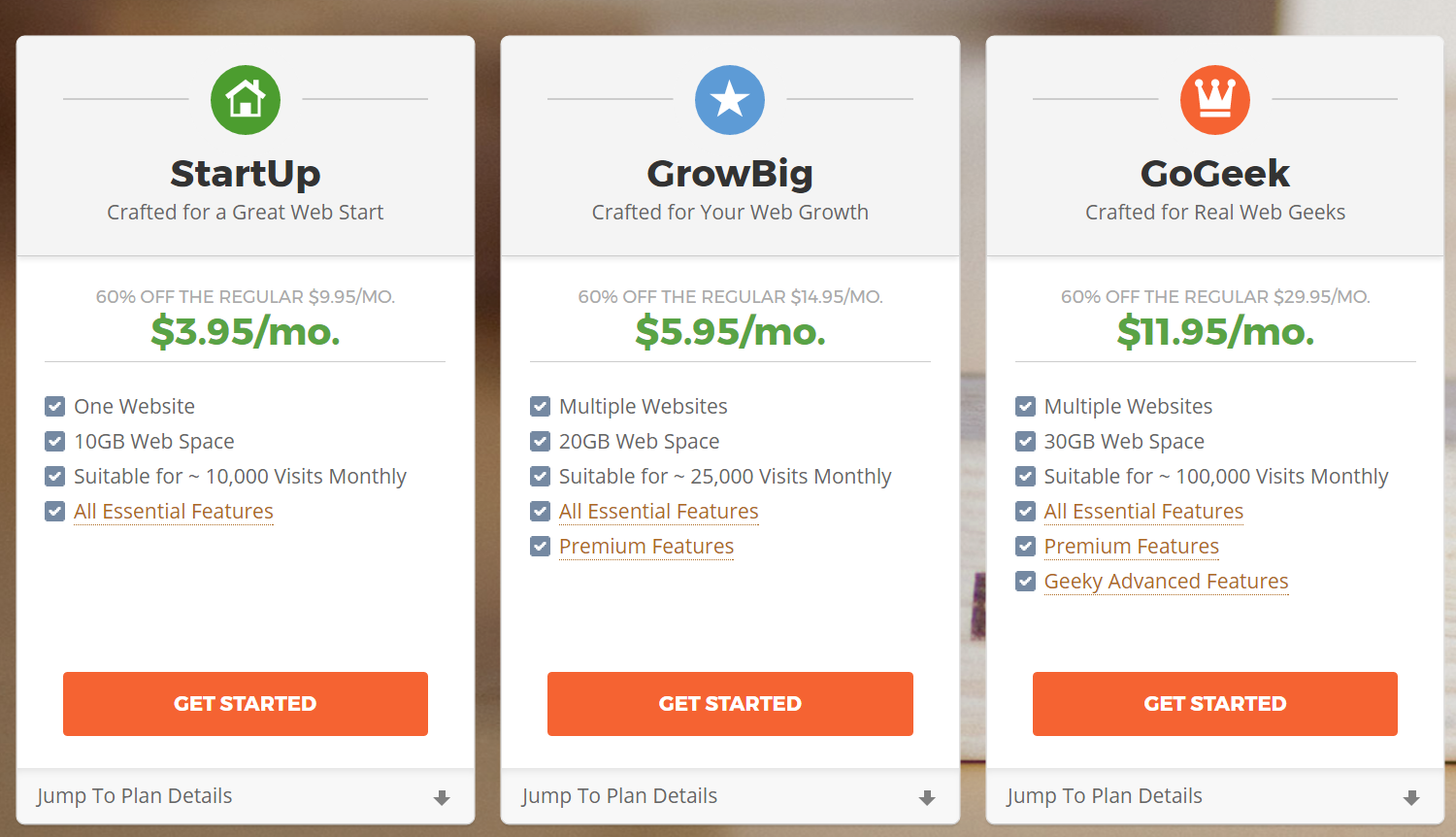 HostGator
Now that we've seen what Bluehost and SiteGround have to offer, how about HostGator? Is HostGator the best hosting company for your WordPress blog in 2018?
HostGator was founded in 2002 and as mentioned above, it belongs to the same parent company as Bluehost. HostGator also has various types of hosting, i.e. web hosting, cloud hosting, reseller hosting, VPS hosting and dedicated hosting.
One thing noticeable about HostGator is that they always have discounts, like all the time. If you're interested, my promo code is ORDINARYREVIEWS and you'll get a discount for using it.
What does HostGator offer?
They have different plans for WordPress blogs, i.e. Starter, Standard and Business plans. They use a WordPress cloud hosting for these plans, rather than a shared hosting.
They offer a free migration service where they will help you to transfer your existing WordPress site to HostGator.
Easy to use control panel, which comes with one-click scalability to handle traffic spikes (meaning you can easily upgrade), easy access to email accounts, auto-backups and so on.
They promise 2.5x speed, as they use super charged cloud architecture, low-density servers, CDN and multiple caching layers.
24/7/365 support team. You can contact them via telephone, LiveChat or email for any hosting-related issues.
Money-back guarantee for 45 days, where you can cancel within 45 days for a complete refund.
They promise a 99.9% uptime.
Unmetered email accounts.
Google Adwords credit $100 for certain countries.
Price starts at $5.95 a month, but after discount it's about $3.95, similar to Bluehost. The better WordPress plan starts at $7.95, which is similar to SiteGround, but after discount, it's about $5.95.
Pros and cons of HostGator
Pros:
Longer full refund period of 45 days compared to the other two companies.
Free migration service where they will actually migrate your site for you. Bluehost and SiteGround offers support as well but you will probably have to do the transfer yourself.
I'm pretty sure they allow monthly payments, rather than an upfront of 1 year.
Cons:
Pricing of plans: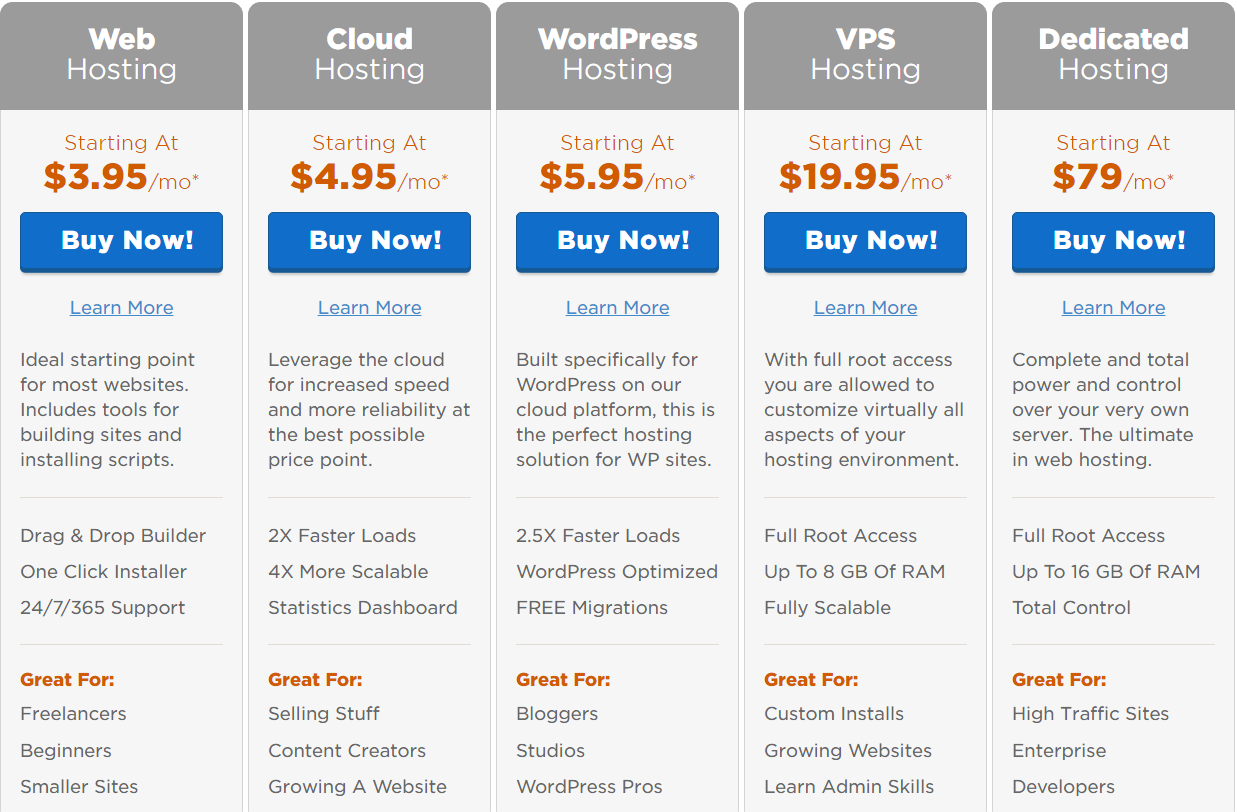 Bluehost vs SiteGround vs HostGator – Which is the best hosting company in 2018?
In choosing the best hosting company for your blog, we should look at the main factors that most people take into account when choosing a good host:
Bluehost seems to be the cheapest among the three companies, as a good WordPress plan only costs $5.95. It may be the same price as HostGator (after discount), but Bluehost offers unmetered web space, unlike HostGator. Unmetered does not mean unlimited; it means that you won't get billed extra no matter how much you use but it should suffice for new bloggers.
In terms of uptime, there are numerous complaints with Bluehost and HostGator, where many bloggers claimed that their blogs have gone down a couple of times. I've personally experienced a short downtime with Bluehost as well. On the other hand, I have not seen any such complaint with SiteGround recently, hence, SiteGround wins in this category.
One of the major complaints that people have against Bluehost and HostGator is that they can't seem to get through to the support team. Personally, the support team in Bluehost has helped me a lot when I had technical issues after migration. SiteGround doesn't seem to have that issue for now, at least not that I know of.
Winner of the best hosting company for a WordPress blog in 2018
Before deciding on which hosting company is the best for your WordPress blog, it is worth noting that all of the above companies have been in business for many years and they are all reputable for good reasons. No hosting company is perfect, which is why there are many complaints here and there.
Nevertheless, if those hosting companies are really terrible, they won't be having hundreds of thousands or millions of customers that are still using their hosting services. Some of you may be the unlucky ones who are receiving bad service, when others are receiving great service. If you're on the unlucky end, you can always move to a different hosting company and request for a full refund or a pro-rated refund. Note: Bluehost has just cancelled their pro-rated refund policy (31 March 2017).
Perhaps it's not very accurate to say which is the best WordPress hosting in 2018, but rather which is the right hosting company for you.
Personally, I've been using Bluehost and never changed so far. It's because I never experienced terrible issues before. However, the general consensus among blogging groups on Facebook is that SiteGround is the winner of the best WordPress hosting in 2018, simply because it has outstanding reviews.
If this article has helped you, please share it with others!
Conclusion
The best WordPress hosting in 2018 can be said to be SiteGround if I do a survey among bloggers. However, Bluehost has worked fine for me, so I won't be switching over soon.
As a general advice, always have a backup of your website on a separate server. This is because if a shared hosting is hacked, all of the websites under that particular shared hosting may be compromised. Hence, always have another backup of your website.
Thanks for reading!