Travel jackets can be pretty important if you're traveling to certain countries.
Before we begin. let us see a few factors that should influence your search for the best travel jackets.
Note: There may be affiliate links in the article.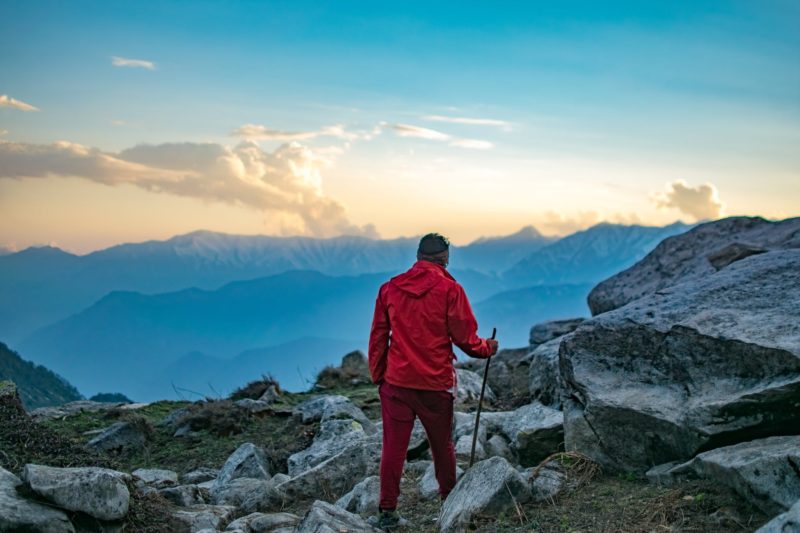 1. Packable jackets are better
Packable travel jackets are better. When you are not wearing it, you can practically pack it, reducing it into a small and compact size. That way, it will not add any bulk to your travel backpack.
The jacket should be compressible and should not look as if a cow has chewed it when you decompress it to wear it, no offense against cows.
2. Waterproof shell
Despite keeping a sharp eye on the weather, you never know when a shower will catch you outdoors.
The water-resistance level of a traveling jacket should be informed by the weather. For example, a jacket to wear in rainy Delhi should be 100 percent waterproof. However, note that such are not breathable, so it is always a compromise and they cost more.
For coastal towns, just buy a windproof jacket. It is light and breathable.
If light showers are in the forecast, go for a water resistant jacket. It is breathable but it will not keep you dry from long exposure to a drench.
3. Insulation
This is especially important for winter travel jackets. The choice boils down to down or synthetic fill for insulation. Down is more comfortable and costlier.
It is not good for cold and damp; it is best for cold and dry. Synthetic fill is best for cold and damp because it dries faster. It is also cheaper and just about effective as the down jacket.
4. An all in one jacket
It is perfectly possible to have a travel jacket that is light enough to wear on a plane, packable to fit in your travel pack and has enough insulation for the cold nights and mornings.
You may have to search longer and pay more for one, but it will be worth it.
5. Storage
This refers to pockets, the more the better, on both the interior and exterior, as long as they do not look ridiculous. Zipped for security is even better.
You can store your cellphone, iPad, money and other small items in the pockets when wearing it.
Top 6 Best Travel Jackets Reviews
Now that we've gotten through some of the main factors, here are some of the best jackets you can buy for travel.
1. Glennaker Lakefront Columbia Mens Jacket
If you are looking for a lightweight travel jacket for men for spring and summer travel, this is the best one of many in the market. The material used is 100 percent nylon.
This, as you will realize has its benefits. The exterior of the jacket has a nice and soft shell. This is why the jacket rolls easily into a small and compact size, nice for packing when traveling.
The hem and the cuffs are adjustable, so you do not have to wear a jacket that feels so loose on you. Did we mention the stowaway hood? This is such a perfect addition for the cold evenings when you do not want the wind whipping across your neck.
Pros
Material does not sustain wrinkles when you unroll it
Will protect you from light showers
Collar does not puff up even when you hide the hood inside
Quite breathable – good for warm weather wear
Cons
Not as waterproof as claimed

2. Down Insulated Wantdo Lightweight Hooded Jacket
Nothing can keep you as warm as a hooded puffy jacket with down fill. The Wantdo Lightweight jacket for women meets both criteria. Besides, it is just as good looking as a woman's travel jacket should be.
Once you see all the features of this coat, you will marvel at the amount of thought that went into the design. It even has a media hole, through which you can pass your earphones so that the cables stay intact inside the jacket.
If you like to pack as much stuff on your person as you can take, this is the jacket for you. It has many pockets. The obvious ones are the hand warmer pockets – pretty standard feature in all travel jackets.
Then there are the zippered chest pockets, good for carrying things that you hold dear to your heart J. Inside, you get a couple of deep pockets for your wallet, smartphone and keys. No pickpocket can reach that deep!
The exterior of the lining looks and feels glossy in texture. It is made of 20D 400T nylon material, pretty strong to last you a number of years. Inside is where things get more interesting. The down fill is made of 80 percent duck down and 20 percent feather.
Pros
Packs down small and neat into its carry pouch
Media port is such a thoughtful addition
Hood has a front zipper to keep you fully warm
Water-repellent coated-shell to keep you dry
Cons
It is not a waterproof jacket
Looks a little bulky when it puffs up

3. Mighty Lite Hybrid Columbia Jacket For Men
When you travel, you want to look good from inside out. The Columbia Mighty Lite Hybrid jacket for men is a good looker, and is available in different colors. But looking good alone does not make it one of the best travel jackets.
For traveling, we all want a jacket that packs really small. This one does not disappoint because after rolling, it will only occupy a small space in your backpack.
This is a good jacket for keeping you warm on cold evenings. It has been constructed with a special thermal insulation. The reflective omni-heat insulation bounces your body heat right back at you ensuring that none is lost.
Frankly, this might as well be one of the lightweight travel jackets with great heat retention capacity.
The Hybrid Lite has zippered inner and outer pockets, including the hand warmer pockets. You can carry your travel cards, cash, smartphone, keys and other small accessories right where you can reach them fast when you need to.
The jacket reflects your body heat back at you while staying breathable at the same time. You can wear this jacket for a long time without your back breaking out in a nasty sweat.
Pros
Warm enough for use even in mild winters
Traps body heat close to the skin keeping you warmer
True to size, just order your exact size
Rip-stop nylon for the shell
Cons
Zipper could be better if it had a shield

4. Fjallraven Greenland
To be frank outright, this is a pricey jacket, but hey, the incredible collection of features show that it is one of the best travel jackets for anyone. First, the shell is treated with water and wind repellents just for your protection.
Shell is made of a blend of cotton and polyester. Most of the materials used to make the jacket have been recycled wherever possible.
For your head protection, you want a nice hood and the Swedish-made Fjallraven has one. It packs snugly into the collar in such a way that the collar does not puff up.
For carrying your stuff, this jacket is quite a workhorse. First, it has four external pockets. They close by poppers, which some may argue are not very secure.
However, the poppers can be noisy and stubborn to pull apart. No pickpocket wants to deal with stubborn or noisy poppers.
The pockets are large enough for your passport, smartphone, wallet and other accessories that you want on your person all the time.
Pros
Hood packs away nicely out of sight
Popper strap is available for adjusting the cuffs
Incredible style and design
Cons
Cost is high but worth it
You have to buy wax to make it wind and water repellent

5. Bugaboo Interchange from Columbia
Another Columbia makes it to the list! Well, there is no doubt that Columbia is one of the best names for the best travel jackets, shoes and other outdoor items. If you buy their Bugaboo Interchange jacket, you will see why it attracts rage reviews on different online marketplaces.
It is not every time that you get a 3-in-1 travel jacket but this is it. This means that when it is cold, you can get all the three layers on instead of wearing a layer of different clothes.
When you are traveling in warm weather, you can remove the extra layers. The layers come in the following sequence inside-out: polyester lining, nylon lining and nylon shell.
Another thing that most globetrotters love about the Bugaboo Interchange is the pockets. First, you have a media pocket inside, and another large and secured pocket for your passport or wallet.
On the exterior, you get hand warmer pockets with zips and chest pockets as well.
While the hem is not adjustable, the cuffs are, you just have to pull the Velcro tape further a bit.
Pros
A traveling jacket for all seasons
Each layer comes with its own outer layer
More pockets than you need
Designed with omni-heat technology for bouncing your body heat back to you
Sealed seams and complete weather-proof outer layer for cold travel
Cons
You have to carry the extra layers when not using them
Innermost polyester fleece holds on to the shirt

6. SCOTTeVEST Convertible Traveling Jacket for Men
Every one of the best travel jackets has a special feature that sets it aside from the others. For the SCOTTeVEST traveling jacket for men, that must be the 25 pockets! You can carry just about anything that you will need for a busy travel day on your person.
Don't forget that this is a convertible (yes, like a car) jacket. When you are traveling in hot places like Africa, just detach the sleeves. You will be left with a light and breathable vest that you can wear on your t-shirt.
This jacket has some built-in tech. Imagine having a jacket that has RFID blocking pocket. This blocks 13.56 MHz frequencies. It keeps your credit card and passport information from skimmers.
Other advanced features to look forward to include weight balancing. It ensures you do not carry more than you should in one pocket leaving. It also has conduits via which you can pass your cables for your media.
The main material is cotton-blend, which has been treated with Teflon to make it water resistant.
Pros
Easy to stay organized with all those pockets
Can take larger items such as iPad and water bottle
Teflon treatment can resist stains
Clear-touch phone pockets
Cons
Some users complain about failing zippers

In a nutshell, each travel jacket has its own use and whether it's the most suitable or not depends on where you're going to use it.
This article was written by a freelancer.
---
Related articles:
Best Treadmills For Home Under $500
Top 7 Best Travel Strollers To Use During Your Holidays
Top 13 Attractions To Visit In Danang, Hoi An & Hue (5 Nights)
8 Best Japanese Whiskeys That Are Very Popular [Updated 2019]
12 Best Japanese Instant Noodles To Buy [Updated 2019]
8 Best Places To Travel Alone In Europe
81 Best Travel Quotes – Inspirational Travel Quotes To Live By