Venom Network is a new layer 0 blockchain that just launched its testnet to the public.
This project is by Venom Foundation, a fund based in Abu Dhabi. They have apparently allocated $1 billion for web3 and blockchain investments.
Here's how you may be able to get the Venom Network airdrop (guide).
Disclaimer: The information provided on this website does not constitute investment advice, financial advice, trading advice, or any other sort of advice and you should not treat any of the website's content as such. Do your own research and never invest more than you can afford to lose.
How to potentially get the Venom Network ($VENOM) airdrop
At the moment, Venom is only in the testnet phase and they have made no promises of an airdrop. It's still very early so things may develop quickly from the time of writing.
Do note that most airdrops come from usage of mainnets rather than testnets, although Aptos was an exception to this.
Install Venom wallet
First of all, you need to install a Venom wallet. You can go on over to Venom Network's website and you'll see the steps as well. You can either download the mobile version or the Chrome extension.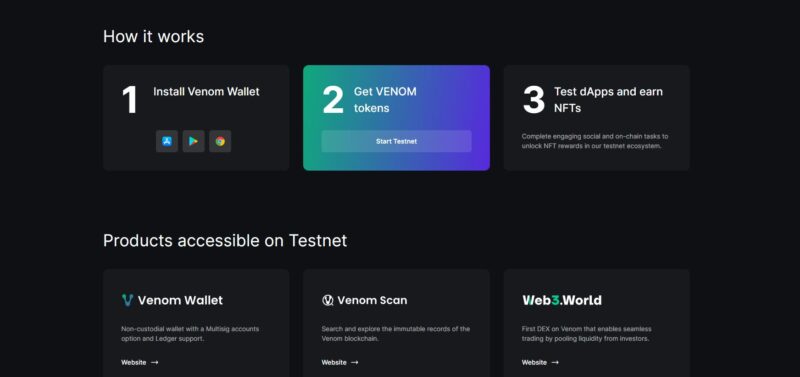 Get your testnet tokens
Then, click on the "Start Testnet" button to see your tasks. In the page, you'll see a list of tasks you can do. After completing each task, you'll see a button to mint a NFT related to it.
Before you can do that, you need Venom tokens. There's a button for you to claim Venom tokens after you link your wallet, link your Twitter and follow their Twitter page.
If you need more testnet tokens, look to the top of the page and you'll see a "Get testnet Venom" button where you have to do tasks to claim tokens.
Start doing tasks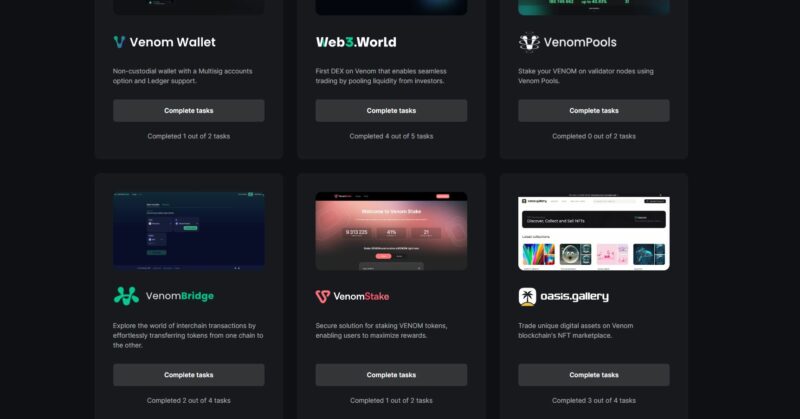 As you can see in the Venom Network task page, there are a number of tasks for you to do.
Venom Foundation – follow the official Twitter and tweet about Venom testnet.
Venom Wallet – send Venom tokens to a certain address specified in the page.
Venom Pools – stake Venom to validator nodes.
Venom Bridge – follow the Twitter page, transfer tokens from EVM to Venom and vice versa.
Web.3.World – follow the Twitter page, swap tokens, add liquidity and farm the LP tokens.
Venom Stake – stake Venom.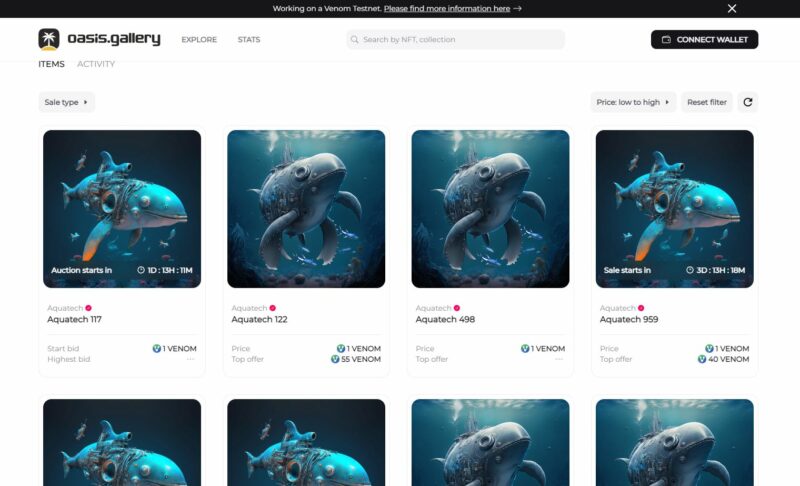 Oasis Gallery – buy and list 1 NFT.
Venom Pad – follow and tweet about Venom Pad.
At the time of writing, these are the only ones available and the rest are coming soon.
Due to the number of users trying to complete tasks and mint NFTs, the website has a big delay of maybe a few hours before the transaction is reflected.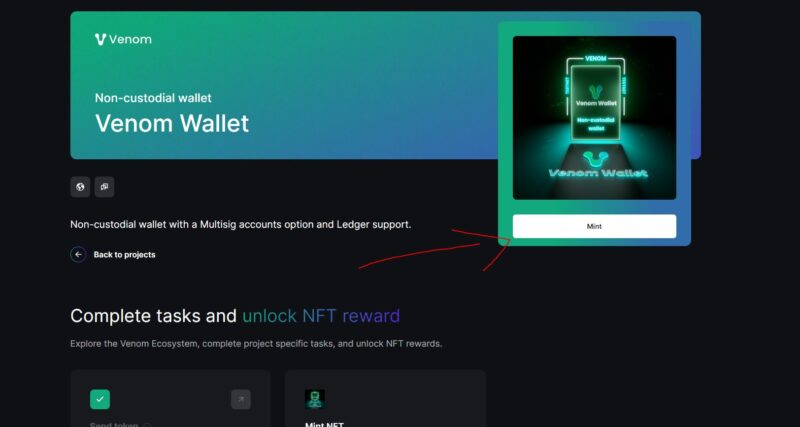 This means you probably can't mint your NFT immediately. Wait some time and then mint them. To be sure you have minted them, check your Venom Wallet and click on the Venom NFT inside.
You'll notice that each of the NFTs are listed under the Venom Network NFT itself.

In a nutshell
At the time of writing, the testnet is all you can work with for a potential airdrop.
---
Related articles:
How To Potentially Get The Mantle Airdrop (Guide)