Recently there's been talk of a gold bar glitch pertaining to Red Dead Redemption 2. It may have surfaced first on Reddit and is now featured on many blogs.
I personally tried it and it really works well. Who knows when Rockstar will patch this glitch?
If you wish to make money fast by exploiting that gold bar glitch in RDR 2, read on! And you have to be quick before any potential patch comes in.
1. Find Limpany (deserted town)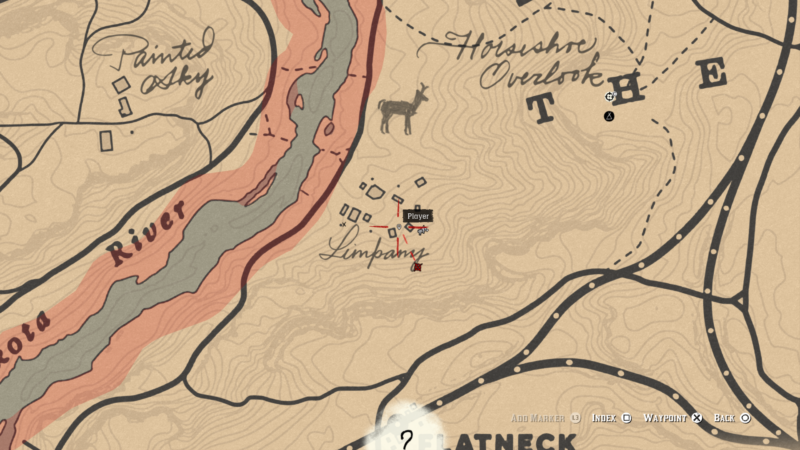 The first thing you have to do is to find Limpany, a small deserted place. It's northwest of Flatneck Station, and southwest of Horseshoe Overlook.
The exact location is shown above. You will notice the burnt down buildings when you get there.
2. Look for the Sheriff's building
Once you're there, look for the building with the Sheriff sign. Enter and find a table.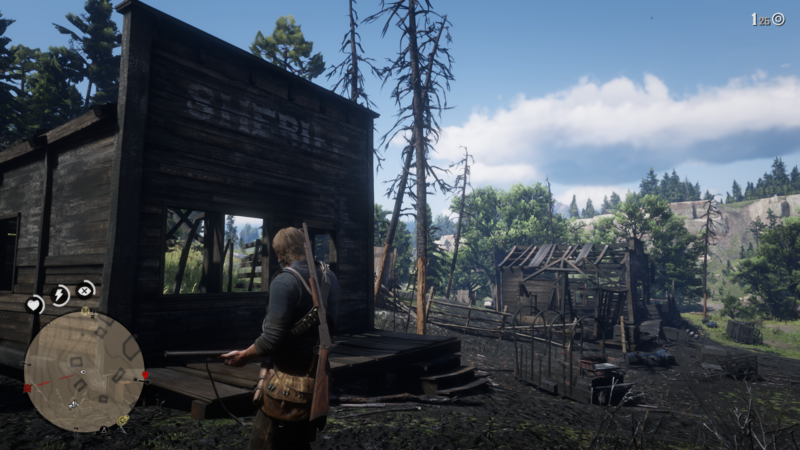 3. Find the treasure chest under the table
You should be able to see a small chest under the table. It's the only thing that can be opened in the building anyways.
Open the chest but don't loot the items yet. Just open and let ti be.
4. Save the game manually
Stand further from the chest, but close enough that you are able to pick it up. Now, leave it at this position and save the game manually.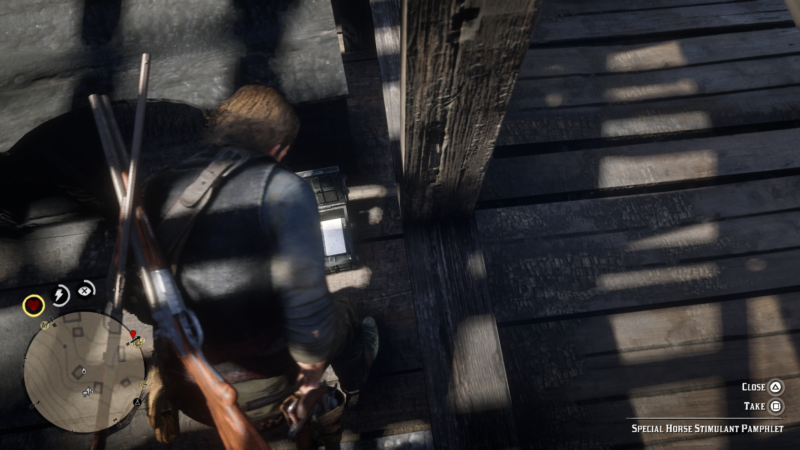 5. Load the game
Right after saving, load the game you just saved. You will probably spawn somewhere further.
Come back to the exact spot and you will notice that the casing or chest is still open.
6. Take up to 30 gold bars
The gold bars have now become unlimited. Keep looting until you can't carry anymore, and the maximum is 30 gold bars.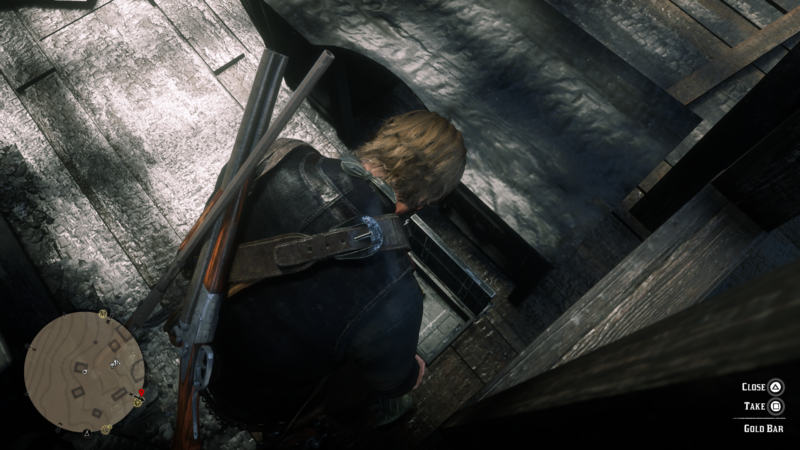 You can sell those gold bars and later come back to take even more (I think).
7. Sell the gold bars at a fence
Gold bars and other luxury items can't be sold to normal stores. You need to find fences who will buy these expensive items.
As you progress in the game, there are more fences, but for now, Emerald Ranch has one. It's probably the closest as well.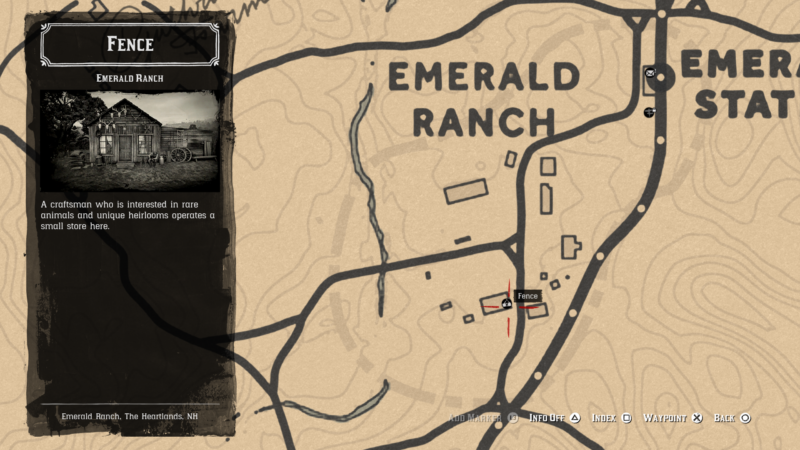 Look for this guy. His exact location is shown in the map above.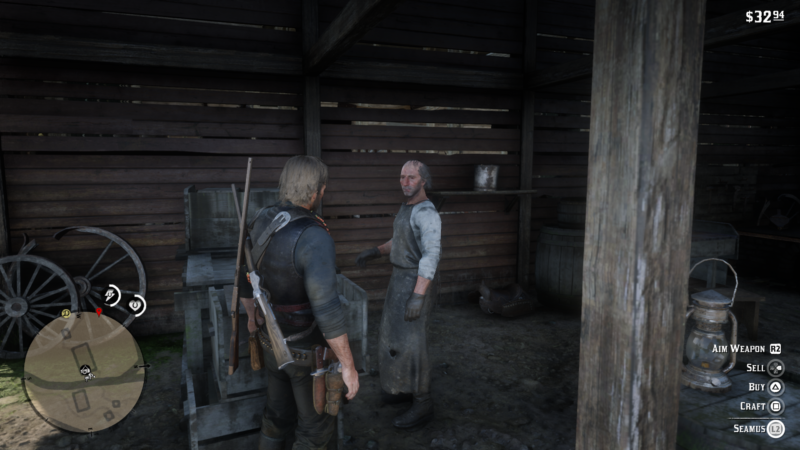 As you can see, each gold bar is $500 and selling 30 will give you $15,000 which is a lot for Red Dead Redemption 2.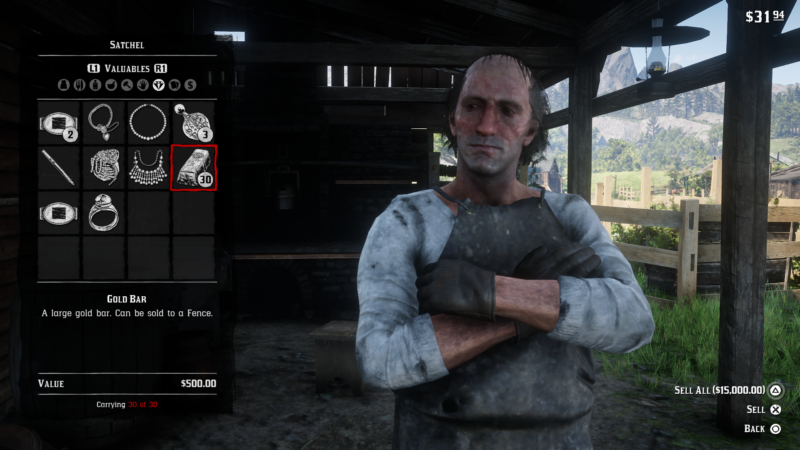 At the time of writing, the glitch is still working, so you may want to hurry if you don't mind "spoiling" the game.
Hopefully this guide has been helpful. Thanks to everyone who mentioned it earlier.
---
Related articles:
Red Dead Redemption 2: Pouring Forth Oil (All Chapters)
Red Dead Redemption 2: A Fisher Of Men
RDR 2: The Sheep And The Goats
Red Dead Redemption 2: The First Shall Be Last
Red Dead Redemption 2: How To Pay Your Bounty
We Loved Once And True (Red Dead Redemption 2)
RDR 2: Blessed Are The Meek (Walkthrough)
Red Dead Redemption 2: The Spines Of America (Guide)