Mix is a relatively new app on the market aimed at effective content discovery that may help bloggers increase their traffic. From the founders of StumbleUpon, Mix.com is a more elegant way to discover content liked from friends and experts.
This does not mean StumbleUpon is closing. It's still running and Mix is just the icing to the StumbleUpon cake.
How to use Mix.com
Mix.com has a very simple interface and not many buttons to play with. This means it's actually quite easy to use and was probably designed for that same purpose.
You have to first sign up to actually see what's displayed on the site. Sign up is easy as you can just connect with Facebook.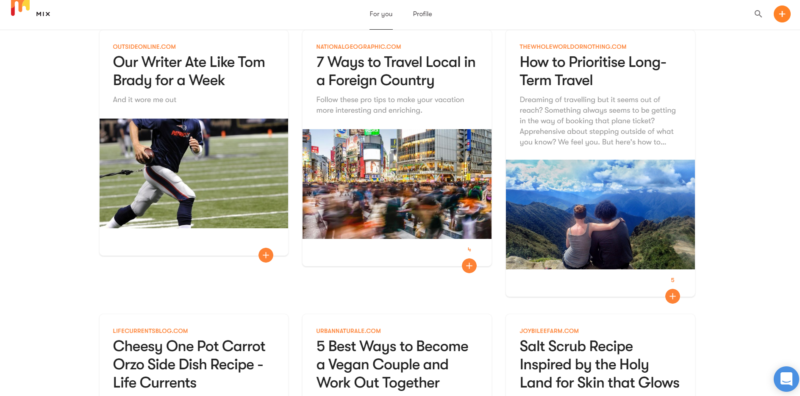 This is what you will see when you first login. These are some of the articles that are featured for your viewing.
As you can see, they are all websites. Mix is not a social media platform, but a content discovery platform for websites (including blogs).
From the look of it, it does remind me of Flipboard or Digg or even Pinterest, but it's different.
If Mix.com becomes popular, then the potential of traffic is great. At the moment, it's not so well known and I never heard of it until I saw a blogger commented on it.
It was a random comment on some unrelated Facebook group. Hopefully this article would help to spread further awareness of this platform.
Your Mix profile page
Once you've registered, you can edit your details at the Settings page.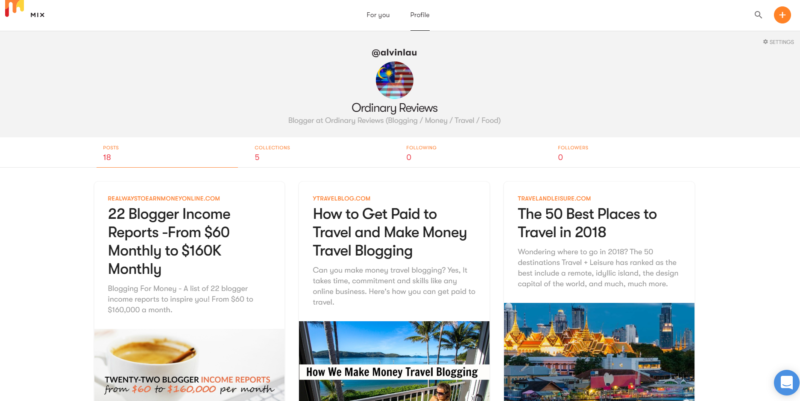 You can change your name and add descriptions on your profile.
What you'll notice would be "Collections". Each collection is like a category (e.g. travel) where you save all of the related articles in it.
Think of it as a Pinterest board. You have to curate interesting and related articles for your collections.
You can also follow others or get followers to your profile. FOLLOW ME!
Mix Chrome extension
To make it easier to use, Mix has developed their own Chrome extension to save links into your collection.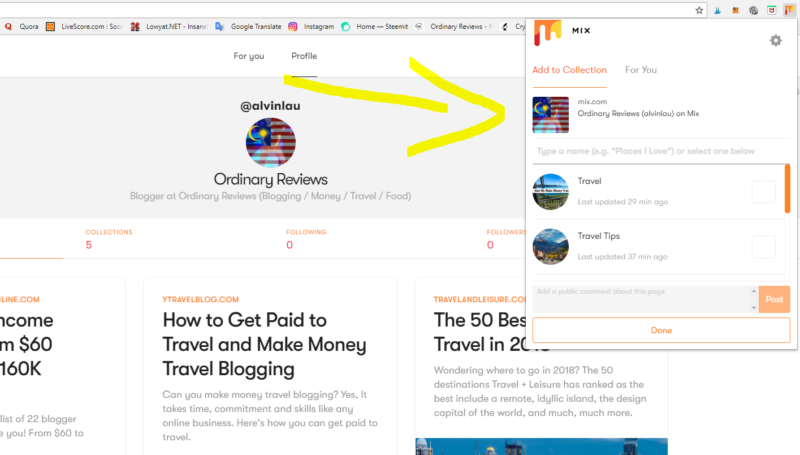 The extension is very light and saves links very smoothly.
Mix also provides incentives!
Mix has a curator incentive program for bloggers and content creators! They will reward you with StumbleUpon ads credits for you to boost your posts with ads.
Some of the things you could do includes curating your own collection with posts from different URLs.
You can also make more StumbleUpon ads credits by referring others to join the platform, like what I'm doing now.
Join the Curator Incentive Program here. I would really appreciate it if you could use my referral code "ALVIN18".
In a nutshell
Mix.com isn't too well known yet but if it takes off you may get a lot of traffic to your blog.
Participating in the curator incentive program alone should win you some traffic on StumbleUpon.
---
Related articles:
Is Blogging Dead In 2020? What Are Your Thoughts?
5 Things Some Full-Time Bloggers Don't Tell You