Reddit is undoubtedly one of the best traffic referrers if done properly. To be accepted as an active Redditor, you need to increase your Reddit karma.
By the way, a Redditor is a Reddit user.
What is karma?
Karma basically refers to the number of upvotes or downvotes you have received in total.
If you get karma for posting a link or a text, it's called post karma. If you get karma for commenting, it's called comment karma.
Why is it important to have a lot of karma?
Some subreddits require a certain number of karma before you can post anything. Such requirements are normally imposed to filter out active Redditors from spammers.
It gives you a social standing in Reddit. If you have a lot of karma, you won't always get downvoted even if what you've commented or posted was not up to the standard.
It's easier to promote your own products or blog post if you have amassed plenty of karma. A word of warning though. It is a site-wide rule that self-promotion is frowned upon. You can be suspended or banned for promoting your own stuff too much.
As you can see, karma is really important in Reddit. You can't use it anywhere outside of Reddit though.
So how do you increase your Reddit karma?
It's not that difficult to gain karma on Reddit. The key is to be active on Reddit and know what other Redditors want to see.
I've listed several simple ways you can increase your karma in Reddit.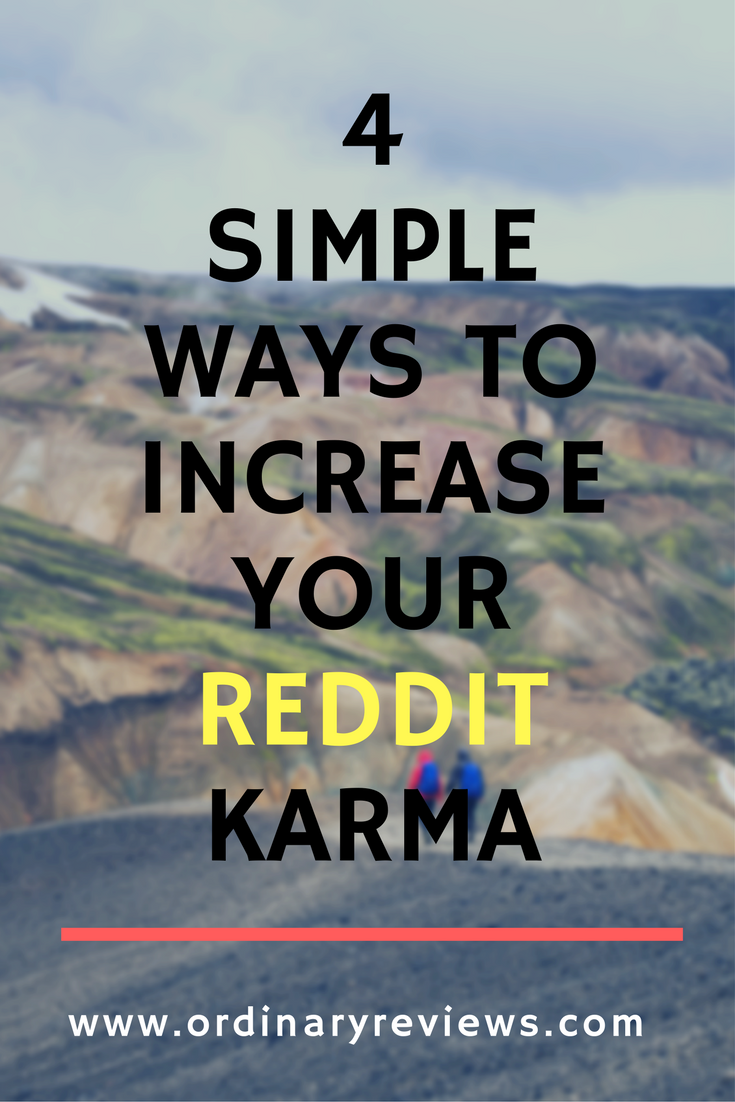 1. Participate in huge subreddits
This is probably one of the easiest way to increase your karma exponentially.
For instance, if you're in a subreddit as big as r/jokes, r/askreddit or r/funny, making a brilliant comment or a great post will get you lots of karma.
You only need one breakthrough to get enough karma to participate anywhere else.
I recently made a comment on r/jokes and I received 1,000 karma overnight.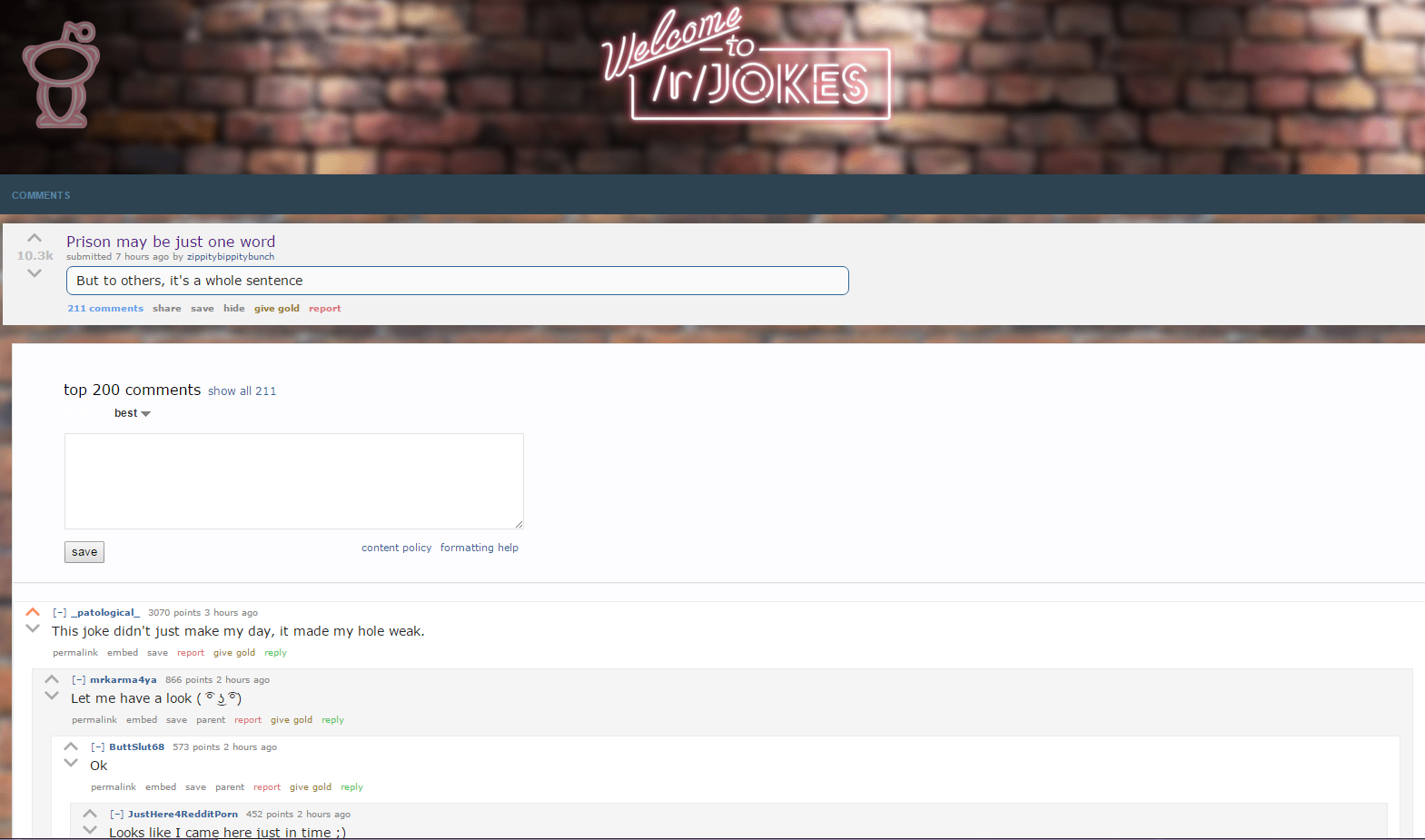 Do note that each subreddit is divided into several pages, i.e. hot, new, rising and so on. I would normally patronize the "rising" page, as it's the easiest to stand out.
When a post reaches a hot page, it normally has tons of comments already and it's difficult to get noticed.
The more upvotes your comment has, the higher it climbs. When a post is on rising, it means it's starting to get noticed and you have room to leave a noticeable comment.
2. Give great answers to questions posed by other Redditors
In each subreddit, there are usually questions posed by other Reddit users.
If you're great at blogging, you can join r/blogging. Likewise, if you love gaming, you can join r/gaming.
In any case, solve problems that other users have. Try to not always link the answer to your blog just to provide an answer.
Some Redditors see that as spamming. Don't do it too often. Furthermore, if you get about 3 upvotes to your link, it becomes a do-follow link from Reddit.
Reddit has a DA above 90, which passes a valuable backlink to your blog. Some Redditors don't want it to happen, so they'll probably downvote your link on purpose.
However, if your answers are really useful, you'll certainly get more Reddit karma and potentially a valuable link back to your blog.
An example of a question:
3. Post more often on subreddits
Try to post once a day in subreddits you are active in, especially those that you wish to occasionally promote in.
More often than not, you will realize that nobody may like your post. It's okay, just post again next time.
After awhile, you'll understand what the community wants to see and what they absolutely dislike.
It's just like blogging. If you want to succeed, you write content that your readers want to read, not just for yourself.
Posting once a day is plenty. Don't post twice a day. Most Redditors may view that as spam. Some subreddits only allow posting once a week.
Always read the rules of each subreddit! They have lots of restrictions and are often enforced rather stringently. It's super easy to get banned.
If it's not taken well by the community, you can delete your post.
If it does well, then great, you have more post karma.
4. Create your own subreddit to increase your Reddit karma
Yes, you can be a moderator of your own subreddit.
After all, subreddits are run by people like you and me. Big subreddits have more moderators.
Anyone can create a subreddit. Just like anything else, the problem is getting subscribers to it.
If you have a novel concept for a subreddit that people would definitely like, you can try starting one now!
If you wish to promote your subreddit, you can try r/promote, r/shamelessplug, r/selfpromotion and r/promotereddit.
These are subreddits dedicated to self-promotion. They don't have many subscribers, probably because self-promotion is often prohibited.
Nevertheless, it's a good start. Another way to promote your subreddit is to leave them in your comments where it is relevant.
Don't go to r/jokes and promote a subreddit on political news. Know where your potential subscribers are.
I've seen someone promote a hilarious subreddit r/pyongyang (sarcasm on North Korea) on r/jokes. It fitted the post really well which made it succeed.
Once you have your own subreddit, you can set your own rules and if you have enough subscribers, you can slowly build your karma.
Conclusion
I hope this post on gaining Reddit karma has been useful for you guys.
Although karma is important to do well on Reddit, you can't use it anywhere else.
That's pretty much the extent of its value.
Have you guys started a blog yet? Do check out my guide on starting a money-making blog with Bluehost (affiliate link).
Do remember to subscribe for exclusive blogging tips as well!
---
Related articles:
Fake Blog Income Reports – Why Do Bloggers Lie?
Best Idle Games For Android Or iOS