These days anyone can publish an ebook and call himself a self-published author. You no longer need to go through publishing houses thanks to the internet and how much ebooks have grown in popularity.
If you don't have a budget to publish a book, why not write an ebook instead. I recently published my first ebook not long ago and I did it without spending a dime, excluding electricity, time and effort. All you need is lots and lots of effort.
If you're willing to put in the time and effort and sacrifice leisure time, read on. Here are the steps needed to publish an ebook. Some of them are not mandatory as they're just my preferences.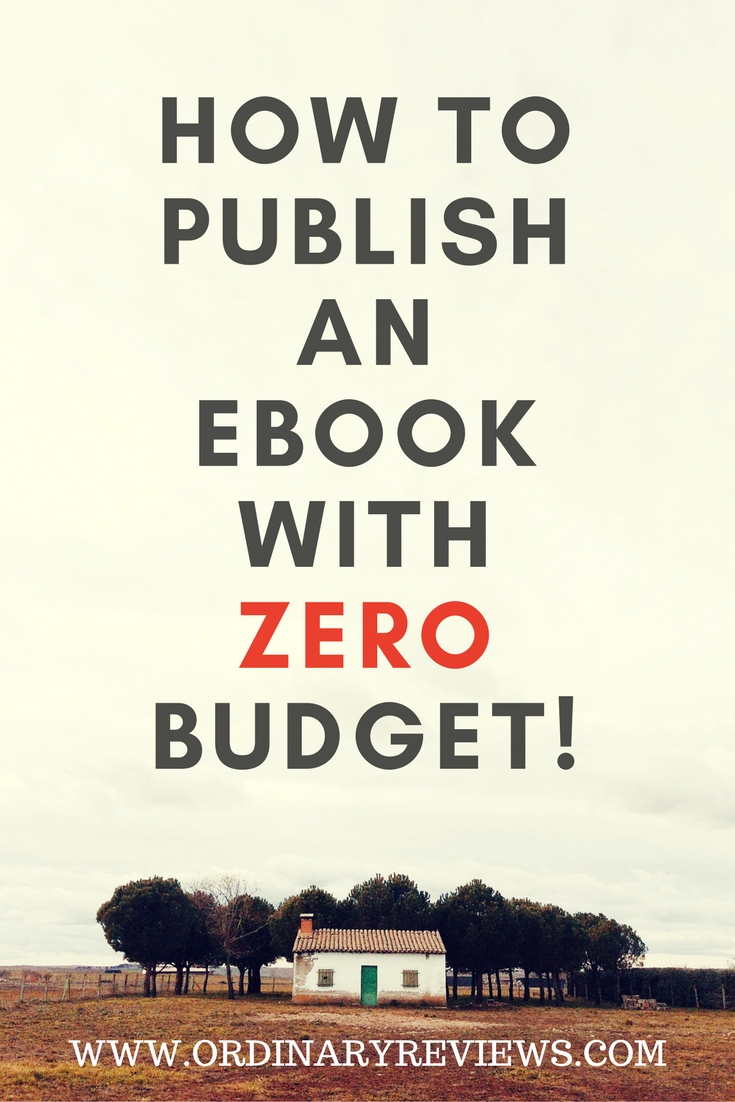 1.
Use Microsoft Word or Google Docs
Personally, I used Google docs to write the content of my ebook. I was initially thinking of going with Microsoft Word but I read an article online which said that Google docs is much easier to use for ebook purposes.

As you can see from the image above, I used Google docs to write my latest ebook that I've linked above. It's on 5 ways to increase blog traffic without Google.
What I love about Google docs is that it saves automatically upon writing and you can access it wherever you are. Unlike Word, you don't have to upload the document online or to transfer it to a pendrive if you wish to write elsewhere.
Google docs has all of the tools required to make an ebook as well, from an easy-to-use table of content to all other kinds of formatting. I would definitely recommend using a program like Google docs. Any writing medium that is suitable and can be converted to an ebook format is sufficient as well.
2.
Proofreading and formatting
It's recommended to write without editing it the first time. That way, it doesn't hinder your thought processes and you'll be able to write more fluidly.
Once you've done the writing part, always proofread and check the formatting. It's normal to make mistakes while typing it the first time. Either get someone to proofread it for you or you do it yourself.
Since this article is on zero budget, take the effort to do your own proofreading, perhaps a few times at least. You wouldn't want to make a typo in your actual ebook.
Use proper headers for your title and subs as it will be updated accordingly in the table of contents.
3.
Convert to an ebook format
The next step to becoming a self-published author is to convert your Google docs file into an ebook format, or a Word file.
The great thing about Google docs is that you can actually convert it to a .epub file or a .mobi file, which are popular formats for ebooks.
Having said that, I've tried converting my ebook to .epub but the formatting all went haywire. Maybe it was because I didn't insert page breaks initially.
However, I decided to convert it to a Word file first, and correct all of the formatting especially the page breaks. It went well after that.
I uploaded my ebook in a Word file onto Amazon's KDP (Kindle Direct Publishing) and it turned out fine. Amazon these days accepts all kinds of different book formats, which is great and convenient for all of us.
That said, if you're not interested in selling your ebook or you just want to use it as a lead magnet for subscribers, you don't have to convert it into an ebook format. I've handed out mini ebooks to my subscribers before and it was in PDF. You can just convert it straight from Word to PDF by using "Save As" and you're done!
Hence, it depends on your intention as well.
4.
Design an ebook cover for free
Before you start selling, promoting or giving away your ebooks, you should design an ebook cover.
Luckily for us, ebook covers can be designed for free these days. Just hop over to Canva and start designing!
Go to "Create a design" and choose "Kindle cover".

You'll get to a page where you'll have a plethora of choices, both free and paid ones.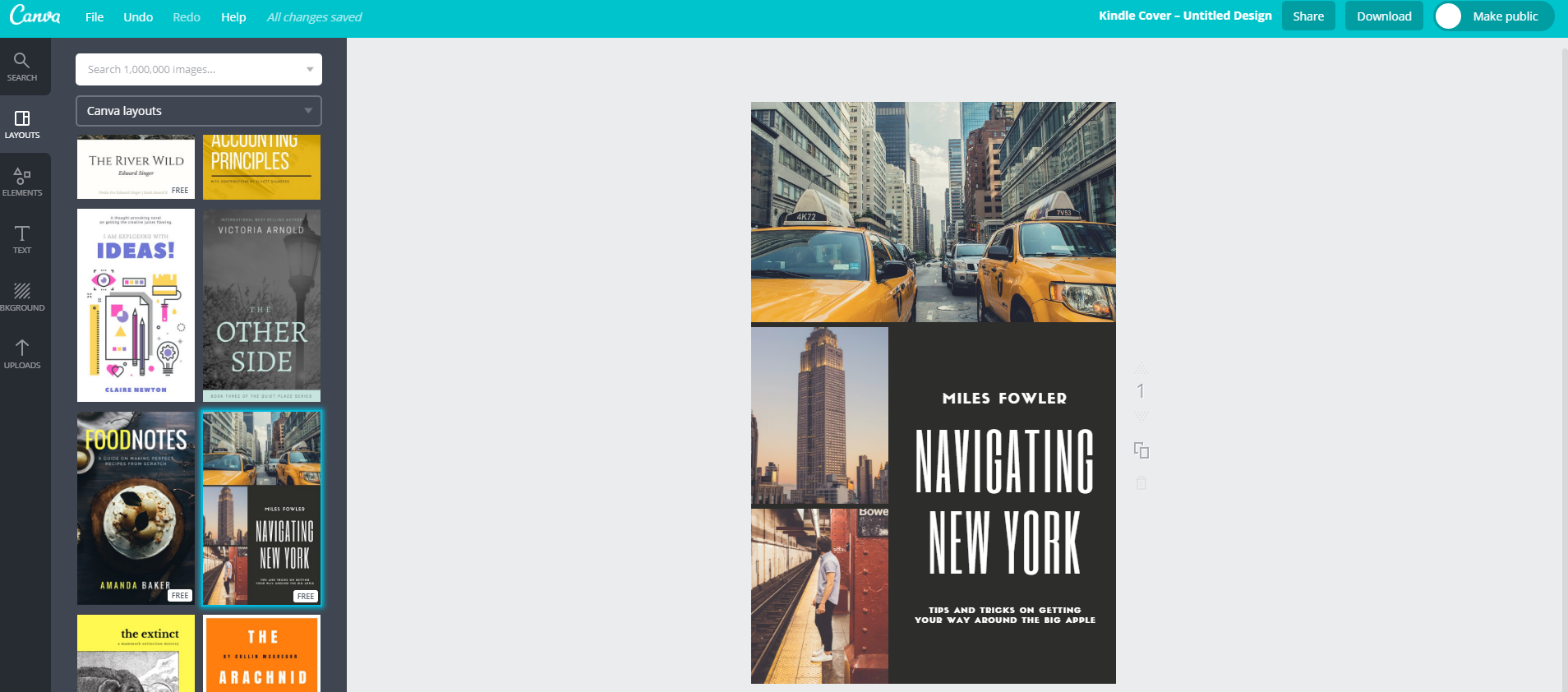 As you can see at the left side of the image, you have lots and lots of choices to choose from. Those that are free will have the label "FREE" on it. Choose one that you like and start designing.
You can also upload your own image and use it for your ebook cover. I used my own photo for my ebook here.
Once you're done, just download it in JPG format. PNG can't be used if you're planning to sell your ebook on Amazon.
5.
Where should you publish your ebook?
Now that you've done with your ebook cover and the content, where should you publish an ebook?
You have different options here.
Publish an ebook with Amazon Kindle Direct Publishing
The common way is to go through Amazon KDP and publish it through their system. Additionally, you can also opt for their KDP Select which means you give full publishing rights to them and you can't publish it elsewhere. The benefit of opting for their KDP Select is perhaps better royalty rates for certain countries.
Their royalty rates are about 70% for certain countries including US, UK and Australia and 35% for those not included in the list. When you opt for KDP Select, countries like India will have royalty rates increased from 35% to 70%. To clarify, royalty depends on where the book is bought (the customer), and not where you're from.
You can check out their list here.
Publish an ebook on your blog
If you choose not to opt for KDP Select or if you're not interested in publishing it on Amazon altogether, you can sell it on your blog.
It's definitely harder to sell it from your blog unless you have lots of traffic and a responsive subscriber list. The reason why i opted for Amazon is because it's probably easier to make a sale through Amazon. However, if you sell it from your blog, you get to keep the entire profit, and not just base it on royalties.
You can also use Facebook ads, Pinterest or other social media ads to drive traffic to your ebook located on your blog.
Of course, you can also sell it on other sites like Ebay.
You're done!
Congrats, you've officially become a self-published author. Just follow the steps mentioned and it's not as hard as it looks.
Think of each chapter on your ebook as a blog post in itself. That way, you won't get overwhelmed. Set a time for writing your content each week and one day you'll get there.
If you want success, you'll have to earn it.
I hope this article was useful for you. Do subscribe for more updates.
If you're interested in setting up a blog instead, I have a guide here.