Episode 9 of Flower of Evil deals a lot with finding the accomplice to Do Min-seok.
The previous episode ended with Ji-won appearing at Reporter Kim's house as she has some clues on the accomplice.
Here's a recap of Flower of Evil episode 9.
Note: significant spoilers ahead. Also, to not make things confusing, we will use Hyun-soo's real name as the real Hee-sung woke up.
Flower of Evil – Episode 9 Recap
The episode started with a flashback to the time when Ji-won was pregnant with Eun-ha.
Hyun-soo surprised his wife by decorating the entire living area which was also to celebrate the occasion of moving into their new home.
Ji-won asks her husband to feel Eun-ha kicking in the womb, and he felt surprised and intrigued by it. Hyun-soo also made some bossam for the celebration.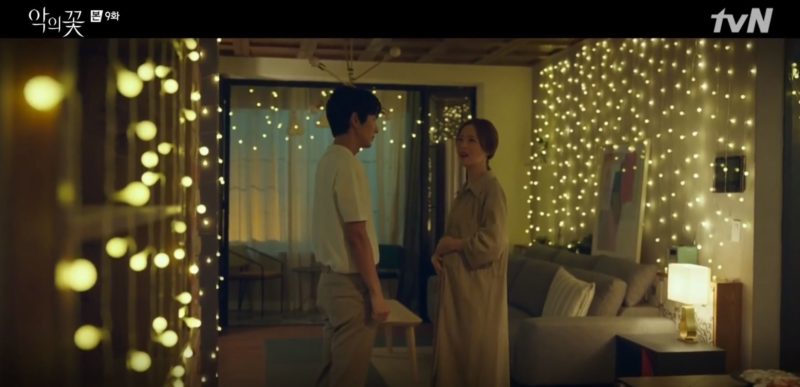 In the present, Hyun-soo comes out of Reporter Kim's unit asking why Ji-won came over. He lies again saying he's helping Kim Moo-jin identify the type of metal craftsman Do Min-seok is.
Ji-won forces herself into the unit saying she wants to talk about it. She then meets Do Hae-soo inside the unit and perhaps pretended to have forgotten that she's met her. Hae-soo reminded Ji-won about their meeting.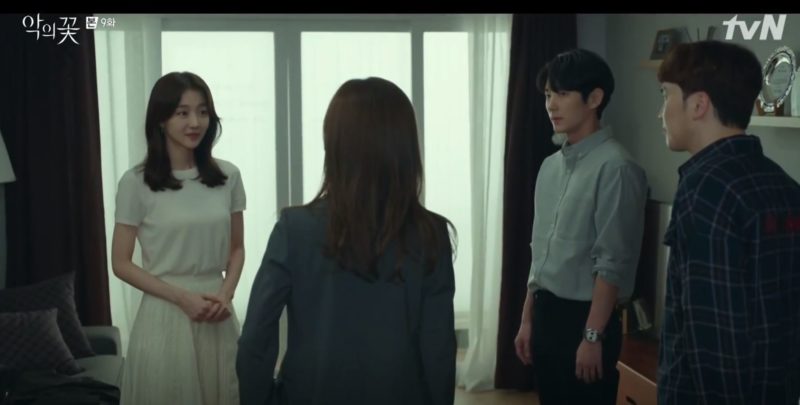 Ji-won then sees the scribbles on the wall and tries to understand what has been discussed by the three of them.
Hyun-soo then asks Moo-jin to make Ji-won's favorite coffee. Ji-won asks what 'trap' means on the glass door and Hae-soo replied saying that Min-seok is known for making traps to lure his victims.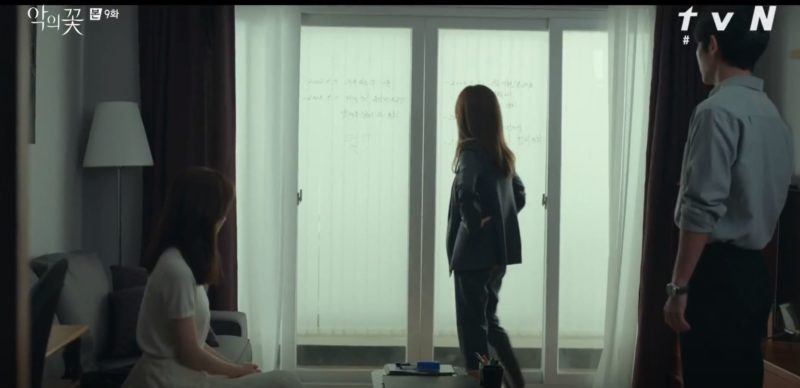 Meanwhile, the real Hee-sung has gained consciousness to the shock of his mother. Hee-sung calls for his mother, and later asks what happened to the man he hit with his car that day, to his parents' surprise.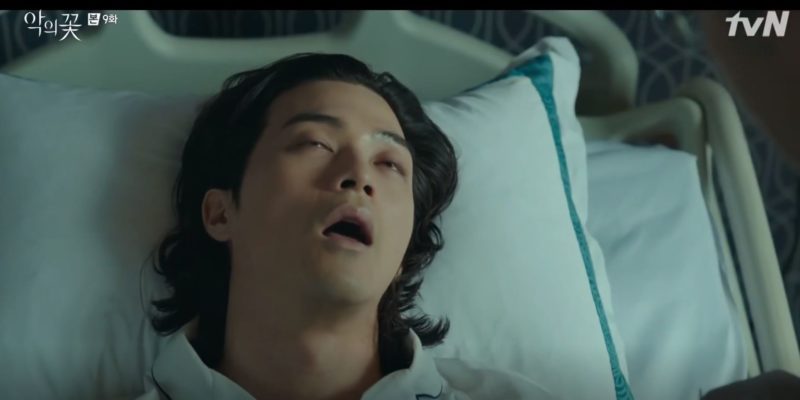 Back in Moo-jin's condo, they played the voice recording for Ji-won to hear, asking her what the background noise was. She doesn't know but offers to send the recording to the audio analysis department of the police.
She also asks Hae-soo whether she wants the accomplice to be caught, and why Hae-soo is confident that it's not Hyun-soo who abducted Park Kyung-choon's wife.
Ji-won also talked about the videos on Hyun-soo that she watched when he was a child, and his violent tendencies.
Hae-soo who became agitated starts hinting that Hyun-soo took the blame for something years ago.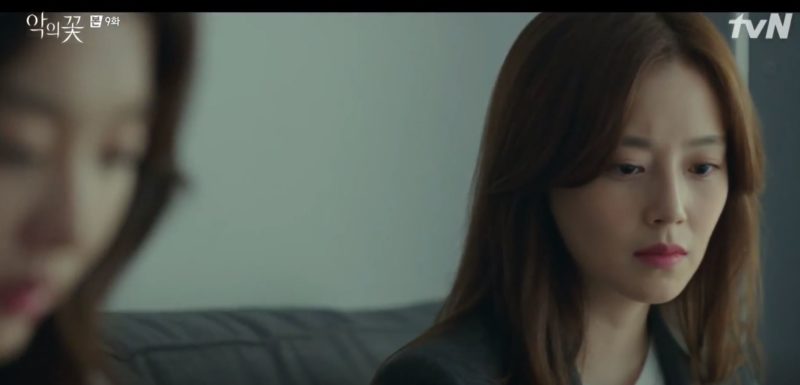 Before Hae-soo can mention about the village head case, Hyun-soo "accidentally" drops the coffee onto Moo-jin's laptop.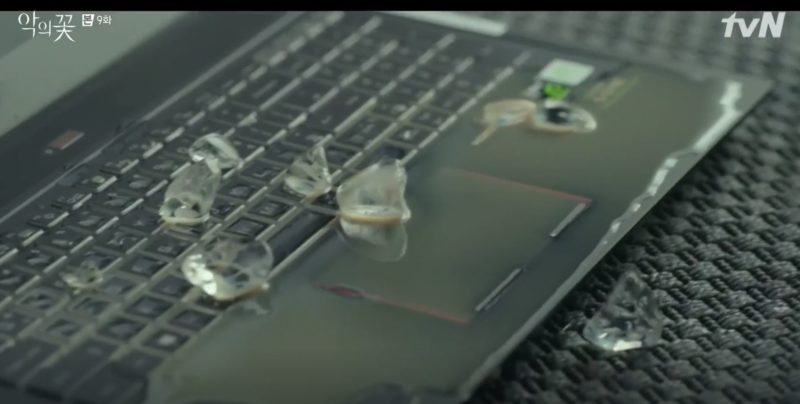 Hyun-soo who's driving then picks up Ji-won outside the condo as they leave the area. He apologizes to his wife for not telling her that he's meeting Moo-jin. Ji-won says that married couples do not need to share everything, although she knows the reason why he's here.
She then says that she's not telling him everything as well.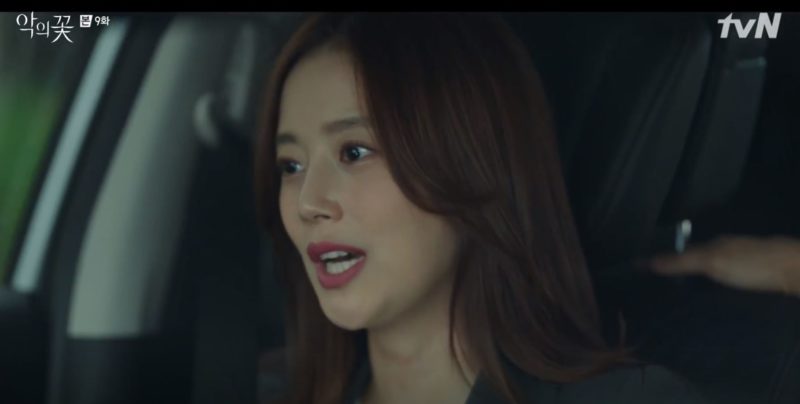 Moo-jin who is still with Hae-soo at the condo asks her what happens when Hyun-soo doesn't need her help anymore. She replies saying that 'she will do what she should have done a long time ago', possibly implying she will tell the truth about the murder.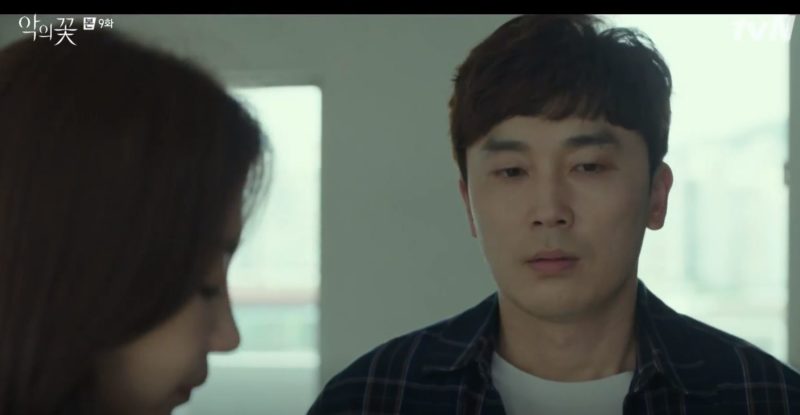 Still in the car, Ji-won remembers what she was supposed to talk to her husband about. She tells him the theory that the accomplice should have met Min-seok to pass the car keys over. As Hyun-soo on the day itself went to many places including the bar and cinema, Min-seok may have met the accomplice.
Hyun-soo was busy recalling what had happened that day and almost hit into a group of pedestrians crossing the road.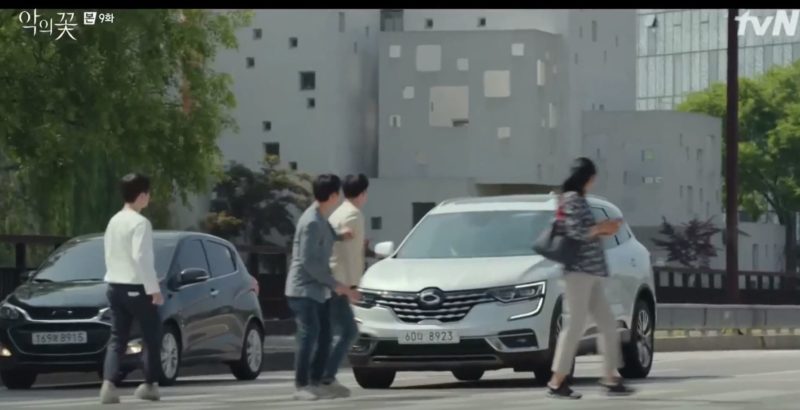 The real Hee-sung is then seen talking to his father while being treated. He asks his father why he didn't pick up the phone the other day. His father (Man-woo) assures him that he is the most important thing in his life.
Man-woo also says that Hee-sung can get anything he wants, including the job and the family he wants. He can be happy forever.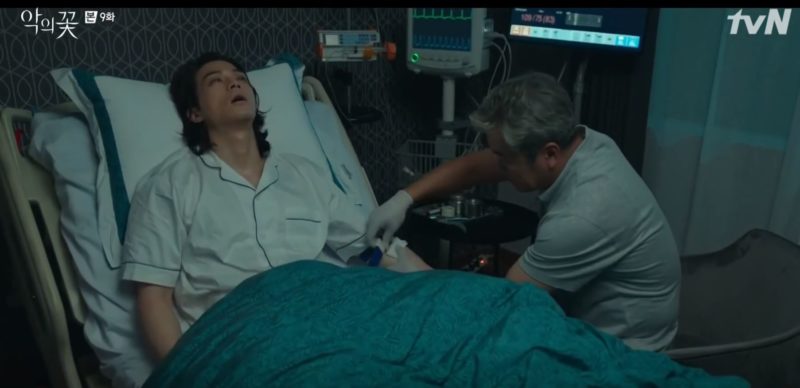 Ji-won returns from her workplace and sees Eun-ha and her husband waiting upstairs. Hyun-soo has prepared and decorated the area to celebrate the five-year anniversary of moving into the house.
Despite everything Hyun-soo has prepared, Ji-won is clearly troubled as she knows who Hyun-soo really is. She also hints saying 'it must not have been easy to only show me what I wanted to see'. Ji-won then recalls her husband saying he doesn't love her at all when he talked to Hae-soo in secret.
During the dinner, she gets a call about the voice recording and plays the recording for Hyun-soo to hear. He hears a sentence about 'ashtray' and recalls that day.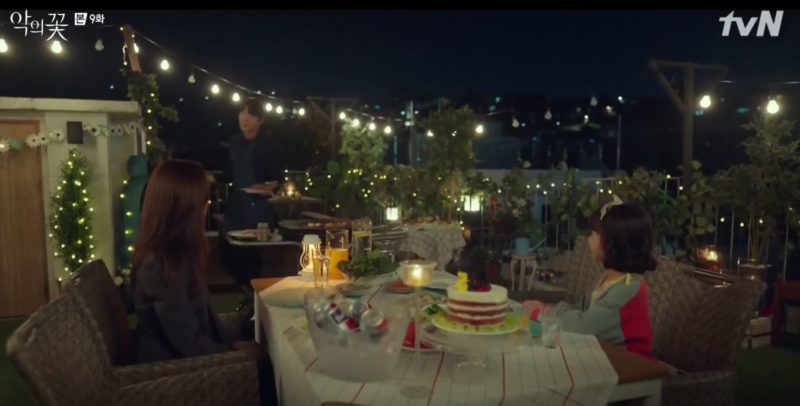 In a flashback, he remembers the bartender asking Min-seok whether he needs an ashtray. The sound at the background actually came from the bartender doing some ice chipping. Hyun-soo also recalls a man passing by, dropping his jacket to possibly insert the car keys. Hyun-soo however couldn't see the face.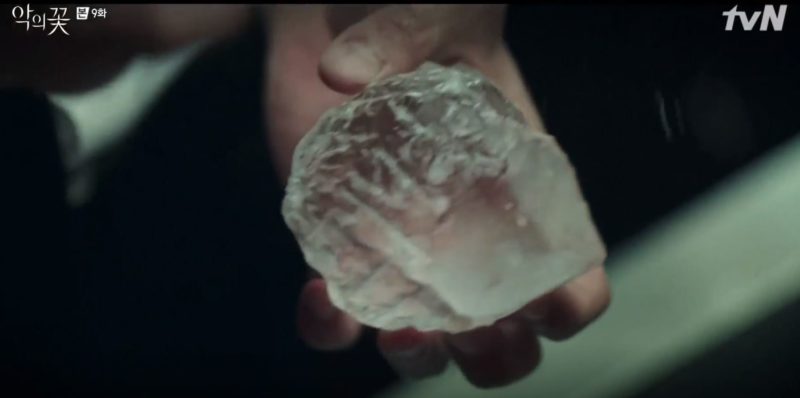 In the present, Hyun-soo stood up without realizing and only became aware when Ji-won pointed it out. He then pretended that everything's normal.
While Ji-won and Hyun-soo are washing the dishes, he pointed out Ji-won's weird behaviour; that she's forcing her smile a lot. He thinks she's behaving like this because of her work.
Ji-won then says she no longer loves Hyun-soo and hates seeing him sleep and eat. She also says that they should break up and leaves the kitchen. Hyun-soo chases after her to the bedroom while Ji-won says she needs to read the case materials.
Ji-won then says she feels guilty every time she sees the images of the victims who Min-seok killed. She also pointed out that she endured years of seeing gruesome cases only because Hyun-soo comforted her each time. However, it doesn't work for her anymore.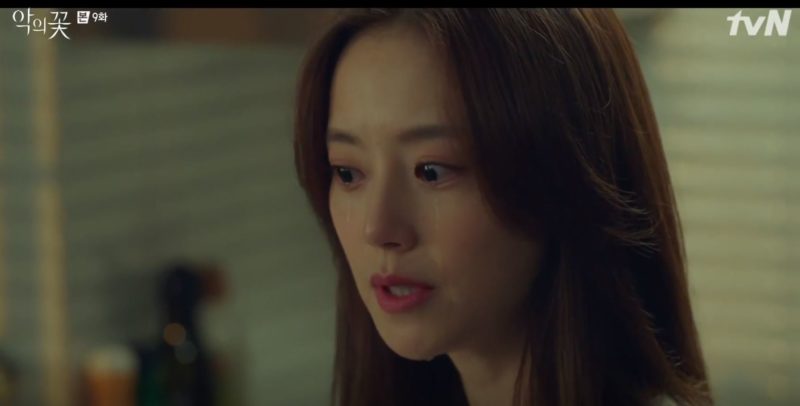 The next morning, Hyun-soo arrives at Moo-jin's place early in the morning. He also calls his sister to come. They both assumed something really serious about the case came up, until he mentioned his relationship.
After the talk, Hyun-soo's conclusion is that he has to give a great gift to Ji-won to make her change her mind. He decided that catching the accomplice would make Ji-won happy again, to the surprise of Moo-jin who said "who solves their relationship problem by catching a serial murderer?". Hae-soo also chipped in saying Ji-won must be really precious to Hyun-soo.
Hyun-soo then mentioned that he knows where he heard the sound in the voice recording, but leaves without telling them.
Moo-jin asks Hae-soo whether she is free to go anywhere. She asks him to bring her home instead.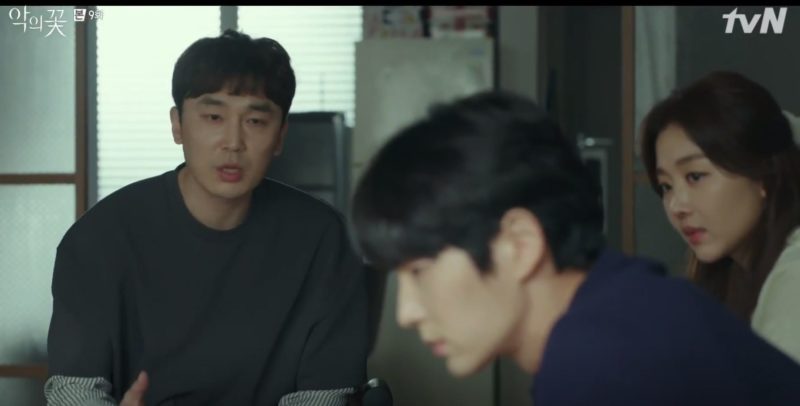 In the car, Hyun-soo looks at his messages with Ji-won but she hasn't replied in awhile. He also reads their old messages and remembers the happier moments.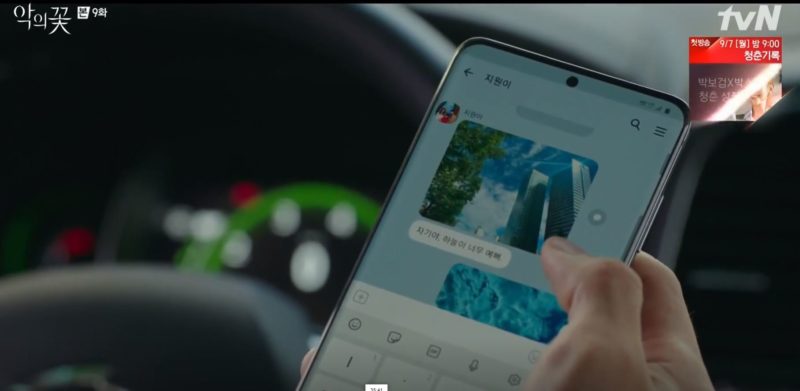 In the police force, Ji-won suggests that they create a trap for the accomplice.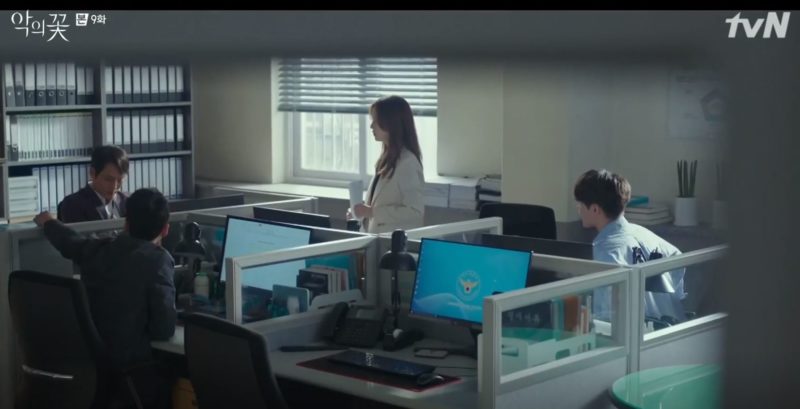 Moo-jin arrives at Hae-soo's house and she finally showed him how she lives — in a rather empty house.
Her ceiling light is also broken and has not been fixed for a long time. She also says she has insomnia among other issues, trying to push Moo-jin away, saying she's already broken and they can't have a relationship like in the past.
Moo-jin who looks puzzled and upset leaves the house.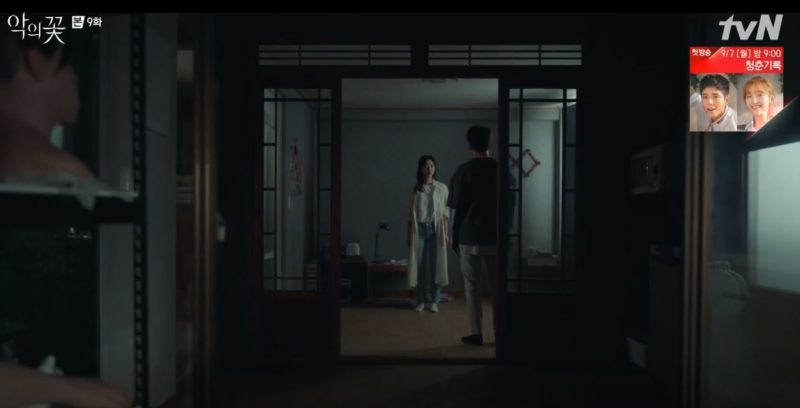 Hyun-soo finally visits the bar he went to years ago and sees the same bartender. He asks why the bartender didn't prepare ice shavings like before. The latter said they are reserved for special clients only.
Hyun-soo plays the voice recording for the bartender and asks who the guy is. The bartender who was surprised says he doesn't know the guy. Hyun-soo asks the bartender to call if he remembers anything but didn't have a pen to write his phone number.
He then borrows a pen from the bartender and sees a familiar pen from his past. It was a uniquely carved pen that he picked out for his father Min-seok, as he recalls in a flashback.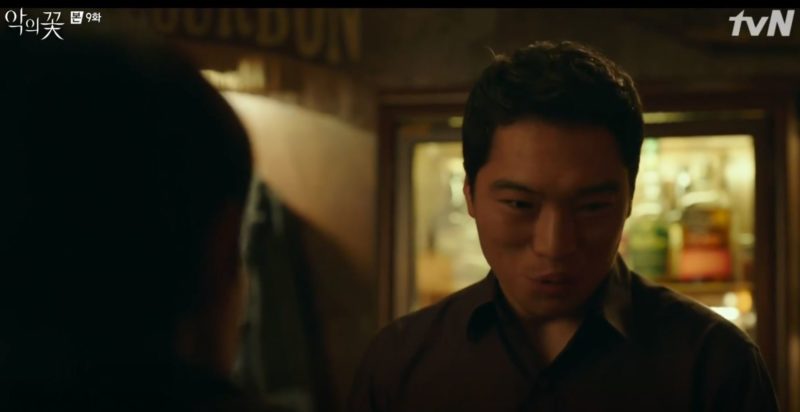 Hyun-soo attacks the bartender asking why he has the pen if he doesn't know Min-seok or the accomplice. The bartender tries to retaliate but fails.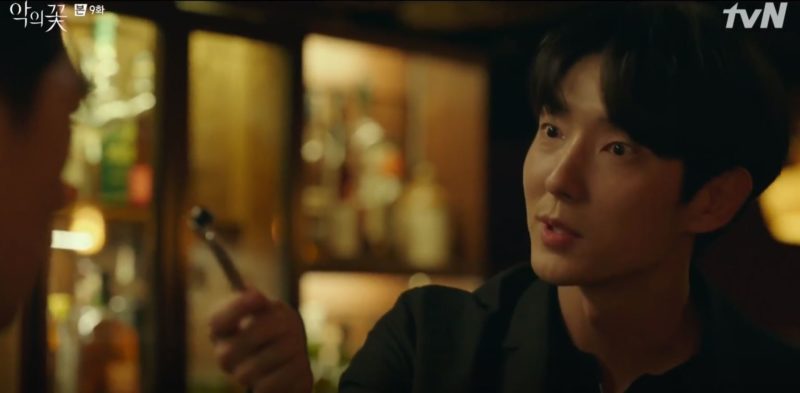 In the meantime, the police task force are seen calling all the numbers that Mi-sook called last time, to find out which number belongs to an employment agency. Finally, one lady responds to Ji-won's trap and they plan to meet at Happy World motel.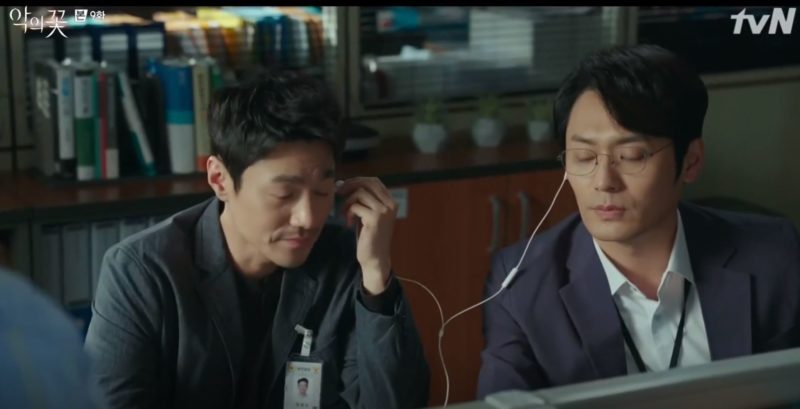 The lady (Jung-soon) who picked up the phone is then seen talking to her boss as she gets paid for her job.
Her boss says that it's suspicious because she already received a 'good one' earlier and this rarely happens.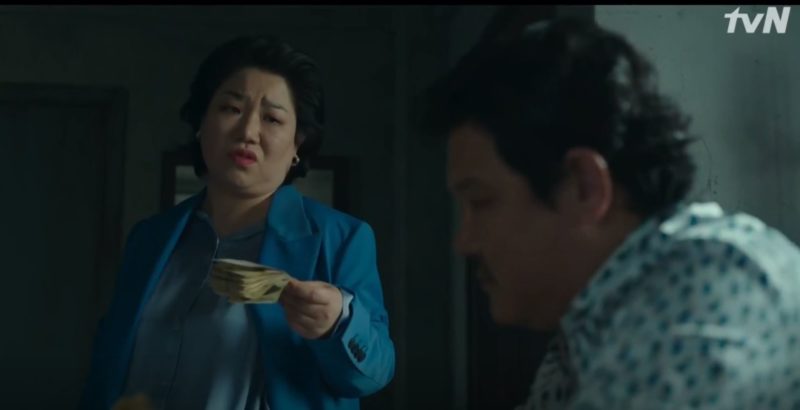 The boss then gets a call from the bartender saying someone crazy wants to meet him.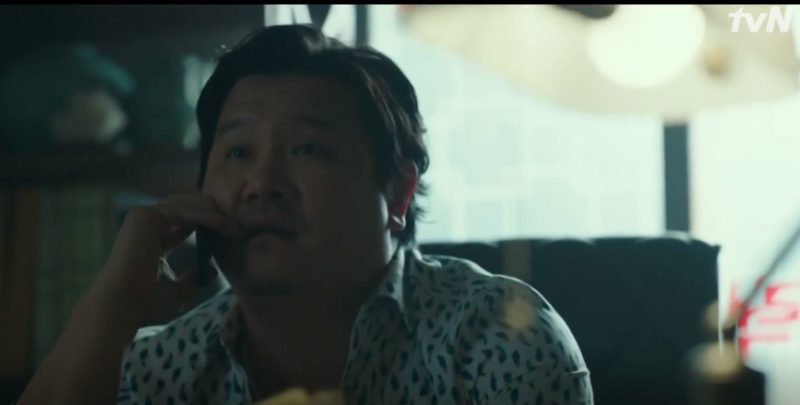 At the Baek family house, Hee-sung is seen trying to get up from bed but his legs gave way. His mother comes to help him up and he mentions that he had to meet someone the other day. Hee-sung asks for his mother's help on that.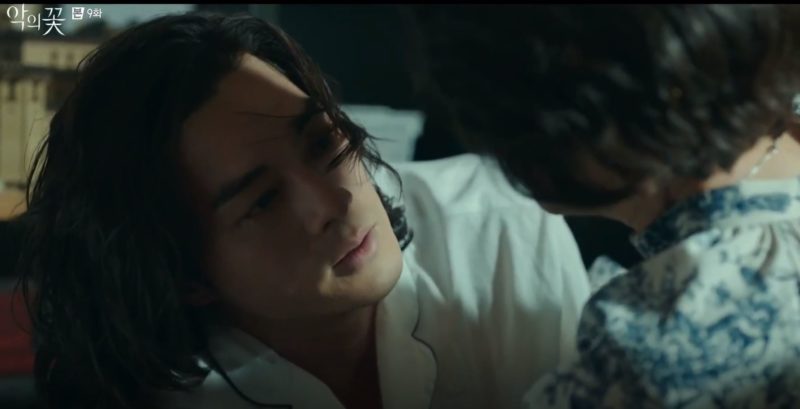 His father Man-woo is then seen taking out an old flip phone, looking at a suspicious number. Perhaps they're all connected to Min-seok or the accomplice in a way.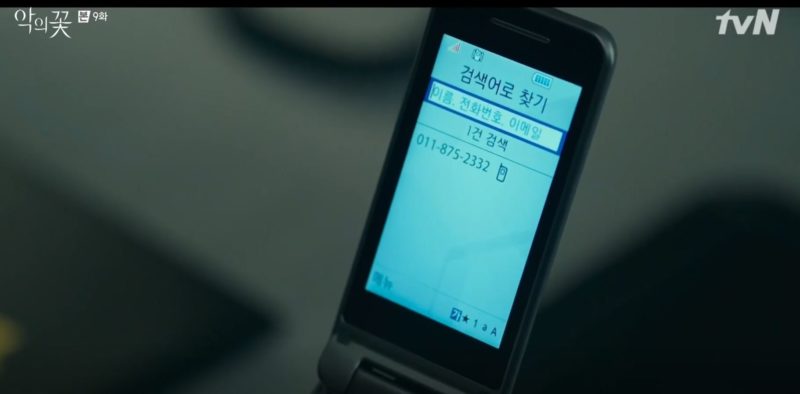 Hyun-soo finally reaches the 'employment agency' and meets the boss. At the same time, Ji-won also meets the lady Jung-soon at the motel.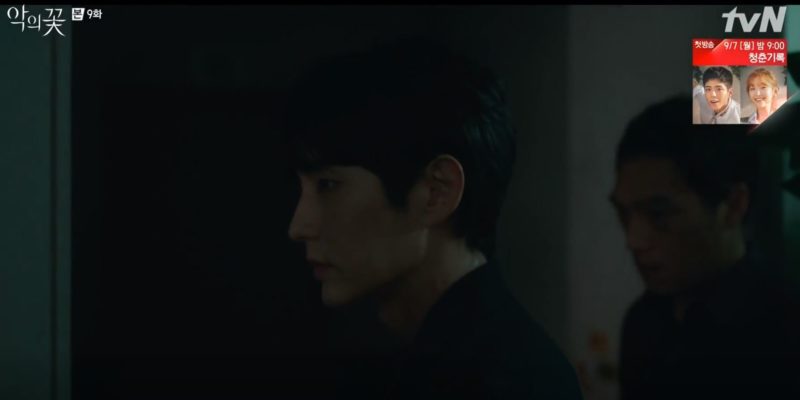 Moo-jin suddenly appears at Hae-soo's house bringing all kinds of things, including replacements for the non-functioning light bulb.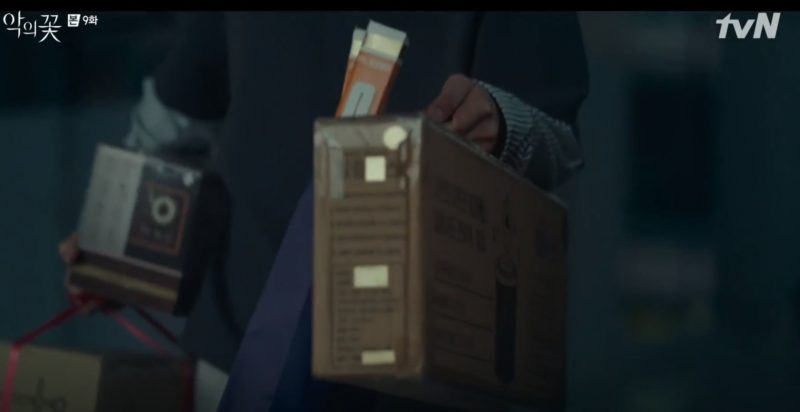 Hyun-soo proves to the boss (Sang-cheol) that he is Min-seok's son. He tells Sang-cheol that he needs to meet the accomplice. Sang-cheol asks Hyun-soo if he knows what kind of guy the accomplice is, saying he is fearless for wanting to meet him.
Sang-cheol then laughs when Hyun-soo asks him to tell the accomplice that Hyun-soo is also fearless, and remarks that he is surrounded by two crazy people.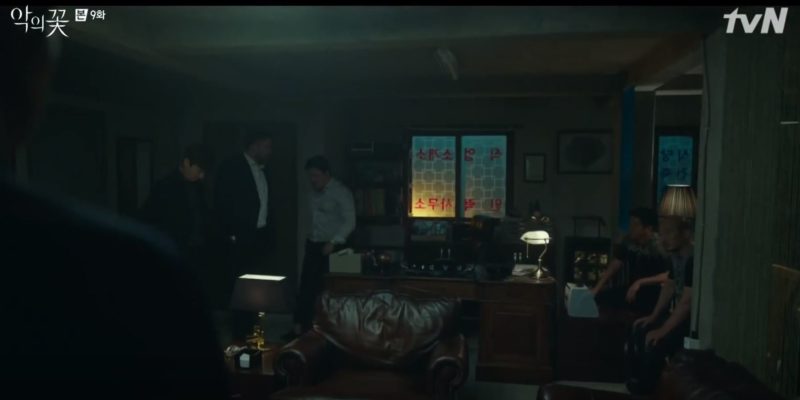 At the motel, Ji-won pretends to be someone who ran away from home just to lure Jung-soon into the trap. Jung-soon asks for money as commission before Ji-won can start the job. Out of a sudden, Ji-won starts talking about the law, saying Jung-soon has broken a few labor laws by asking for money as a middleman.
Before Ji-won fully cuffs Jung-soon, she answers to the door as her team arrives.
As they get back to Jung-soon, she already disappeared as she ran out the balcony. Jung-soon then lost her grip and fell to the bottom of the motel.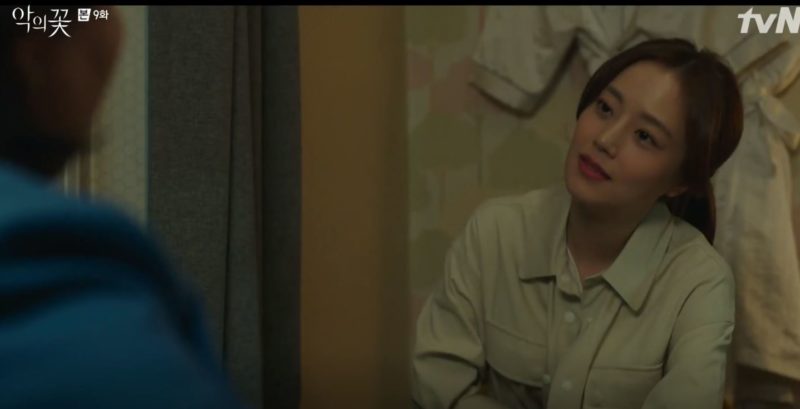 At the employment agency, Sang-cheol who is a pure businessman tries to figure out if the accomplice or Hyun-soo will bring him more money. He then decides to help the accomplice client instead by bringing Hyun-soo to the accomplice.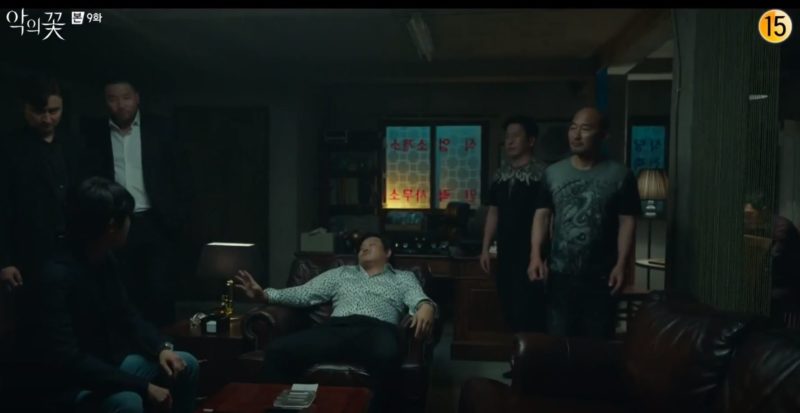 At the police station, the team gets a scolding as they caused the suspect to fall down and is close to dying, especially as they did it during a secret operation.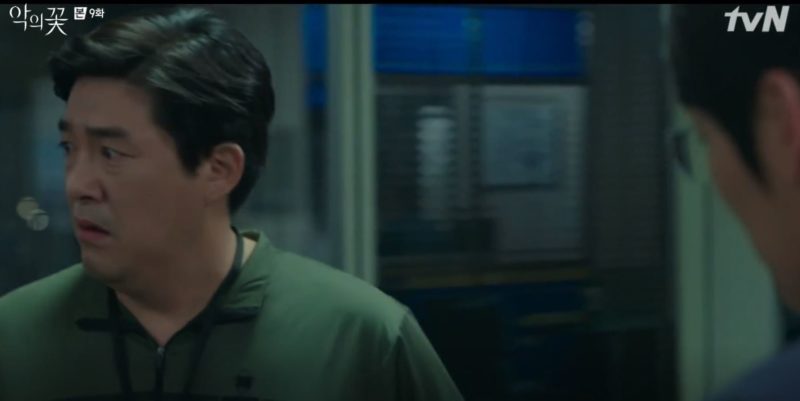 Ji-won who is upset by what had happened remembers her husband usually waiting outside the station to comfort her. She sees her phone and the messages her husband had left for her.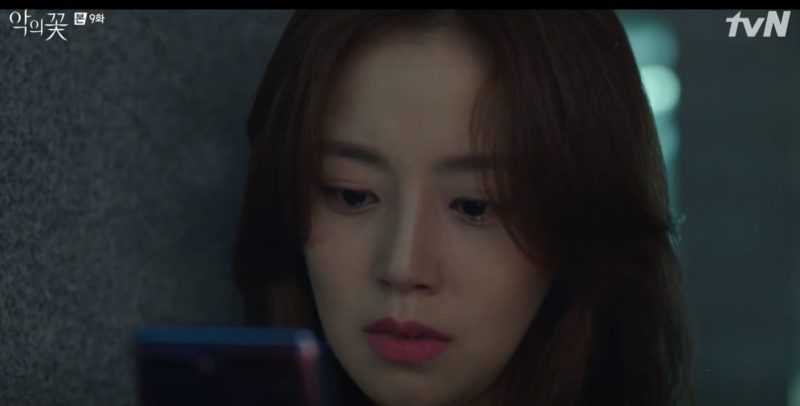 Meanwhile, Hyun-soo is overpowered by the thugs as Sang-cheol aims to give him a drug to bring him unconscious or towards that effect.
Before that happened, Hyun-soo says he will be Sang-cheol's client to make him money and the latter decided to free him.
Sang-cheol then asks whether Hyun-soo knows what he buys and sell, and the latter replies 'humans'. Sang-cheol is then surprised to know that Hyun-soo also has his father's habits.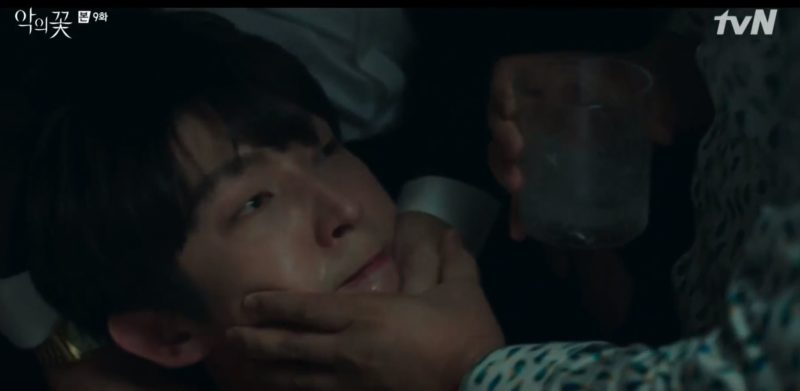 Ji-won then calls Hyun-soo who is still at the agency and the latter says he's busy. Ji-won suddenly recalls the past when Hyun-soo says he only needs her trust in return for everything he does for her.
In the present, she suspects something is amiss and asks him to reply only 'yes' or 'no'. She asks if he needs her help but he declines as he can solve the problem by himself. Ji-won also asks him to come to her in an hour as she misses him.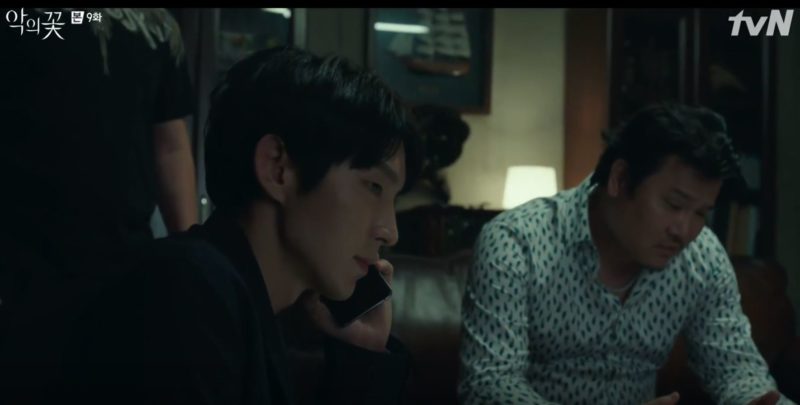 ---
Related articles:
Flower Of Evil Episode 11 Preview – Who Is The Accomplice?
Forest Of Secrets 2 Episode 4 Recap And Breakdown