As 2018 is approaching and Christmas is already here, here are the blogging goals for Ordinary Reviews for the year of 2018.
I'll probably do a recap of what I've done throughout the entire year of 2017 and how much the blog has grown, both traffic wise and money wise.
Recap of 2017
I started this blog (Ordinary Reviews) in January this year. Somewhere around the 29th of January if I'm not mistaken. Time seems to have passed by really quickly and this blog has gone through a lot. It started with a humble traffic of only 893 page views for the month of February! I didn't count January because it was already at the end.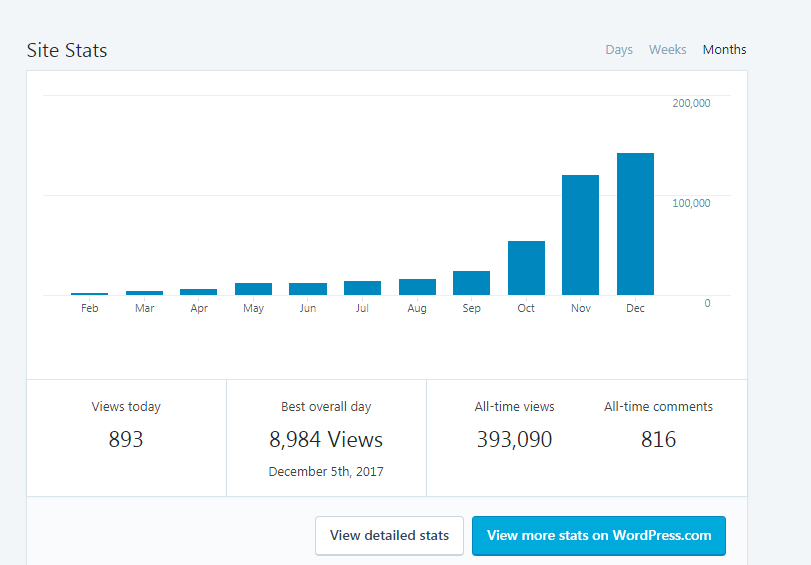 It shot up a lot around September and December's increase is obvious! We're not at the end of December yet, but it's already higher than it was in November.
Initially, there were many things that bothered me with the blog. I still have issues with some of them. Do note that this is not my first blog, but definitely my first attempt in making money through my blog.
Here are some of the issues I had to solve when I first begun blogging:
How do I get traffic to my blog? Is it possible to hit 100,000 monthly page views in a few months or in a year?
How do I monetize this blog? Do I rely on affiliate sales or advertisements?
How do I get email subscribers every day?
What should I write about?
Do I niche down or write on everything?
How do I get a satisfying web design? Do I need to hire a web designer?
Do I need to do guest blogging to get links?
How often should I publish?
How long should my content be?
These are just some of the things I had to think about and it bothered me a lot. It's definitely hard to grow your blog, harder than what other bloggers might say (especially those who're only trying to make a sale).
Here are some of the things I actually did that helped me to grow my blog.
How do I get traffic to my blog?
This was the tricky part. The usual advice is to promote as much as you write. Nobody will find your blog unless you promote it on social media, forums or other content aggregators like Reddit. It also takes a long time (few months) before you get steady traffic from Google, assuming you're doing everything right. So that's what I did. I joined Pinterest, promoted my content on Facebook, Quora, Reddit, Steemit, forums, Stumble Upon and so on.
After sometime I began to get Google traffic and everything else fell behind. My top traffic referrer used to be Pinterest, but it has been greatly overtaken by Google. That said, you still need to promote your blog, as it may give social signals to Google as well.
Furthermore, always do SEO (search engine optimization) to ensure your blog posts stand a chance to rank well. There are so many things to say but here are some articles that I've already written on traffic.
How To Get Traffic From Pinterest
How do I monetize this blog?
I first thought of affiliate marketing as the main source of income. Unfortunately it didn't go that well, so I resorted to advertising once I had enough traffic. I still have my affiliate links and make a sale here and there. I used Adsense at first but the RPM was a little disappointing.
So, I joined Mediavine a week ago and the RPM has been crazy high so far. I'm earning 3 – 4 times what I earned with Adsense. Pretty incredible stuff. I'll probably start my income reports next year and you'll see for yourself!
What should I write about?
This is one of the hardest things for me to decide. I like to write about a lot of things, so I started writing about almost anything. Then I realized it doesn't bring in targeted viewers and it's messy. Definitely not good for affiliate marketing!
After tons of switching around, I decided to just write on 3 main things, i.e. making money, blogging and my personal reviews. It's still pretty broad, but at least blogging and making money are related in some ways. Starting with a single niche may actually be easier for new bloggers.
Do I need a web designer?
My blog's design always gave me headaches. I hated how it looked most of the time so I switched things here and there, yet it doesn't seem to be perfect. I guess the design can never be perfect in my eyes.
A web designer would have cost a lot, so I bought a premium theme and customized it myself. I'm using Genesis at the time of writing and it was about $60 for the most basic child theme. I also got myself a CSS Hero plugin which was about $29 and it allowed me to edit the small details on my blog.
It definitely made my blog nicer and I've also added a static home page for a better navigation.
How often should I publish?
A lot of bloggers asked this question. I typically publish 3 articles a week on fixed days, i.e. Monday, Wednesday and Friday. If need be, I publish 1 or 2 more a week. Consistency is great in the eyes of Google and also your readers.
This way, they can expect your article on certain days and not leave them hanging. Regardless of how often you post, always keep a consistent schedule.
How long should my content be?
This is also a popular question. I first started with at least 2,000 words per article. I'm no longer following it strictly but I try to maintain at least 1,000 words for "how-to" articles. Personal reviews are definitely shorter than a 1,000 words.
Since I'm trying to establish Ordinary Reviews as a good finance and blogging tips site, I try to write more comprehensive articles and only accept quality guest posts.
My Blog Achievements In 2017
Now that I've shown you what I've done to tackle my own issues, here are some of the achievements for Ordinary Review this year.
I've grown from less than 1,000 page views a month to over 100,000 page views a month!
I've earned more than $1,000 from my blog.
I've gained over 1,000 email subscribers (thank you).
I'm finally "okay" with my blog's design.
Joined so many group boards and Tribes on Pinterest and Tailwind respectively.
Had my first sponsored post.
Joined Adsense and Mediavine thereafter.
I've achieved quite a lot this year, especially with the page views thingy. They're mostly related to cryptocurrencies, so if the trend dies off, my traffic will take a big hit, but hopefully still enough to be with Mediavine.
Here's to a much more productive 2018!
My 2018 Goals!
Now that 2018 is coming, I hope to have a fruitful blogging year!
I hope to further increase my page views to the point I need to leave a shared hosting plan!
To make more blogging income and inspire those who think that bloggers don't make money.
Write better articles that rank well on Google.
Network with more awesome bloggers.
Aim for the moon with Mediavine.
Be better at affiliate marketing
To be happy at the end of 2018.
What are your goals?
Now that you know what my goals are, how about yours? Leave your comments below!