A common question by all bloggers is how do they make money from advertising? As Google Adsense is the most popular advertising network in the world, many must be wondering, how much can you make from Google Adsense in a month? How much traffic do you need to make $100 a day with Adsense?
I started using Adsense when my blog's page views increased dramatically. Perhaps it was around 60,000 – 100,000 monthly page views when I first started experimenting with Adsense. I've tried different ad placements to see if my ad revenue would grow. I'll share some of my results with you in this article itself.
As a disclaimer, I don't even make $100 a day with this advertising network but I do have some stats to share with you guys. There are some terminologies that are always used in the advertising world, and here are the definitions of some of them.
Ad terminologies
RPM – revenue per mille / revenue per thousand impressions. This means how much you earn for every 1,000 impressions on the advertisement. This is different from page views. For e.g. 1 page view may result in 3 impressions if you have 3 different ad boxes on the same page. This means impressions will always be higher than your page views (if you have more than 1 advert).
CPC – cost per click. This refers to how much the advertisers pay you per click. It can be low like $0.10 or high like $10. The cost depends greatly on the niche and where the audience came from. US audience is always valued higher because advertisers are willing to pay more. If your traffic is mainly from India, it's normally much, much lower. It all depends on how much the advertisers are willing to spend.
CPM – cost per mille / cost per thousand impressions. CPM ads are different in the sense that they pay for impressions and not for clicks. The CPM rate is usually lower than CPC because impressions do not require clicks, and it's much harder to get clicks.
What affects the Adsense RPM?
By asking what affects RPM, it's actually asking what affects your Adsense pay, since they're one and the same thing. Two bloggers may get 100,000 page views for their blogs respectively, but their earnings may be vastly different. Here are some reasons why.
1. Where does your traffic come from?
Let's be honest here. US traffic is probably one of the best if you intend to earn from Adsense. That is because advertisers are willing to pay much more for a US audience. If your traffic mainly comes from India, then do expect a much lower RPM.
You'll probably need much more traffic to earn even $1,000 from Adsense a month.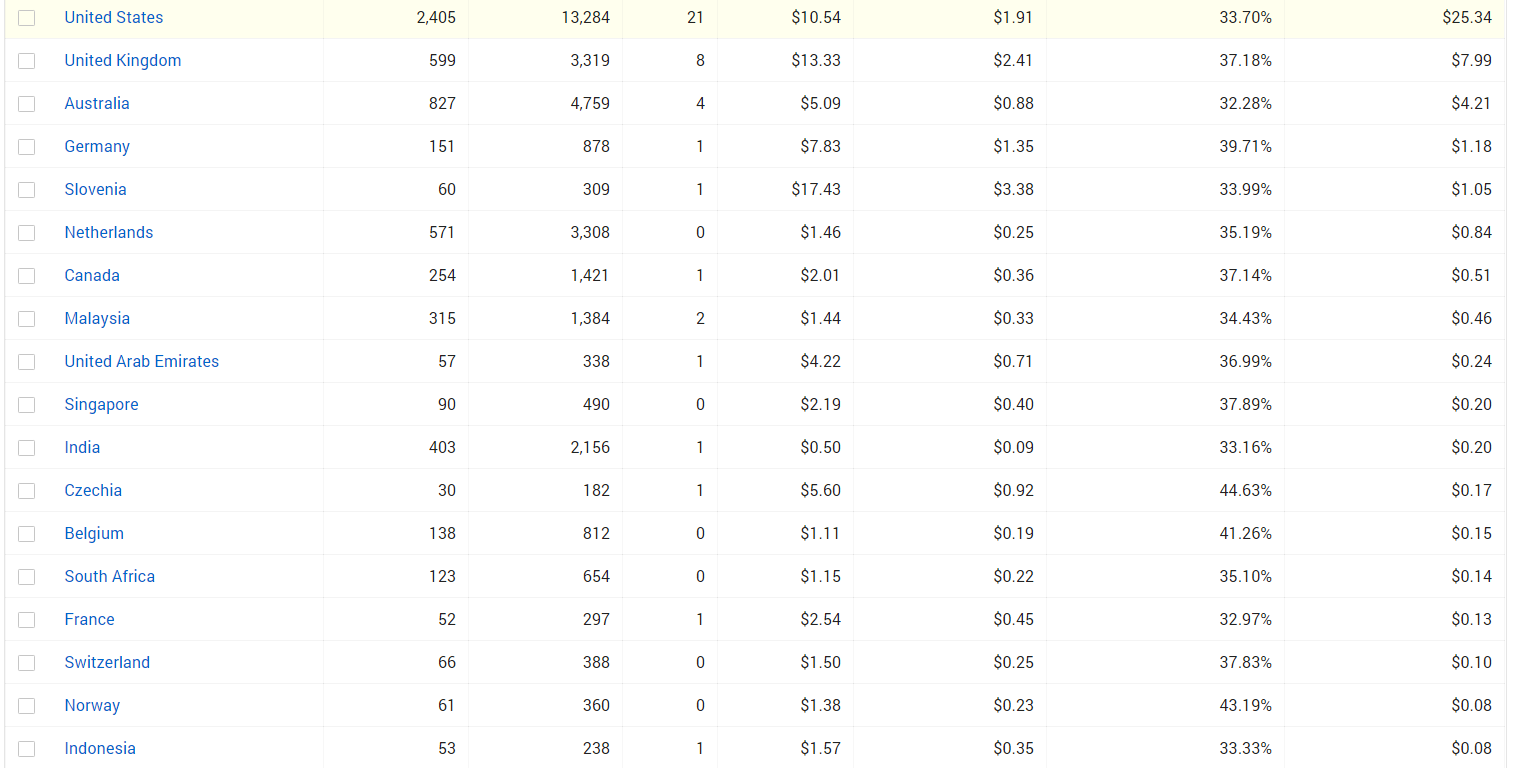 Take a look at the stats above. This one is from my own blogs (mainly Ordinary Reviews). I get visitors from many countries and the CPM rate for impressions is much better in US, UK, Austria and so on. If you take a look at India, you'll notice a much lower sum of only $0.09. US on the other hand is at $1.91. Big, big difference in RPM!
You will need more than 10x the traffic from India to earn as much as you do with a US crowd. Or for that matter UK, as they seem to give me one of the highest RPM based on the stats.
Hence, traffic is not equal. Where your audience is from affects the RPM / earnings greatly.
2. What is your niche?
Your niche affects your Adsense earnings greatly as well. Niches which are popular and are highly competitive normally has a great Adsense RPM. For e.g. money, health, fitness and all sorts of niches that have lots of advertisers competing will generally give you a better RPM.
My blog (Ordinary Reviews) is mainly on blogging tips, making money, cryptos and my own personal reviews. Here's a look on my earnings and other stats.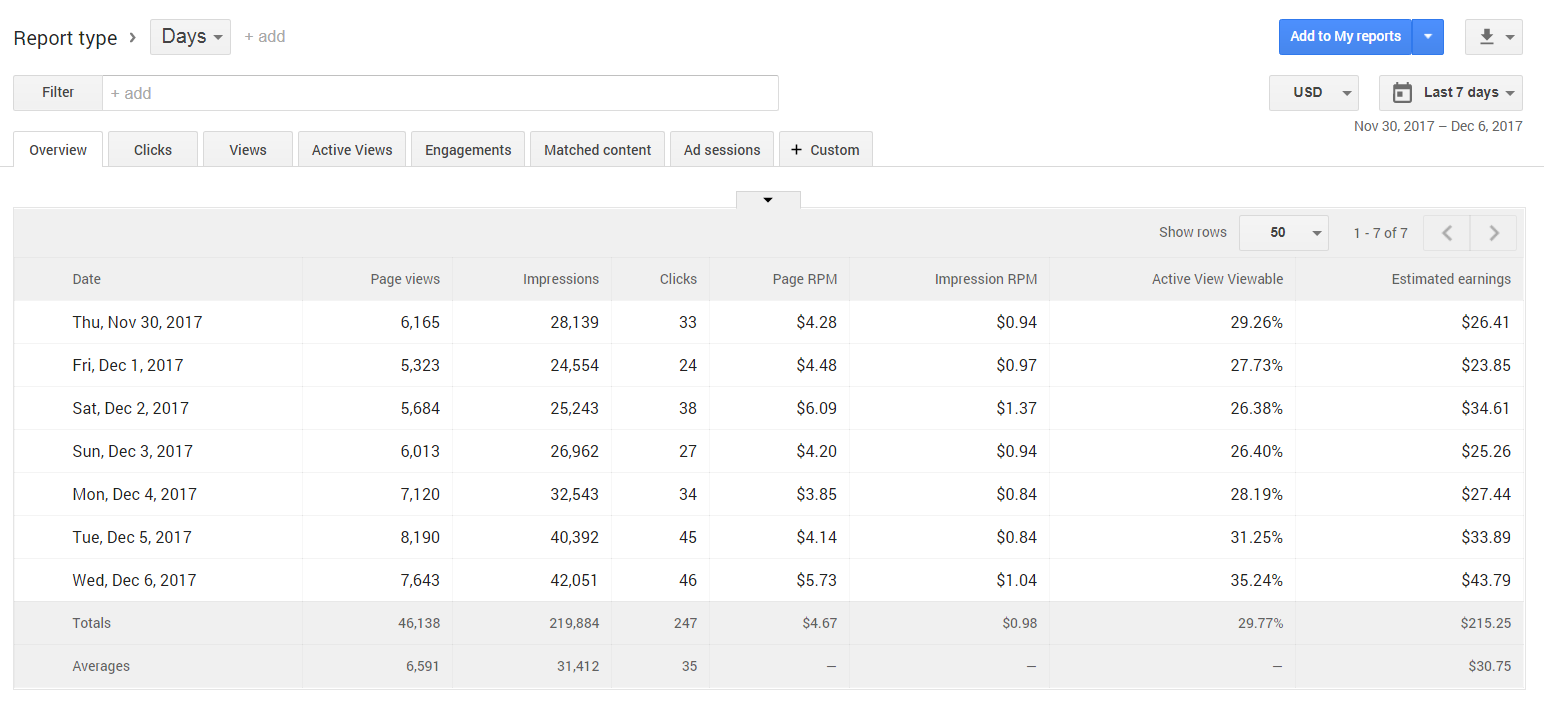 This is the stats for my last 7 days. The page RPM varies from $3.85 up to $6.09. This is with around 50% of my traffic from US and UK. It could be much higher if I had a different niche or all of my traffic are mainly from the US or UK.
That said, it's probably not enough for most of you to make a living from it. Take December 6. I had 7,643 page views which resulted in 42,051 impressions since I have around 3 in-text ads, 2 sidebar ads and 1 footer ad. It's already a lot of ads and I don't like that it's hindering user experience. That said, I still have to cover my expenses as a blogger. I may not use ads if I had more affiliate sales.
The impression RPM as you can see is only around $1 or less. Impressions mean the viewers viewed the ads and not clicked it. Clicks are different and results in much better RPM.
You can see that my earnings are around $20+ to $40. It was much, much lower earlier which brings me to the 3rd point.
3. Ad placement is crucial for Adsense
Yes the number of ads can affect how much you earn but ad placement is really important as well.
Before this I only used 2 sidebar ads and 1 footer ad. The estimated earnings per day was definitely lower than $10.
Later, I added 2 in-text ads inside my longer articles and it resulted in better earnings and it started to go above $10 a day to a maximum of $20+ a day.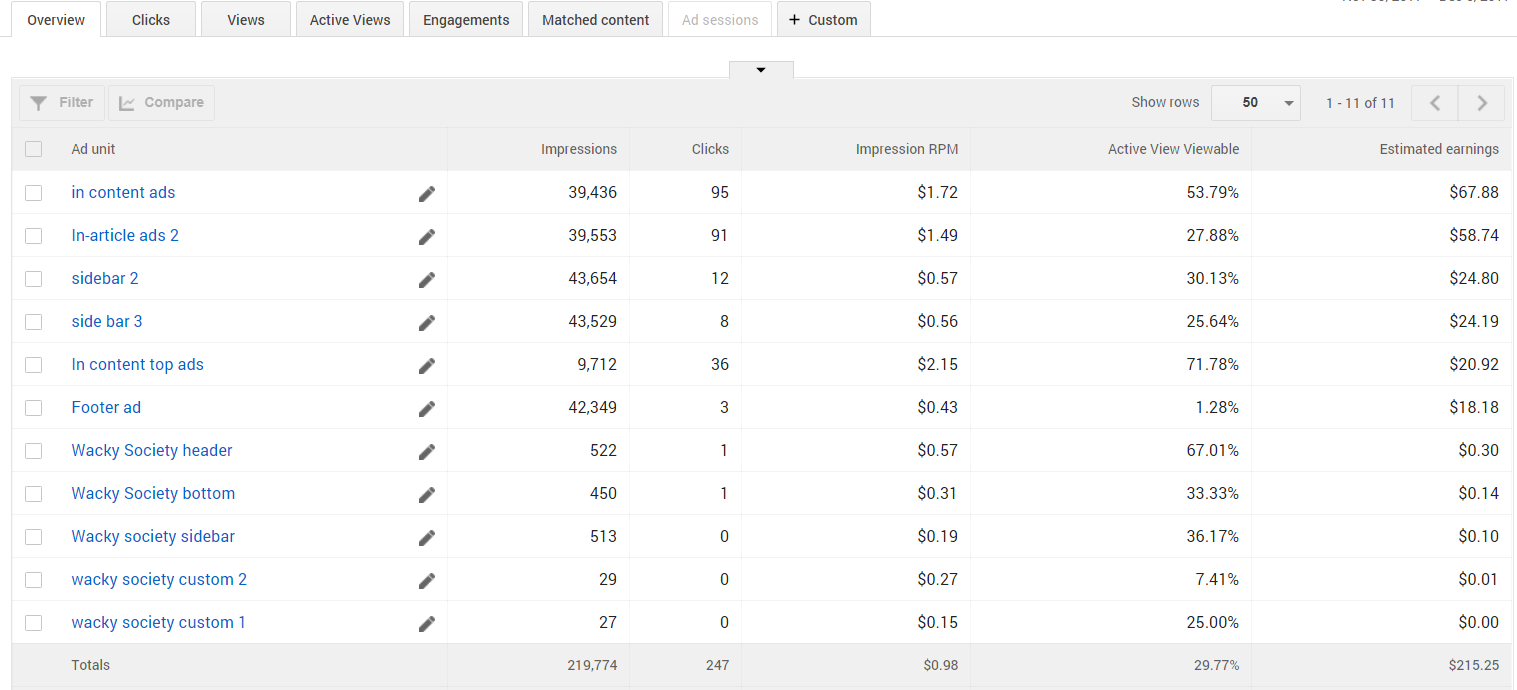 If you can see the image above, it pretty much tells me how many impressions, clicks, and RPM I get for each ad. I labeled my ads differently of course to give me a better of idea of where I placed the ads. All of the in-content / in-article / in-text ads gave me the best amount of clicks. My first two ads gave me the most clicks in a few weeks.
My earnings were around $20+ at the time. However, I added one more in-text ad and it changed everything. I added one right after the first paragraph of each article and the clicks were much more than the rest.
Here's the analysis for yesterday's earnings.

As you can see, the in-content ad that I placed right at the top (after the first paragraph) netted me 25 clicks! It's 2x more than the second place! It also brought me $16 in revenue for 8,000 page views. This is higher than all of the other ad placements.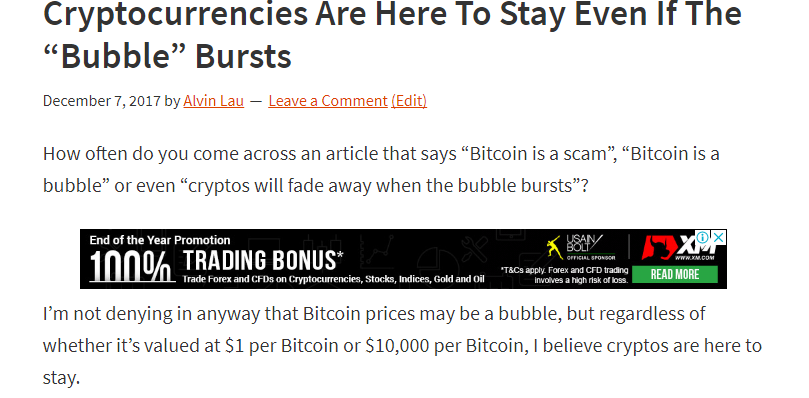 This is how it looks in my article now. Not very nice but it gives some passive income to my blog.
This clearly shows how important ad placement is in affecting your RPM. Google Adsense no longer puts a limit to how many ads you can use. Hence, you can insert more than 3 ads, but don't put too many that it will deter anyone from reading the article or hinder with user experience. It may put off your readers and also result in worse rankings as Google values user experience very highly in the SERPS.
Furthermore, if you are an affiliate marketer, you may or may not want to use ads. Some professional bloggers avoid ads altogether as it takes your audience out of your blog when you could be earning more with affiliate products or your own products.
4. Other Adsense metrics

You can look at the CPC and CPM bids. Obviously advertisers pay more for CPC since they require clicks and CPM is merely impressions.
You can also see where the money is coming from. If you take a look at the stats, you'll notice mobile and tablet visitors actually form half of the earnings! That's why it's so important to optimize your blog for mobile visitors if you wish to earn with Adsense.
These days most of us smartphones to do a Google search as it's convenient. Ensure that your site is mobile friendly. Google even recommended Accelerated Mobile Pages to speed up your site for mobile viewing.
So how much can you make with Google Adsense a month?
You may not like the answer but it DEPENDS. On what? On so many factors as aforementioned. The source of your traffic, the ad placement, the number of ads, your niche and ultimately how much traffic you're getting a month.
If the RPM is $1, it means you get $1 per 1,000 page views. If you have 100,000 page views, you make $100 from Adsense with a RPM of $1.
If your RPM is much higher, for e.g. $10, you will make $1000 with 100,000 page views. The Adsense earnings for each blog will definitely be different, so don't expect a fixed answer for how much you can earn with Adsense monthly.
Always do your own testing and see which ad placements generate the best revenue for yourself. If you use Google Adsense, only you are in control of optimizing your ads.
In a nutshell
Adsense is one of the top advertising networks in the world since it allows anyone from any country to monetize from it. Having said that, the RPM from Adsense may not be the best.
At the time of writing, I'm trying to apply to Mediavine and I'll see how it goes. I'll let you guys know if it gives me a better RPM and eventually earnings from Mediavine.
Thanks for reading!
If you wish to start a blog and make money blogging like I do, here's a comprehensive guide to do so.