Pinterest is undoubtedly one of the best ways to get traffic to your blog or website. Even more so if you're not familiar with SEO. However, it's not easy for a beginner to understand how Pinterest works, let alone get traffic from Pinterest.
Manual pinning at intervals can be really tiring for you. You might be busy with your kids or your work. The last thing you want to do is to pin after a long day at work.
Hence, it might actually be better to use a Pinterest scheduling tool and let your pinning go on auto-pilot!
There are a few scheduling tools that are commonly used including Tailwind, Buffer and Boardbooster.
Personally, I use Tailwind to schedule all of my pins and I no longer have to pin manually!
Disclaimer: There may be affiliate links where I earn if you sign-up or buy something using my link at no additional cost to you. I only promote services or products that I personally love.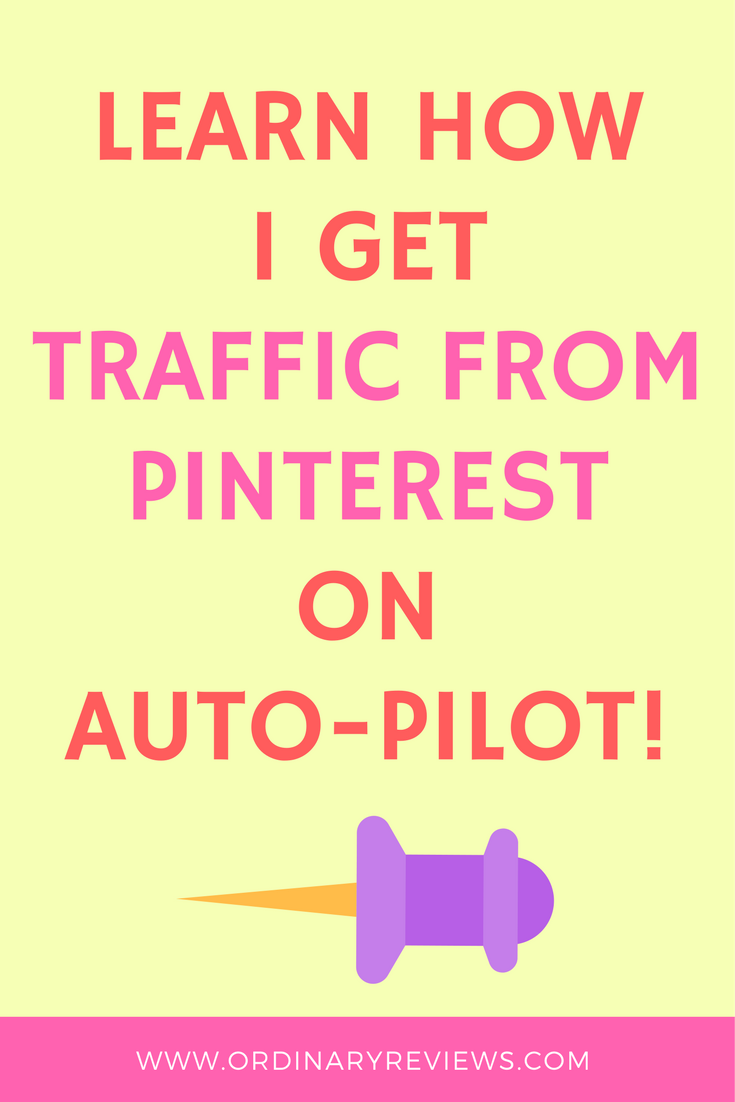 What is Tailwind?
Tailwind is basically a scheduling tool for Pinterest and also for Instagram (but I won't discuss on Instagram).
It enables you to schedule your pins at the exact time you want it to be pinned! You can even schedule your pins for the entire month if you're hardworking enough. It can take you a few hours if you wish to schedule for the whole month.
The great things about Tailwind can be summarized as follows:
It saves a lot of your time. You can schedule your pins in bulk and in multi-boards.
You can use their browser extension to schedule pins directly from Pinterest.
They provide analytics and insights for you to see what's working (or not).
You can use their "smart schedule" to determine the best times to pin.
Now that you basically understand what Tailwind does, lets examine the more important features and how it helps you. Instead of listing each of its features, I would only mention those that I personally used in getting traffic on auto-pilot.
1. Smart Schedule
If you're one of those who can't seem to find the most effective time to pin, Tailwind's Smart Schedule will work brilliantly for you.
What it does is that it allows you to choose how many times you wish to pin per day. Take a look at the screenshot below and you will see how it looks like.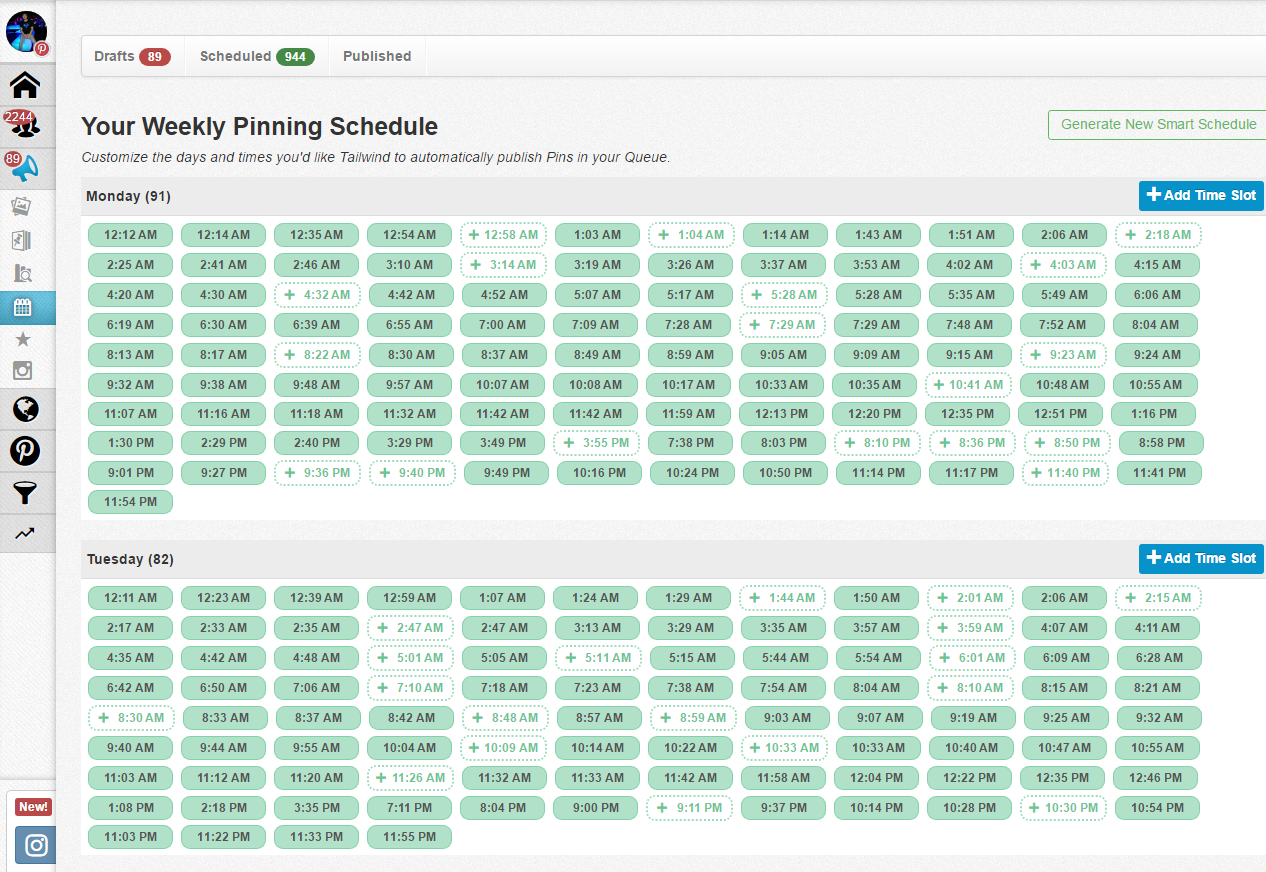 At the top right, you should see the button "Generate New Smart Schedule". It allows you to choose how many times you want to pin a day. Tailwind then chooses the time slots for you based on when your pins received the most engagements.
I set my pinning schedule to 75 times but it won't exactly come up with 75 time slots. If they feel that you receive less engagements on certain days, it will be less than 75 time slots. Having said that, you can manually add time slots as well!
Essentially you still decide how your schedule should be.
2. Tailwind Tribes
The key to getting more traffic from Pinterest is perhaps Tailwind Tribes.
What are Tribes?
Tailwind Tribes look a little like group boards. The main difference is that Tribes are not part of Pinterest as they are hosted on Tailwind.
How it works is that you can join as many Tribes as you want. Each Tribe has their own rules. For example, in my Tribe, if you share one pin to the Tribe, you need to re-share twice the amount of pins from other members into Pinterest boards.
All Tribes have rules. If you don't follow them, you can be removed. You wouldn't want that.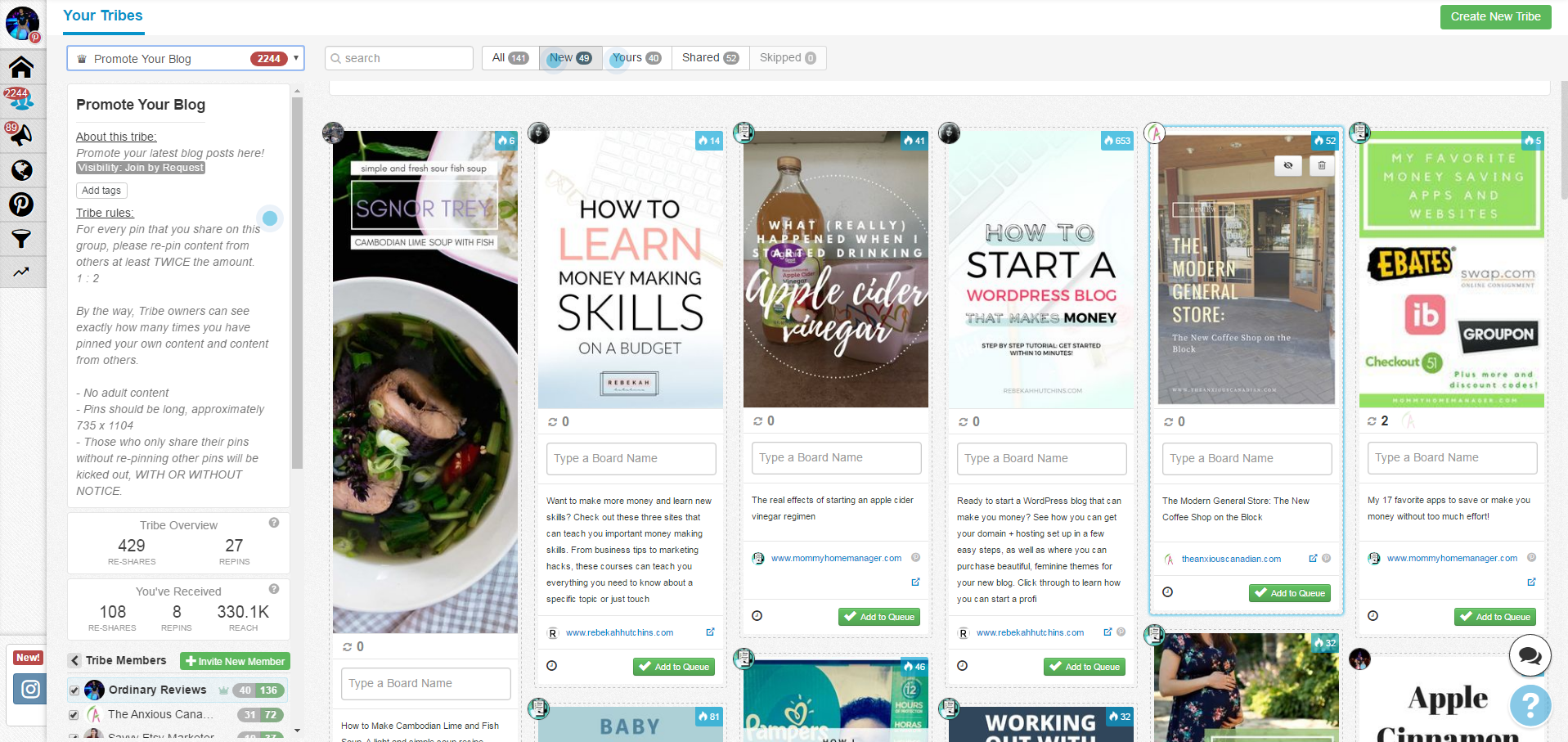 Now that my pin is in a Tribe, how does it help me?
Basically when your pin is shared in a Tribe, other members can see it but you can't see your own pins. They will then share your pin into boards or group boards on Pinterest itself.
If you can see in the image above, all of the pins allow you to "Type a Board Name". Hence, you can share each pin to as many boards as you want. That is basically how your pins (and others') become visible on Pinterest.
The reason Tailwind Tribes is so effective is because Tribe owners monitor their Tribes carefully. They can also see how many times you have contributed your own pins as compared to pins from others.
Look at the bottom left of the image. I can see exactly the ratio of pins contributed or shared for each member! Violating such rules will get you removed.
Adhering to rules is perhaps the main reason why Tribes are so effective.
By the way, you can join my Tailwind Tribes as well! Please adhere to the rules as I monitor daily.
3. Bulk scheduling
Scheduling pins one by one can be really tiring and time consuming. Luckily, Tailwind allows you to schedule in bulks!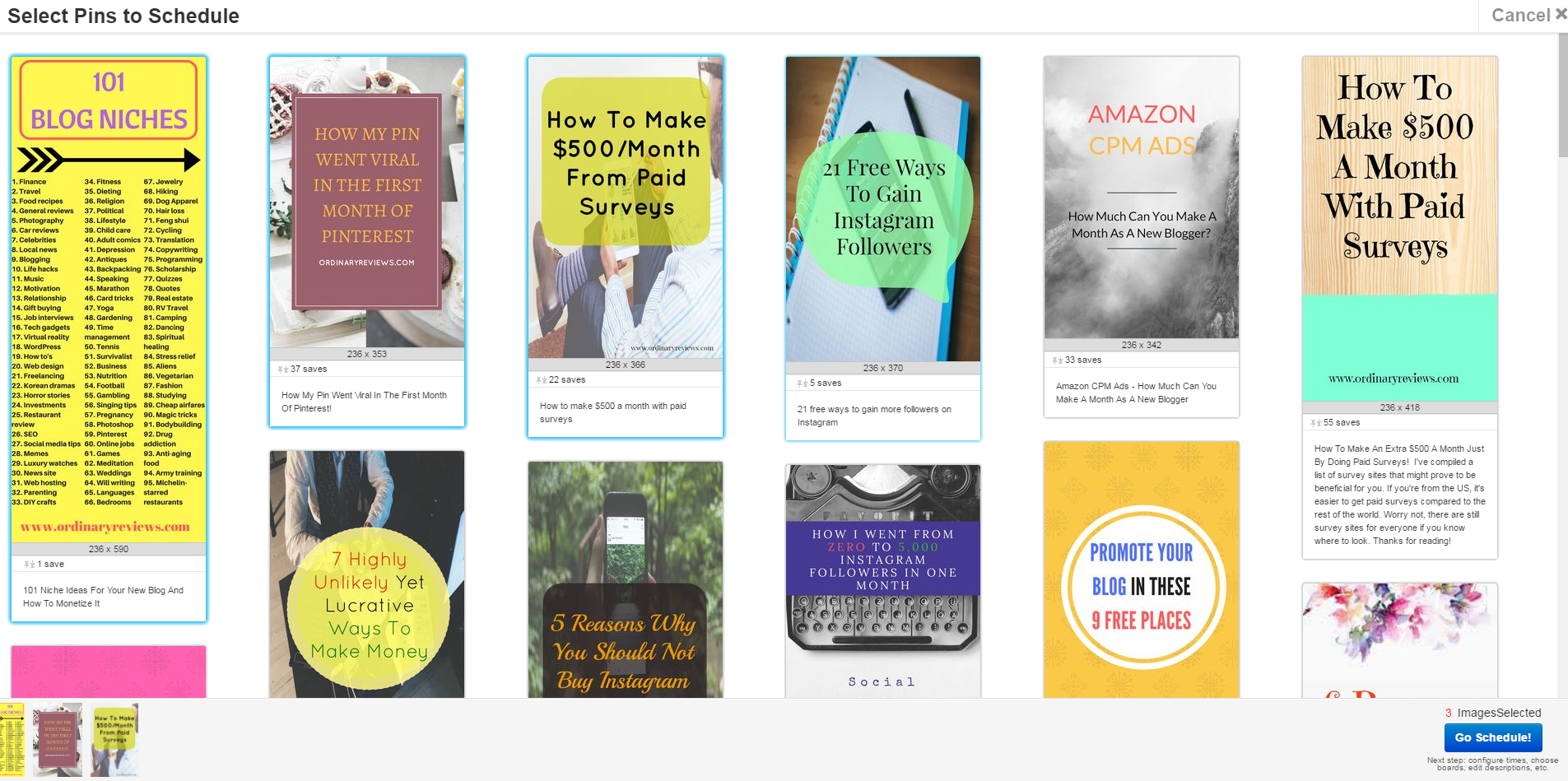 All you have to do is to install Tailwind's extension on your browser. I'm using Google Chrome by the way.
When you go to your pins, you simply have to press on the Tailwind browser extension button and you will come across the screenshot above.
Click the pins that you want to schedule in bulk.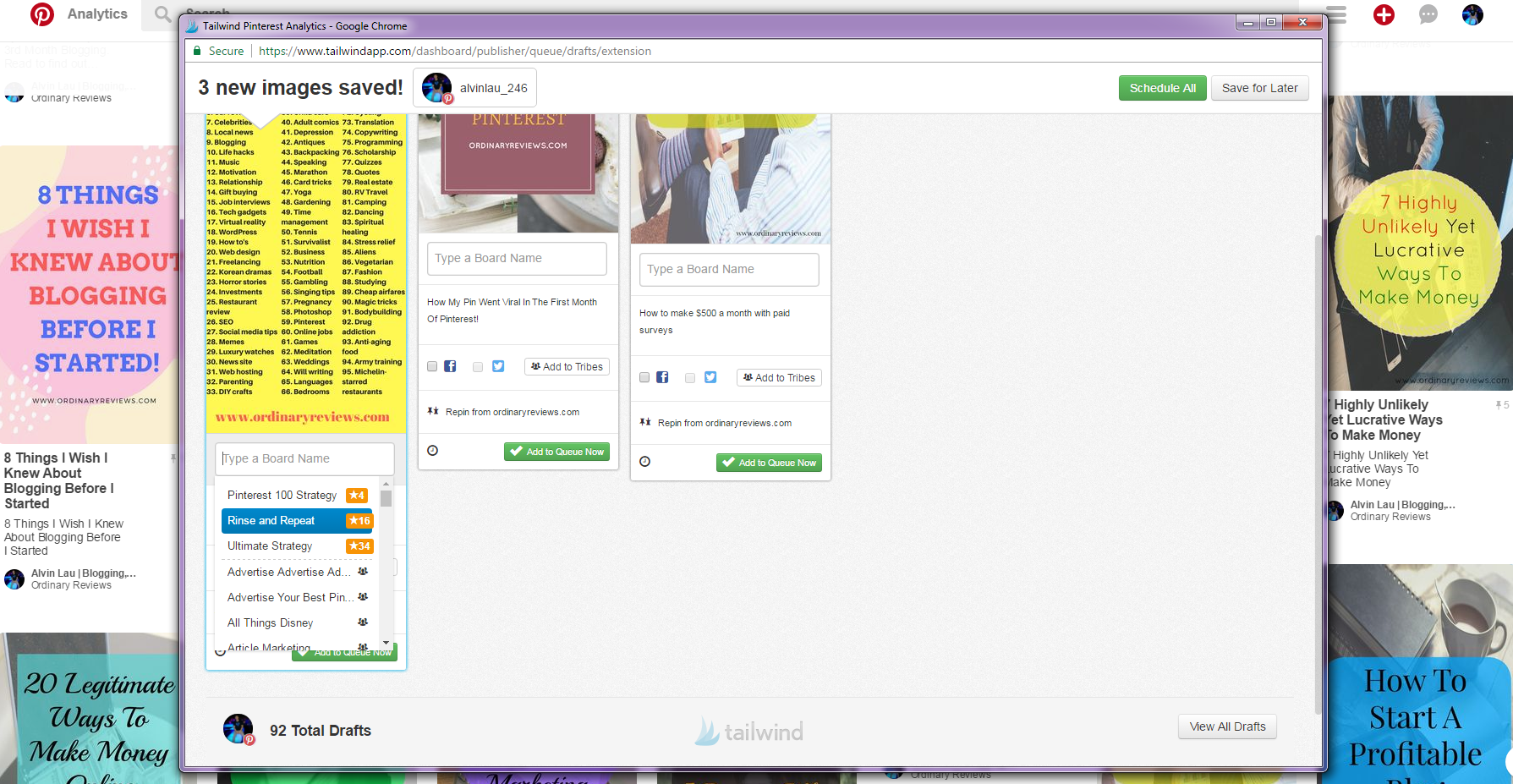 Once you have chosen the pins you want to schedule, you can choose as many boards as you want to share your pin. Once done, just click "Add to Queue Now" and it's scheduled on Tailwind.
If I do this, won't the pins be clumped together?
Luckily for us, Tailwind has a "Shuffle Queue" button and they automatically shuffle all of your scheduled pins, This means that there won't be repeats and it saves you so much time! You can also manually shift your pins around but it takes time.
4. Board Lists
Last but not least, board lists is another huge time saver.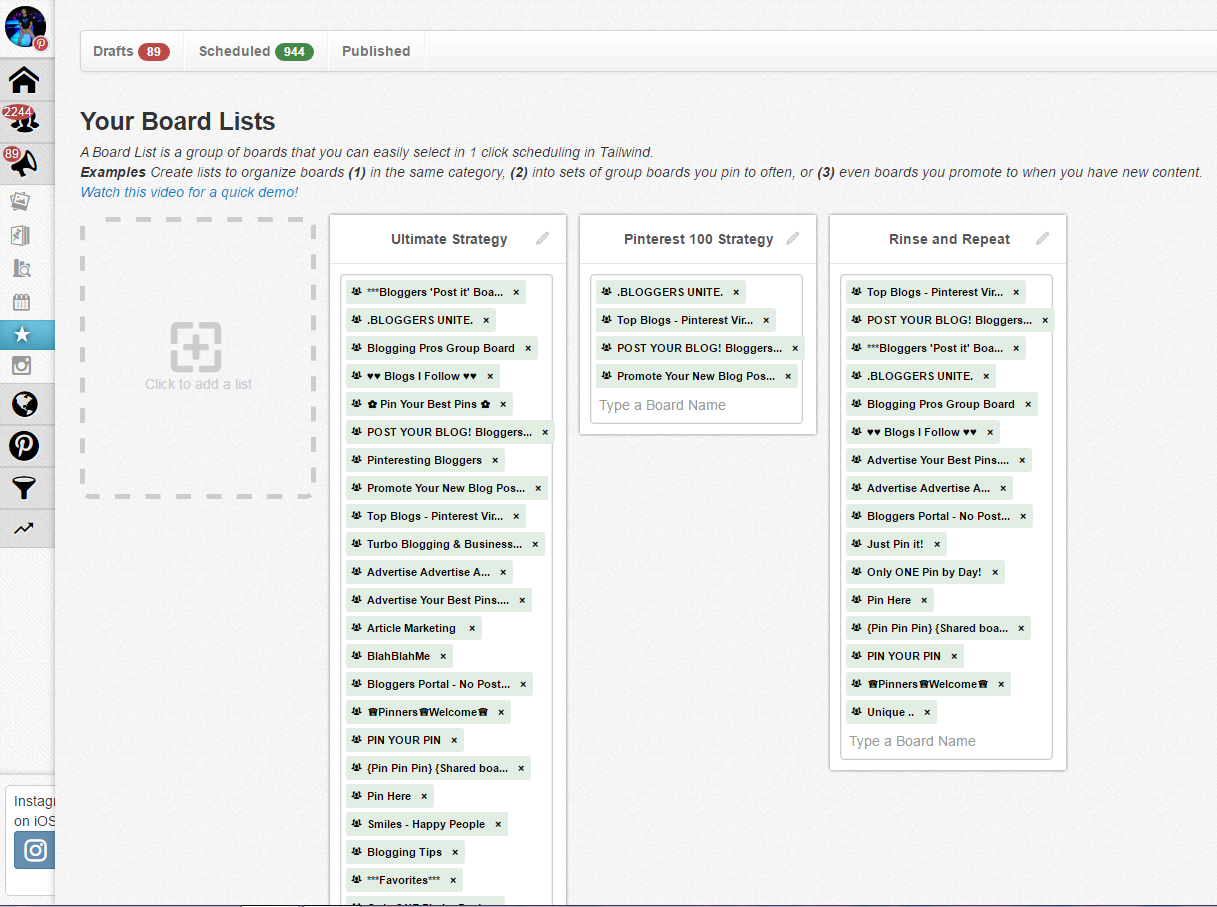 If you have favorite boards or group boards that you use every day, you can list them all under one name!
For instance, if you have 10 group boards that you want to pin in every single day, put them all under one "super board".
Once you've done that, you only need to click your "super board" for each pin and all 10 boards will be automatically listed! This means that you don't have to look for your 10 group boards whenever you want to schedule each pin. Just group them into one board and it saves you a lot of time!
Do you really need Tailwind to get traffic from Pinterest?
The answer is NO.
I have seen bloggers who do well just by manual pinning and still get loads of traffic from Pinterest.
Having said that, if you don't have the time to manually pin every hour or so, Tailwind is an amazing scheduling tool. As I regularly promote my blog on many platforms, I use Tailwind to loosen my burden and to reduce my stress of pinning every hour.
If you're interested, you can join Tailwind here. You will get your first month for free ($15 off) if you use this link. You can also sign up for the free trial which gives you 100 pins a month. Do note that you can join Tailwind Tribes even if you're on a free trial!
Like this article? Share it!