It can be tiring to push your lawn mower around. This is why a self-propelled lawn mower is ideal.
This type of mower reduces the effort on your part. What are the best self-propelled lawn mowers under $300?
This article contains a review of some reliable brands and what you should look out for before making your decision.
Note: there may be affiliate links under.
1. Greenworks 16-Inch 40V Cordless Lawn Mower
This self-propelled lawn mower uses a 40V 4.0Ah battery. The external body is green and it is lightweight at 38 pounds.
The powerful battery operates the motor smoothly. It comes with a charger so you won't have to spend money to get one. It also has a safety key that is inserted in the mower.
This lawn mower has a 2-in-1 cutting capability and a mulching kit with a bag. It does not have a side discharge chute. It is quite portable with its 16-inch deck.
This also means that it is suitable for smaller sized lawns. It doesn't have a metal cover, but the hard plastic is very durable. The mower can cut grass of 1.25-3.375 inches and has 5 height adjustments.
Pros
Cons
The cutting deck is smaller than usual

2. Lawn-Boy 17732
This mower has a rear wheel drive which gives it better traction control. It is ideal for homeowners with hilly land. However, it works fine on flat terrains as well.
It has a 2 point deck adjustment system and is designed to cut the right grass height. The collection bag that comes with the mower is also quite large. It doesn't need to be changed repeatedly as you work.
Despite being a gas mower, this equipment doesn't emit excessive fumes. It is eco-friendly and has a CARB compliant seal meaning it can be sold in the 50 states of the United States.
This mower also has an easy maintenance routine as it doesn't require any oil change. All you need to do is check the level often and add more oil when necessary.
Pros
Cons
Large collection bag sags when it is full

3. Yard Machines 159cc Self Propelled Lawn Mower
This mower runs on a 159cc OHV engine. It is larger with a 21-inch steel deck. This means it can cover more area in a shorter time.
The blades are sharper than usual with a powder coating. This powder coating prevents rusting of the blades which can weaken it.
The cutting height level is 6 and can be used to cut grasses of 1.25-3.75 inches. The cutting system doesn't include bagging capability like many mowers in this lineup. This means a homeowner can only discharge the cut grass through the sides to mulch the clippings.
This mower may be ideal for larger lawns and it has a sturdy body as well.
Pros
Balances properly with 8-inch rear and front wheels
Cons

4. Sun Joe iON16LM Self Propelled Lawn Mower
The Sun Joe lawn mower has a 40V battery as well as a 600W brushless motor. It offers 40 minutes of grass cutting without any noise.
The model starts like all cordless mowers; with a button after the battery is placed in the compartment. It also requires a safety key that has to be inserted before the machine starts.
The deck can be raised to 6 heights which are adjusted manually. The cutting deck is covered with hard plastic. Its blades are also sharp enough to cut grass of any length.
Cleaning is a breeze with this machine. It has a large 9.25-gallon bag to pick up the grass as you cut. This lawn mower also has a volume indicator mechanism.
Pros
Volume indicator mechanism
Cons

5. Powerworks MO60L02PW
The mower has an effective brushless 60V motor. It has a button for easy starting and a run time of 45 minutes since it runs on battery. Homeowners who want more power can get a second battery and a total of 90 minutes run time.
The machine can be stored vertically and this feature may make it ideal for readers that do not have the luxury of space. Also, it helps with storage as you can fit the mower into tiny spaces. It can be stored safely in a garage or shed.
This mower has a 3 in 1 discharge design and a 21-inch steel deck. This system allows the homeowner to collect the grass as you cut them inside a bag.
You can also mulch the grass or choose to discharge the clippings from one side of the lawn mower. It has a height adjustment system that tailors the machine to the type of grass you need to cut.
However, you have to purchase batteries separately.
Pros
Cons
Batteries are not included

What to look out for before picking a self-propelled mower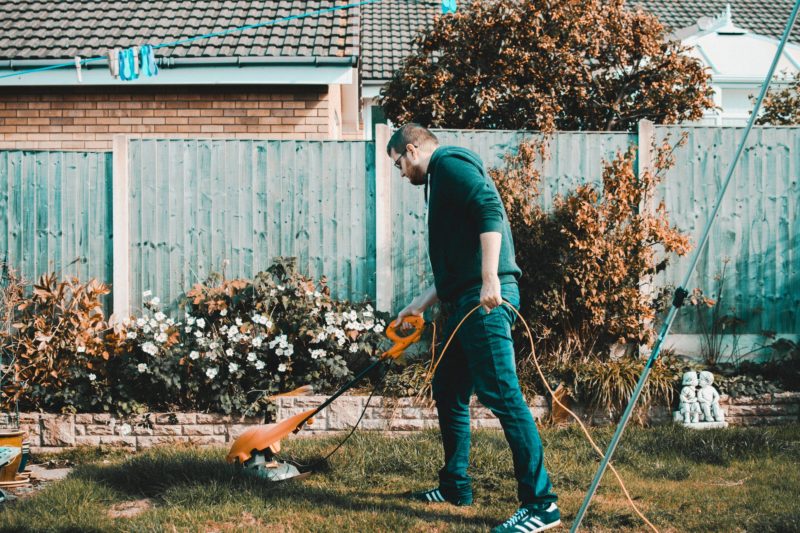 To pick a long-lasting and effective lawn mower, there are some features to consider before buying. They include the following.
RWD or FWD
Rear wheel drive and front wheel drive are important factors to consider. This is because FWD is excellent for flat lawns.
Homeowners with slopes on their lawns may need to get one with RWD. The RWD provides more grip as you work.
Maneuverability
This encompasses moving and steering in a straight line. You should also consider the size of the wheels. Wet grass and hilly areas can be problematic to lawn mowers.
Therefore, the ideal mower must be large enough to go over wet grass, a slope or hill. Smaller wheels may have issues mowing up-slope.
Also, the mower's steering ability has to be flexible. This means that it should have a sort of swivel in its handle or tires. The swivel allows it to turn easily and effectively.
Power source
There are two types of self-propelled mowers; electric or gas-powered. For homeowners with an electric connection on the lawn, an electric mower may be a better option.
However, if this is absent, you would need to get a gas-powered mower. But there is also an option to get battery-powered lawn mowers. These mowers do not require a cord connection and this means it will offer convenience.
However, you will need a great battery to achieve this. Some models come with a rechargeable battery, but others do not.
Mechanism
Mowers have different methods of operation after cutting grass on the lawn. It starts with mulching which involves cutting and letting the grass stay on the ground to decompose naturally.
The second one is throwing the grass sideways while the last is bagging the grass. This is usually done by a container attached to the mower. Some self-propelled lawn mowers offer all three features.
All you need to do is pick the one that meets your needs since all the three have different benefits.
Mower features
Newer models have more features to offer. However, the most important features have been listed above.
The other features to consider include 3-in-1 mulching quality, height and speed alterations and cleaning mechanism of the grass clippings.
How do self-propelled mowers work?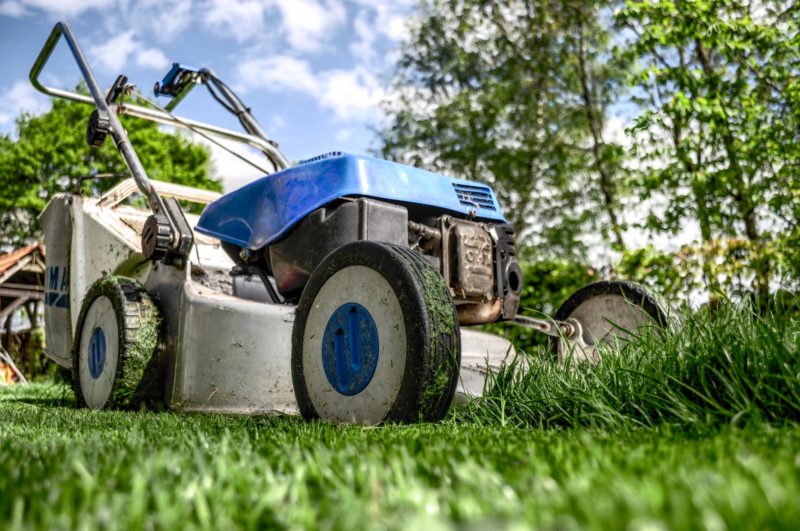 Normally, the energy from the mower's motor powers the blades as it makes them spin. However, self-propelled mowers operate differently. Some energy from the motor goes to the wheels.
Since there are front wheel drive and rear wheel drive mowers, the energy is transferred to either of the wheels. Some machines receive power in all four wheels. The all wheel drive mower is ideal for a hilly area since it provides more traction.
The rear wheel drive is also a good option because it works well in rough terrains. The front wheel drive models are basic and work better on flat terrains.
Why you need a self-propelled lawn mower
Self-propelled mowers come with many benefits. One of the notable pros of this type of mower is its ability to cut thick grass. This is because most mowers in this category have a 21 to 22 inch mow path.
While this may be comparable to regular push mowers, it offers more cutting power. To remove the grass, the machine also gives homeowners the option to choose a bag to store, discharge by the side or mulch.
On the other hand, these mowers may be difficult to move around without a running motor. The reason for this is that the wheels of the mower are connected to its transmission. The wheels cannot turn freely as the motor isn't engaged.
Self-propelled mowers that are gas-powered are also noisy and may not be environmentally friendly. Also, the battery-powered mowers may not last longer than an hour since it also powers the wheels.
Conclusion
You can easily get good quality self-propelled lawn mowers under $300. However, you need to know what you're searching for.
If you follow all the considerations in the review above, then you will make an informed decision.
---
Related articles:
Top 5 Best Electric Fireplaces You Can Buy Today
12 Best Blenders For Ice To Grab For Your Kitchen
Best Laptops For Streaming And Buying Guide
Best Gaming Laptops Under $700
Top Travel Hair Dryers To Buy Today
Best Treadmills For Home Under $500
Top 7 Best Travel Strollers To Use During Your Holidays