Among various instruments, guitar holds its own special importance. Be it young or old, almost all music lovers are fascinated with this instrument. The price range of guitars varies to a great extent depending upon its type and quality.
Everybody wants to buy a good guitar at a reasonable price. In this article, you will find a list of best electric guitars that can be bought just under $1000 dollars.
In arranging this list it has been made sure that these electric guitars are worthy of your money and time.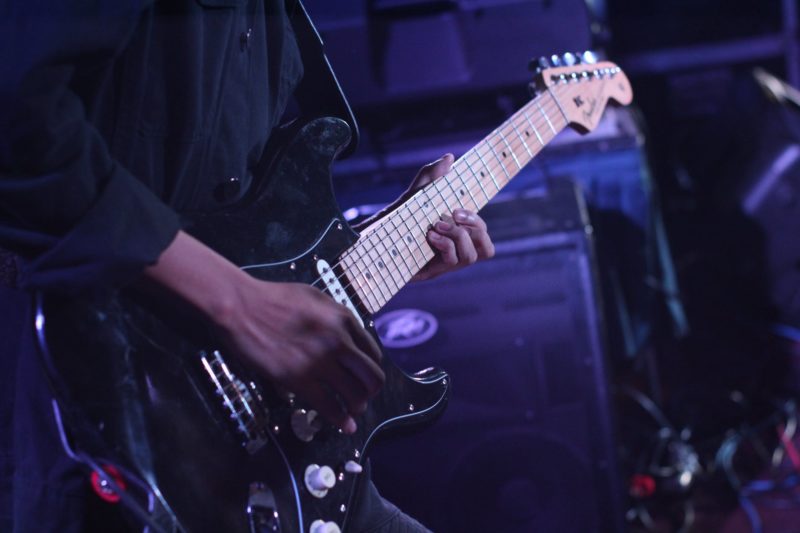 1. Fender Classic Series '50s Stratocaster
Prices pulled from the Amazon Product Advertising API on:
Product prices and availability are accurate as of the date/time indicated and are subject to change. Any price and availability information displayed on [relevant Amazon Site(s), as applicable] at the time of purchase will apply to the purchase of this product.
For classic musicians, this Fender Classic Series '50s Stratocaster is undoubtedly a perfect match. This model is available in different colors such as Daphne Blue, Fiesta Red, and Surf Green.
This vintage modified guitar is designed especially to please the people who love to capture the happy ways of 50's era.
The sleek design of this electric guitar is an eye candy having a fretboard made of maple, soft V-shaped neck and 8- hole pickguard down to the small size things like the switch tips and the knobs.
This powerful guitar has its standing among the best guitars in the world. Generally, it is considered as one of the most favorite guitars to play by majority of the guitarists. The key reason behind its immense popularity is its appropriate weight; meaning that the guitar is neither too heavy nor too light for the user to have difficulty in carrying or playing it.
If someone wants to invest in an excellent guitar but is not willing to take a risk then this guitar is the most appropriate safe choice for spending money.
Especially for people who admire vintage stuff, this guitar will make its place among the very attractive and pleasing piece of instruments.

2. Fender American Special Telecaster
For the fans of blues, rocks, and country music genre, Fender Standard has produced an amazing electric guitar known as "American Special Telecaster". This guitar instrument has two Texas Special Tele pickups, a neck made of maple and an adorable alder body.
The design outlook of American Special Telecaster is vintage just like the 50's Stratocaster. Its only difference is that the look of this vintage blonde model of Special Telecaster is less sentimental.
The sound quality of the guitar is highly approved by all musicians. For someone who admires traditional electric guitar sound; this guitar would be the first choice to buy.
Even for the domain of pop music, this guitar works very well. It is to be noted that in case of heavier music genres Fender American Special Telecaster would not be able to give the required satisfactory results.

3. Epiphone Les Paul Cherry Sunburst
The next in the list of killer electric guitars under 100 dollars budget is Epiphone Les Paul Cherry Sunburst. The beautiful guitar has rosewood fretboard material and mahogany body.
The maple top is light in weight and slim in size as compared to rest of the guitars. This quality makes this guitar a comfortable choice and carrier for musicians.
Both the volume and tone are adjustable on the two Alnico V Humbucker pickup configurations installed on the guitar. Other than that the guitar also has other great attributes like Tune-o-Matic bridge, LockTone, and a stopbar tailpiece.
Epiphone has been in guitar production business since 1873 and has maintained its name along with the quality of instruments produced.
This Epiphone model has a lot of resemblance with Les' 1952 original. In terms of money, this great guitar is slightly cheaper than above-mentioned guitars; therefore, it is easy on the pocket as well.

4. ESP LTD EC-1000 KOA
It won't be wrong to say that this guitar has a beauty of its own. It not only sounds great but it looks extremely good as well. Its striking appearance catches one's attention instantly.
This unique guitar top is made up of koa wood. Koa is the name of a Hawaiian wood that has a special outlook because of interesting grain pattern. This guitar is the first choice for the people who are not fond of plastic material and are the fan of organic and natural stuff.
It is a well-known fact that the material used in guitar formation has an enormous effect on the guitar sound.
The question that instantly pops up in our mind is: Does koa wood effect sound?
To our relief, Yes Koa wood does have an impact on guitar sound and that too in a very positive way. It makes the sound brighter, deep and satisfying.
If you are curious to know how different and good this guitar sounds then there are plenty of YouTube videos that can help you in this matter.
Hurry up and please your ears with some great music.

5. Fender Deluxe Nashville Telecaster
As the name suggests this electric instrument is a product of giant guitar company Fender. The word 'Deluxe' in the name further emphasizes the fact that this guitar is special and better than the rest of the guitars. Nashville is the center of the country music.
Thus the Fender Deluxe Nashville Telecaster has a high appealing name along with highly satisfying quality.
It would be unfair to specifically categorize this beautiful piece of an instrument for country genre only. Although it works extremely well for country music; it also can perform well for all other music genres because of its versatility.
It has a strat pickup in the middle and two vintage noiseless pickup configurations. One is present on the bridge and the other one is present on the neck.
The guitar also happens to have locking tuners which provide guitarists the facility to tune the guitar according to their needs and change electric guitar strings.

6. Schecter Synyster Gates
This guitar is a pleasant alternative gift for people who want to have Synyster Gates Custom but are not able to afford it because of the high price. It looks pretty much similar to the guitar of Avenged Sevenfold's guitarist.
A couple of negligible differences would be of its fretboard that is made up of rosewood instead of ebony and the presence of bolt-on mahogany neck rather than having a set neck. Rosewood is naturally oily; therefore it is a good option for fretboard because one definitely would not like to invest in a dry looking fretboard.
Another advantage of Rosewood is its positive effect on sound because it can capture extra overtones that make the tone fuller.
This guitar is the best choice for punk, hard rock, and metal genre lovers. The appearance is super cool having a great glossy all-black finishing look with silver pinstripes.
Other things included in this and original model are Death Bat inlays, SYN, and a Floyd Rose tremolo. It is to be noted that this guitar comes with a useful guitar case which adds to the beauty of this great guitar set.

7. Yamaha RevStar RS820CR
Buying something unusual and different from the rest of people is a natural human wish. Musicians like other genuine people want to spend money on something special like an outstanding guitar. For such musicians with a unique taste; Yamaha RevStar is a perfect choice.
The amazing guitar's design is inspired by speed-racer motorbike of Tokyo and London. This collection has a diverse range of guitars so that anyone can have a guitar of their own choice and needs.
An interesting fact is that the company claims the quality of the guitar to be good to such extent that one will consider the guitar as of his/her better half.
For a guitar to be a nice better half, it should be comfortable to play with. On a serious note, the Yamaha team has made sure that the guitar is comfortable enough to produce a great sound. Special attention has been put into its making so that its sound is as good as its appearance.
The guitar is ergonomic and has a hidden forearm contour, a deep belly cut and a neck joint that help in playing high up on the fretboard.

8. Godin 5th Avenue CW Kingpin II
Last but not least, this guitar is another great entry in the list of affordable electric guitars under 1000 dollars. The guitar not only looks classic but it also sounds classic as well. The Godin 5th Avenue CW Kingpin guitar is specially designed to make guitar lovers nostalgic about 50's era.
In terms of sound, the guitar sound is a little bit different from the 50's sound as it has better volume and projection in the mids and lows.
This enables the highs not to be prominent like crazy, therefore making the guitar a great choice for both accompaniment and solos.
Another special feature of this outclass guitar piece is of two Godin Kingpin P90 single-coil pickups. Due to these pickups, the guitar can produce lovely vintage tune in a somewhat upgraded way.
It is manufactured in North America, most probably Canada, because its neck is made up of Canadian silver leaf maple.

In a nutshell
Now you can have your own electric guitar without breaking the bank.
These guitars cost under $1000 but they're definitely of excellent quality.
This article was written by a freelancer.
---
Related articles:
Best Self-Propelled Lawn Mowers Under $300
Top 14 Best Automatic Watches Under $300
Best Laptops For Streaming And Buying Guide
Best Gaming Laptops Under $700
Top Travel Hair Dryers To Buy Today
Best Hard Shell Luggage You Can Buy Today
Best Treadmills For Home Under $500