Planning to start a blog soon? I have compiled a list of 101 niche ideas for your new blog!
Surely, there are other articles with niche ideas elsewhere. This is by no means a novel article.
That said, this list is based on what I think may actually work especially if you want to monetize your blog someday.
Scroll through the whole list as I have listed ways to monetize your blog as well!
Disclaimer: There may be affiliate links which means that I earn if you sign-up for a service using my link at no additional cost to you.
101 Niche Ideas
1. Finance (saving money and earning money from home)
2. Travel
3. Food recipes
4. General product reviews
5. Photography
6. Car reviews
7. Celebrities
8. Local news
9. Blogging tips
10. Life hacks
11. Music
12. Motivational articles
13. Relationship advice
14. Gift buying guides (e.g. Valentine's day)
15. Job interviews
16. Tech gadgets
17. Virtual reality
18. WordPress specialist
19. How-to's
20. Web design
21. Freelancing
22. All about Korean dramas and KPop
23. Horror stories
24. Investments (stocks, bonds, etc.)
25. Restaurant reviews
26. SEO (search engine optimization)
27. Social media tips
28. Memes
29. Luxury watches
30. News site (e.g. Huffington Post)
31. Web hosting reviews
32. Parenting
33. DIY & Crafts
34. Fitness
35. Dieting
36. Religious teachings
37. Political views
38. Lifestyle
39. Child care
40. Adult comics
41. Treating anxiety & depression
42. Antiques
43. Backpacking on a budget
44. Public speaking
45. Marathon
46. Card tricks
47. Yoga
48. Gardening
49. Time management
50. Tennis
51. Survivalist
52. Business
53. Nutrition
54. Football
55. Gambling
56. Singing tips
57. Pregnancy
58. Photoshop tutorials
59. Pinterest expert
60. Online jobs
61. Online games
62. Meditation
63. Weddings
64. Writing a will
65. Language learning
66. Bedroom design
67. Jewelry
68. Hiking
69. Dog apparel
70. Hair loss
71. Feng shui
72. Cycling
73. Translation
74. Copywriting
75. Computer programming
76. Scholarships & grants
77. Quizzes
78. Quotes
79. Real estate
80. RV travel
81. Camping
82. Dancing
83. Spiritual healing
84. Stress relief
85. Aliens
86. Vegetarian
87. Fashion
88. Studying
89. Cheap airfare
90. Magic tricks
91. Bodybuilding
92. Drug addiction
93. Anti-aging food
94. Army training
95. Michelin-starred restaurants
96. Entrepreneurs
97. Self-defense
98. Paranormal activity
99. Men's grooming
100. Low-carb food
101. Internet advertising networks
What do you guys think about the niche ideas listed? If it helps you, share it with others!
Here's also a brief guide on how to choose a niche for your blog.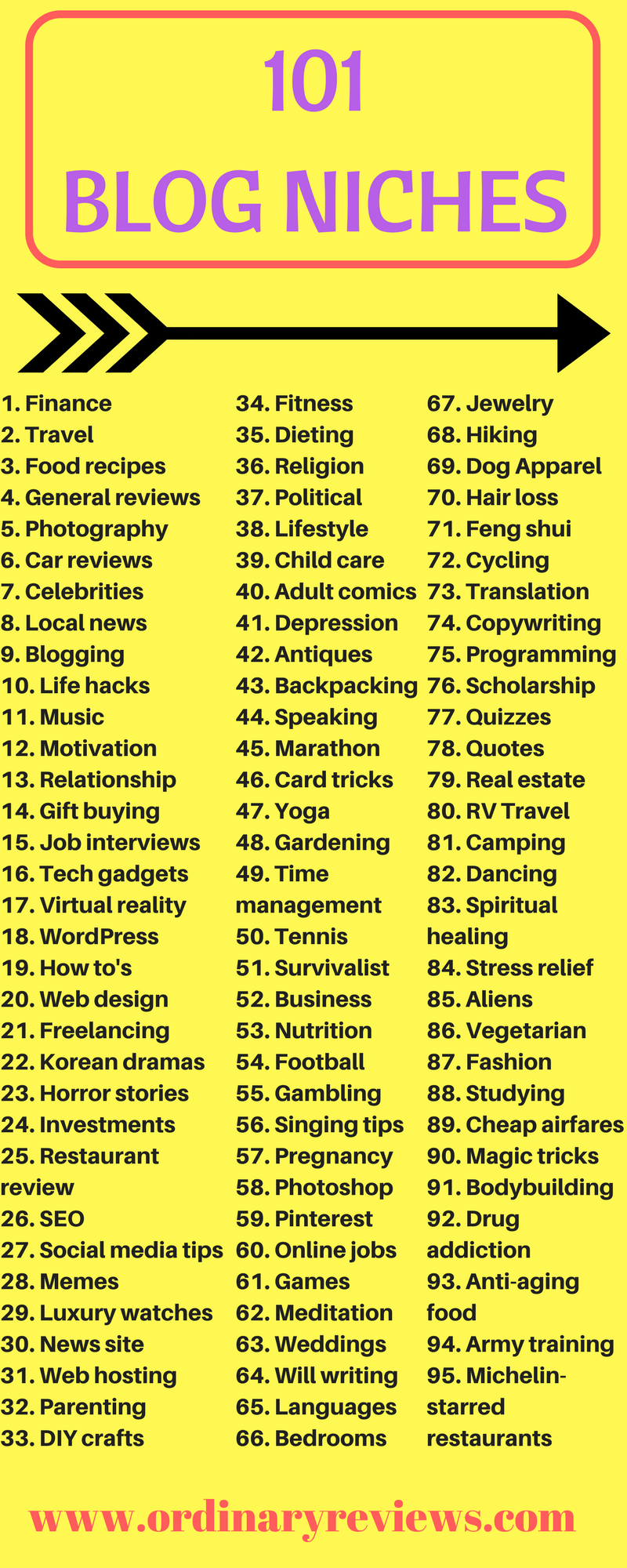 Ways to monetize your blog
Thanks for scrolling all the way down here. Here are some ways for you to monetize your blog!
Do note that every blog is different. For instance, you can't or rather shouldn't monetize a lifestyle blog the same way you monetize a blog on product reviews.
1. Advertisements
Most bloggers would think that putting advertisements on their blogs is the best way to make money blogging. They are not wrong, IF they have loads of traffic on their blog. If you are just starting out as a blogger, you probably won't earn enough from ads to even cover your hosting plan. Nevertheless, here are some advertising networks that you can consider.
Google Adsense – This is the most popular advertising network around. The only problem is that getting approval on Adsense is pretty hard these days.
Media.net – If Adsense belongs to Google, Media.net is the Yahoo equivalent. It's easier to get approval from them and they tend to work well on topics like money.
Infolinks – They are known for their in-text ads.
Propeller Ads – They are known for their interstitial ads.
Amazon CPM Ads – They pay for impressions and not clicks. The thing about CPM ads (regardless of which network) is that you won't earn much unless you have a substantial traffic.
2. Affiliate marketing
Affiliate marketing is arguably one of the best ways to earn as a blogger. You don't need a lot of traffic to start earning. Basically how it works is that you sign-up with affiliate networks and each affiliate network hosts about thousands of companies that you can work with. Once you have successfully partnered with companies you want to work with, you can start putting affiliate links into your blog posts. You will earn if someone signs up for a website or buys a product using your link in accordance with each company's terms.
Here are some networks that you can join:
CJ by Conversant – They are also a huge network with plenty of companies to work with like GoDaddy, HostGator and etc.
Amazon Associates – You can promote any product listed in Amazon's directory.
3. Sponsored posts
Sponsored posts are also good income earners for some blogs. How it works is that companies will pay you to write good reviews about their products or services. For new blogs, you may not get approached directly. You may need to be proactive and find for work. Here are some websites that may help you to find sponsored posts.
4. Miscellaneous
Here are some other ways to monetize your blog:
Use your blog as a platform to jump start your freelance writing career
Offer web design services on your blog
Create a job board and charge advertisers
Do 1 on 1 consultations
Create a premium membership area
Sell your blog
Do you know of any other profitable niche ideas for blogs?
Is your blog's niche listed above? If it's not, perhaps you would like to share with others what your blog's niche is about and whether it's doing well.
Leave your thoughts in the comment box below before it closes.
---
Related articles:
Kinsta Review – Best Managed WordPress Hosting?
How To Increase Your Blog Traffic With MIX
How To Go From Zero To 10,000 Monthly Page Views On Your Blog