A zero gravity chair probably got its name inspired from astronauts. It's not that the chair floats or anything. It's just that the posture of reclining helps to even out your weight that it feels "weightless" or "zero gravity". It helps to reduce stress at certain parts of a person's body.
The more expensive zero-gravity chairs also come with massage features, but those are at least 10 times more pricey.
These chairs are more popular nowadays and many people are actually searching for them online. Here's a curated list of the top five best zero gravity chairs today.
1. Timber Ridge XL Zero Gravity Chair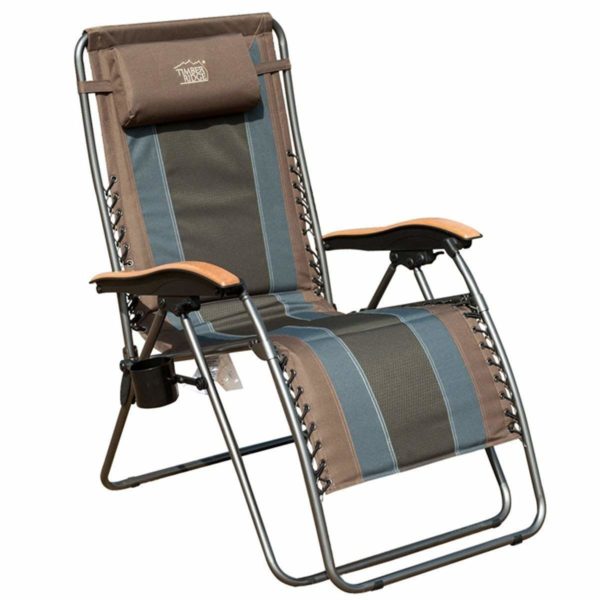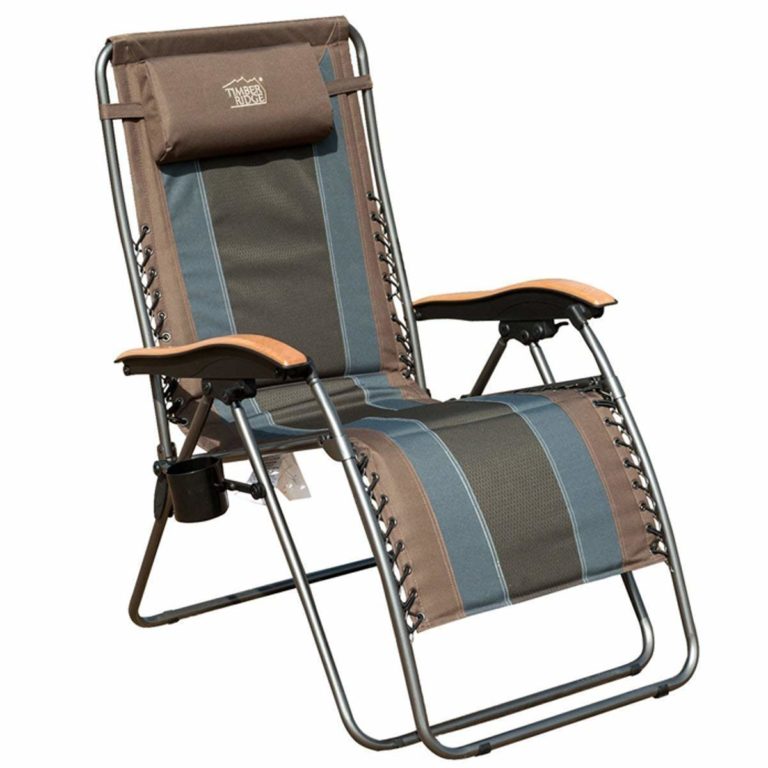 First up is a chair from Timber Ridge, which is also one of the best sellers on Amazon. Gravity chairs are also known as outdoor chairs, where you can sit in your backyard or in your lawn while you enjoy some sunlight.
This zero gravity chair is quite sturdy but heavy and is a solid addition to your home. When you use the recline position, it doesn't really shake or wobble, so it's definitely a plus point.
This Timber Ridge chair comes with a small but comfortable headrest pillow. It is also detachable if you don't wish to use it. The arm rests are wooden, which is different from the other chairs. That's also probably why it's heavier overall.
Furthermore, it supports up to 350 pounds, so if you're below that weight limit it should be fine. The side cup holder on one of the arm rests is also a plus point, and is suitable for those who just want to relax at home. The Timber Ridge is definitely one of the best zero gravity chairs in the market.

2. Zero Gravity Canopy Chair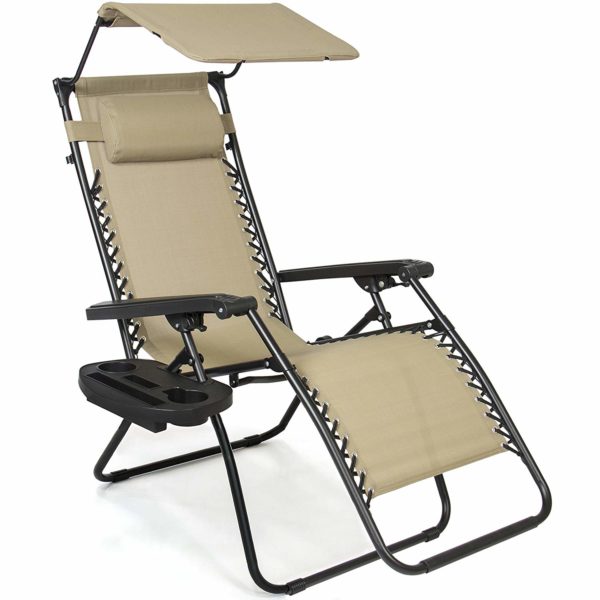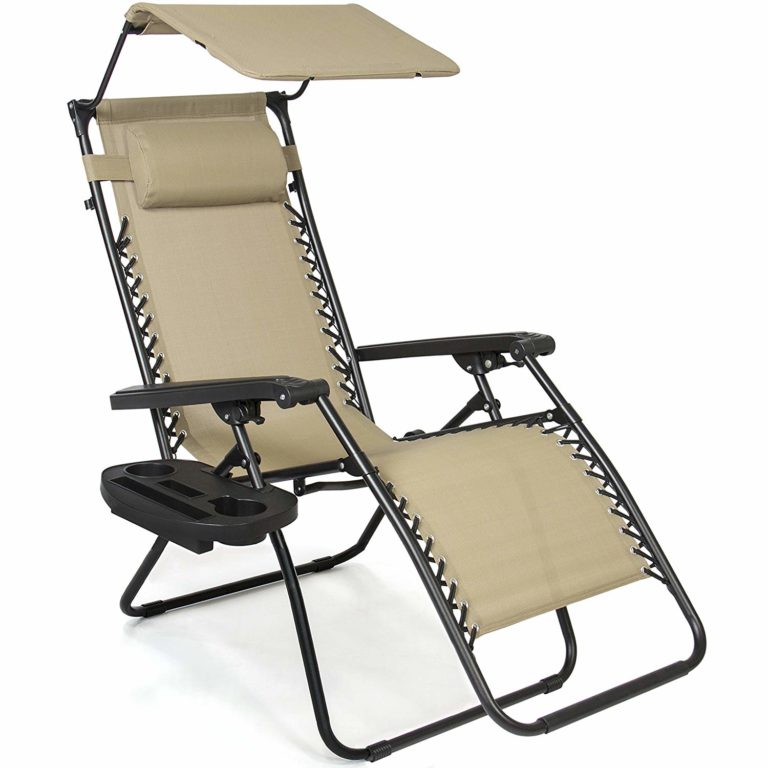 This zero gravity canopy chair is more unique as it comes a canopy shade. It definitely comes in handy if the sunlight is too glaring for your eyes.
Like the Timber Ridge, it also has a detachable cup holder, but this one's a tray and can hold even books and magazines, not just cups or mugs. It also has a 'double bungee' system, where your seat is supported by a durable and lightweight steel. The double bungee refers to the suspension system, i.e. elastic cords that holds the frame and fabric together.
This gives the chair a lot of room for suspension and it should suit your body nicely. To keep it, you have to fold the chair behind, and not detach it. The weight limit for this chair is around 250 pounds, so do be wary of this.
Do note however that there has been complaints of the chair rusting due to rain water. You may want to keep it indoors when not in use.

3. Zero Gravity Chairs (Set of 2)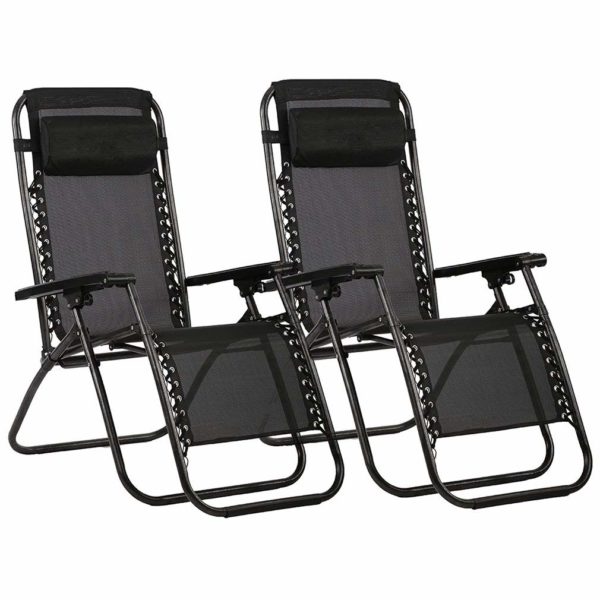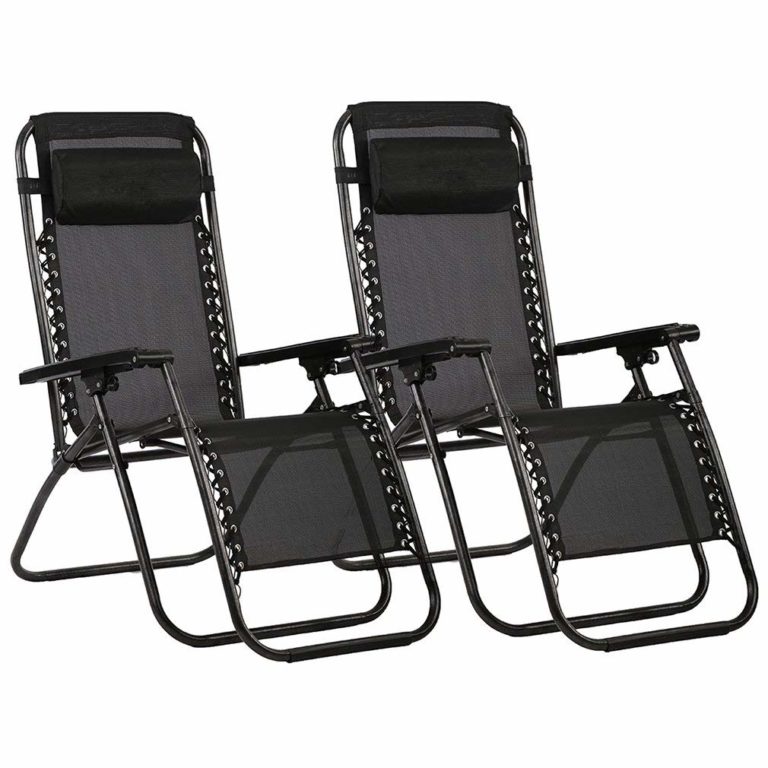 Next up are these black lounge patio chairs that are sold in a set of two. It's definitely cheap considering you get two for the price of one, so it's better for couples or families.
These chairs also come with a utility tray for you to put your cups. It seems to be a must-have feature these days. The design is pretty minimal with a detachable head rest in case you don't need it. It comes in a set of black, blue or other colors. You can't order separate colors in a set.
These zero gravity chairs are suitable for usage on the beach or anywhere outdoors. One bad thing is that it does have some internal rusting if exposed to water.
The good point is, it's a value for money item considering the price you pay and you still get two chairs for the price of one. If budget is an issue, then get this one.

4. Bonnlo Infinity Zero Gravity Lounge Chair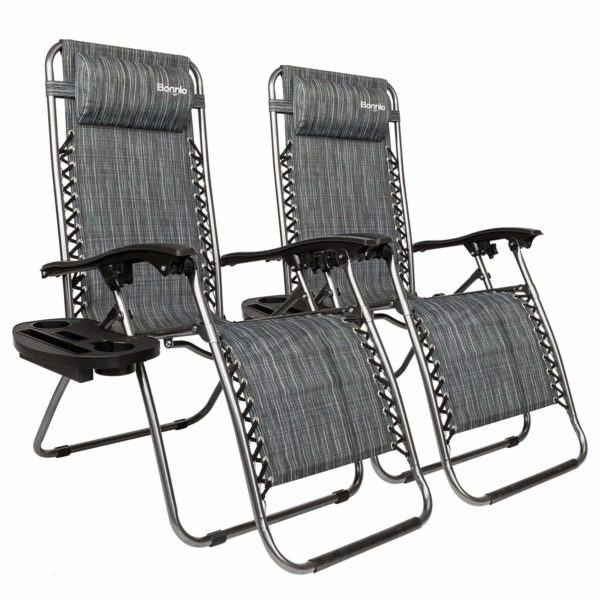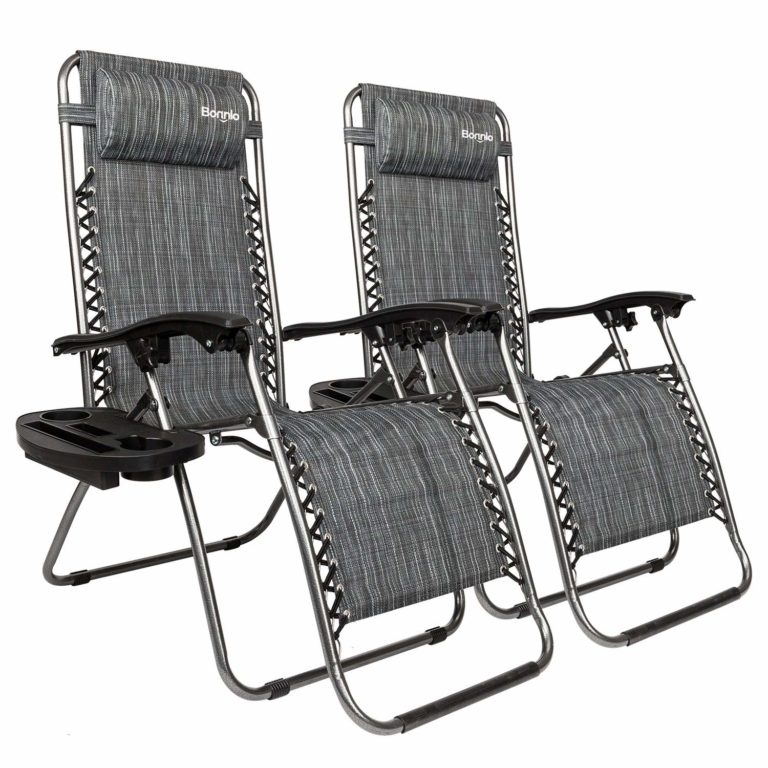 Next is also a set of two chairs, and it's called the Bonnlo Infinity Zero Gravity Chair. Like the rest, it comes with a tray where you can put cups or even magazines, phones and tablets. It definitely comes in handy.
This chair uses textilene fabric which is durable and quite resistant. It's most suited for outside use, whether in your backyard or by the pool. The Bonnlo chair also comes with a detachable and adjustable headrest that is quite comfy. It is said to be able to withstand up to 350 pounds, like the Timber Ridge.
You have a choice of three different colors, but since you're buying in a set, you can only choose one color for both chairs. It is also easy to recline from upright to zero gravity position as it uses a decent lock system.
Unlike some of the models above, this set of chairs may not rust that easily.

5. Portal Oversize Zero Gravity Chair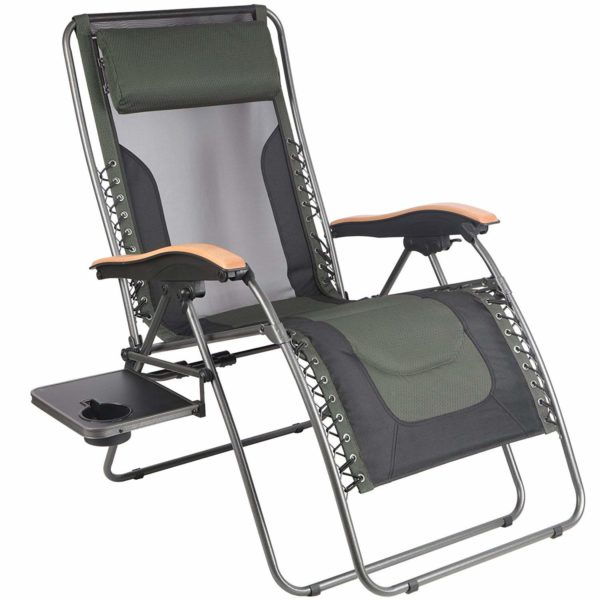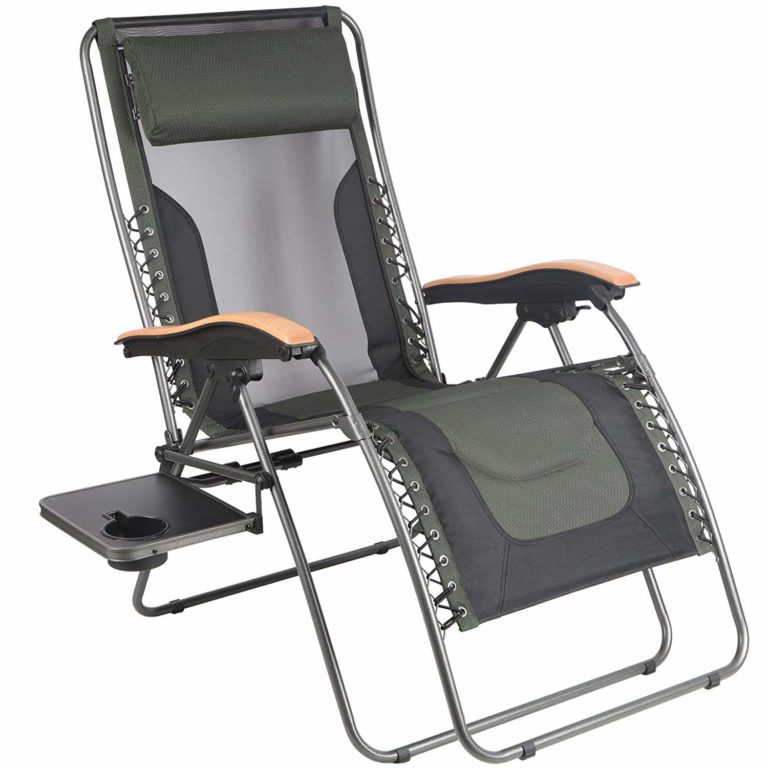 Last but not least, the Portal Oversize Zero Gravity Recliner Chair is also pretty well rated. It is easy to fold and you can carry it anywhere, i.e. to the beach or even in your backyard. It is designed for many things, including camping.
This XL chair also comes with a tray that allows you to put your cup and perhaps your magazine or your smartphone. The weight limit is around 350 pounds, so do take note of it. Portal's zero gravity chair also has an adjustable headrest but it doesn't seem to be detachable. Nonetheless, it's made to be comfy.
The armrest uses a classic wood material and is more sturdy compared to some armrests.
Among all of the chairs mentioned, this is the only model which doesn't have terrible reviews. While it's pretty well received, the price is only for one chair, and not a set unlike the two models above.

Features of most zero gravity chairs
When buying a zero gravity chair, there are some features or factors that buyers think about most before making a purchase.
Here's a brief list of those factors.
1. Cup holder or tray
Most of these chairs come with either a small cup holder or a tray that fits cups, magazines and much more. Since these chairs are used for relaxation, it's only normal to demand for such an extension. All of the five chairs above do come with this feature.
2. Does it rust?
Some of the chairs above do rust when it comes in contact with rain water or water from other sources. However, you can reduce rusting if you keep those chairs indoors whenever it's not in use. It's more of a hassle but these chairs are usually easily foldable, so it shouldn't take too much space inside your house.
3. Massage features and cost
Zero gravity massage chairs are much more expensive compared to the ones listed above. They are normally in the range of $1,000 to $3,000 as they come with electronic massaging capabilities, and are usually only kept indoors. The chairs listed above are much cheaper, in the range of $70 – $200, and they lack massage features. However, they are mainly used outdoors, by the pool, in the beach or in the garden.
4. Recline angle
Many consumers also love to inquire as to how far the chair reclines. While not all of the chairs recline fully into a zero gravity position, they are mostly quite close.
Best Zero Gravity Chair?
The best option for you depends a lot on your budget and your needs. If you're a couple looking for value for money, perhaps getting the set of 2 is a better option.
If you're just looking for a single sturdy chair that you can use outdoors and is affordable, you can go for the Timber Ridge zero gravity chair.
---
Related articles:
15 Best Minecraft Gifts For Fans
Best Gaming Gloves For Racing Games
Review Of SteelSeries Siberia 150
Huion H610 Graphic Tablet Review