So you've started a blog. What next? Many guides on starting a blog do not explain what WordPress plugins you need after setting up your blog.
Most of them just have a few articles on blogging or maybe just one, probably hoping that you'll buy web hosting through their affiliate link.
I too have an article on how to set up a blog and I do promote my affiliate links in them.
But I won't just leave it there.
There are some WordPress plugins you may have to install after creating a blog. I'll go through some of the important ones in this post.
Do note that this only applies to self-hosted WordPress blogs. Read here to understand what's a self-hosted blog.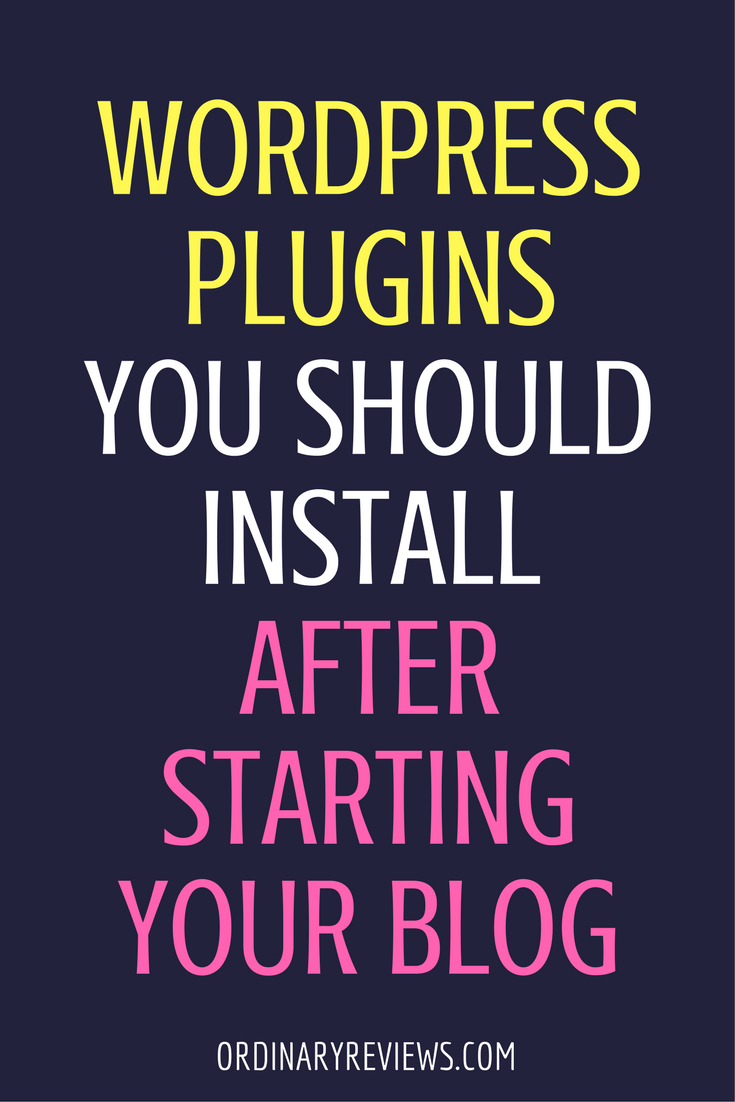 1. Yoast SEO
If you want your blog to ever receive traffic from Google or other search engines, you need to do SEO.
SEO stands for search engine optimization. What you want is to optimize your posts so that Google loves it. If Google loves it, your post should rank well.
There are about 200 factors that Google takes into account in ranking articles!
Now, Yoast is a plugin that only helps you on certain parts of SEO. Specifically, it helps you with on-page SEO.
What it does is that it tells you:
if your keyword density is too low or high,
whether your images have keywords as the alt description,
whether you've used the focus keyword in the first paragraph,
whether your title contains your focus keyword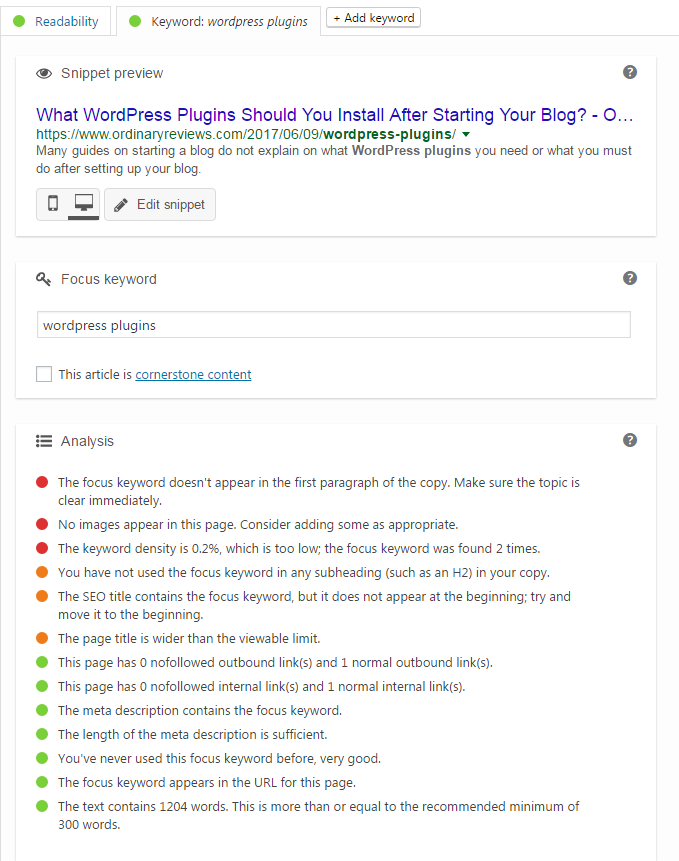 Basically, it reminds you to do your keyword optimization and other on-page stuff. That's the least that you can do.
Some SEO experts are already so used to on-page optimization that they don't fully rely on Yoast.
There are so many other important factors not covered by this plugin, for e.g. website speed, backlinks, quality of content and so on.
Do read up on other factors if you're new to SEO.
2. Wordfence Security
When you have a house, you'll have to protect it from burglars or other threats by way of CCTV and/or guards.
Similarly, when you have a website, you need to protect it from hackers.
There are a number of security plugins but I've been satisfied with Wordfence so far.
You can use it for free but they do have a paid plan where you'll get access to more features.
For instance, the paid plan has a feature where you'll be informed via mobile phone if someone logs into your account.
3. Akismet Anti-Spam
When your blog starts showing up on Google, you'll start to receive spam comments.
For instance, you're writing an article on food reviews and suddenly one random stranger comments "I love your blog! bookmarked it".
More often than not, the username sounds spammy, like "free instagram followers" or "online education".
You'll notice that they're definitely spam.

If you wish to solve or reduce that problem, Akismet is a great plugin.
It's basically the most popular anti-spam plugin if I'm not mistaken.
Do note that it's not a perfect plugin. Most spam comments do end up in the spam folder.
However, there are still some that escaped the spam filter. You have to remove them manually.
4. W3 Total Cache or W3 Super Cache
Website speed is a huge factor these days. Your potential readers tend to exit a site if it takes more than 3 seconds to load.
As Google values user experience as one of its main factors of SEO, website speed is crucial.
Hence, you should use a caching plugin to increase website speed.
I'm currently using W3 Super Cache because it's easy to use and there is not much customization needs to be done.
However, I've heard that W3 Total Cache may be better, but there are lots of settings you have to configure.
If you're a total IT newbie, you can go with W3 Super Cache.
5. Backup
One of the most important things to do is to backup your blog regularly.
There are tons of backup plugins in the market and most of them are free to an extent.
I'm not sure which backup plugin is the best, but I'm using Backup Guard.
It's currently free but you have to manually do your backups.
If you have the budget, you can try VaultPress which comes with the Jetpack plugin.
It's best if you can backup your data both in cloud (online) and also in your hard disk.
It will save you if your website gets hacked.
6. Jetpack (Optional)
If you've used the free WordPress.com platform before, then you would know what Jetpack is.
It's like an all-in-one package which consists of maybe 20 plugins.
For newbies, Jetpack can be quite useful. It comes with traffic stats, social sharing buttons, security and so on.
The thing is, not every blogger would want to install Jetpack. That's because Jetpack slows down the site.
Generally, having too many WordPress plugins slows down your website and it's not good for SEO. Furthermore, there are other WordPress plugins to replace Jetpack.
Some use Disqus for the comment system in place of Jetpack's comment system. It's more of a personal preference and whether it slows down your site a lot.
7. TinyMCE Advanced (Optional)
If you want to increase or decrease your font size, you can use TinyMCE Advanced.
Don't use different headings because you want to choose different font size! It affects SEO adversely.
Heading 2 has to come before Heading 3 and so on.
This plugin gives you other functions as well, for e.g., you can insert a table in your content.

8. WP Smush (Optional)
If you happen to use images a lot, you may want to get an image compression plugin.
WP Smush is one of those compression plugins that reduces image sizes.
If your image size is too huge, it can reduce your website speed, which in turn adversely affects SEO.
Hence, you should either use a plugin to compress images or you should just use smaller-sized images.
9. Ad Inserter (Optional)
If you're not a techie and you've no idea how to insert ads to your blog using the html part, you can try this plugin.
Ad Inserter allows you to put ads rather easily on your blog. You can determine when ads will show up and where it will appear.
For instance, you can set it so that ads only appear when your posts are above 500 words or however long you want.
You can also make it appear after every 300 words. It's really up to you.
You can also determine if the ads will appear at the footer, header, middle of the post or even after the 2nd paragraph.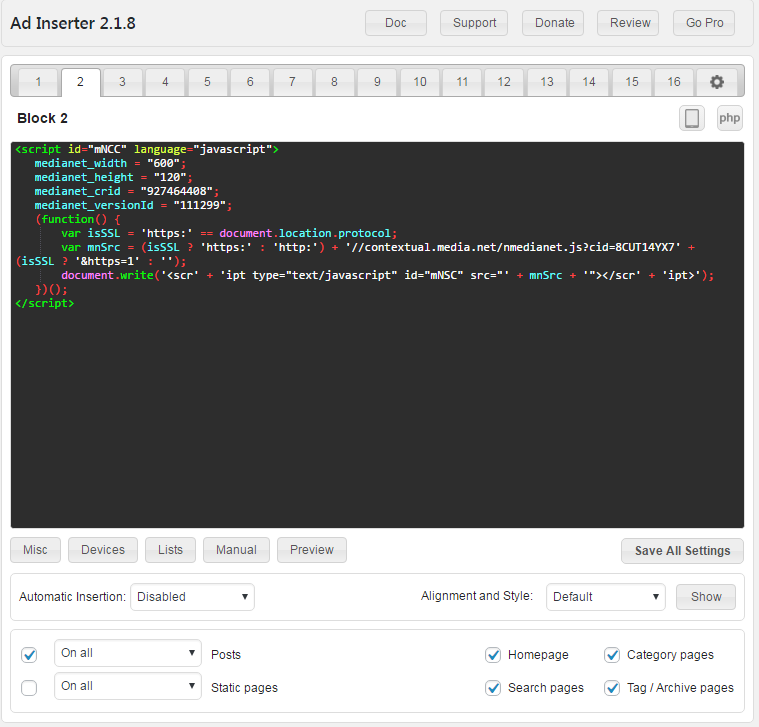 Check it out if it's something you really need.
Conclusion
What you need to know is that there are tons of WordPress plugins out there.
Different kinds of websites may use different plugins but most websites will use the essentials, such as Akismet and Wordfence.
Do read more on WordPress plugins on other articles as well. Ultimately, you have the final call. It's your website anyway.
Also, stay away from plugins that have not been updated for years. They give room for hackers to access your site. Remove any plugin not in use.