Quantum of the Seas is one of the cruise ships belonging to the Royal Caribbean group.
This ship typically sails between Japan and China but when the seas are rough, they're available from Singapore to Phuket.
Windjammer is the complimentary buffet restaurant provided in Royal Caribbean's Quantum of the Seas and here's a brief review of the food.
Read also: Review of Quantum of the Seas
Overview of Windjammer
This restaurant is located on Deck 14 of Quantum of the Seas towards the mid / back of the ship.
It's open for breakfast, lunch and dinner most of the days, but the hours may vary depending on the ship's schedule.
For e.g. if the ship docks at Phuket, the operating hours will change.
As it has the biggest buffet spread which is complimentary (or already paid for), it also has the most number of guests dining here.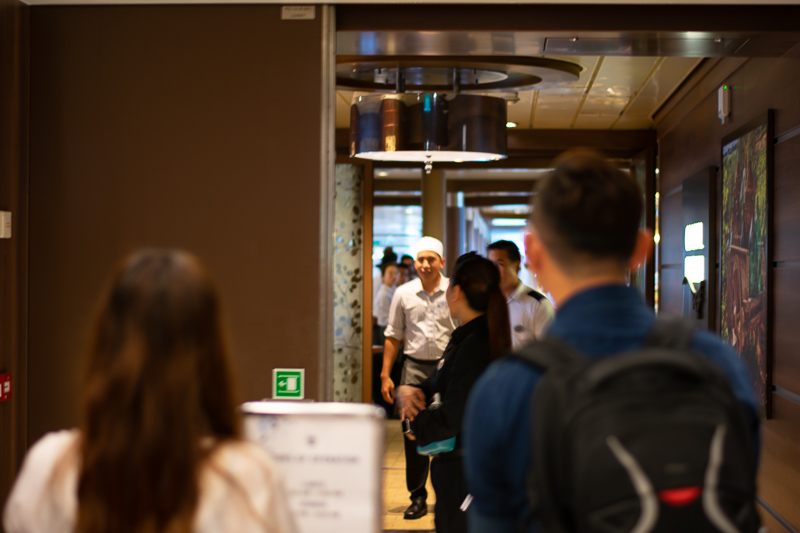 Getting a seat may be difficult. On the first day of boarding, you can already see a queue if you come late. If you're early, just wait in front of the closed door and they will open it welcoming you.
Once you're in, you will see plenty of food stations. Some are repetitive to cater to different seating areas, but the spread is quite big.
If you're cruising during a peak month, then it's hard to get a seat if you're late. Many will rush to this restaurant just for buffet.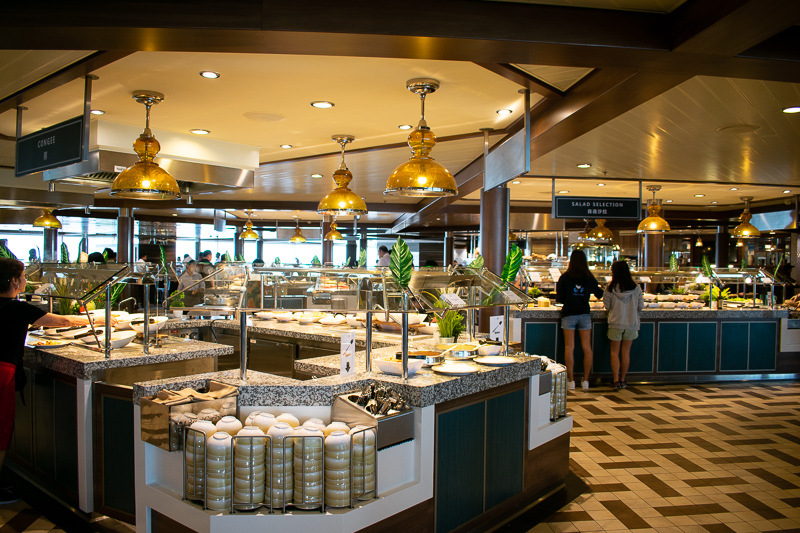 You will also see a 'Welcome Onboard' cake which will be served on another day.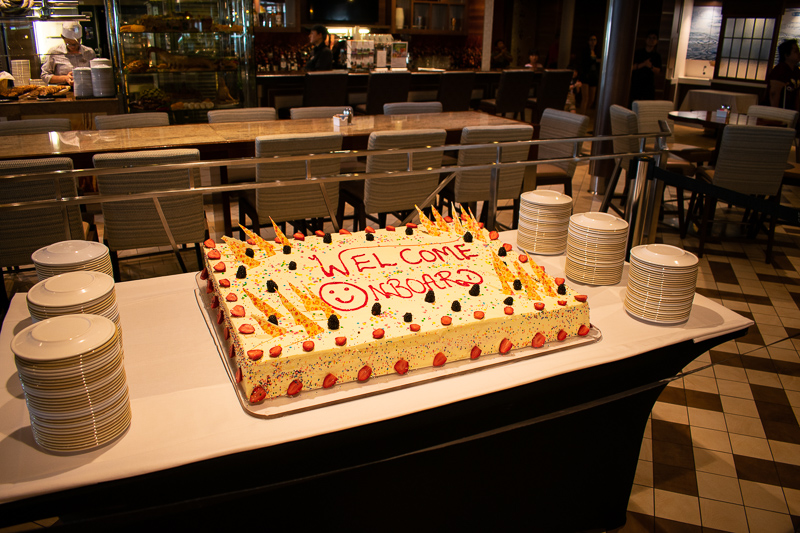 Food at Windjammer
As mentioned earlier, there are plenty of food in Windjammer. The buffet spread changes depending whether it's breakfast, lunch or dinner.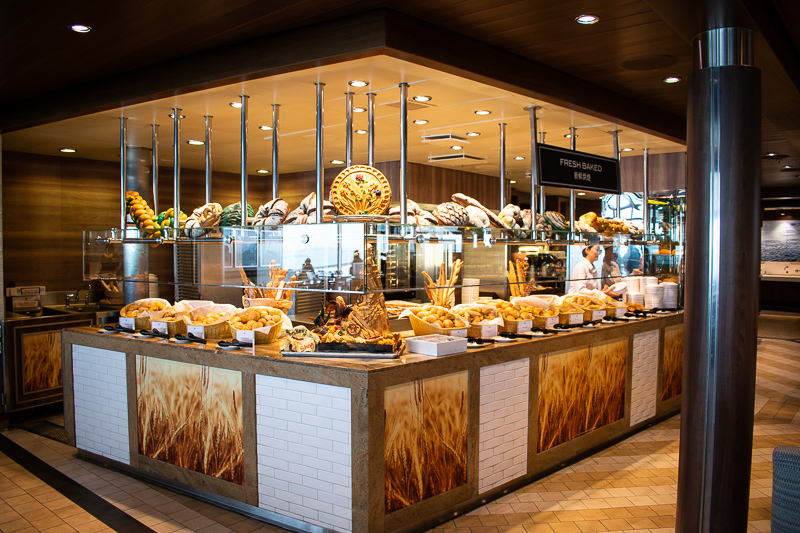 When we came for lunch, they even had a burger section but that changes during breakfast (to waffles etc.).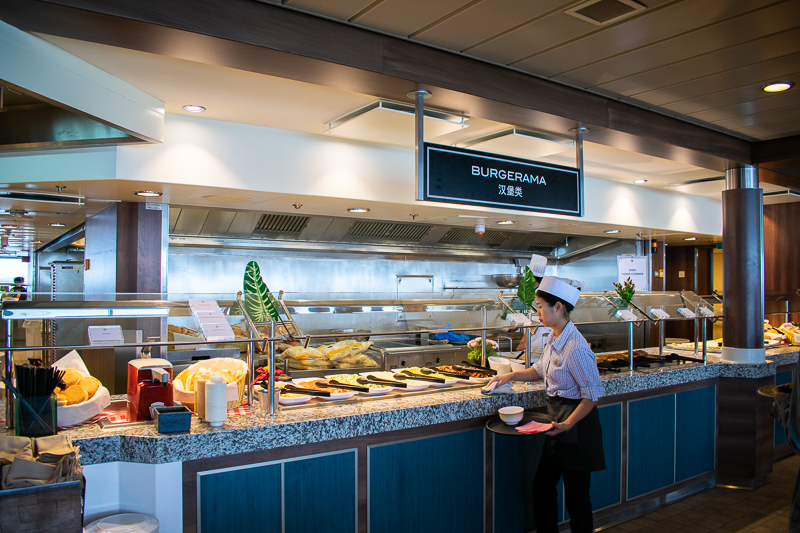 One of the best things about Windjammer is the view. When we came right after boarding the ship, we could see the Singapore Flyer, Marina Bay Sands and other popular buildings in Singapore.
When the ship is cruising, you'll get a sea-view instead.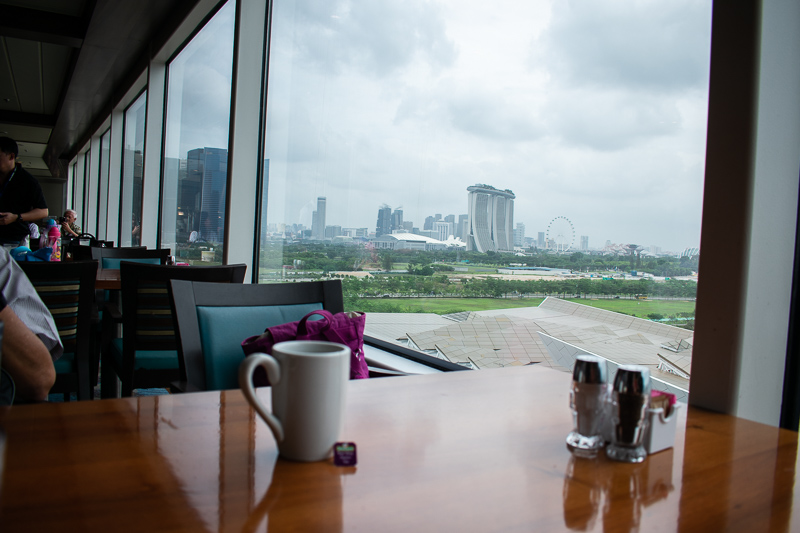 The buffet on Quantum of the Seas is a mix of international cuisine, including western, Chinese, Filipino, Indian and a few more.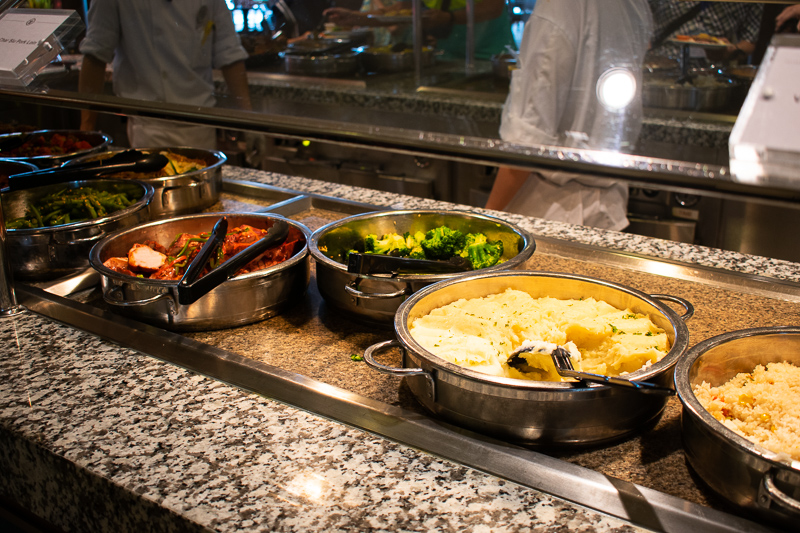 The Indian food is also quite genuine. If you love Indian food, then you have to check out this section. They even have naan, chapati, puri or roti depending on when you're dining.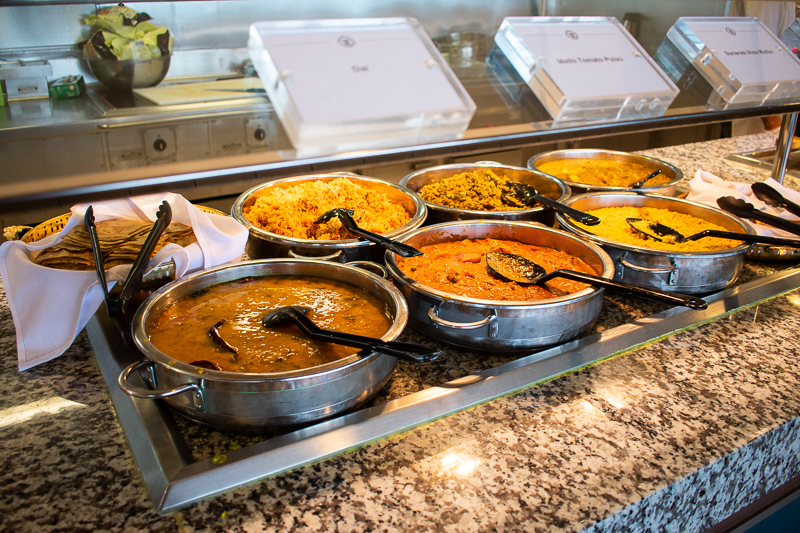 If you're cruising during a peak time, try coming to Windjammer either early or late in their operating hours to get a table.
Otherwise, you'll be standing around looking for a place to sit.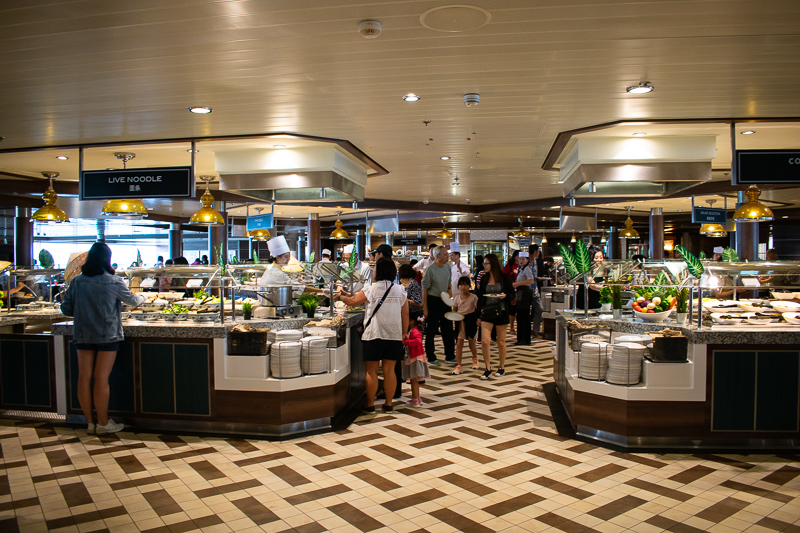 Apart from the appetizers and main courses, they also have quite a decent dessert section.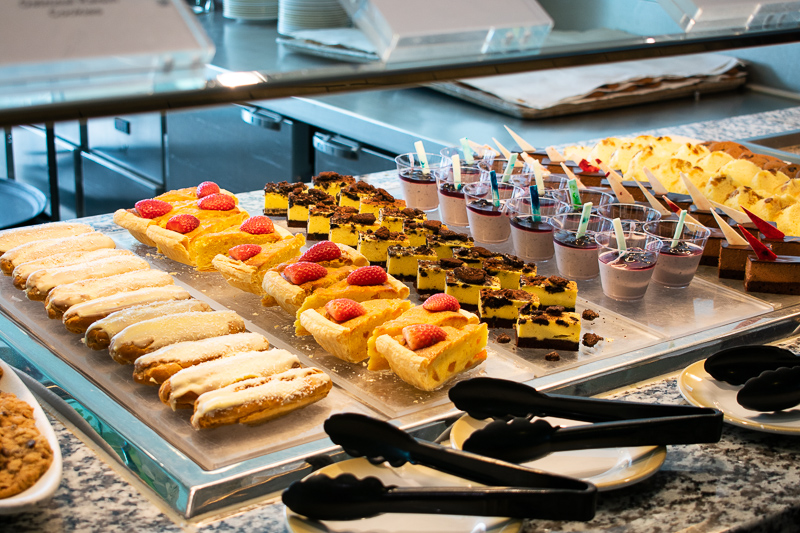 You can find puddings, cakes and so on.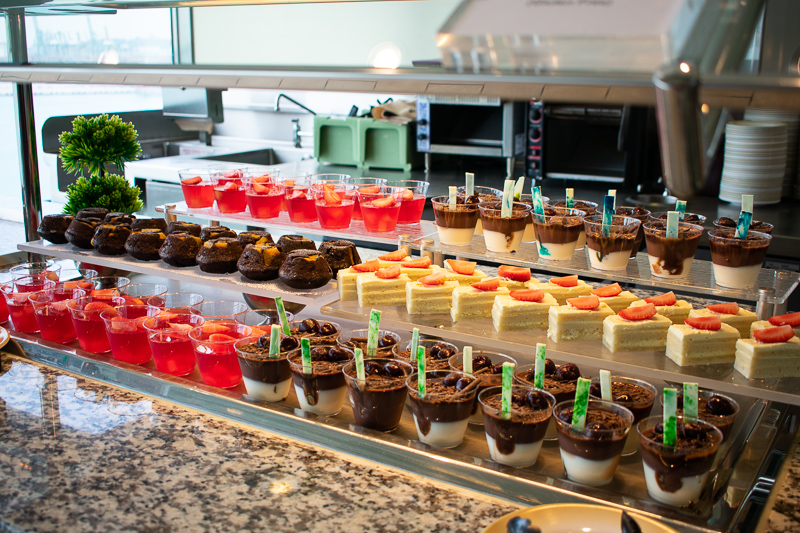 In a nutshell
Windjammer is possibly the most popular restaurant on-board Quantum of the Seas.
It's full most of the time in a peak season, so you may want to try other places for dinner.
The main dining room is great for dinner as your seat is already guaranteed by your stateroom number. Furthermore, it's free.
Otherwise, you can also dine at specialty restaurants but you have to pay extra for them.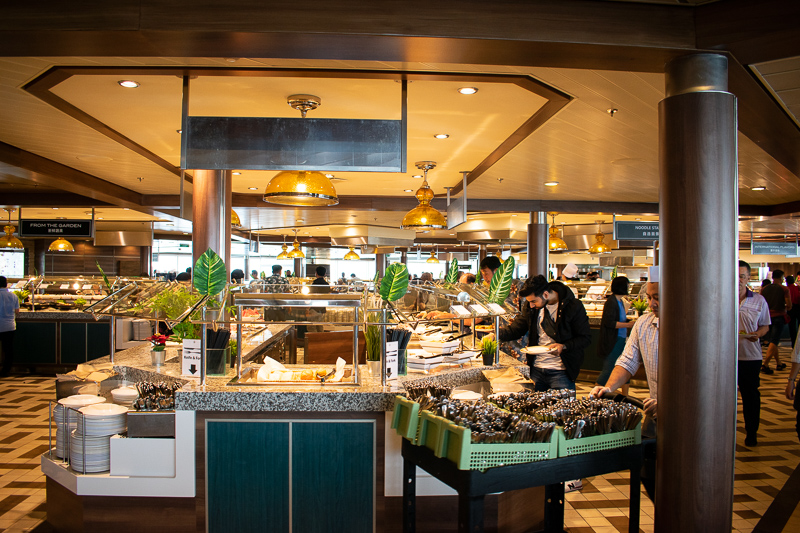 Windjammer is not the only place for buffet but it's the biggest with the best spread on the ship.
The other much smaller buffet area is Solarium. Hopefully this article would have helped you with your food decisions on this Royal Caribbean ship.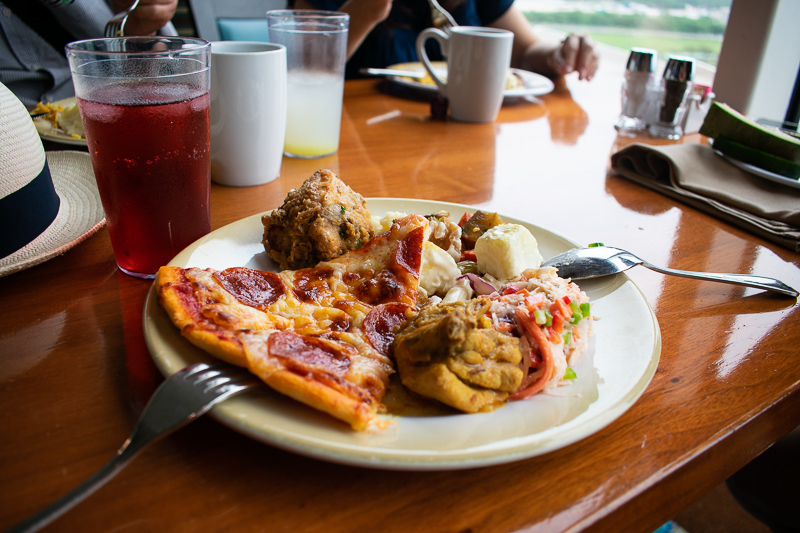 ---
Related articles:
Le Siam Review – Best Thai Restaurant In Jungceylon, Phuket