Gifto is a decentralized universal gifting protocol. What does that even mean?
For starters, the team behind Gifto started Uplive, which is a massively popular streaming platform.
What is Gifto?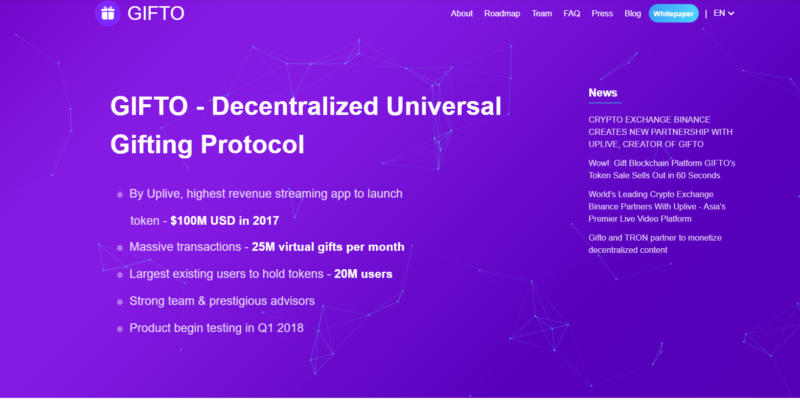 Gifto is said to be a decentralized gifting protocol, which is a concept popular on streaming platforms.
If you look at platforms like Uplive, Bigo and Twitch, all of them allow gifting of items by viewers to streamers.
It is also a great source of income for some streamers. Imagine if a viewer gives $100 worth of gifts and you have many viewers who does that, you can earn a lot of money a month.
In fact, Uplive claimed in their video that their top streamers earn USD 50,000 a month, which is insane.
The team behind Uplive, i.e. Asia Innovations Group, started Gifto as they believe it's a huge market considering how Uplive performed.
Why the need for Gifto?
The present situation for content creators isn't that appealing. According to their statistics, only 0.3% of content creators on YouTube get over a million views.
Additionally, a million views only equates to an average of $2,000, which isn't much.
Platforms like Instagram and Facebook do not favor content creators in general, except the small percentage at the top.
Hence, they aim to reward more content creators by introducing a decentralized gifting protocol where anyone can earn.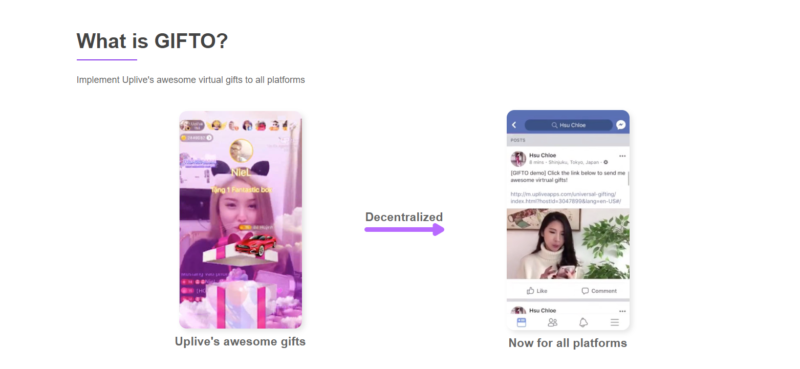 It thrives on a gift economy like other cryptocurrency-based platforms (e.g. Steem and Mithril).
These days, streaming is really popular as viewers love to establish social connections with the streamers.
They give presents to streamers to make them happy and in return the streamers make the viewers happy as well.
At the moment, Uplive is doing well, and they introduced Gifto to make the gifting process transparent.
As it's based on the Ethereum blockchain, you can't "amend" transactions and create fake gifts. At least not at the moment.
This gives the platform some reliability and trust, and since they're implementing it on a successful business, it may work well.
Personal take on Gifto and Uplive
I have personally used Uplive before as a viewer, before Gifto was implemented on the platform.
On first impression, I noticed lots and lots of gifts being thrown around to the top streamers.
You could easily tell that these streamers were making lots of money.
On the other hand, there are some who have almost no views at all.
It seemed similar to Instagram or any other social media platform, where only the good-looking ones make the most money.
Unless Gifto manages to distribute the wealth even more, I don't see how it's different to what YouTube or Twitch has to offer.
Maybe the top streamers earn more on these platforms, but that's about it.
Even Steem has a similar problem, where a small minority makes the majority of the income.
If it's any consolation, perhaps the 'small' streamers can actually earn something instead of nothing, and that's an improvement.
Gifto Price
At the moment, Gifto is valued at about $0.23 per token.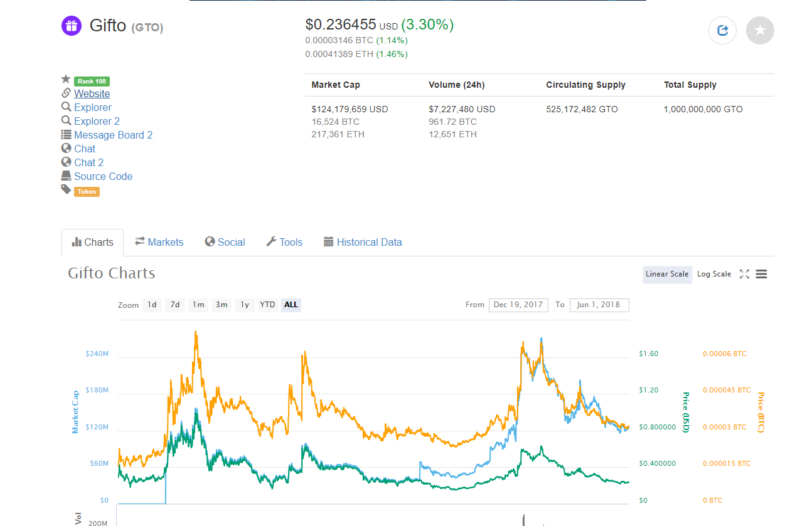 It's interesting to see how much Gifto will be worth in the future, considering it's relatively new in the market.
In a nutshell
Gifto is an interesting project to watch in the cryptocurrency space. As Uplive is already pretty successful, hopefully we'll see more of these projects in the future.
The gifting economy is amazing for content creators and some even make a full time living out of it.
Do read the Whitepaper to understand the entire project.
Disclaimer: All opinions and views that are expressed here are purely individual opinions. None of the articles are to be construed as giving financial or investment advice of any sort whatsoever. We do not guarantee the accuracy of the information on this website, including cryptocurrency news and articles.
---
Related articles:
What Is Theresa May Coin? – Another Shitcoin?
Best Altcoins 2018 – Our Top 10 Altcoin Picks
30 Top Altcoins And Cryptocurrencies With High Potential (2018)