Lego Speed Champions is the latest DLC in the popular racing game Forza Horizon 4.
In this newest DLC, it introduced a bricks challenge where you have to do stuff to earn bricks.
Here's a brief wiki / guide on the Soak It All In challenge in Forza Horizon 4.
Your objective is to smash 10 umbrella stands in the Mazdaspeed MX-5 within 20 seconds.
Soak It All In
This challenge is categorized as hard but it's actually quite easy.
Just look for a place filled with umbrella stands and you'll easily complete it.
You will earn 50 bricks for completing the challenge.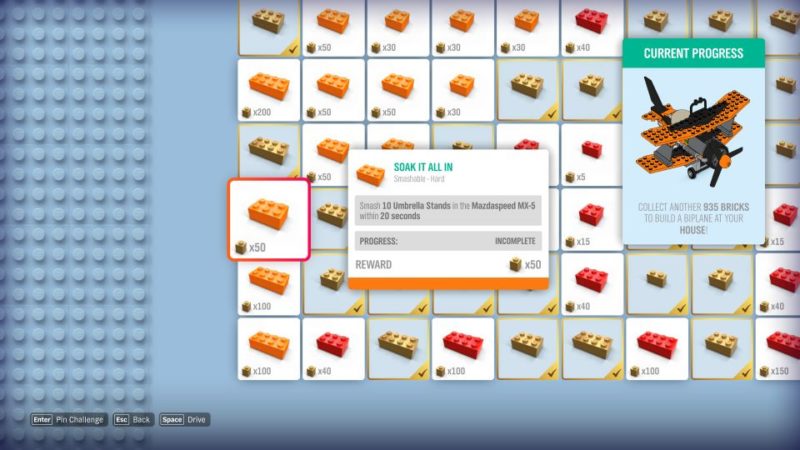 Get a Mazda MX-5
To do this challenge, you need to first have a Mazda MX-5. You can easily buy one for over 20k at the autoshow.
If you wish to find a cheaper price, probably check out the auction but it takes time.
You have to go to your house to make a purchase.
Where to find umbrella stands
The best place to find these stands is at the beach itself. The exact location is shown in the map below, at where the Mainland symbol is on the map.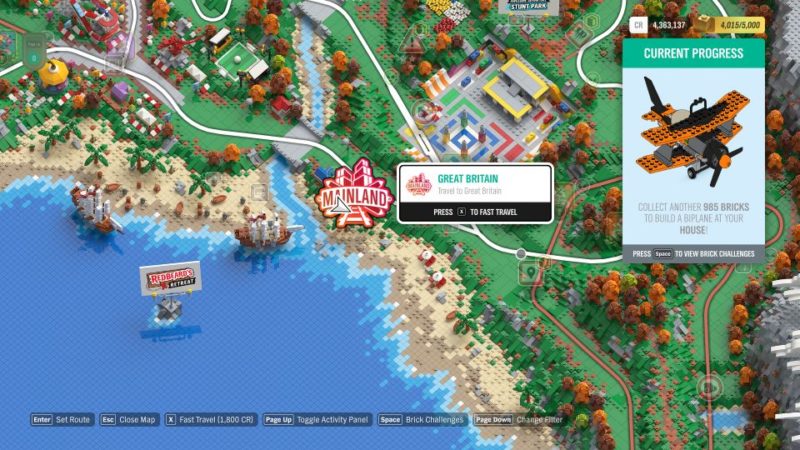 When you get there, you'll see rows of chairs and umbrella stands. This is also a great place for the other challenge where you have to smash into 30 chairs.
Just smash into the white umbrella stands and you're done.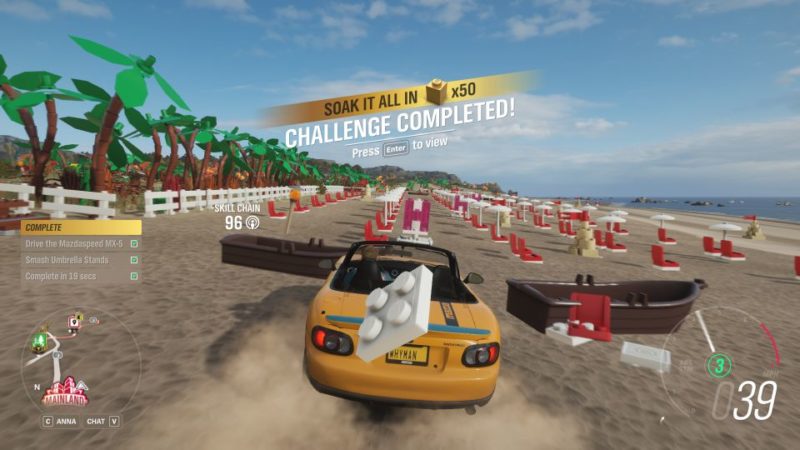 ---
Related articles:
Table Flipping: Forza Horizon 4 (Lego Speed Champions) Guide
How To Find Bicycles: Forza Horizon 4 (Lego Speed Champions)
How To Find Ladders: Forza Horizon 4 (Lego Speed Champions)
Smash 3 Coffee Carts: Forza Horizon 4 (Lego Speed Champions)
How To Find 50 Barrels: Forza Horizon 4 (Lego Speed Champions)
Smash 50 Lego Brick Piles: Forza Horizon 4 (Lego Speed Champions)