Hi guys, what are the things that you wish you knew before you started blogging? I started blogging many years ago on a free Blogspot account but I hated the fact that there were no readers. Hence, I stopped blogging for many years (though I had another blog in between). Many years later, I started this blog Ordinary Reviews on WordPress, geared with the intent to gain enough traffic to make a living out of it. I started making money in my 2nd month but only about $100. For all of you aspiring bloggers, here are the things I wish I knew about blogging before I began! It may be useful for you guys as well.
Note: This is only a short list of things that I should have known before starting a blog. I'm sure the list could have gone to 100 things or more, but it would have taken a much longer time. This post may contain affiliate links which means that I earn a small sum if you sign-up for a service or a website using my link at no additional cost to you.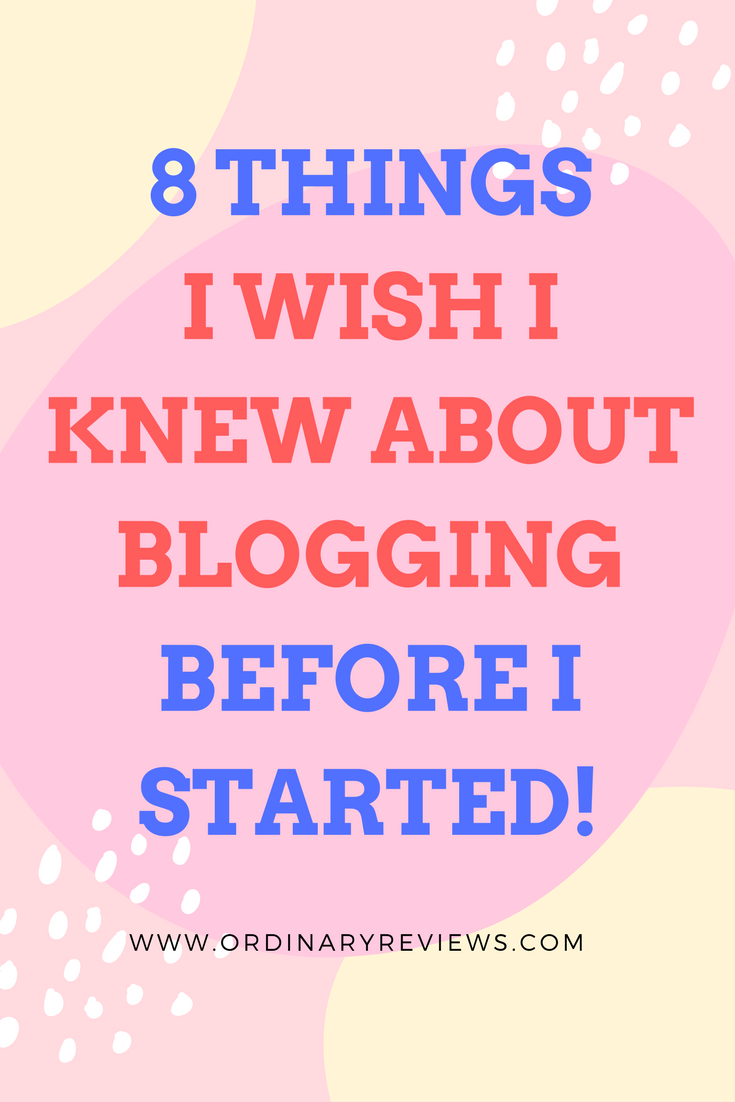 #1 Blogging is a long-term effort if you wish to make money from it
Many bloggers tend to give up in the first few months. Why? They expect to get traffic the minute they hit the "Publish" button. You can't just build a blog and wait for traffic to come. It doesn't work that way.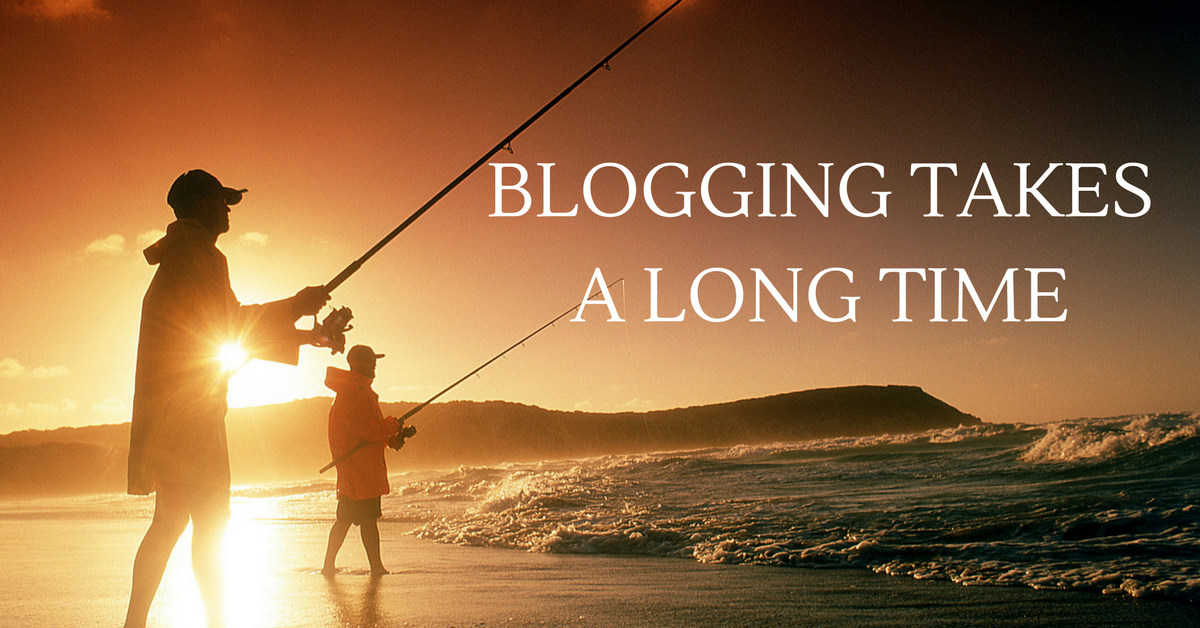 Maybe in the past, keyword stuffing worked for Google. However, Google is getting smarter every day and they change their algorithms regularly.
Many blogs were penalized for keyword stuffing after a major Google "Panda" algorithm update in 2014. The latest algorithm update last month is widely known as "Fred" and it apparently punishes those with heavy ads and low quality content. Therefore, you need to write quality content and lengthier content to rank well these days.
Back to the point. Without traffic, there is no revenue. If you plan to start a blog just to make money, don't do it. You will get demoralized and eventually quit blogging altogether. You need to have passion in the topics that you're writing in. If you have passion and you know how to monetize your passion, you can make money after some time.
I am sure most of you have heard of top bloggers like Darren Rowse, Neil Patel, Pat Flynn, Michelle and Harsh Agrawal. Even Mashable and The Huffington Post started off as blogs. They make a lot of money every month, much more than regular jobs. However, they didn't get to that stage within a year or so. Many of them have blogged for about 10 years at least.
I myself hope to be successful like they are. I don't need to earn as much as they do, but at least sufficient enough to make a living. Many bloggers do not earn even after years of blogging. It's either because they didn't intend to or they didn't know how to. There are many ways to monetize your blog. Affiliate marketing is one of them. You can check out my guide on how to monetize your blog with affiliate marketing.
#2 You have to promote your blog posts
As already mentioned above, you can't build a blog and wait for traffic. You have to promote your blog posts. If you take 4 hours to write your content, you should take at least another 4 hours to promote it. The easiest way to get instant traffic is to promote your posts via social media or other platforms.
I wrote a post on how to promote your blog in 9 free places. You should check it out if you're new to this. Promoting on social media may not help search engine optimization (SEO) directly, but it sends social signals to Google. Based on observation, some of the blog posts with many engagements on social media tend to rank high on Google.
Among the many platforms, I find Pinterest to be the best traffic referrer for my blog. The best thing about Pinterest is that you can get your pins seen even with zero followers. A month ago, I had zero followers and have increased to about 153! The key to this is joining group boards as a contributor. Imagine joining a group board with 600,000 followers. Your pins will have the potential reach of 600,000!
To find for group boards, you can use PinGroupie which is a directory of group boards. You can find for group boards in your niche and apply to join as a contributor. Unfortunately, there is no "apply" button. Look at the description of each group board and it normally states how you can join as a contributor. Normally, the owner requires that you follow his/her account and send an email or comment on one of his or her pins. The owner will then send an invite. Do note that not all boards are open to new contributors.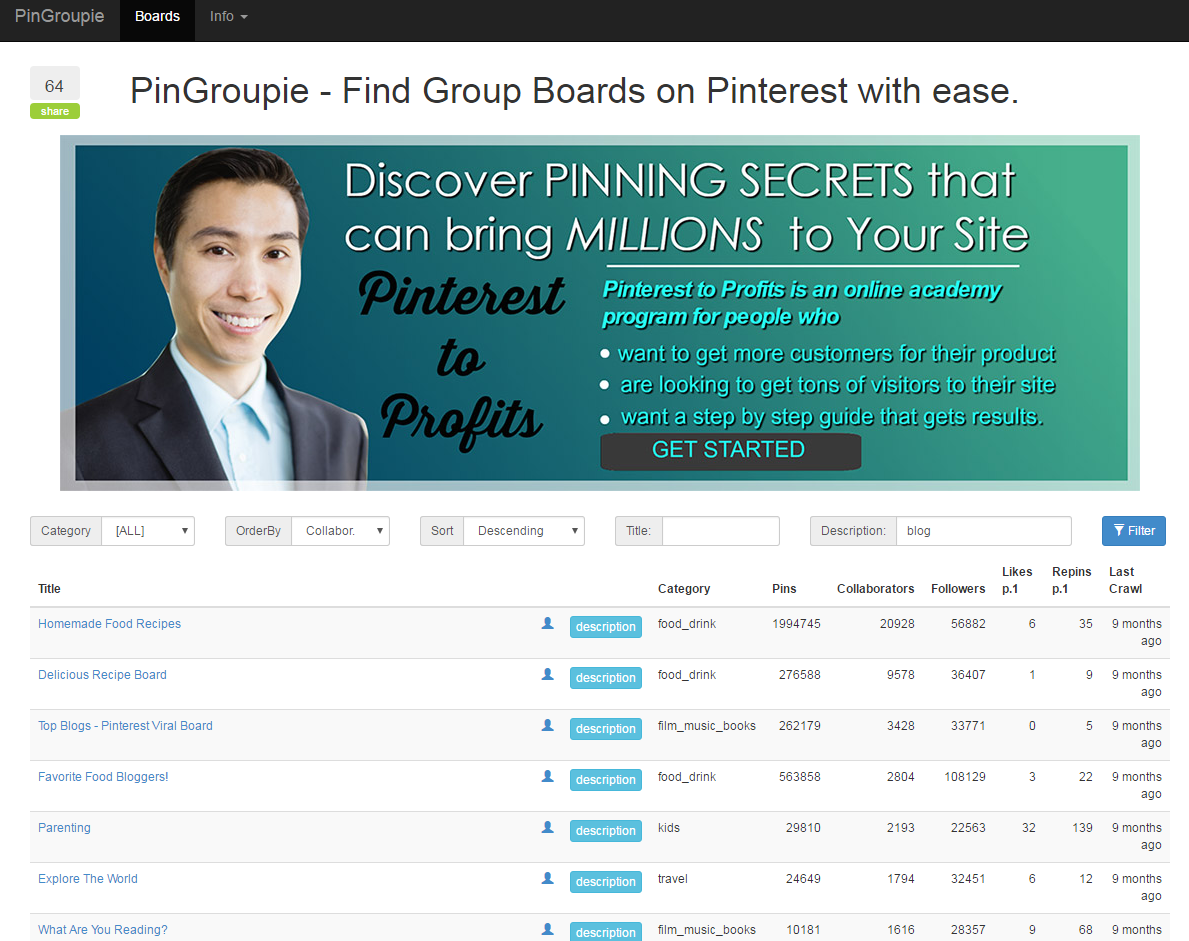 Apart from group boards, Tailwind works well for me. Tailwind is a Pinterest scheduling tool which allows you to schedule your pins. This means that you can pin even in your sleep! It also has a Smart Feed which determines the best pinning times for you. Tailwind is free for the first 100 pins and it costs about $15 a month. You can get the first month free if you use my affiliate link.
One of the best things about Tailwind is Tailwind Tribes. Tribes are similar to group boards, but they are not on Pinterest itself. It's a separate function exclusively on Tailwind. Basically, you can share your pins on Tribes and it almost guarantees re-pins, as each Tribe has rules to follow. For each pin you share in the Tribe, you may be required to re-pin other users' pins twice. Furthermore, it's free to use Tribes even if you are not under a paid subscription.
There are many other things that you should know about Pinterest but I've not curated a post yet. You can Google them!
Apart from Pinterest, Facebook groups work as well. They don't bring that much traffic but it's a good way to get your blog known to others. You get to network with other bloggers as well. However, leaving your links without a description or engaging with others is seen as "spammy". Try to engage with others and it works well!
Another way to promote your blog is by guest blogging. You should find for blogs in your niche that have a higher authority than you. Guest blogging is good for many reasons:
You get "do-follow" links from a blog with a higher domain authority. They are valuable backlinks and helps a lot in SEO. Even if the other blog has a DA of 20, there's a chance that it will increase a lot in the future. Who knows?
You get to know other bloggers in your niche and forge great long-lasting relationships.
The other blog's followers may subscribe to your blog as well.
You get (some) traffic from the other blog.
#3 You need to invest to earn from your blog
Who said that blogging was free? Sure, you could have started with a free blog on WordPress.com or Blogger, but how far can you go?
It's not that those with free blogs can't earn. It's so much easier to monetize your blog if you use WordPress and get your own hosting company. I use Bluehost for my blog. I am aware of the bad reputation that Bluehost has but it's still fine for me. SiteGround may be a great choice for you though. It had excellent reviews so far. Check this out if you need a guide to start a profitable blog.
Your hosting will only cost you about $3 – 6 a month for a shared hosting with any of the hosting companies. Your domain should be $10 at most.
What are other things that you should invest on?
Perhaps a premium theme will be good. My Genesis Framework premium theme costs about $60 and it's a great buy! My website speed increased a lot, which is something free themes don't offer. Having a fast website speed is crucial to rank well in Google.
If you use Pinterest (and you should), you can invest in a scheduling tool like Tailwind or Boardbooster. It takes only about an hour to schedule your pins for the entire week. I normally pin about 30+ times a day but I'm not certain if it's the most optimal way. A scheduling tool is really useful if you have a full-time job or if you intend to focus your time elsewhere.
You can consider getting a mailing list provider as well. If you don't have a budget for it, you can start with MailChimp which is free for the first 2,000 subscribers. Otherwise, you can use ConvertKit which works really well for pop-up subscriptions. Although pop-ups are annoying, they actually work!
For other resources, you can refer to my blogging resources page.
#4 You need to learn how to do SEO
Search engine optimization (SEO) is such a common term nowadays as everyone wants to have their blog post appear on the first page of Google for high-traffic keywords. How do you rise above the "noise"? There are probably millions of blog posts published a day. It's a crazy amount, I know.
Apparently, there are about 200 factors which affect SEO as published in Backlinko.
Luckily, even the top bloggers don't think of getting all 200 factors right for every post. Some factors are more important than others. SEO is usually categorized into on-page SEO and off-page SEO.
Off-page SEO is more on building backlinks via forums, guest blogging, social bookmarking and so on. On-page SEO is on your content itself. For instance, dropping your long-tail keyword in the first 100 words, in the title, in the subheadings (H2 – H4) and also in the last paragraph helps in on-page SEO.
While I'm not an expert in SEO, I tend to optimize my posts for SEO to the best of my knowledge. If you don't know how to do SEO, you can use the Yoast SEO plugin for WordPress. The free version is good enough for new bloggers. Once you're pretty good at it, you can start using the premium version which gives more keyword suggestions.
Even though SEO is important, it only works if you chose the right long-tail keyword. If you rank highly for a keyword nobody searches, what's the point?
Keyword search tools are not cheap but they are used by professionals. A good keyword tool would be Google Keyword Planner, which is available only if you have subscribed for Google AdWords. If you don't have the budget for it, Kwfinder and Keywordtool.io allows you to search 2 – 3 times a day for free.
There are lots to learn about SEO, so it's quite a learning curve for new bloggers and myself.
#5 You have to post consistently
From a SEO perspective and also a reader's perspective, posting consistently is really important. Your readers won't like it if you don't post consistently. If you usually post once a week, and you suddenly bombard them with 3 posts a day, how would they feel?
According to Neil Patel, blogging consistently is one of the main reasons his blogs Quicksprout and Kissmetrics ranks really well.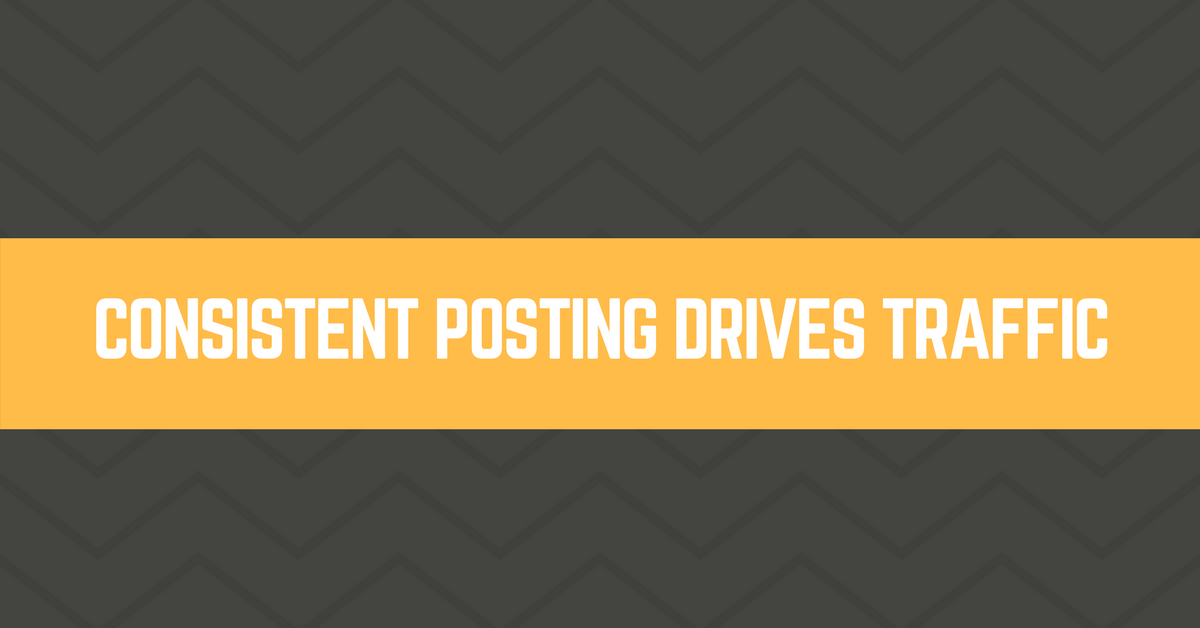 How it works from the SEO perspective is that Google bots will crawl your website for new posts. How often it crawls your website depends on how often you post. News sites like The Huffington Post probably publishes hundreds or thousands of articles a day, which is why it ranks almost immediately. If you post three times a week consistently, the bots will also crawl your website at a consistent rate. It helps you to rank faster.
If you blog only once a month, then it may take you a really long time for you to start monetizing your blog.
You have to determine the best schedule for yourself and stick to it. At the bare minimum, you should post at least once a week.
#6 You can monetize from the start
Advertisements is not the only way to monetize your blog. Unlike popular opinion, Google Adsense is usually not the best way to earn an income blogging!
To actually earn a decent amount off Adsense, you need a huge amount of traffic. Preferably above 100,000 unique monthly visitors. Personally, I prefer affiliate marketing as it has worked for me.
The best thing about affiliate marketing is that you don't need a huge amount of traffic. A group of loyal followers is enough for you to earn your first blogging paycheck. If you are a new blogger, the best way to promote your posts is through Pinterest.
When you join a few group boards as a contributor, your potential audience is enormous! Tailwind Tribes as mentioned above are really useful as well. One of the Tribes was really amazing as my pins (in total) were shared to a potential audience of 1.8 million users! At the time of writing, I only have 153 followers!
Apart from affiliate marketing, you can monetize in other ways such as sponsored posts, selling e-books, selling courses, opening a job board, selling ad spaces and so on. Every blogger monetizes his or her blog differently. You don't have to imitate or compare yourself to others. You just have to find what works for you.
#7 It's easier (but not a must) to choose a niche
In almost every guide about blogging, it's really common to stumble upon advice that you need to find a blogging niche.
A niche is basically a topic or category that is of interest to a particular audience. Examples of niches would be food recipes, finance, travel, lifestyle, product reviews or even golf.
A niche can be quite broad or even quite narrow. It can be as broad as finance as a whole. For instance, finance as a niche can cover lots of things, for e.g. saving money, how to make money, making money from home or even investments.
A niche can also be as narrow as having a blog which has content only about coconut oil. That would be categorized as a micro niche. Your target audience is so much smaller but a small audience in a micro niche can also generate money because your readers already know what they are looking for. It's not easy to stumble upon a micro niche blog by a general keyword search.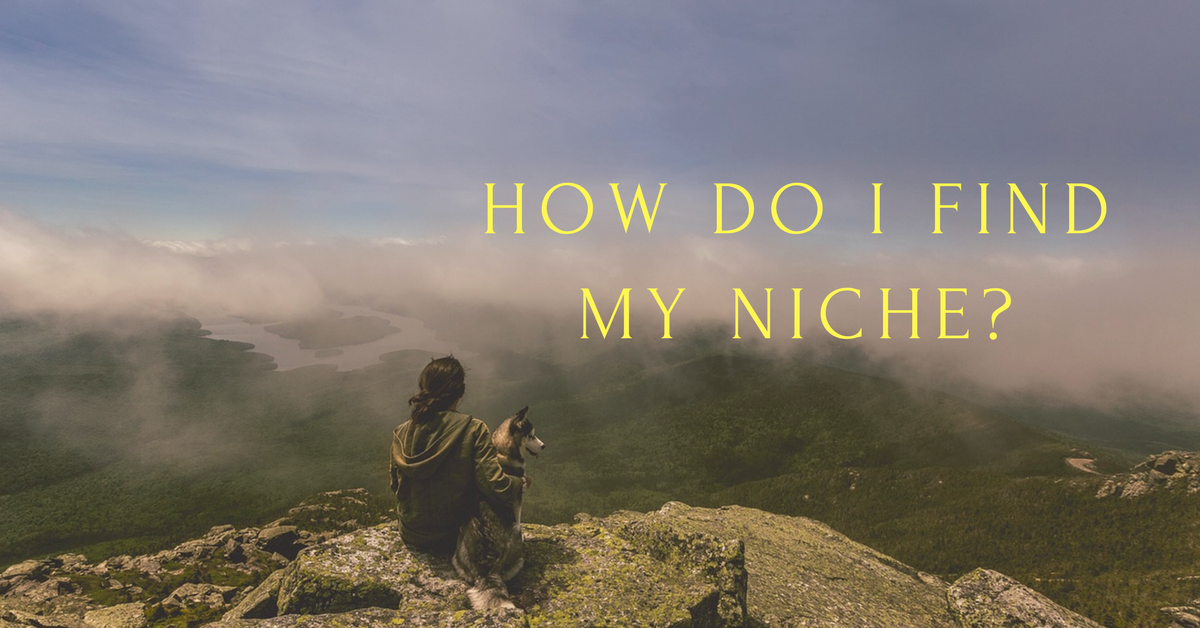 Why is it important to find a niche?
Niche blogs tend to be perceived as authority by readers and also by Google. For example, if you run a beauty blog, and you wrote a review about the iPhone 7, most people would trust a similar review by a tech review blog more than a beauty blog right? It's easier to rank well on Google, but it doesn't mean that you can only be successful with a niche blog.
How do you decide on a niche?
There is no hard and fast rule on which niche you should choose. There are a few considerations that you have to take into account before deciding on a niche:
Is this niche something I am really passionate about?
Can I write about this niche for the many years to come?
Am I already an expert in this niche?
Is this an evergreen niche? An evergreen niche is a niche that doesn't go out of demand, like health, money and relationships.
Are there any readers at all for this niche?
How much competition will I expect in this niche?
Choose a niche where you think you can actually compete with the blogs that are on the first page of Google. Check out those blogs to see if you stand any chance and then make your decision.
What if you still can't decide on a niche?
If you're not particularly good at one niche or maybe you think you can have two or more niches, why not have a multi-niche blog?
This blog Ordinary Reviews is a multi-niche blog mainly on blogging, making money from home and social media tips. Why? Because I couldn't decide on a niche like some of you.
I'm not particularly an expert in any niche, so I chose this path and learn along the way.
#8 You should not blog for free
Writers are paid, so why shouldn't bloggers be paid? Blogging involves not just writing but a lot of effort in other areas as well. We have to utilize proper images, promote our posts in various platforms, engage with others, perform on-page and off-page SEO and also use blogging tools that are not free.
If your blog is getting a huge amount of traffic, you should at least monetize it. It doesn't mean that you should bombard your readers with ads everywhere. Maintain a good user experience as a priority even while monetizing your blog. Not doing anything is like throwing money away.
Sure, some bloggers just want to blog as a hobby with no intention of monetizing their blogs. Then again, why not earn additional income to supplement your lifestyle?
---
What do you guys think about this post? What are your own experiences when you started blogging? What did you wish you knew before you even started?
Leave your comments in the comment box below!
If you want to start a blog and make money today, you can refer to this guide.