I recently acquired a Tefal Fry Delight FX1000 which is an air fryer.
Wait, what is an air fryer?
It's a tool to fry or even bake stuff with no oil or minimum amounts of oil. As it uses much lesser oil, it's considered as a healthier alternative to deep frying.
You can now produce similar results to deep fried food with almost no oil. Of course, the taste won't be exactly the same, but it's not too far behind.
I wanted to try air frying myself so I got a Tefal Fry Delight FX1000.
Disclaimer: There may be affiliate links in this article.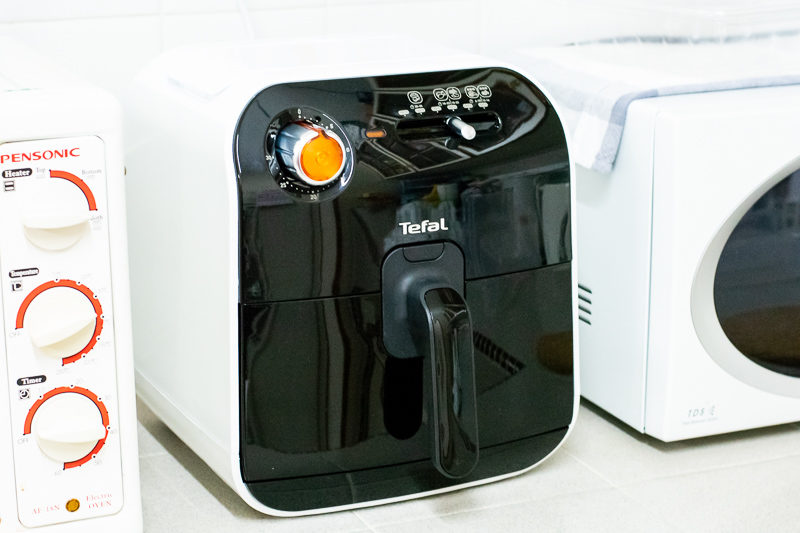 Specifications of Tefal Fry Delight FX1000 (Air Fryer)
The recommended weight of food is 100 – 500 grams at a time.
It comes with a timer of up to around 30 minutes.
You have a pan and a basket that can be unattached from each other.
The casing is black and white.
Temperature goes up to 200 degrees celsius.
How does the Tefal FX1000 work?
I actually tried it out yesterday and it was pretty easy.
You can actually cook frozen food with the Tefal air fryer and you don't need to thaw it in advance.
Frozen food can just go in immediately and you just have to start the timer and choose the temperature.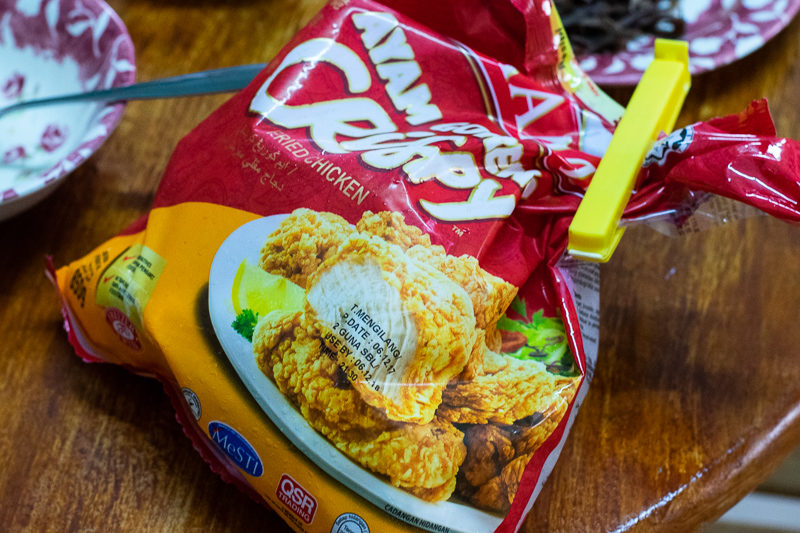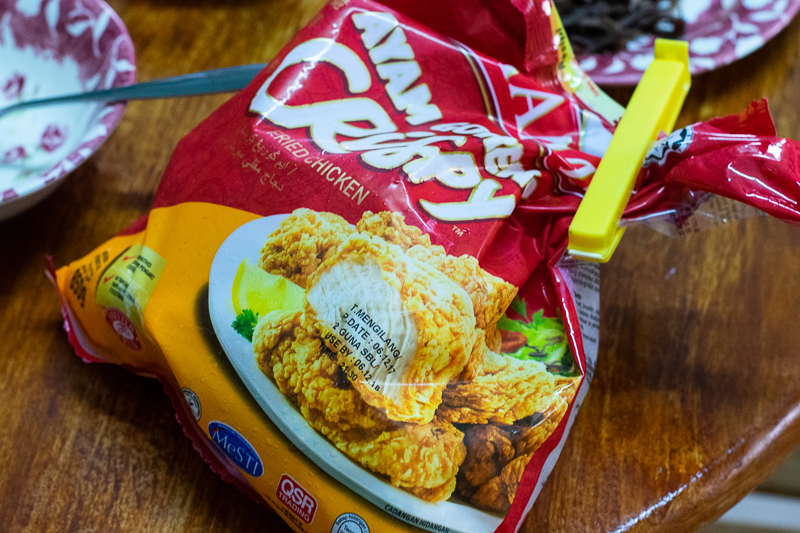 I tried out some Ayamas fried chicken (with bones) and I added zero oil to it.
The chicken is actually not cooked in the inside in the first place. It is also meant for deep frying, but air frying works too.
First attempt with Tefal air fryer (review)
My first attempt had a bit of hiccups. I wasn't sure how long I should put it in and at what temperature.
The manual they provided had different settings for different kinds of food.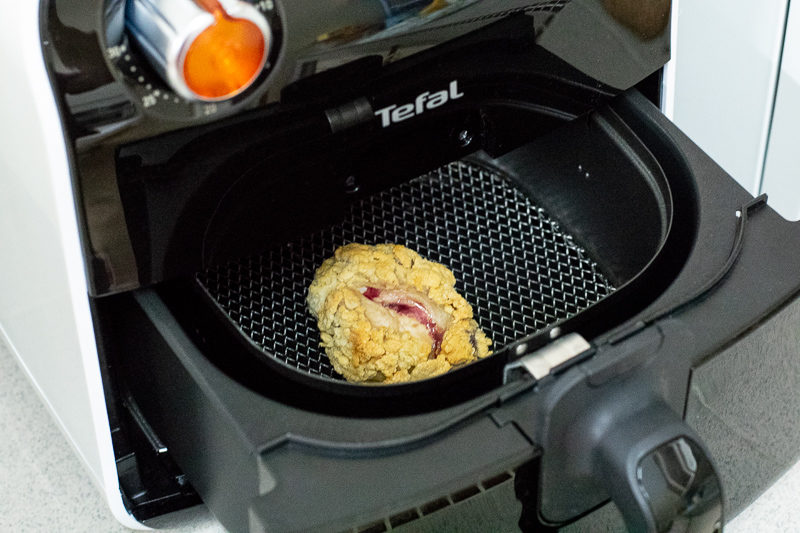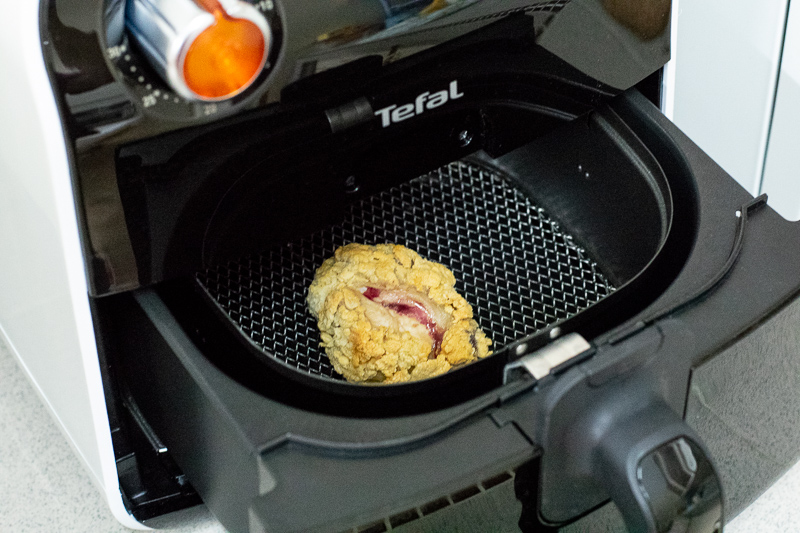 My first attempt of just 8 minutes at 200 degrees celsius was a failure. The chicken was still not cooked thoroughly in the inside and blood was still flowing.
They said you should add 3 minutes if your air fryer is still cold (it hasn't been used for the day yet).
So I added a couple of minutes here and there, and the chicken was finally cooked.
Second attempt with Tefal FX1000
The second time I tried, three pieces of chicken were used.
They were also frozen (not thawed) and directly put into the basket of the air fryer.
This time I used 22 minutes and about 200 degrees celsius.
Here's the end product! The chicken was cooked thoroughly and the skin was pretty crispy. You don't need a deep fryer for crispy skin now!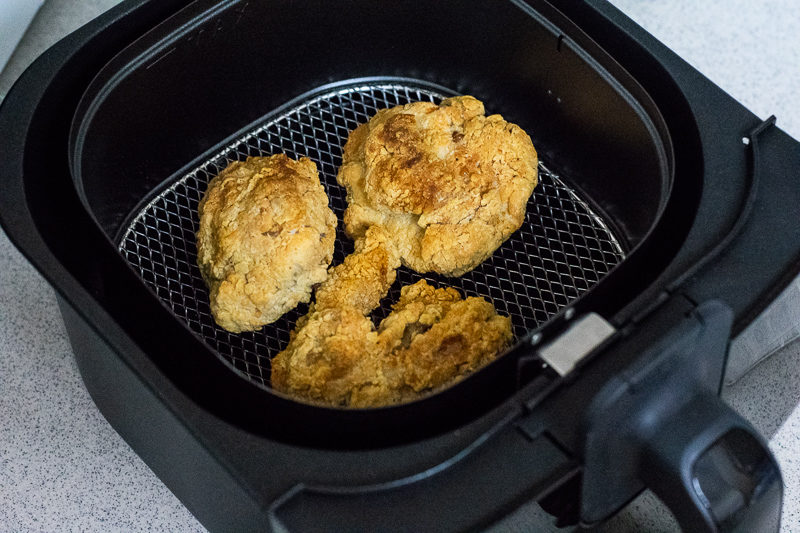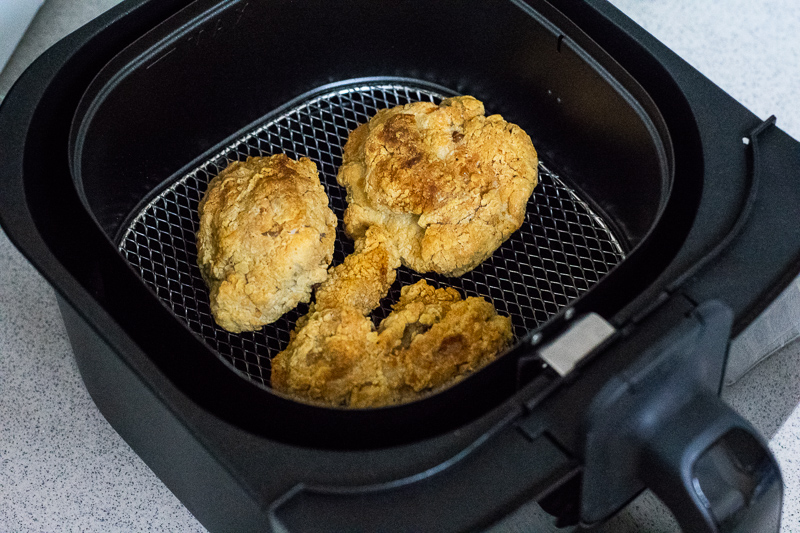 Furthermore, no oil was used. The chicken already had oil in the skin and batter (I assume).
How the air fryer works is circulate hot air and any oil inside will be circulated as well.
This results in an evenly cooked chicken.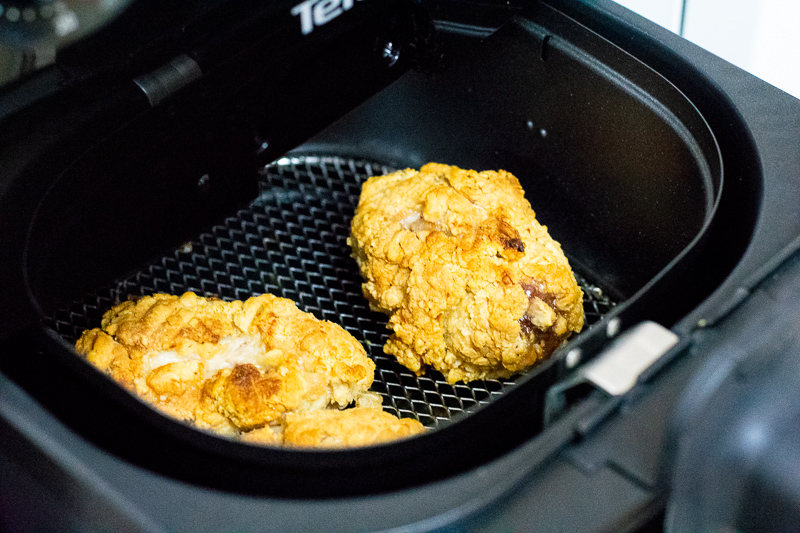 How to use the Tefal Fry Delight
It's actually pretty easy and only requires a few steps.
1. If it's your first time, wash the basket and the pan. There's a button to press to release the basket from the pan. Both can be washed with dish-washing liquid, but avoid using scrubs that will damage the surface. Use a non-abrasive sponge.
2. You can wipe the air fryer casing using a damp cloth, but remember to dry it before using.
3. Prepare raw food to be fried, or just buy frozen food for testing.
4. Put the food inside the basket (which is attached to the pan) and insert the basket into the machine.
5. Connect the plug into the socket (don't use extension), and switch it on.
6. Choose the right temperature for the dish you're cooking. There's a manual provided for you.
7. Turn the dial (timer) to your chosen minute and wait until it's done.
8. That's it! If unclear, they actually have a manual provided for you to refer.
Review of the Tefal FX1000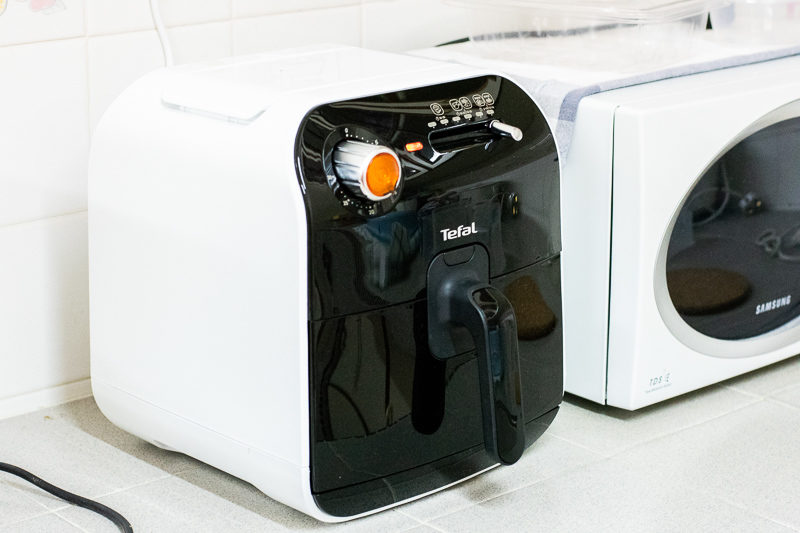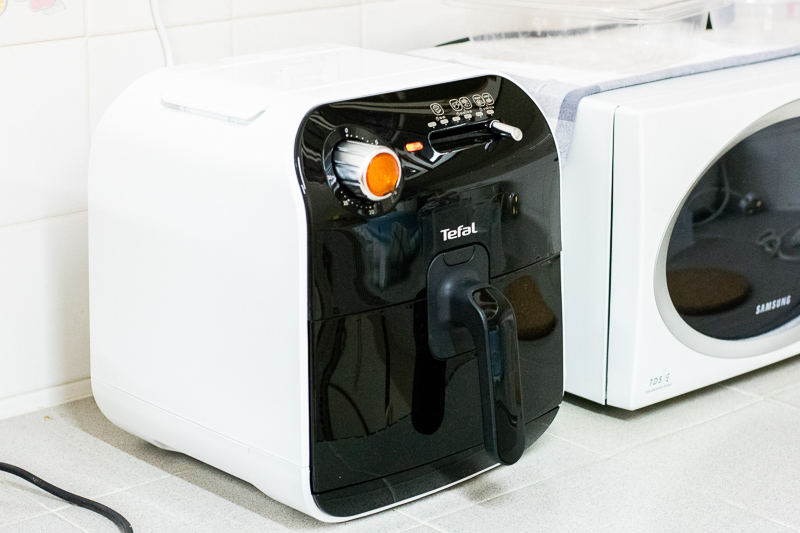 After trying the Tefal air fryer myself, I do have to say that it's really convenient.
If you hate wasting cooking oil just to fry a couple of drummets or some french fries, then this is for you.
The air fryer has obvious benefits over a deep fryer.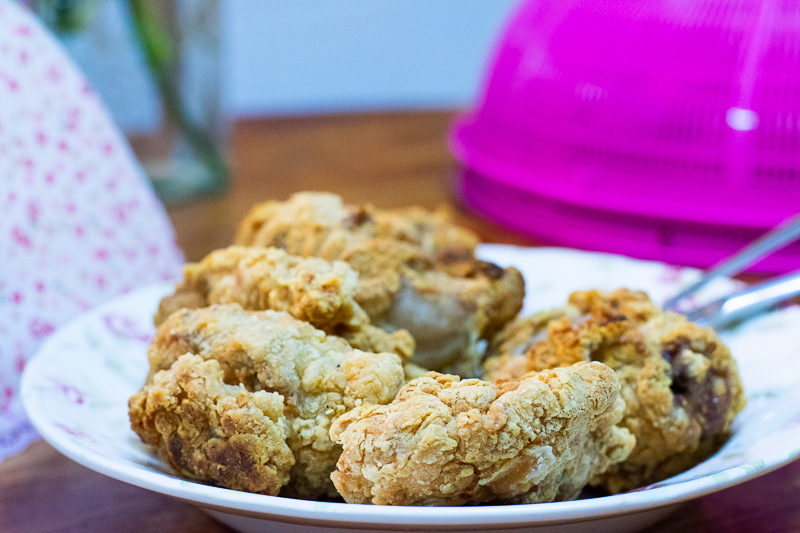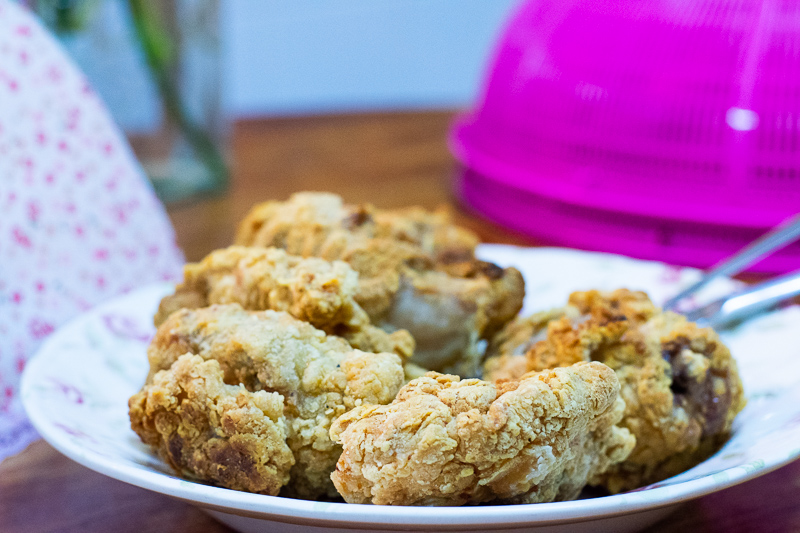 The first benefit is of course using much lesser oil. This means cooking with an air fryer is healthier, but that doesn't mean it's a healthy food.
It's just a much better alternative to deep frying. Using less oil also means less cost for oil and you won't feel bad wasting a lot of oil for some deep fried snacks.
However, air fryers are usually more expensive than deep fryers, so that's a cost you should think about.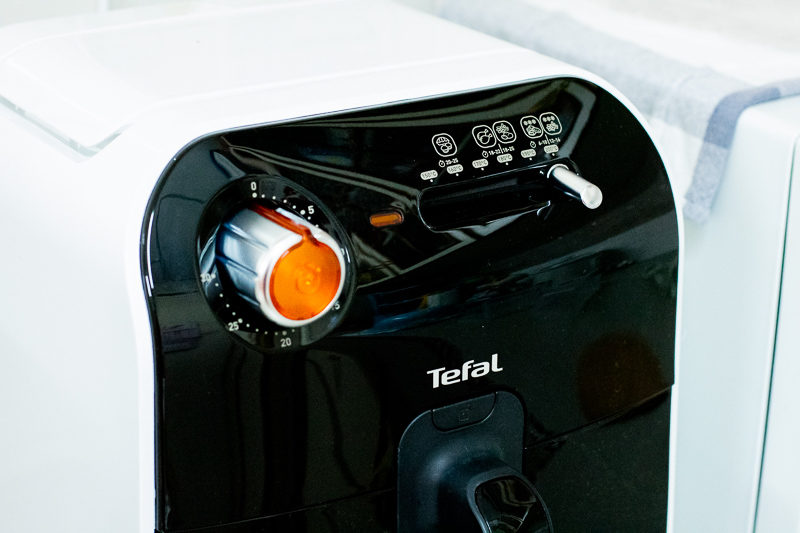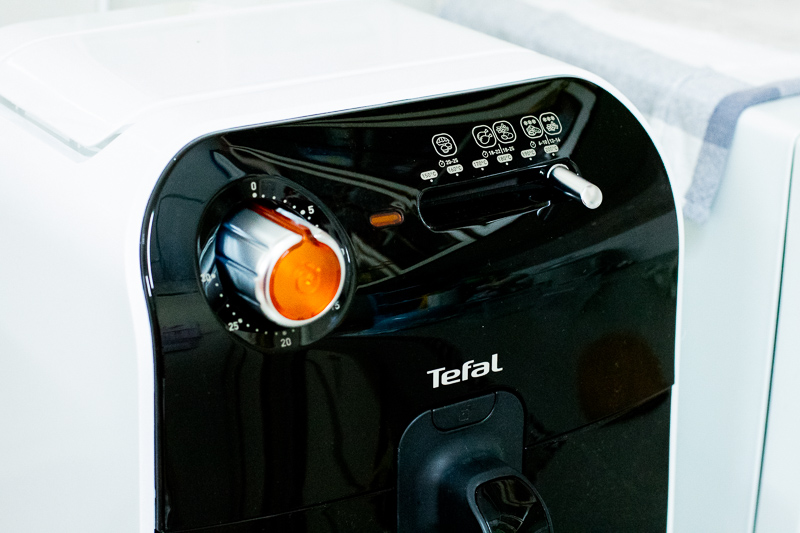 Another benefit of using the Tefal air fryer is convenience. All of the frying is done indoors and the oil won't be splashing everywhere.
As the basket and the pan is inside the machine, just leave it there until the oil stops sizzling.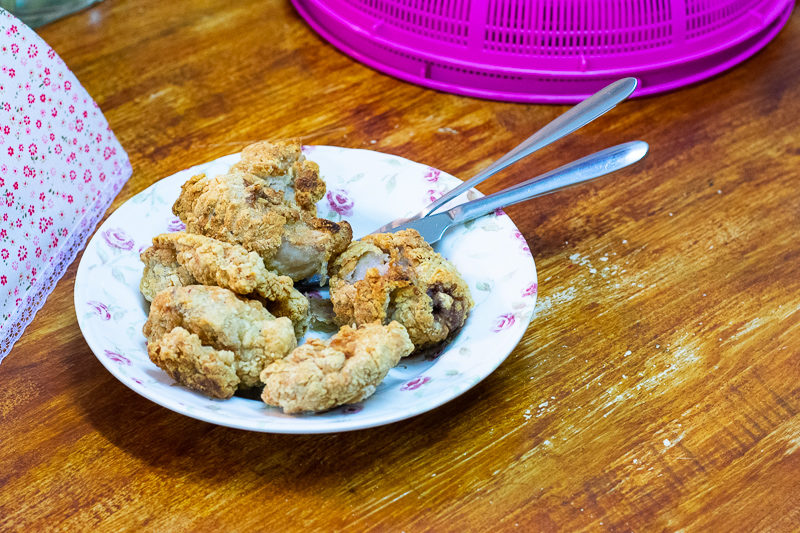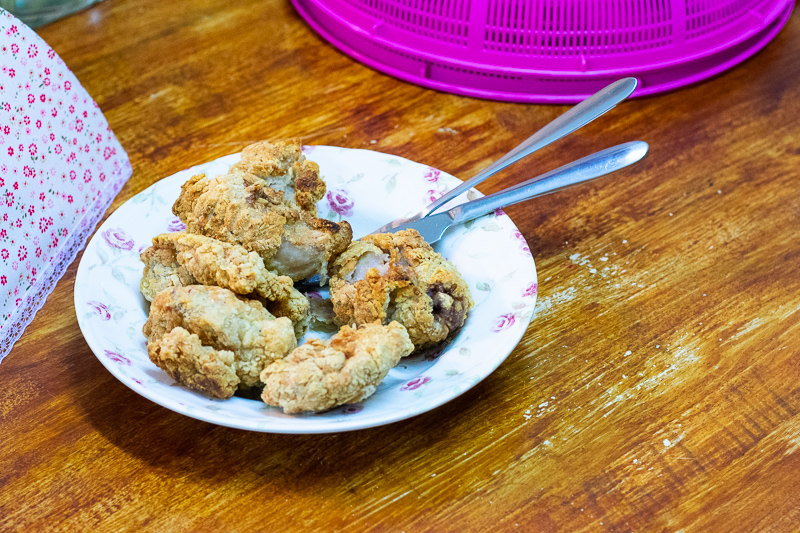 The quality of the air fried food may not be identical to the deep fried version, but it's similar.
With less oil, food won't generally taste as good, but you know it's healthier and it's still pretty good.
This Tefal Fry Delight air fryer is indeed an awesome machine to have around at home, especially if you cook a lot.
---
Related articles:
Nikon AF-S Nikkor 55 – 300mm f/4.5 Zoom Lens Review
Review of Huion H610 Pro Graphic Drawing Tablet