Sisyphus: The Myth finally comes to a closure with sixteen episodes in total.
The whole time travel thing can be confusing and seems to have created many different timelines.
Here's a recap and explanation of episode 16 (ending) of Sisyphus: The Myth.
Episode 16 recap
CEO Park's revelation
The final episode started with a scene of CEO Park from Asia Mart visiting his present self. He brings a gun to kill his present self as the latter is hurting his wife.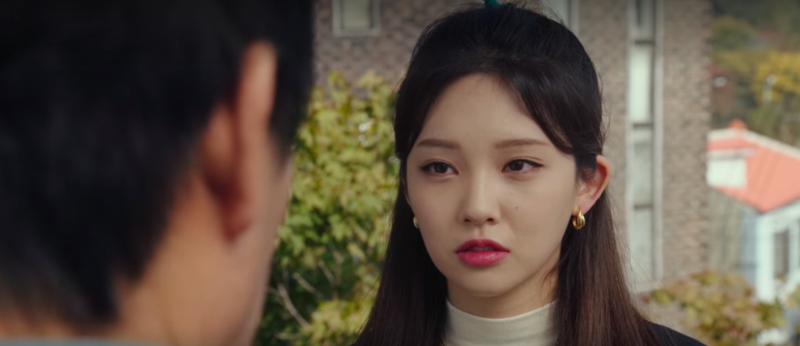 However, he gets stopped by his assistant, and the latter reveals herself to be Ji-eun, his actual daughter. Apparently she called her mother to come but the mother never arrived from the future. Ji-eun has been around her father all this while and he didn't notice. She even showed him her bank book as proof.
CEO Park however was still ready to kill his present self, but Ji-eun asks him to watch what happens. When the present Park was ready to stab his wife, the present Ji-eun came out of her bedroom and stopped him. Park drops his knife and it ended there.
Church scene
We now go back to the church scene where Tae-sul was captured and Seo-hae is cornered. She then tells Tae-sul that Jae-sun was murdered. Seo-hae asks him not to make the uploader regardless, but the latter asked her to trust him instead.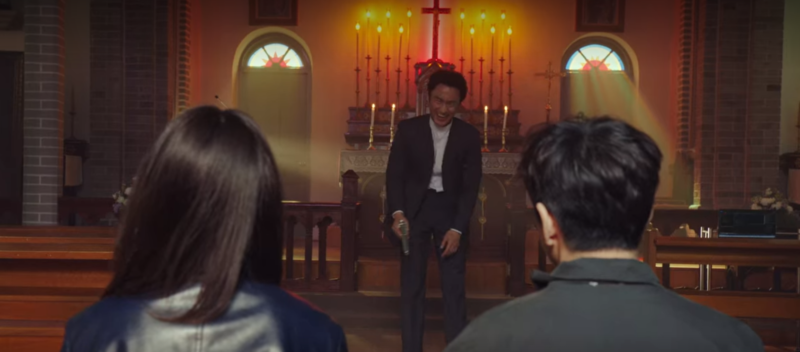 Tae-sul then starts asking questions to Sigma and later his body starts flickering, to the surprise of Sigma. Sigma's phone then rings and Tae-sul asks him to answer it. Sigma picks up the call but no voice is heard. They then hear some sounds from the uploader at the basement.
When Sigma thought he was winning, he realizes that he seems to be disappearing, as Tae-sul stands up saying the future is changing.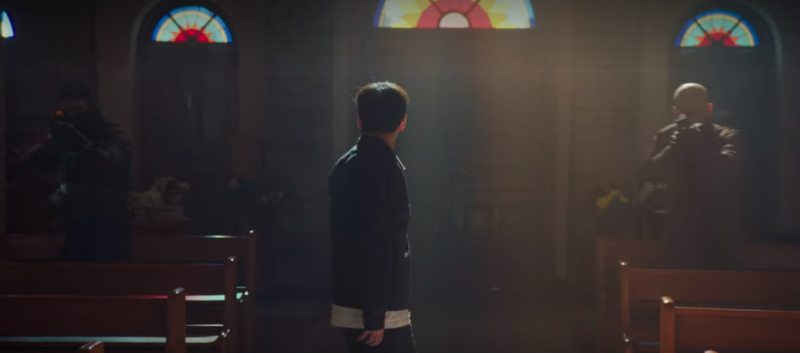 Sigma asks the gunmen to shoot Seo-hae, but they started flickering and disappearing one by one. Tae-sul and Seo-hae started attacking Sigma but Tae-sul gets knocked out instead. When Sigma is choking Seo-hae, he gets shot by someone at the upper floor of the church. Sigma then gets shot a second time and dies.
Seo-hae wonders who shot Sigma, and Tae-sul told her the real question is "when" and not "where". The duo then went to the uploader as they need to go back to the past to repeat the same thing.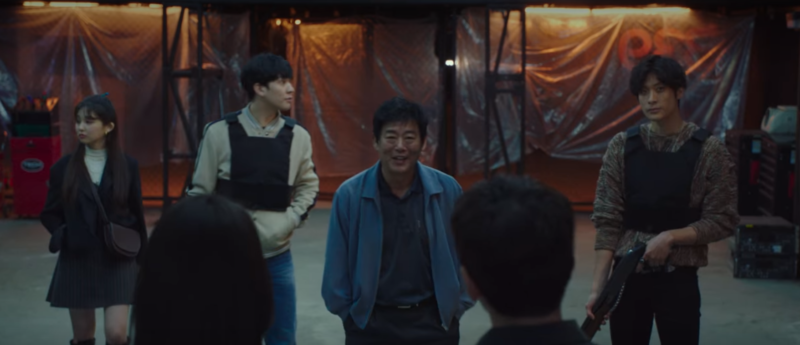 CEO Park and the rest of Asia Mart came to the uploader as planned with Tae-sul earlier. Tae-sul finishes the coding and they get prepped to use the machine. He also brings a bulletproof vest along. It was programmed to be a single-use thing and the uploader will not function after that.
Back to the past
After going back to the past, we understand further on what happened at the church earlier.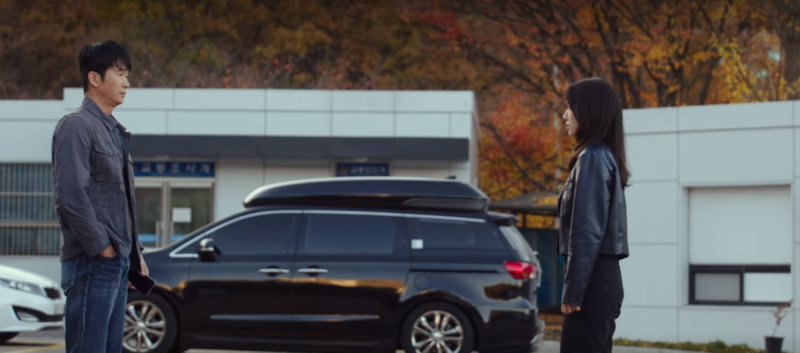 They arrived during the time when Seo-hae was locked in the bunker and it was all part of Tae-sul's plan. They went to meet up with the present day Dong-gi (Seo-hae's father), and told him to take care of Seo Gil-bok (Sigma) in a good way. This is to prevent Sigma from becoming an evil person.
We also see a scene that happened one or two episodes earlier where Tae-sul asks for a pistol and a sniper rifle from CEO Park. However, this time, we get something more. Tae-sul told Park that his daughter is right next to him all this time and that he didn't recognize her.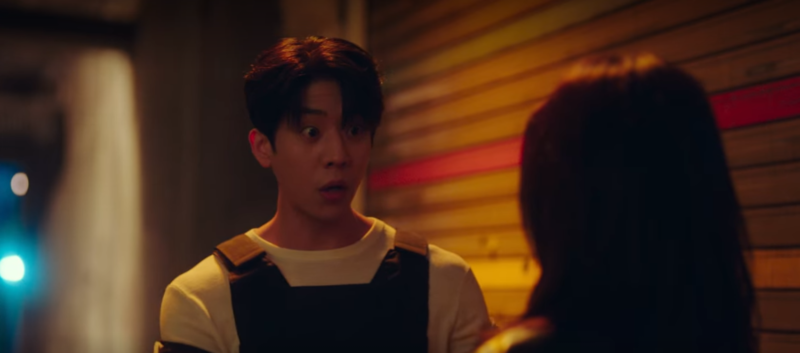 They left Asia Mart and Tae-sul seems to be waiting for a cab. Jae-sun shows up in his BMW i8 to Seo-hae's surprise. Jae-sun then reveals his bulletproof vest and that he fainted after getting shot; instead of dying.
We then see a flashback of Tae-sul's plan. Tae-sul who carried a bulletproof vest actually met up with Jae-sun before the latter rescued Seo-hae from the bunker. He also told Jae-sun that he'll be protecting Seo-hae later and just play along with it.
After learning the truth, Seo-hae hugs Jae-sun as she thought she lost him. Seo-hae however is annoyed at Tae-sul for not telling her the truth.
Back to the church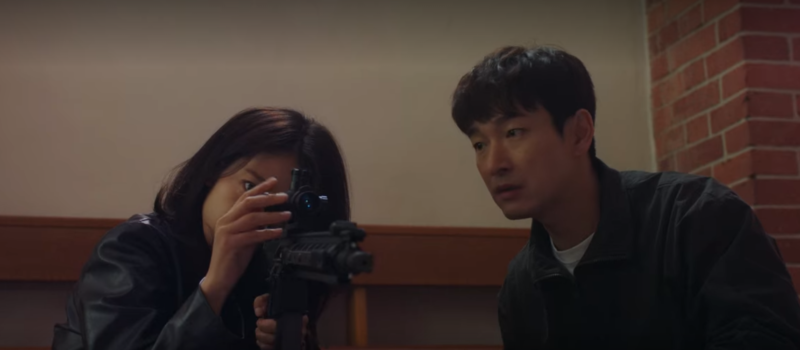 We now see the church scene again but this time we see a different perspective. Seo-hae and Tae-sul are now the shooters instead. They then disappeared from the top of the church but we don't really see what happened.
The present day Seo-hae starts flickering as Tae-sul holds her. She thanks Tae-sul for everything and they kissed. Tae-sul then asks Seo-hae not to leave while the latter seems to be disappearing.
Plot twist
Seo-hae stops flickering to the surprise of both of them. However, Eddie Kim appears from the front door and shoots Seo-hae, in a way similar to what Sigma did in the past. Eddie says the same thing, i.e. "is it the girl or the world?". He also asks Tae-sul to make the uploader, just like what Sigma did in the past.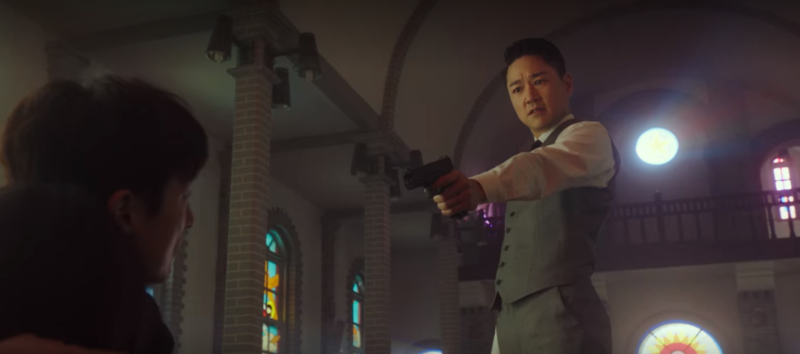 Tae-sul then asks Eddie why he is doing this to them. Eddie says he'll stop it if Tae-sul can tell him what his birthdate is. He says he is the one who has been cleaning up Tae-sul's mess and is never appreciated by Tae-sul. He also liked Seo-jin first but the latter likes Tae-sul instead. All of these events led to his breakdown.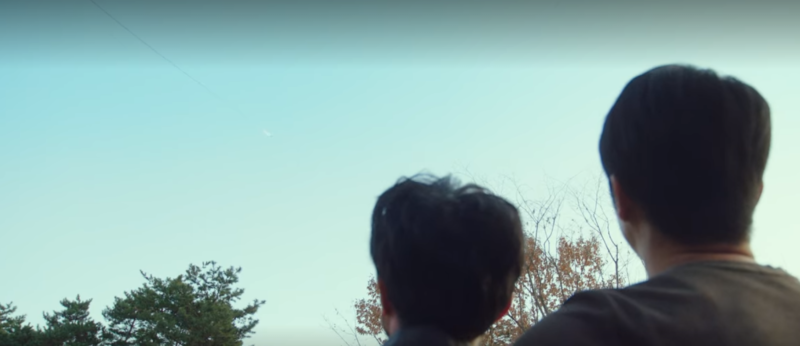 Worrying that Seo-hae gets killed again, Tae-sul starts to do the coding for the uploader and we start seeing missiles heading towards South Korea. We also see present day Seo-hae's father together with Sigma as they look at the missiles coming down.
Seo-hae then tells Tae-sul to stop as she doesn't want this cycle to keep repeating. Tae-sul manages to grab a gun on the floor and point it towards Eddie Kim instead, while the latter points his gun towards Seo-hae.
Tae-sul knew all along that he can actually save both the world and the girl. He tells Seo-hae to find him even if there is no future. He then points the gun to his own head and kills himself.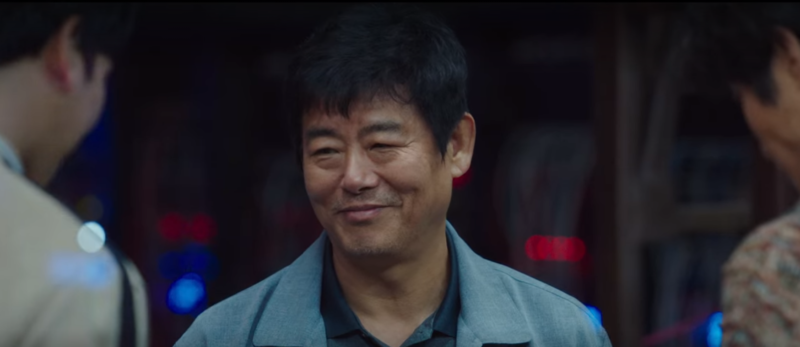 Meanwhile, the missiles from the sky started disappearing to Dong-gi's relief. CEO Park and his Asia Mart group all look to each other in happiness as they disappear. Agnes and the orphans also disappeared.
Seo-hae then looks at Tae-sul who died and cries even more. She admits her favorite person is Tae-sul and holds his hand. She then disappears. Eddie Kim then drops to his knees, probably disappointed in the whole situation.
Another timeline?
We now see Tae-sul sitting at the airplane similar to episode 1 of the show. The guy who complained about the ramyeon was also there. However, this time, we see Seo-hae sitting beside him instead, asking what they should order.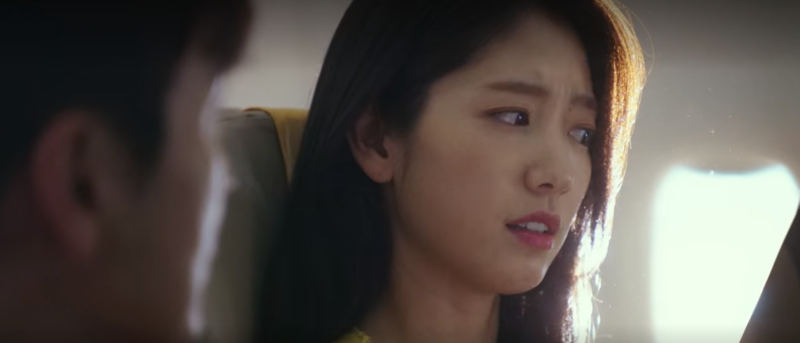 Instead of taking his medication like before, he drops them as he doesn't need them. He leans on her shoulder as he is probably overjoyed that she found him.
We then see Seo Gil-bok (Sigma) doing some painting for a child outside and gets paid. This time, he looks happier. He returns to the same house and we see the same painting of Tae-sul still there.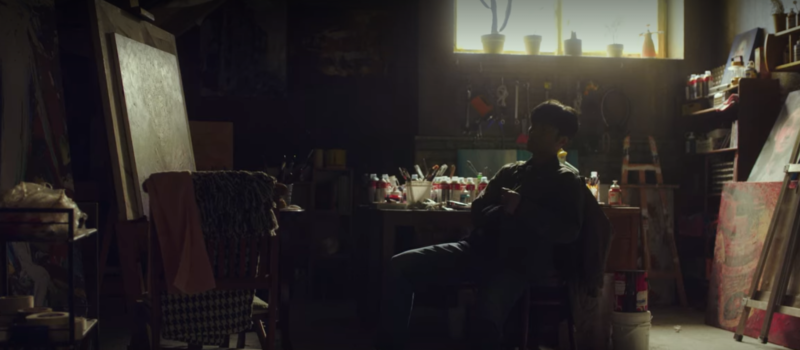 He also has a notebook which says a lot of things including Sigma, Seo Gil-bok, Asia Mart, Tae-sul, Jung Hyeong-gi, Control Bureau, uploader bunker and so on. This means he knows what had happened in a different timeline.
Sigma then puts on his glasses to imitate Tae-sul's picture on the Forbes' magazine. He looks at the mirror and says "don't look at me like that", with his signature smirk.
What the ending means is probably up to your interpretation. As the show is named Sisyphus (inspired by Greek mythology), perhaps that what the ending meant. The cycle continues to repeat itself no matter how many times you try to change the future. Even if Sigma is not there, someone else takes his place like how Eddie Kim did.
---
Related articles:
Vincenzo – Episode 15 Preview And Release Date
Sisyphus: The Myth – Episode 15 Preview