On-page SEO is one of the easiest things a blogger can do as far as SEO is concerned. It doesn't require much technical knowledge and laymen like me and you are both qualified to perform on-page SEO.
SEO is basically divided to on-page SEO and off-page SEO. Off-page SEO mainly concerns backlinks, which is actually a huge part in ranking an article. I'm pretty bad at link building, so I won't go there.
SEO is a difficult subject for all new bloggers alike. It seems to have many technicalities and some bloggers rather resort to Pinterest alone for traffic. They refuse to partake in such search engine intricacies.
Fret not. I've been doing on-page SEO for a few months now and it doesn't take too much of your time. Besides, some of your articles may rank well, especially if they're low-competition keywords.
I may not be an expert but I'll share some of the tips I've learnt in the past few months.
Let's start.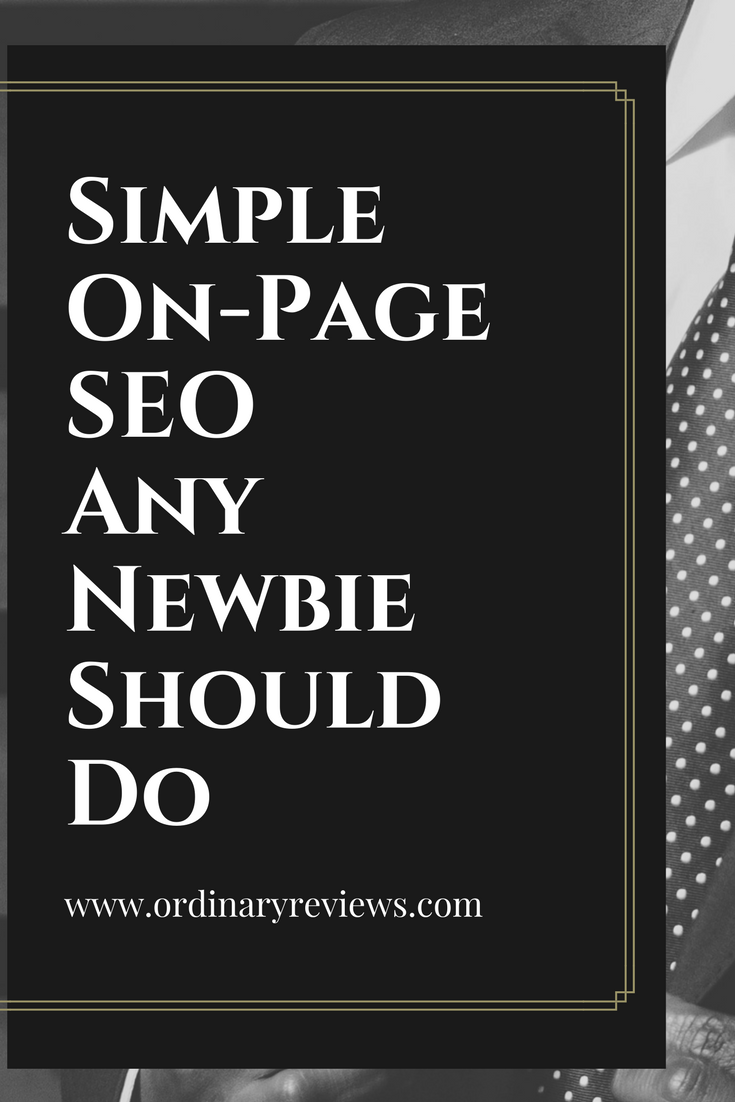 1. Choosing a focus keyword
Your focus keyword should be a long-tail keyword that you hope to rank for.
For instance, it's probably impossible to rank for a word like "diet", but you may still rank for a long-tail keyword like "dieting tips for newbies".
Among long-tail keywords, some are highly competitive. It's better to choose one with lower competition although the number of searches on Google is lower as well.
At least you may stand a chance to rank. The key is to rank for many long-tail keywords, and your traffic builds up the more you post consistently.
How do you check for keywords?
Use a keyword research tool. There are many good ones out there, but mostly are paid versions.
You can start with Google Keyword Planner. You need to start an advert with Google Adwords before you're allowed to use the planner.
No worries though, you can start an advert but you don't have to run it. Keep it inactive to prevent yourself from being charged. In the meantime, you can still use their Keyword Planner.
It's not the most accurate research tool but it gives you an idea of how many searches a keyword gets a month.
Some keyword research tools allow you to search for a few times a day for free. Try KWFinder and Serps.
2. Keyword concentration
How do you tell Google what keywords you intend to rank for?
That's when keyword repetition comes in. Use your focus keyword a few times in your article.
If you use the Yoast SEO plugin, they recommend at least 0.5% keyword concentration for proper optimization.
Try not to use the same keywords way too many times. It may be deemed as keyword stuffing by Google.
As a result, your article may not even rank at all. Google penalizes keyword stuffing rather strictly.
Furthermore, your focus keyword should appear in the first 50 words of your article. Try keeping it on the first paragraph if possible.
3. Keep your slug short
What's a slug?
If you look at your post's URL, you'll notice a string of words after your domain name. That's your slug.
It's normally taken from the title of your post but you can change it if you're on WordPress.
It's good practice to have your focus keyword within your slug. Then again, keep it short.
4. Choosing the right snippets
Your snippet is the short paragraph that appears on Google below your post title.
Ensure that you insert your focus keyword somewhere in that snippet. If you don't do it manually, normally the first paragraph of your article becomes the snippet.
You want those looking for the keyword know that your article is the one they're looking for. It also lets Google know the gist of your article.
5. Outbound and internal links
Each article you write should have both outbound and internal links.
Outbound links are links from your blog to other websites like Forbes or Mashable. It can be any site at all.
However, try to only link to well-known authoritative sites. It has to be relevant to your current article as well.
That way, it will notify Google that your article is well-linked and is relevant. Having said that, you don't have to excessively link to other websites to the point that your blog becomes a directory.
Link only when necessary and preferably to relevant authority sites.
Do not forget internal links too.
Internal links are links to other posts on your blog. Internal links can work as backlinks as well and it helps to preserve SEO.
I'm not so sure whether that's accurate but it's good practice anyway. Your readers can check out your other articles and reduce the overall bounce rate of your blog.
6. Using the proper headings for on-page SEO
I assume most of you are using WordPress for your blog. You should know about the H1 to H6 title tags by now.
Your post title is automatically a H1 tag. You only need one H1 tag in each article, so you don't have to use it anywhere in your article.
Please do not use your header tags to make your words look bigger.
You can use a plugin called TinyMCE Advanced to adjust the type of font and also font size.
Headings have to be used properly. Start with a H2 tag for your subtopics, like what I'm doing in this article. If you want to branch even further from your subtopic, use H3 and so on.
There has to be a sequence. H2 -> H3 -> H4 and so on. It's rare to go all the way to H6 though. I myself usually stop at H3.
Also, try to have your focus keyword in at least one of the H2 tags. It's a good way to notify Google what your article is about.
7. Alt text in images
Whenever you upload an image to your blog, you should notice the alt text section. It's normally blank.
Ensure that you have your focus keyword as an alt text. As Google can't read images yet, it will look at the alt text to see what the image is about.
Hence, having your focus keyword in your alt text will help you in ranking your article.
That said, don't use the exact same keywords in the alt text. Vary it a little.
For instance, if your keyword is "cheapest toys on Amazon", don't use the exact same phrasing for all images.
Try to change it like "Amazon's cheapest toys" or "super cheap toys on Amazon". My example may not be good but you should understand what I'm trying to convey.
8. Write longer posts
This one's pretty important for on-page SEO. How would Google discover you if your article is too short?
Yoast recommends at least 300 words, but I'm thinking of at least 700 – 800 words.
Even better if you can write at least 2,000 words an article. I myself struggle to do that so I guess I shouldn't be handing out such advice.
Neil Patel himself recommends at least 4,000 to 8,000 words an article if you want to rank really well in Google.
Take his advice instead.
9. Use Yoast SEO only as a guide and not as law
Here comes the Yoast SEO plugin as your savior when it comes to on-page SEO. However, it should only be used as a guide and not as law.
Most of the things I've mentioned above is covered by Yoast SEO which makes it the most popular on-page SEO plugin for WordPress users.
They give you "green lights" when you've optimized respective SEO-related parts and "red lights" or "neon lights" when they're not optimized properly.
That way, you'll know if you're doing it right (or wrong).
That said, I don't always rely on it 100%. For instance, if you write a 4,000-word article, your minimum keyword density of 0.5% may not seem practical.
Why? Because you have to repeat it so many damn times! Instead of using the same long-tail keyword more than 10 times in a lengthy article, try using different related long-tail keywords.
You won't want to repeat "the best washing machine in 2017" 20 times in the article do you? Give different variations like "top washing machine of 2017" or "the most popular washing machine".
The good thing is, you may actually rank for more long-tail keywords. You don't have to follow Yoast SEO 100%.
In a nutshell
On-page SEO is not that difficult to do, and it's definitely worth doing.
If you don't even bother with it, Google won't bother as well.
Why not spare the extra few minutes to optimize your articles and at least you stand a fighting chance to rank.
After all, Google traffic is the best traffic one can get.
Thanks for reading guys! Do remember to subscribe to this blog using the subscription form on the sidebar.
If you're interested in starting a blog, do check out my guide on how to create a website the right way.