If you enjoy one of the best animated series of all time (for those with "high enough intelligence"), you will definitely crave for more witty, smart, and weirdly animated shows.
After a long night of binging Rick and Morty, you may find yourself looking for a good show to take care of that itch for more.
Thankfully, there are several exciting animated series that will most certainly catch your attention! Here are the top shows like Rick and Morty.
1. Gravity Falls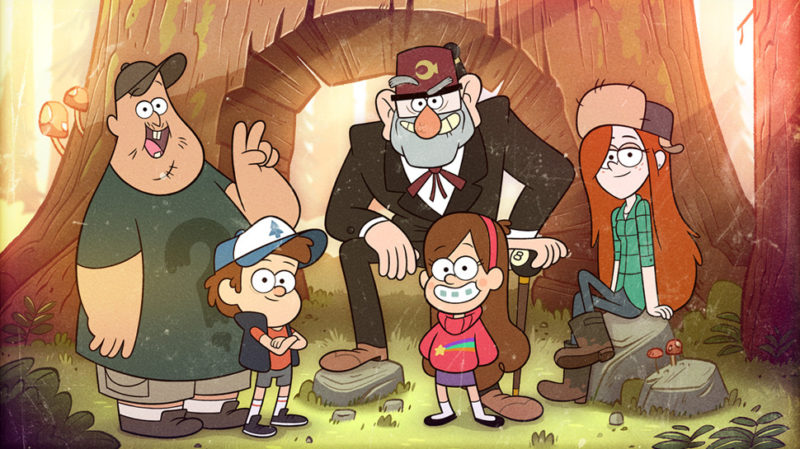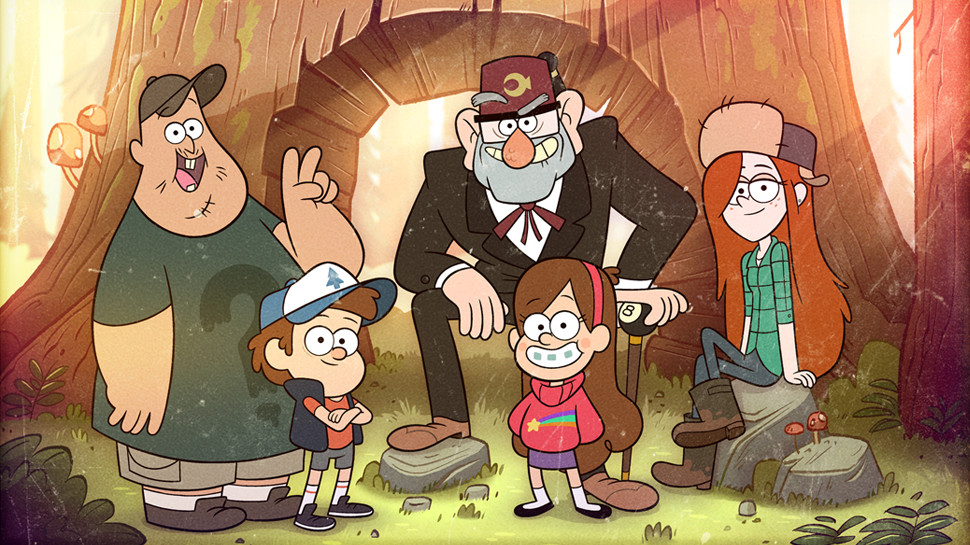 Many fans of Rick and Morty know that Justin Roiland who created the series and voiced both titular characters is a notorious voice actor who also participated in both voice acting and writing for Gravity Falls. This show never fails to deliver an immense volume of joy to viewers mostly due to the fact that Oscar, Earl, and the whole Pines family are all great characters with intriguing personalities and rich backstories.
Gravity Falls is a mind-boggling mixture of adventure, action, and comedy. All characters have a distinct gimmick while many recurring ones always deliver a great deal of mystery and charisma. The premise of the show is quite refreshing and allows writers to create imaginative scenarios for their heroes to take part in.
Every single episode is a new short story with a great mystery and well-developed characters. We are rewarded continuously with little character arcs that often have long-lasting effects on the plot of the show.
Gravity Falls is a lovely little town somehow full of secrets and conspiracies that require massive investigating from Dipper and Mabel Pines who are accompanied by various weirdos who either help them out or have something to do with the mysteries surrounding the town.
The show has mystical elements, interdimensional travel, sci-fi stories, and more! You will most likely enjoy every bit of the series if you liked the adventures of Rick and Morty.
2. The Venture Bros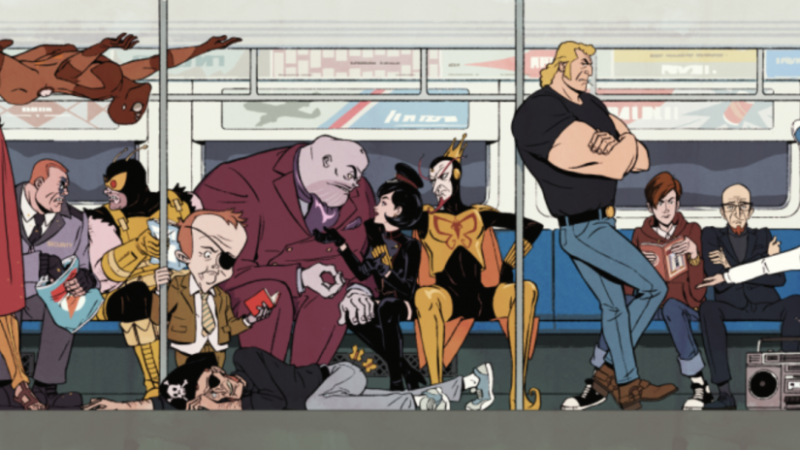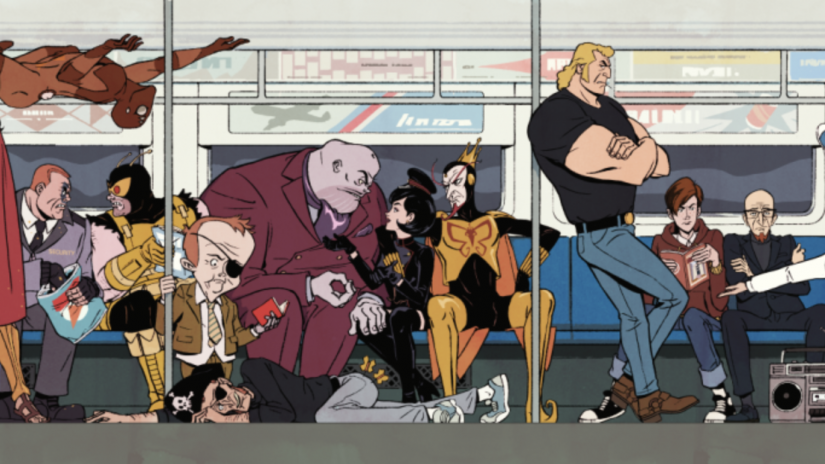 While Gravity Falls is an undeniable masterpiece, you won't enjoy the show for more than a couple of weeks. There are only two seasons of this fantastic sci-fi detective series. Nonetheless, you may find solace in enjoying seven seasons of The Venture Bros. This show is often compared to Rick and Morty due to exploring a lot of similar themes and topics.
Hank and Dean Venture are teenagers who cannot deal with their personal issues as well as they would like to. Their adventures often showcase their weaknesses as individuals making them inherently relatable and exciting to viewers. They often fight, get in trouble, and solve problems with the sheer power of their wit.
The series may seem dated due to somewhat choppy animation and dialogue that does not have the same wittiness to it compared to both Gravity Falls and Rick and Morty (though, it is something entirely subjective). Hank and Dean are not action superheroes. The action lacks the fluidity and finesse of Rick and Morty. However, every single episode is a new adventure with an enjoyable story and great characters.
The Venture Bros. is considered by many a masterpiece. It has been enjoying a lot of love from a very loyal army of fans ever since it first aired in 2004. After seven seasons and more than 80 episodes, the show still attracts millions of viewers!
3. Futurama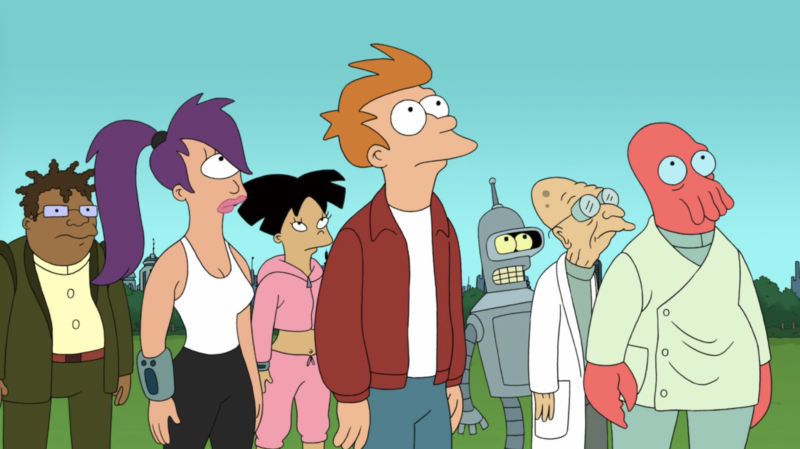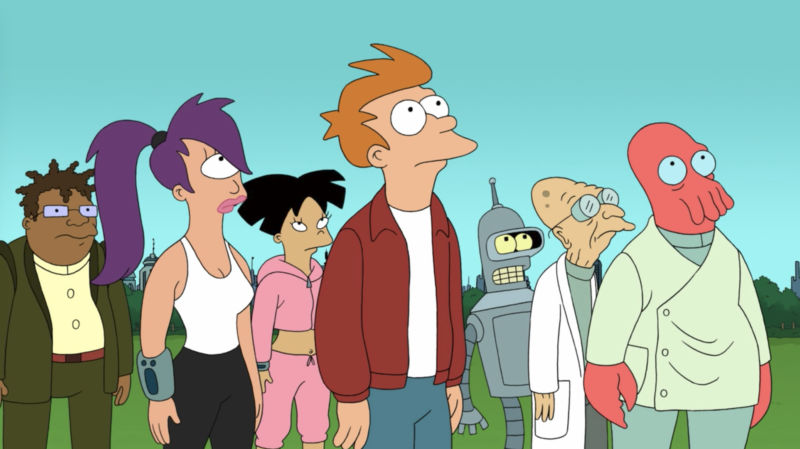 Oldie but goodie. This series is notorious for its inventive storytelling, compelling characters, and witty humor as well as explicit social commentary. The show starts with the main character Fry failing to deliver a pizza to the cryostasis facility where he falls into a sleeping chamber. After sleeping a thousand years, he wakes up in a completely new world that somehow did not change that much. Nuclear wars, alien invasions, and meteorites did not eradicate humanity nor its traits.
Millions praise futurama for its original stories, interesting premises, and amazing characters. Fry quickly becomes a part of an intergalactic mail delivery service. The crew of the company consists of a one-eyed pilot Lila, sex-obsessed millionaire girl from Mars, crazy scientist, doctor who knows nothing about human anatomy and also a lobster, and beloved by millions robot Bender.
Stories are told mostly from the perspective of our main heroes. You will visit whimsical dimensions, strange planets, and different periods. Each episode has a plot and usually ends up with a small arc for some characters. It is a very dynamic show with characters continually changing and showing previously unknown bits of their backstory.
The series was in the center of many scandals and controversies for their portrayal of historical figures and public persons as well as social commentary. Some jokes may seem offensive or inappropriate to the modern audience, but the general vibe is always very positive with characters regularly showing a fantastic range of emotions and tolerance towards all sorts of social issues.
If you ever wondered what would happen in the world overtaken by a fembot or how the society of the future would approach the issue of robosexuality, you will love this series!
4. BoJack Horseman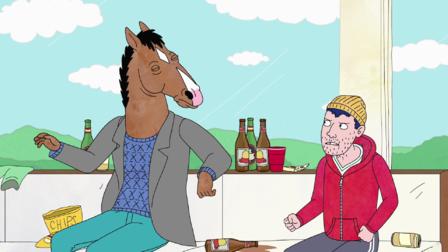 This show doesn't have the same diversity of premises and settings as Rick and Morty, but it dramatically outdoes it in terms of humor darkness. This show explores many controversial topics and themes without crossing the line of political correctness.
The titular character of the series is an anthropomorphic animal BoJack Horseman who is a famous actor in the alternative universe of this show. He is not an anomaly in the world where people with animal heads are ordinary and engage in all forms of social activities.
While the show doesn't allow you to travel to another dimension and spend some time with weird aliens, the total volume of weirdness in this show can match that of Rick and Morty. BoJack Horseman was once called the best show of all times by Indiewire and is constantly praised by critics for its mature approach to complicated topics of sexuality, depression, social inequality, showbiz, and addiction.
The central theme of the series is the self-destructive nature of existence that many of us have to deal with. This series explores various ways in which a person can destroy their life.
Witty dialogue and amazing voice acting make BoJack Horseman and undeniable standout in this list. This series is objectively better than Gravity Falls or the Venture Bros. We cannot put it above Futurama due to the danger of being decapitated by Futurama fans from all over the world. Critics and fans cannot stop praising the series for its drama, witty humor, and mature themes.
If you love Rick and Morty for its nihilism and social commentary, you will most certainly fall in love with BoJack Horseman whose personality and internal conflicts provide tons of entertainment.
5. Archer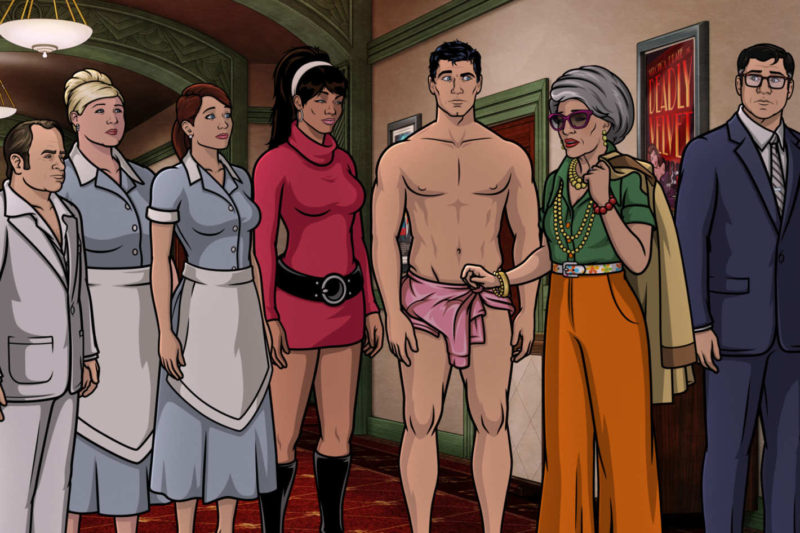 The infamous secret agent with a drinking problem and many personal issues is a perfect entertainer for anyone who loves a little bit of nihilism and indifference in their characters. Archer is like James Bond but without his charisma and ability. Archer drives luxurious cars, has a butler, enjoys attention from women (usually), and never operates according to guidelines.
While the titular character is the main draw of the show, the supporting ensemble of characters makes the show truly enjoyable. The style of humor may seem a little bit vulgar and unnecessarily sexist. Nonetheless, it is an excellent parody with a lot of exciting episodes that usually revolve around a detective puzzle or a global crisis.
You will also enjoy a surprisingly high number of sci-fi elements including cyborgs, futuristic technology, and hi-tech gadgets. However, the main focus of the show is on the nihilistic and self-destructive nature of the main hero and many other characters. All of them have to deal with addiction, stress, sexuality, and many other issues.
While the tone of the show is more lighthearted compared to BoJack Horseman and even Rick and Morty, the amount of violence coupled with outstanding action scenes will most certainly entertain you.
Car chases, shootouts, fist fights, ninjas, cartel grunts, Russian spies, and gangsters — this is a perfect mixture for a show that wants to entertain its audience. After nine seasons and 100 episodes, the show is still going strong.
Honorable mentions
These five shows should relieve your craving for shows like Rick and Morty while you are waiting for future seasons of R&M. If they are not enough for your appetite, go ahead and check out other shows that also share some similarities with R&M:
Adventure Time. Weird animation, sci-fi elements, and great characters. It is a meme-generator adored by millions all over the globe.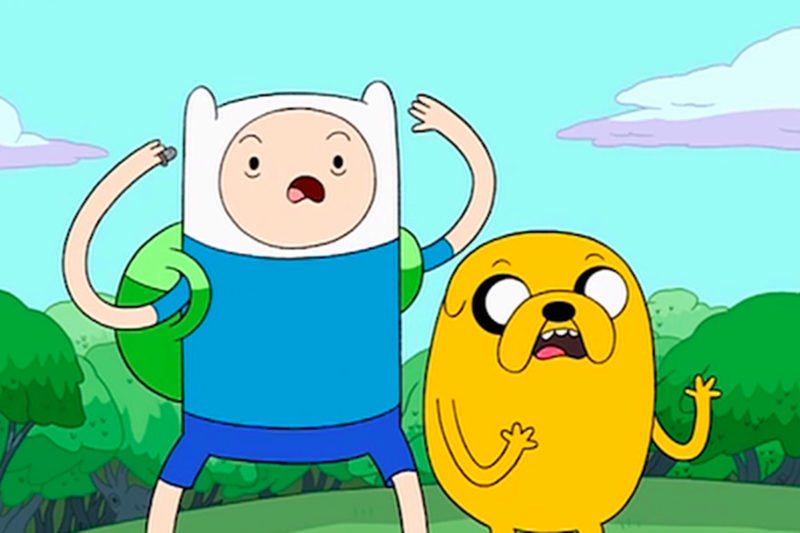 This show is full of surreal imagery and has many sci-fi and fantasy elements. Characters are less dynamic, but the show deserves some attention.
Space Dandy. This anime is all about weird sci-fi stuff and adventures. Humor and storytelling may feel a little off to an R&M fan.
Over the Garden Wall. If you like shows about interdimensional and time traveling with intricate stories, you will love this show!
Sadly, it is hard to outdo Rick and Morty. It is indeed a unique show with characters that we all can relate to. Nonetheless, we can find some consolation in watching shows from the list above!
This article was written by a freelancer.
---
Related articles:
Top 11 Best Netflix Superhero Shows To Watch Today
Best Shows Like Stranger Things – 7 Alternatives To Watch
Top 7 Shows Like Game Of Thrones That You Can Watch
Is Netflix's "Kingdom" Worth Watching?