Salud Tapas Bar & Restaurant is a place serving authentic Spanish food in small town Malacca.
This restaurant / bar is located in one of the alleys heading towards Jonker Street.
We recently got the time to check out the place, especially after hearing a lot about it.
Here's a brief review of the food at Salud Tapas Bar & Restaurant in Melaka.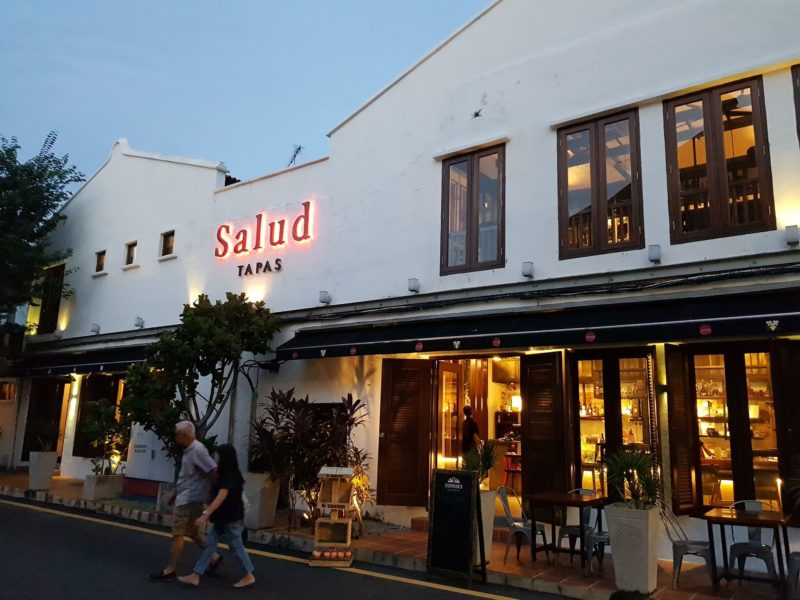 The interior of the place is pretty nice, especially towards the bar side.
Maybe it's better to sit at the bar because you can see them cooking live.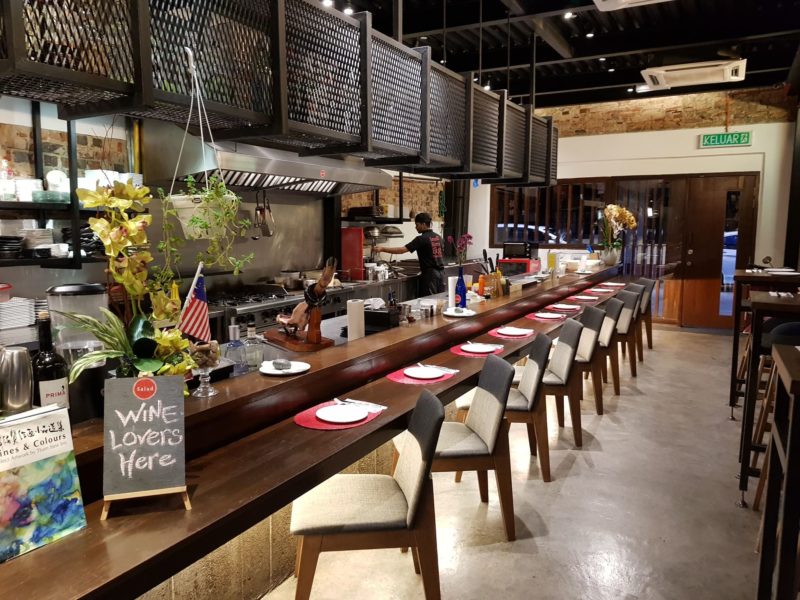 Although it's air-conditioned in most places of the restaurant, it's also 'outdoor' at the same time.
This means there may be mosquitoes around. So you may want to wear long pants when dining in.
It's quite a cozy place and if you love drinking, then maybe it's a good hangout spot.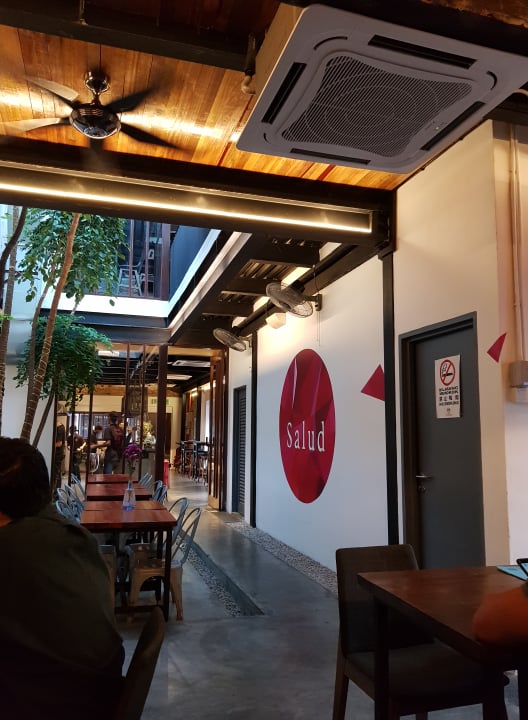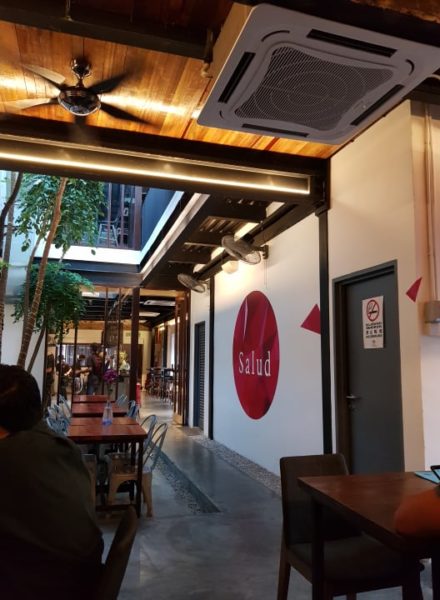 As a Spanish bar, you do have a variety of alcohol, including cocktails. Below is a picture of a Sangria (red wine mixed with some ingredients).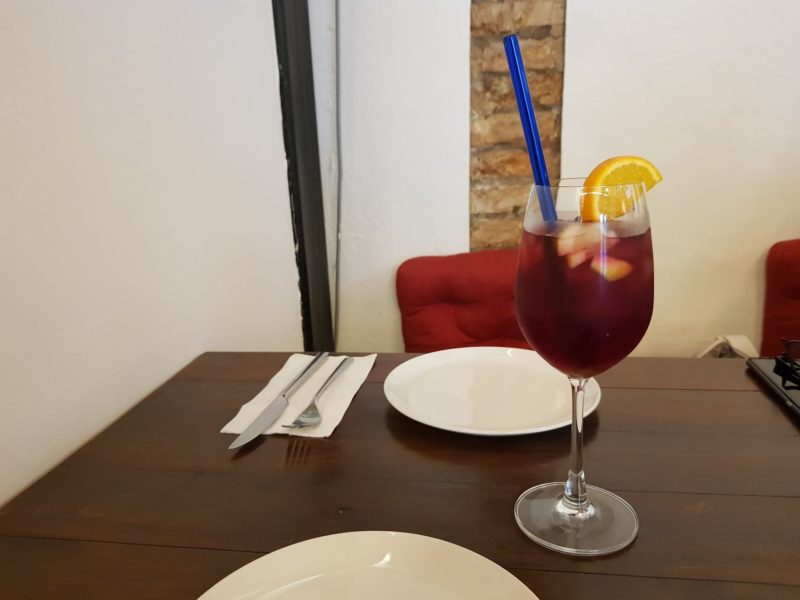 Food at Salud Tapas
We're not experts at Spanish food so we weren't that sure what to order.
To be safe, we ordered some bread. It came out warm and really pleasant. As the portion of food is pretty small, you may want to order some bread or appetizers first.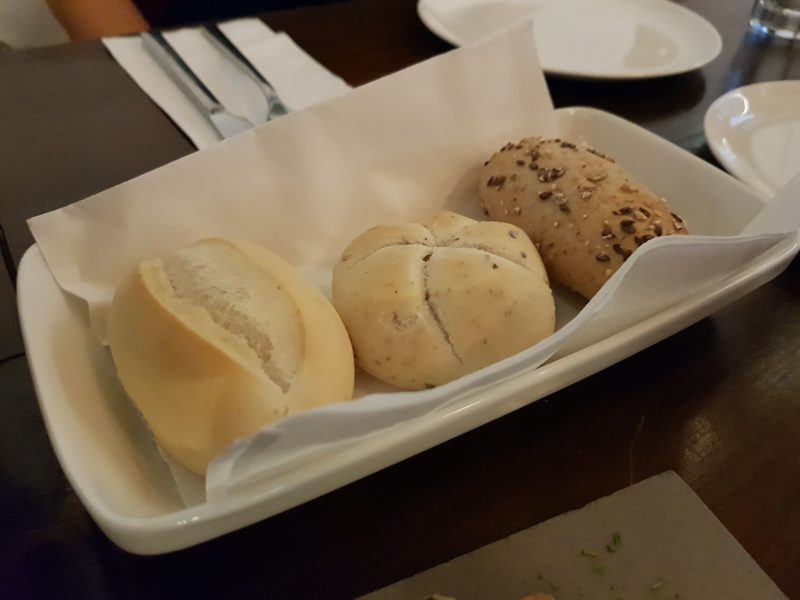 Next, we had the Coca Catalana which had anchovies on top of a crispy pastry. This dish was pretty good and it's probably one of the more well-known dishes here.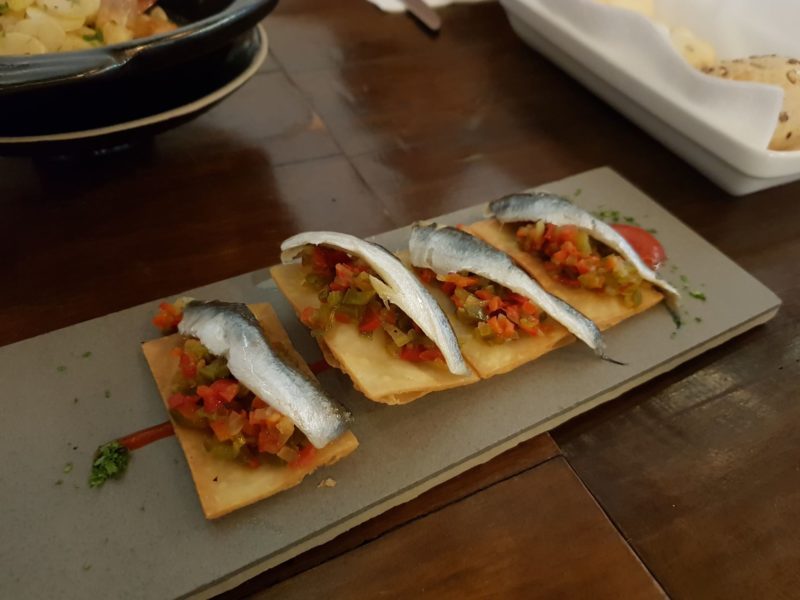 We also ordered some deep fried squid which came with a bun and some squid-ink sauce.
The squid was fried to perfection.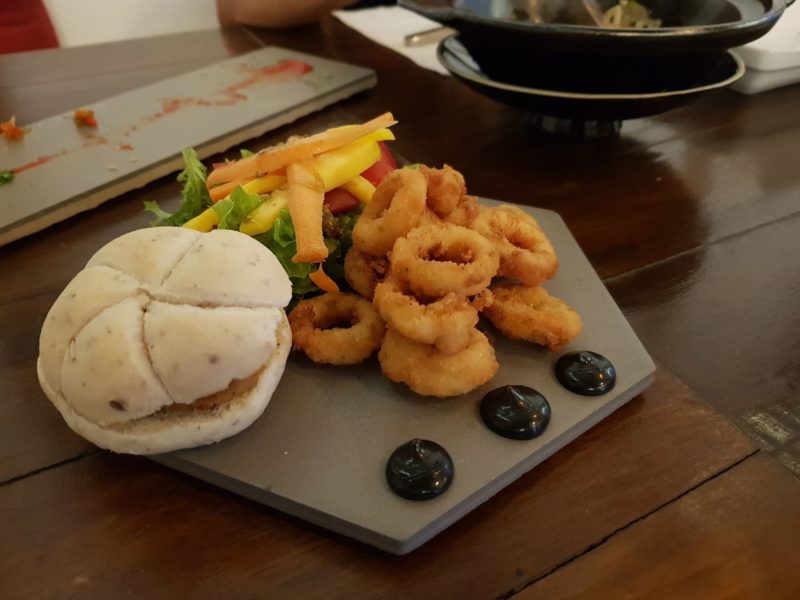 Next up, we had prawns cooked with garlic. It was quite aromatic, but it wasn't the best version of this dish that we've tried so far.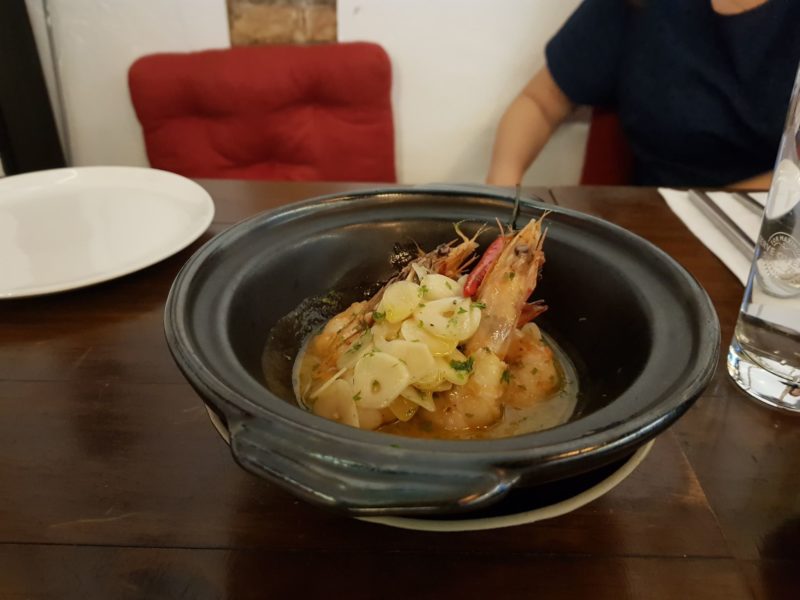 If you love meatballs, you can check out this pork meatball dish. It comes with two slices of bread to accompany the sauce as well.
The dish was good, but wasn't exceptional.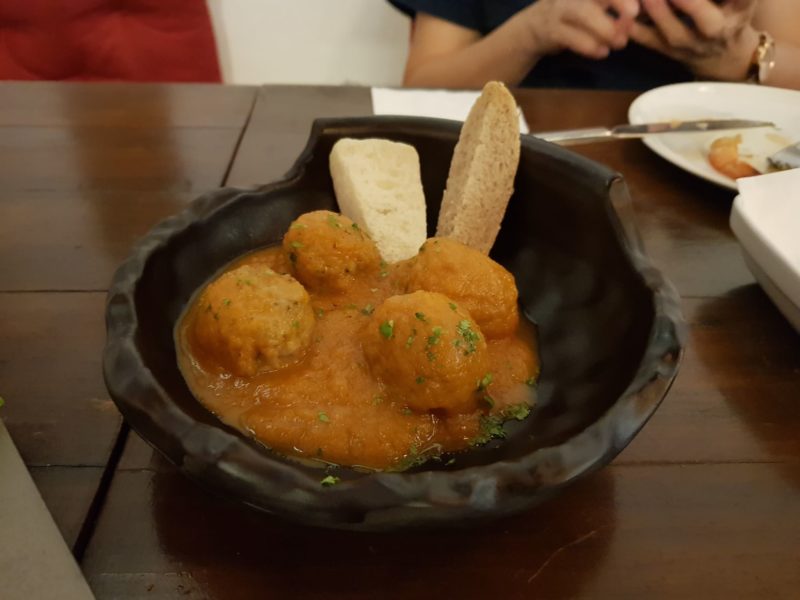 All of the dishes above were under the tapas menu. They're all pretty decent to say the least.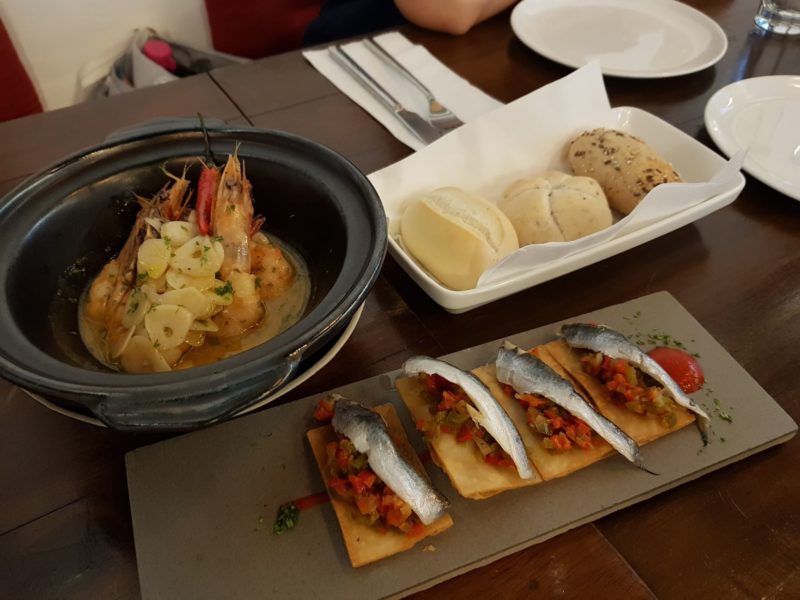 Lastly, we ordered the paella as the main dish. It's a seafood paella which came with squid and prawns.
Once again, it's good but it's not the best I've tried.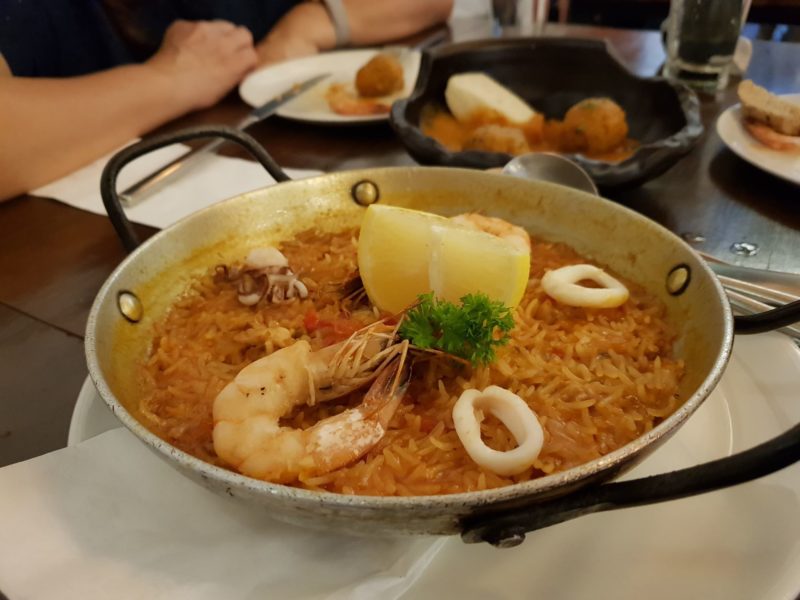 All in all, Salud Tapas is a good place to experience Spanish food in Melaka, especially if you're not familiar with the cuisine.
The food is good but it's quite expensive for the locals here. We paid around RM 198 for all of the dishes shown.
---
Related articles:
7 Hawker Centers To Try In Malacca
The Old Merchant Malacca – Great Ambience And Drinks
Top 9 Types Of Food To Eat In Bali
Malacca Nightlife: 7 Things To Do In Melaka At Night
Olio Italian Restaurant @ Ramada Plaza Melaka (Review)
Best Cafes In Malacca That You Should Visit (Updated 2019)